It's that time of year again when pumpkin spiced lattes make way for pumpkin pies. It's time to exchange our porch front jack-o-lanterns for a pair of Pilgrim salt and pepper shakers, front and center on the dining table.
The fact that we have made it to the end of this wild uncertain year is a blessing in itself, and we are ever so grateful (and ready!) to celebrate Thanksgiving!
Whether you are hosting Thanksgiving dinner yourself or bringing your favorite side dish to your aunt's house, Bed Bath & Beyond has everything you'll need to roast the perfect turkey, whip up the creamiest potatoes, bake a show-stopping pie, and lay a festive tablescape for all your family and friends to gather around and enjoy the feast.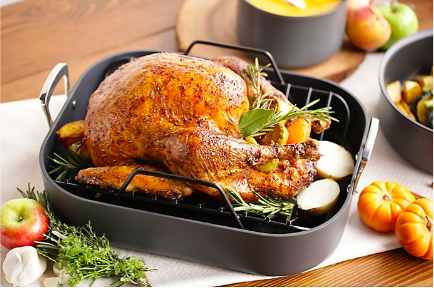 A mouthwatering, golden brown turkey makes a beautiful centerpiece for your Thanksgiving spread. In order to achieve roasted perfection, you'll need the All Clad nonstick roasting pan. It's hard anodized construction results in quick and even heat distribution and the V-shaped rack ensures a perfectly browned roast while the natural juices collect below for basting and gravy making. For step by step turkey roasting directions from start to gravy, check out this recipe.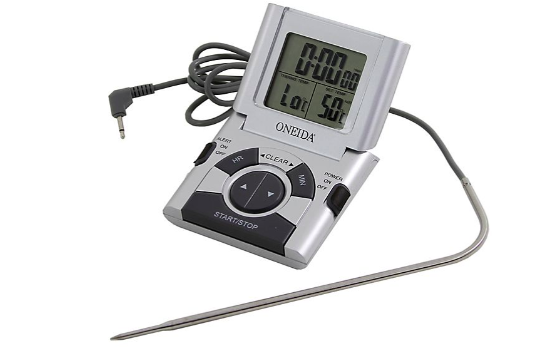 Don't forget the meat thermometer to make sure the inside of that turkey tastes as good as the outside looks! There's nothing worse than an overcooked, dried out turkey, except maybe an undercooked, raw one! This affordable Oneida Digital Probe Cooking Thermometer allows you to see the temperature without needing to open the oven door; it also has a timer and alert settings.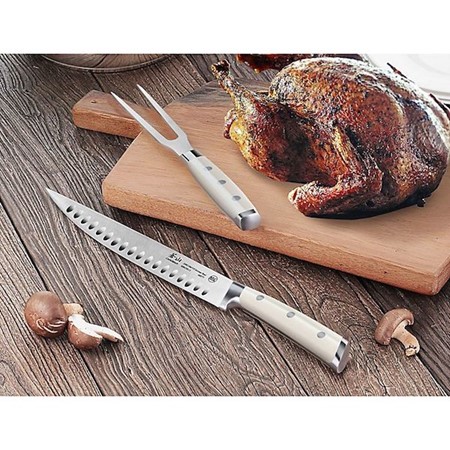 Once that bird is perfectly cooked inside and out, it's time to carve. Equip your kitchen with a good carving set for precise slicing and sturdy transferring of those juicy slices from cutting board to serving platter. If you need to fine-tune your carving skills, check out this very detailed step-by-step guide. After all, you don't want to keep your guests waiting while you figure things out.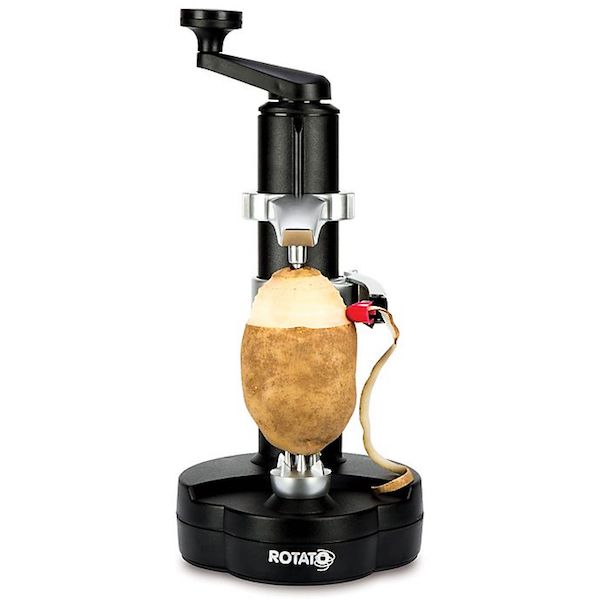 Now that the main attraction is taken care of, we can focus on some of those infamous side dishes! I prefer sweet potatoes with a candied pecan topping, but my fiance prefers a generous scoop of creamy mashed potatoes with a pool of turkey gravy. Whichever potato you prefer, you'll want to make sure they're peeled, smooth and lump-free. You can always use a classic handheld peeler, like the OXO Good Grips Y Peeler or you can upgrade to the Starfrit Rotato Peeler that peels the potato (or other veggies, fruits, and even an avocado!) with the simple turn of the handle! Then you can use this stainless steel masher on those cooked potatoes or fluff them with your trusty potato ricer for perfect mashed potatoes every time!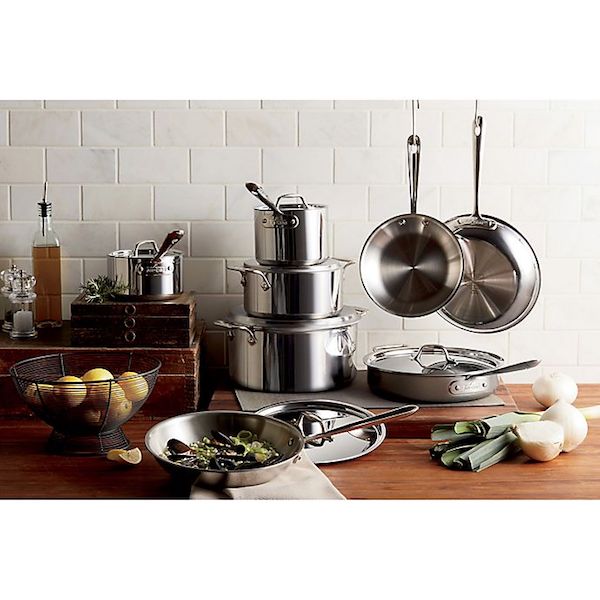 Not only will these pots and pans come in handy on Thanksgiving, they will be the star of your kitchen anytime you cook dinner! The All-Clad Stainless Steel Set is perfect for boiling potatoes, sautéing vegetables, simmering gravy or this fresh cranberry relish. Trust me, you'll be glad you had so many pots and pans while you're preparing your harvest feast.

For delicious homemade gravy using your turkey drippings, you'll need this handy tool: the OXO Good Grips Gravy 4-Cup Fat Separator. Simply pour the drippings into the top of the strainer and allow the fat to rise. Then the magic happens- squeeze the handle to release the liquid from the base of the separator into your saucepan. It couldn't get any easier!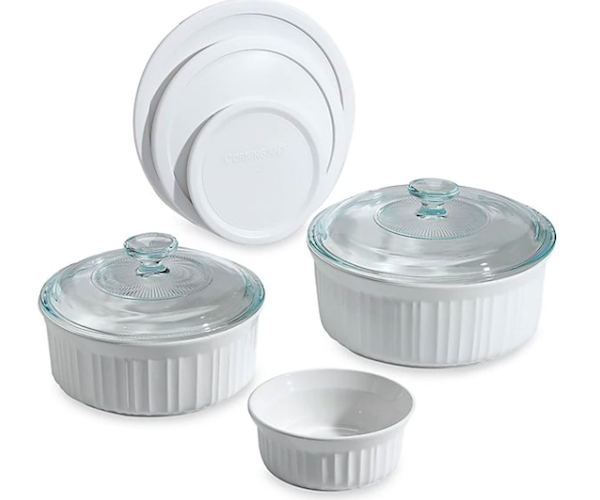 This is a classic bakeware set that will be an asset in your kitchen well after Thanksgiving (Hello, Christmas baking and beyond!). This CorningWare set will work for the host or the guest bringing a side dish: try these simple honey glazed carrots as an orange-colored rival to the usual sweet potato casserole. These simple white baking dishes can go from oven to table and then to dishwasher for a super easy cleanup. And if you're traveling to grandma's house for dinner, they come with plastic lids for east transportation.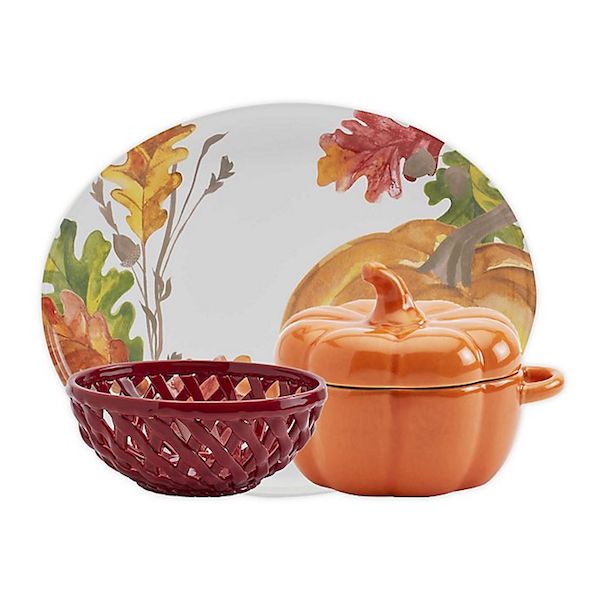 Now you have the tools and cookware to prepare that feast in the kitchen, but you can't exactly put that turkey and it's sides in front of your guests in pots and pans. Make your feast look seasonally festive by serving it up in this Modern Farmhouse Harvest Serveware Collection. That striking red stoneware basket is a perfect vessel for some homemade sweet dinner rolls.

Is it time for dessert yet?? Thanksgiving is all about the pies! And you haven't had pie until you've had pie with a homemade pie crust!  It is not as daunting as it sounds and you can use this OXO Good Grips Stainless Steel Bladed Dough Blender and Cutter to make it easier. My tip: I prep the pie dough a night (or up to 5 nights!) before. And if you're still unsure, you can keep a box of store bought pie crusts in the fridge as a backup. But try it; it's easy and so buttery DELICIOUS!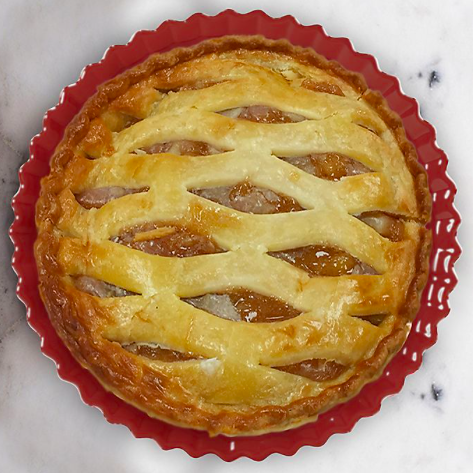 Whether you favor apple, pumpkin or pecan, bake and serve your grand finale using the Chantal 9-inch Classic Pie Dish. I love the vibrant festive color, and I plan to use it to make a classic apple pie. Psst…don't stop at the homemade pie crust, try your hand at a beautiful lattice finish. Here is a guided how-to, complete with pictures.
Good luck as you head to the kitchen to cook that Thanksgiving meal!
Of course, Bed,Bath, & Beyond has many more tools to get you through the day!
Thanksgiving is just around the corner, but be sure to include these pieces on your wedding registry so that you're ready for next year! And don't forget to refer your friends to RegistryFinder.com where they can locate all of your wedding gift registries in one place.
Disclosure: This post contains affiliate links. The ideas are ours, but we may be compensated if you make a purchase by clicking on one of the links. Thanks for your support!