Hosting your first Thanksgiving feast is a huge milestone in your adult life. Not only are you responsible for seasoning and cooking an enormous bird, you also have the pressure of preparing a variety of tasty sides – potatoes, stuffing, and vegetables. And of course, you can't forget dessert!
We've teamed up with our friends at Sur La Table to bring you the Top 10 Cooking Tools you'll need to create a delicious Thanksgiving meal. As you know, having the right tools is only half the battle, so we've also included appetizing recipes for everything from soup to dessert. Basically, we've created an all-in-one guide to ensure your success in preparing a fantastic Thanksgiving feast.
A mouthwatering, golden brown turkey makes a beautiful centerpiece for your Thanksgiving spread. In order to achieve roasted perfection, you'll need the Mauviel M'collection de Cuisine Roasting Pan. Its durable construction features three layers of aluminum sandwiched in between two layers of stainless steel which allows for quick and even heat distribution, resulting in the perfect turkey.
Handy Guide: Sur La Table Thanksgiving Serving Guide
There's nothing worse than an overcooked, dried out turkey, except maybe an undercooked, raw one! Avoid both dilemmas with a good meat thermometer. You could spring for a fancy one such as the Sur La Table Bluetooth Dual-Probe Thermometer which allows you to use your mobile device to monitor the temperature of both your oven and meat. Or keep it simple with the InstaRead Meat and Poultry Cooking Thermometer. Either one, and you'll be one your way to tasty turkey.
Recipe Pairing: Herb Roasted Turkey
Once that bird is cooked, it's time to carve. Equip your kitchen with Wustof Gourmet Carving Set with Epicurean Cutting Board. If you need to fine tune your carving skills, check out this step-by-step guide (with photos!) from the Sur La Table blog. After all, you don't want to keep your guests waiting while you figure things out.
Handy Guide from Sur La Table: How-To Carve a Turkey
Kick off your Thanksgiving meal with a hot cup of soup ladled from this enameled cast iron pot. Combining beauty and function, the Staub Burnt Orange Pumpkin Cocotte easily moves from stove to table. (We think this would look lovely next to your crispy, golden turkey!)
Recipe Pairing: Easy Mushroom and Leek Soup
Not only will these pots and pans come in handy on Thanksgiving, they will be the star of your kitchen anytime you cook dinner! The All-Clad Stainless Steel 10-Piece Set is perfect for boiling potatoes, sautéing vegetables, simmering gravy or making relish. Trust me, you'll be glad you had so many pots and pans while you're preparing your harvest feast.
Recipe Pairing: Perfect Cranberry Relish; Granny Smith Apple and Smoky Bacon Stuffing
This may seem like a simple tool, but you will need it for those potatoes, sweet potatoes, carrots and apples! The OXO Good Grips Set of 3 Peelers includes a julienne, swivel, and serrated peelers with soft, no-slip handles- great for Thanksgiving Day and every day!
Recipe Pairing: Honey Glazed Carrots
Mashed potatoes are turkey's best friend and in order to make smooth and fluffy potatoes, you'll want the OXO Good Grips Adjustable Potato Ricer. It has three adjustable settings that will come in handy long after Thanksgiving.
Recipe Pairing: Truffle Mashed Potatoes
For delicious homemade gravy using your turkey drippings, you'll need this handy tool, the Cuisipro Deluxe Fat Separator. Simply pour the drippings into the top of the strainer and allow the fat to rise. Then the magic happens- push the button to release the liquid from the base of the separator into your saucepan. It couldn't get any easier!
Recipe Pairing: Rich Turkey Pan Gravy
Effortlessly cook and serve your Thanksgiving meal with these porcelain Oven-to-Table Rectangular Bakers. These classic, white bakers are available in 6 sizes ranging from .5 quarts to 6 quarts. 
Recipe Pairing: Green Beans with Crispy Spiral Onions; Mashed Maple Sweet Potatoes
Your autumn celebration would not be complete without pie. Whether you favor apple, pumpkin or pecan, create your grand finale using the Emile Henry Modern Classics Pie Dish. If you really want to make an impressive pie, use this set of Fall Pie Crust Cutters to add some decorative leaves to your crust.
Recipe Pairing: Classic Apple Pie, Ultimate Pumpkin Pie with Rum Whipped Cream
Handcrafted in small batches just for Sur La Table, the Urban Accents Seasoning Mix Collection will turn your ordinary Thanksgiving dishes into extraordinary masterpieces. Simple to use but packed with flavor, you'll definitely impress your guests with these gourmet flavors.
Recipe Pairing: Each package includes cooking instructions
Good luck as you head to the kitchen to cook that Thanksgiving meal! Of course, Sur La Table has many more tools to get you through the day!

Thanksgiving is just around the corner, but be sure to include these pieces on your wedding registry so that you're ready for next year! And don't forget to refer your friends to RegistryFinder.com where they can locate all of your wedding gift registries in one place.
Pin now and save these recipes for later!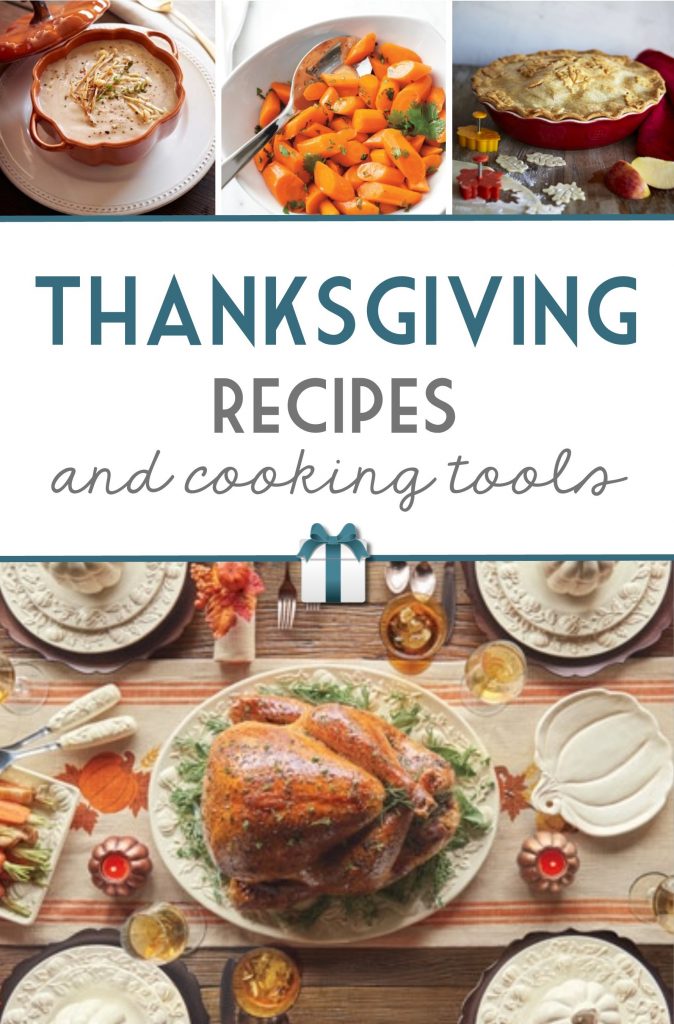 -Written by RegistryFinder.com contributor Rebecca Haar, who loves special family holidays and enjoys cooking every delicious part of a Thanksgiving meal.
This post contains affiliate links. All opinions are our own, and we may be compensated if you make a purchase by clicking on one of the links. Thanks for your support!
This blog was originally posted in 2015.  Some of the items we originally fell in love with are no longer available, so we've updated our list to include a few new fabulous finds.
Save
Save
Save
Save