With trendy technology, there's always a backlash: case in point, the unplugged wedding. You've heard the pitch for a phone-free wedding: cell phones can be distracting, take away from the professional photography, and get in the way of the guests' overall experience of your wedding day.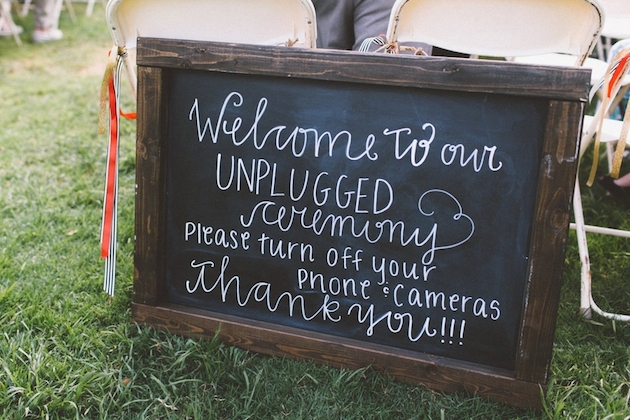 And I get it: RegistryFinder's etiquette expert Cheryl even wrote a guide to smartphone etiquette and the unplugged wedding trend.
But it's inevitable, and try as we might, those bright little LCD screens are here to stay. Before you try to ban all cell phone photography, you may consider: how can you benefit from the technology your guests have stuffed in their pockets and handbags? I'm here to offer you 4 fun ideas for a "plugged in" wedding—you might just give it a shot!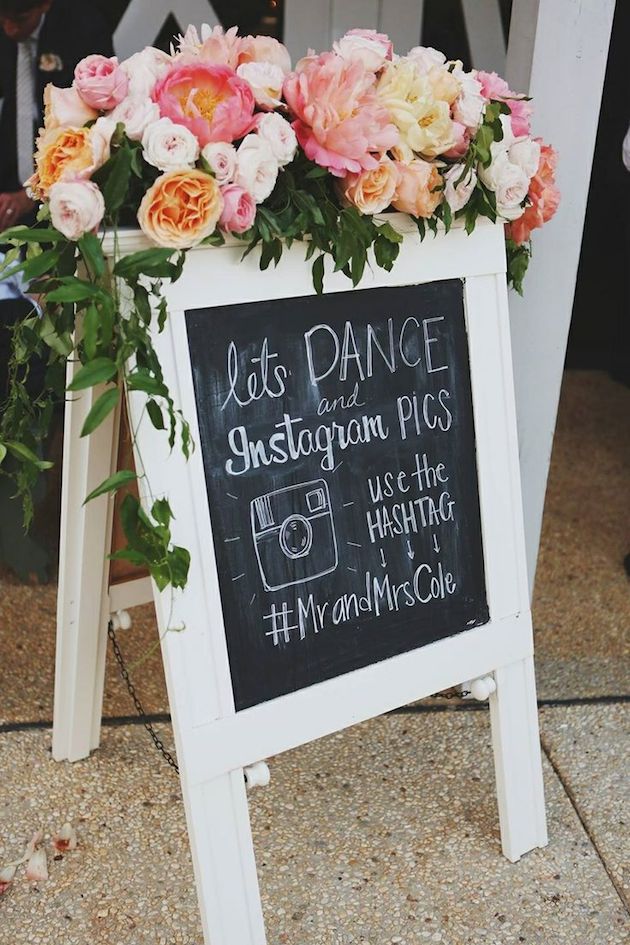 Idea #1: Go Beyond the Hashtag
According to a Digital Etiquette Survey conducted by Wedding Paper Divas, 4 in 10 weddings encouraged social media use by providing a personalized wedding hashtag. But don't forget Snapchat! Your grandma will probably have no idea what you're talking about, but your friends will love capturing fun moments at your wedding with a customized filter designed for your day!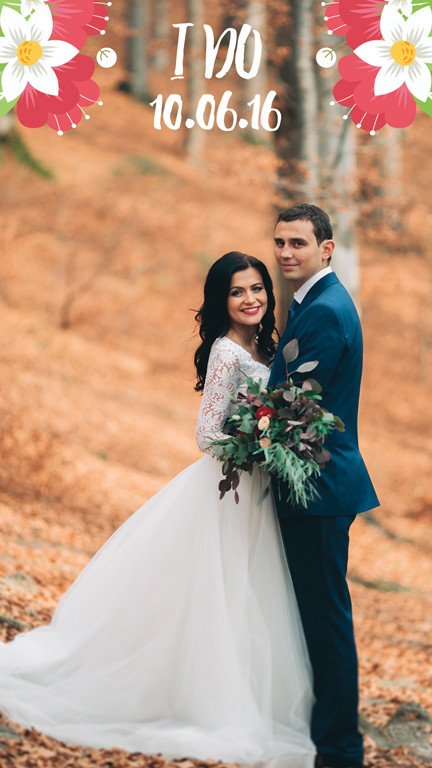 Check out Snap My Wedding for details on how you can create your own custom filter using a template, or have one of their designers create something one-of-a-kind for your big day!
Idea #2: Use a Wedding App
Hashtags and Snapchat filters are great ways for guests to share images, especially with faraway guests who couldn't travel to the wedding, and couples eager to see photos of their wedding before the professional photos are delivered. But broad social media platforms can also lead to problems: what if the bride and groom don't want their wedding pictures posted for such a large audience, including people who may be hurt to have not been invited?
Enter the wedding apps! Wedding Party App, Capsule and WedPics are apps designed for sharing photos and videos privately among you and your wedding guests. Click the links above to research the details and features of each app, and see which one is the best fit for your big day!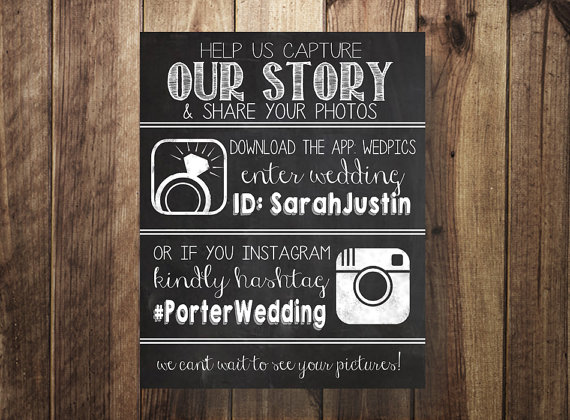 You can share details with your guests using cute table cards or signage, and not have to worry about unflattering pictures going viral or your old college roommate feeling left out that she wasn't invited.
Idea #3: Try a Photo Scavenger Hunt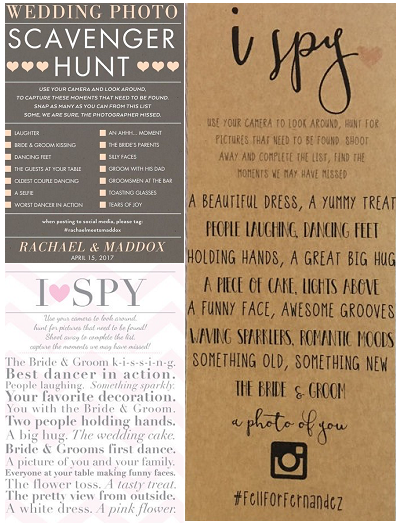 So you've already got a great hashtag and a fun app, but here's an idea for generating some comical and creative photos for your guests to snap and share: try a photo scavenger hunt!
Guests will have a ball taking pictures of each item on the list, including fun ideas like "best dancer in action," "the flower toss," and "something sparkly." They'll even capture sweet moments like "a big hug," and "tears of joy." The best part of embracing this "plugged in" idea: your guests might capture moments your professional photographer may miss!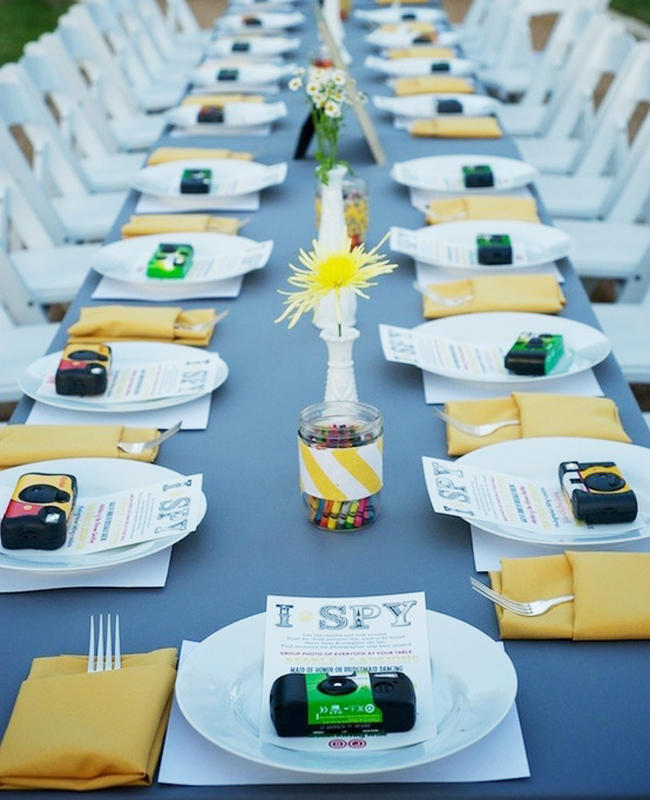 You can even customize the photo scavenger hunt concept for the kids' table! Your little guests will love running around and capturing special moments with their disposable cameras—and their parents will love that they're occupied!
Idea #4: Go old school with Poloroids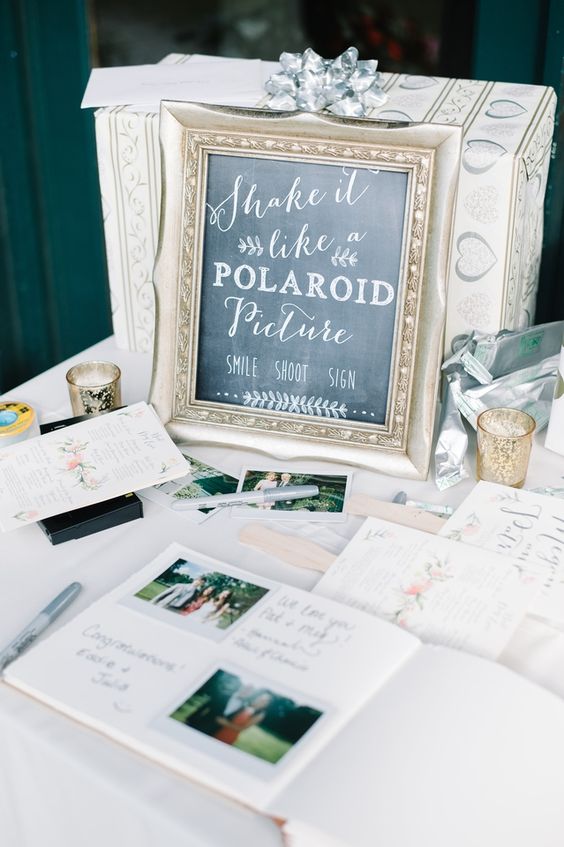 Ok, so technically this idea doesn't involve smartphones, but it's a fun way to engage your wedding guests and utilize their amateur photography! Set up a Poloroid camera and invite guests to snap, shake, and sign their photos. You can then use the photos to create a guestbook, or string them along a garland for some spontaneous DIY-décor!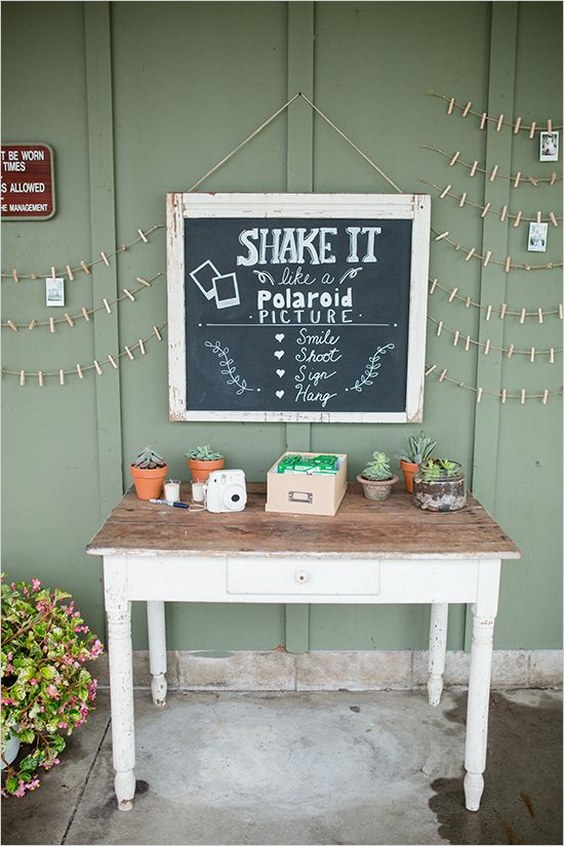 So while I can definitely understand the trend of going "unplugged" (at least for the ceremony), I think there's much to gain by letting guests point, shoot, and post: they'll have a great time capturing your big day, and you'll have many special photos your photographer may miss while they focus on you and your groom! If you're a wedding guest, be sure to focus on your digital etiquette, whether the wedding you're attending is unplugged or plugged in!
And as always, you can find many more wedding trends, etiquette answers, and of course, all of your friends' registries, at RegistryFinder.com!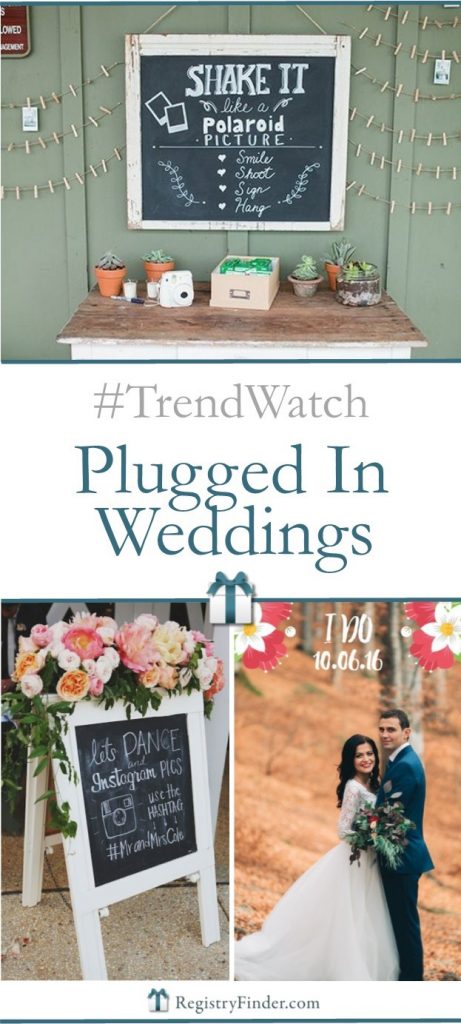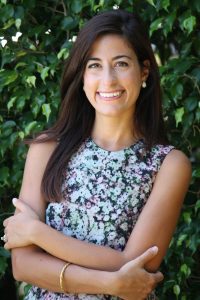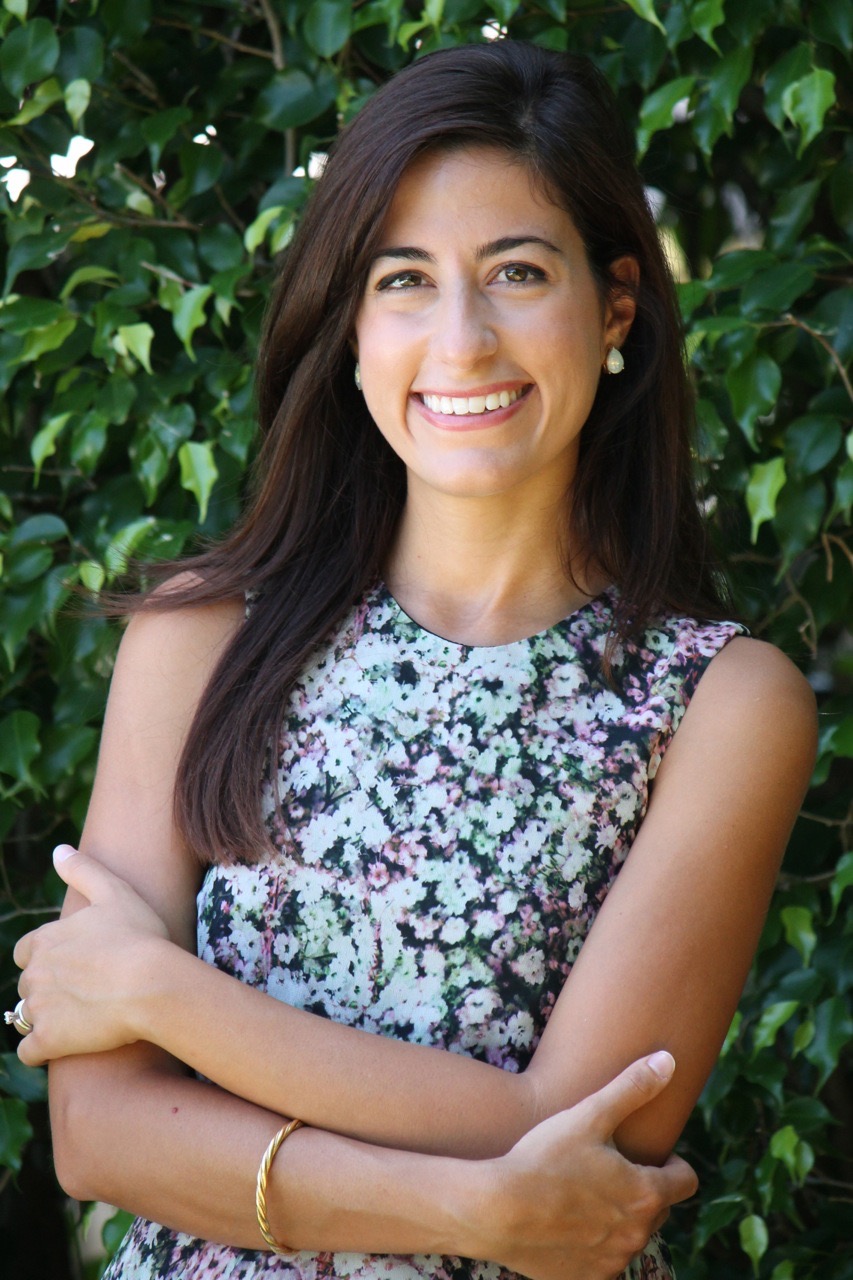 –Written by Christina Peterson, whose wedding wish for every couple is that they zoom in on the special moments and focus on the beauty of their day, for it all goes by in a flash!