One of your favorite women is getting married and you are super excited for her! You have taken on the endeavor of throwing her an exceptional party, complete with a meticulously planned menu and unrivaled wedding shower games! Call back your stylist and grab that hair appointment you didn't think you had time for! We've got you covered with 6 unique and trendy games guaranteed to match your punchy Lilly Pulitzer dress!

Lips and 'Staches
Prior to the shower:
Kindly, ask the bride and groom to fill out a questionnaire. Ask them anything from sugary nostalgic questions like "what was your first thought after your first kiss?", or "what characteristic initially attracted you to your sweetheart?". You can also include fun, light-hearted questions about their favorite dessert or dream vacation.
As the title suggests, you will need to either purchase, or make a lip and 'stache prop for each guest. These can be easily made with colored paper, popsicle sticks, and a little glue.
At the Shower:
Read the questions aloud, randomly alternating between the bride's and the groom's answers.
Have your guests raise the lip attire that best matches the answer.
Added Bonus!  Props may also be used for some fun Polaroid mementos for the bride and groom!

Shower Guest Scavenger Hunt
Prior to your event, create a questionnaire including questions such as "who was born in Florida?", "who wears a size 9 shoe?", "who has two brothers?", "who's favorite color is pink?", "who loves 'The Notebook'?"  Any creative questions that encourage your guests to mingle will do. At the shower, gather your guests, pass out the Scavenger Hunt, set a timer and go!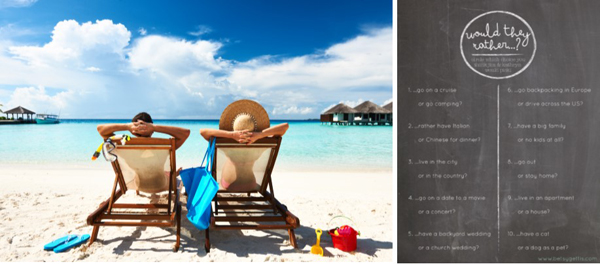 Create or purchase a list of "would you rather" questions for your bride or bride and groom to answer before the shower. Ask them a few things that most people would know like "would you rather the décor of your home have a modern feel or traditional?" and "would you rather your vacation include relaxing on the beach, or hiking in the mountains?". Be sure to throw in a few trickier questions as well to see who really knows them like "would you rather come up with date ideas or would you rather your Sweetie handle the details?", and "would you rather take on the domestic responsibilities or would you rather your Hunny take charge?".
At the Shower:
Hand out the blank questionnaires. Ask guests to choose answers that they believe reflect the bride's and set a timer. When the time's up, ask the bride to reveal her answers.

This game can be played two ways:
Ladies Only: On one paper, each guest writes down two truths and a lie about the happy couple. Fold them and place in a bowl. Responses are read aloud and guests guess which is the lie.
Co-ed Shower: Each guest chooses to write two truths and a lie about either the bride or the groom. You may choose to have your guests guess, or you can have the bride guess the lies about her groom and the groom guess the lies about his bride.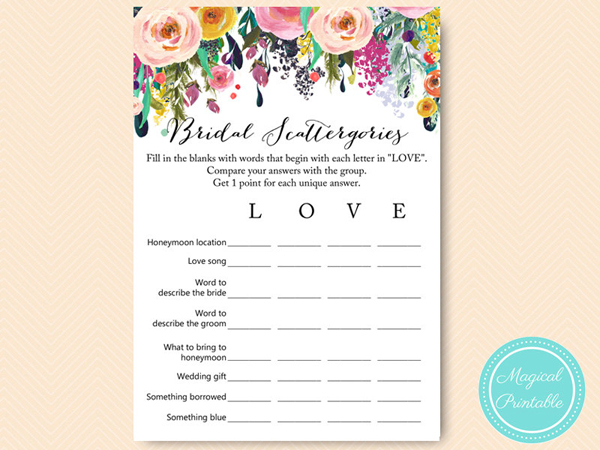 Create or purchase game cards with blank columns for each letter in a wedding themed word of your choosing such as "love", or the bride's name spaced across the top of each card. Next create perpendicular rows with categories labeled with wedding themes such as "love songs" and "something blue".
At the Shower:
Set a timer and go! When the timer goes off, compare your guests' answers. Guests with the most unique answers win!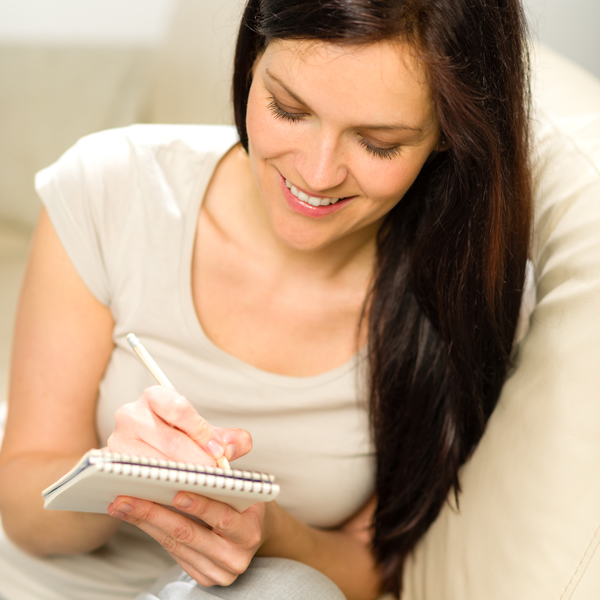 Pass out sheets of elegant stationary like this gorgeous printable download.
Give your guests a list of wedding themed words to write down at the top of the page. The list can be as short or as long as you like. You may choose to add a few unrelated words such as "car" or "dog".
Announce a theme for a short story such as "funny" or "romantic" and set a timer.
Ask your guests to write a sentence using one word from the list, cross off that word and pass it to their right. The next guest will add a sentence using a new word from the list and pass it to their right as well. Continue playing until the timer goes off.
Have each guest read the story they concluded the game with aloud.
Most importantly, remember that this day is all about showering love on your bride and groom. If you have thoughtfully planned a shower that reflects their personalities and tastes, this will certainly be a day they cherish forever.
For easy entertaining ideas check out our recent post, Bridal Shower Hacks or come hang out with us at our Pinterest page! And don't forget to have your guests drop by RegistryFinder.com for an easy way to check out what's on her wedding gift registry!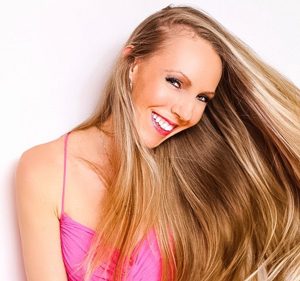 – Written by Chelsea Grace, writer, model, and natural living enthusiast
This post contains affiliate links. We may be compensated if you make a purchase by clicking on one of the links. Thanks for your support!