It's the most wonderful time of the year—for a bridal shower! Why add, "host a bridal shower" to your already packed December to-do list? I've got a few reasons:
Your house is already decked out for the season
Cooling temperatures create the perfect cozy environment for indoor gatherings
Inspiration abounds! Pinterest and blogs are filled with ideas for holiday décor and menus you can easily adapt for a bridal shower.
"Warm Up" to Planning a Winter Bridal Shower
Still not so sure? I'm here to "warm you up" to the idea that the winter months are the perfect time to celebrate the bride-to-be in your life. I've found five inspirational wintertime themes, and I've got you covered with invitation ideas (my starting point for party planning inspiration), décor, and other festive finds. Read on for some of my favorite merry and bright ideas!
1. Gold and White Wonderland Bridal Shower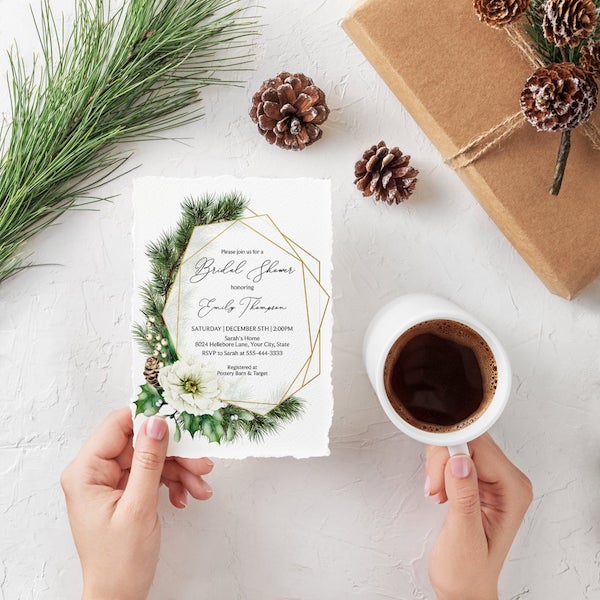 Elegant and timeless, this theme is fitting for a bride who leans toward classic choices rather than the latest trends. Classic white is glammed up with sparkles of gold and silver, adding a formal feel to this theme!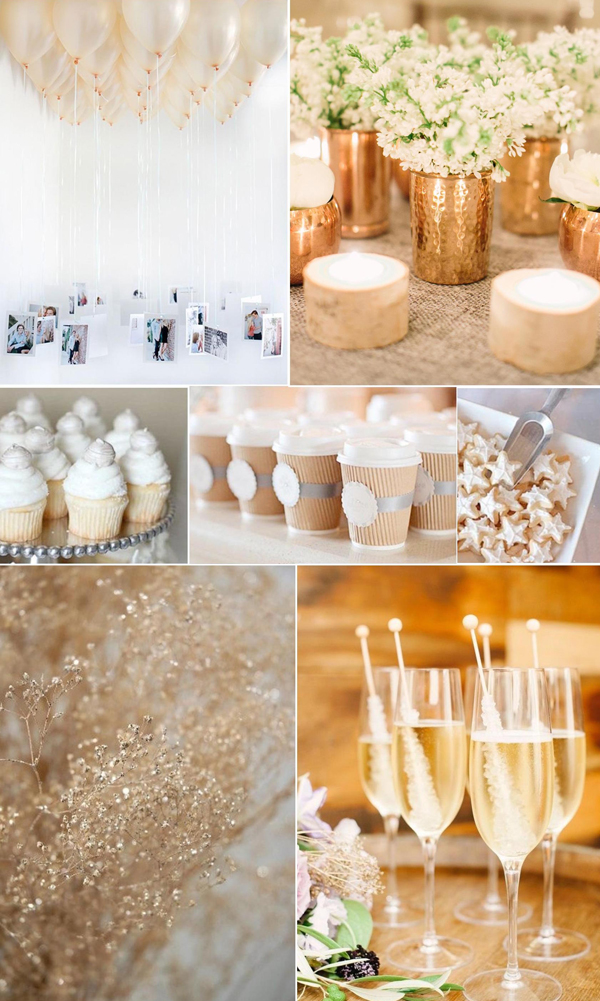 Display photographs of the couple, suspended from gold balloons—be sure to have double-sided tape on hand to secure the tops of the balloons to the ceiling! Baby's breath in copper vases make a simple and striking centerpiece, and all-white cookies, cupcakes, and coffee cups create an elegant buffet. Spray paint baby's breath gold for an easy way to add sparkle. Drop rock candy in champagne to elegantly toast the bride!
2. Baby It's Cold Outside Bridal Shower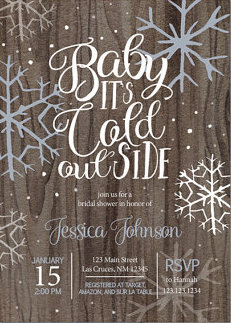 Cooling temperatures are perfect for snuggling up with a warm cup of hot chocolate and your closest friends. This cozy theme is perfect for a more intimate, casual gathering!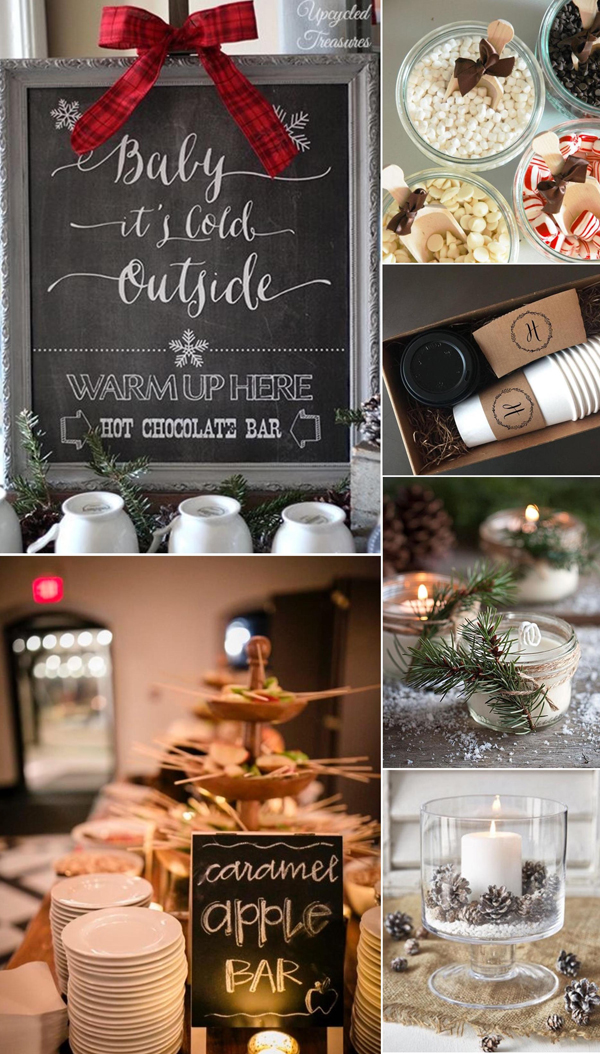 A hot chocolate bar is definitely necessary at a "Baby It's Cold Outside" bridal shower—order custom coffee sleeves and cups for a personalized touch! Display toppings in cute bowls with wooden spoons and ribbons. For an easy centerpiece, place pinecones and a candle in a trifle dish filled with fake snow. A caramel apple bar provides a sweet ending to this fun shower, and for one final sweet touch, send guests home with votive candles adorned with clipped greenery and twine.
3. Flannel and Frost Bridal Shower
I love this theme for a couple's shower! Bold plaids, rustic touches, and lush winter greenery combine to create a warm and inviting event.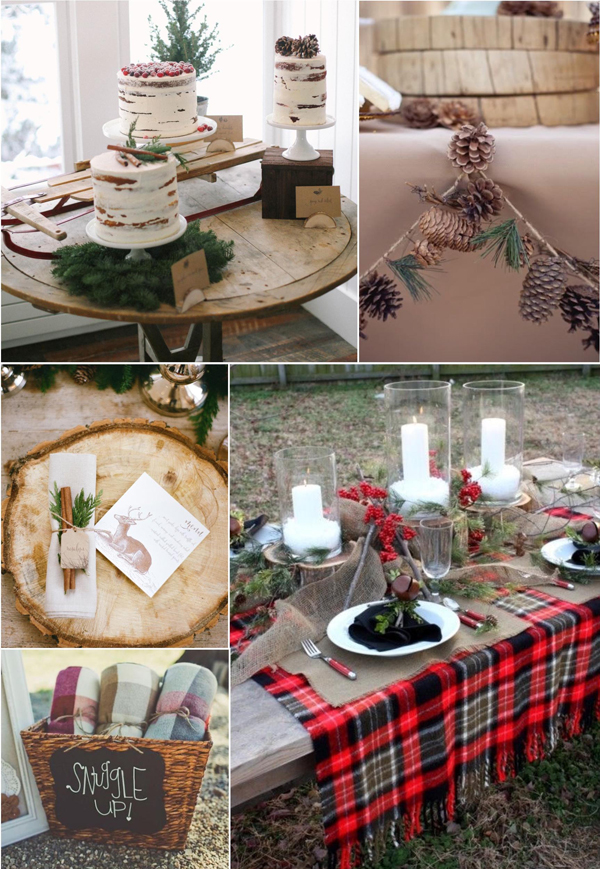 No need to hire a professional baker: adorn simple white cakes with cinnamon sticks, pinecones, and greenery. Keep the rustic theme going with a pinecones and twine garland. For the tables, wood chargers and cinnamon sticks make the perfect table setting, and flannel throws, candles, and berries create a warm tablescape. As guests watch the bride open her gifts, invite them to "snuggle up" in cozy blankets.
4. Stock the Tree Bridal Shower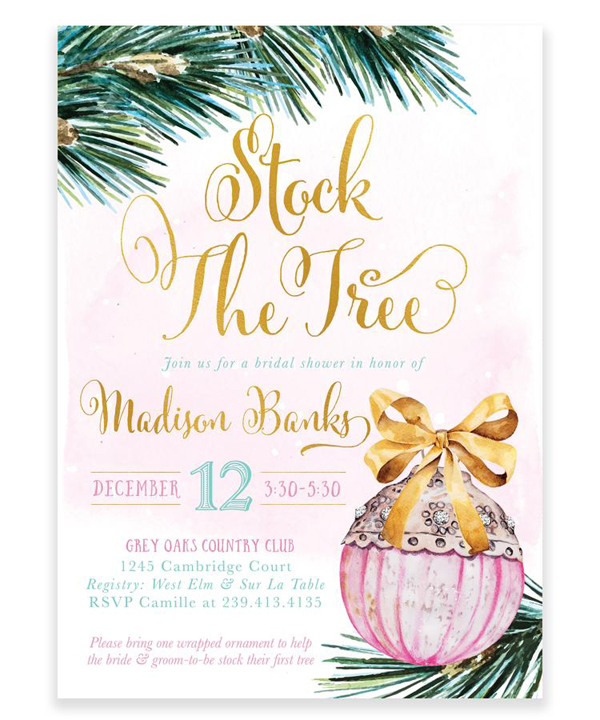 I love the idea of asking each guest to include an ornament for the newlyweds' first tree! This invitation inspired me to choose a color palette that's a little less traditional: instead of red and green, I went for pops of pink, gold, and other bright colors!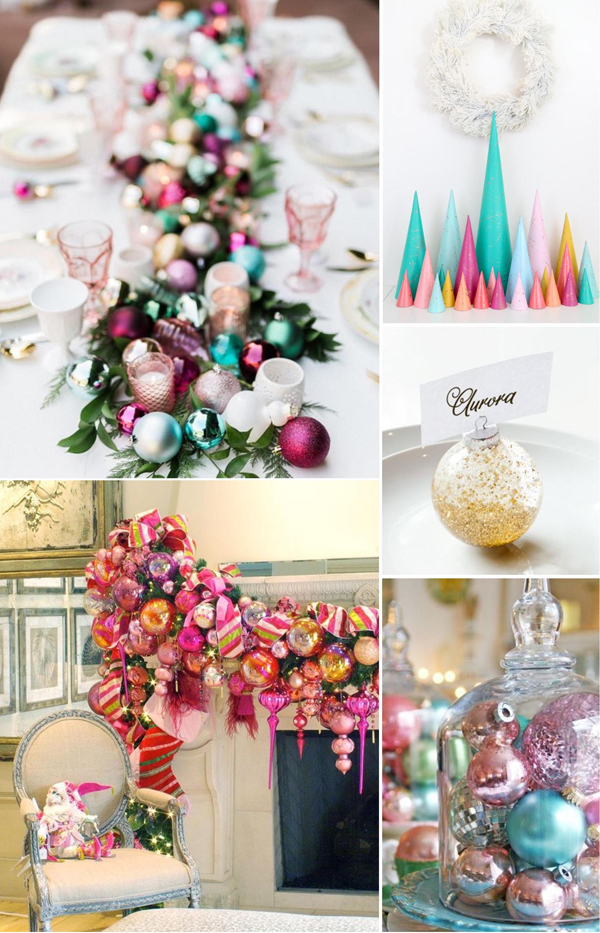 Create a shimmering tablescape with greenery, ornaments, and candles, and scatter little vignettes of ornaments in glass containers throughout your home. These DIY Christmas trees add fun pops of color, and are an inexpensive way to add visual interest. Decorate the area the bride will be opening her gifts with an ornament garland—it will be in lots of pictures! Mark each guest's seat with a shimmery ornament.
5. Monograms and Mimosas Bridal Shower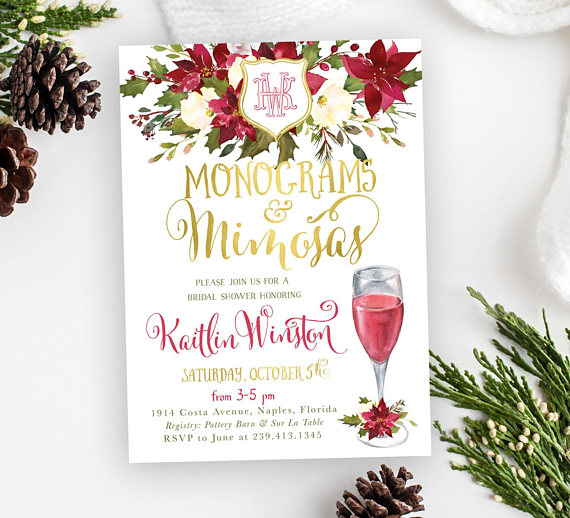 My monogram obsession is no secret—I even wrote a post a few months ago on 17 gifts you can monogram, which is perfect for this bridal shower idea!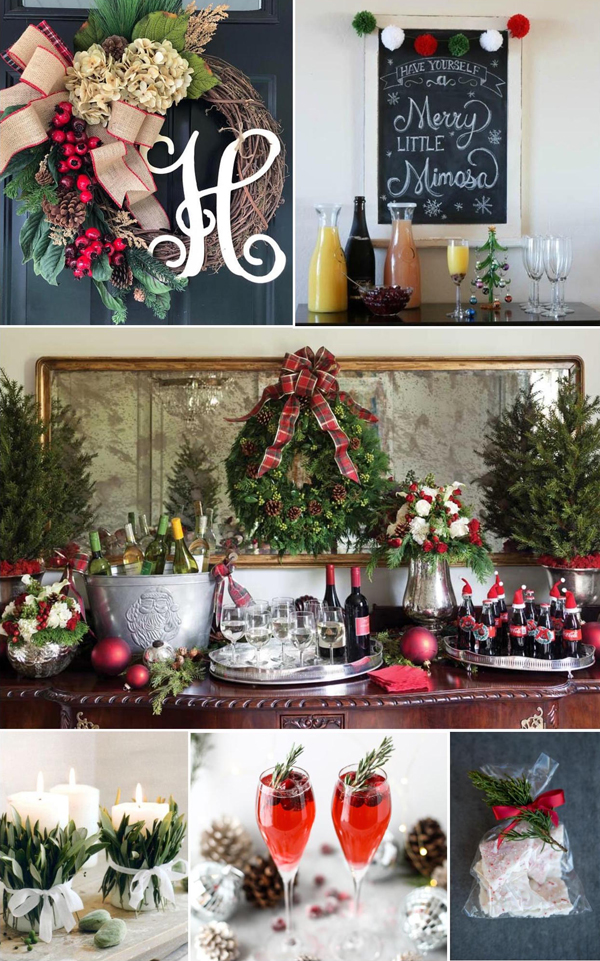 Set the mood the moment guests arrive at the door: order a Christmas wreath from Etsy with the bride's new last initial to use at the shower, and give it to her as a gift when the party is over! I love this "Merry Little Mimosa" chalkboard sign for an easy DIY—display it next to a festive drink buffet decorated with lots of traditional holiday touches, and use fresh herbs to dress up simple white candles and release delicious aromas. Most importantly, we've got you covered with a recipe for Christmas mimosas! When those adorable monogrammed gifts have been opened and the last mimosa sipped, send guests home with little bags of peppermint bark, tied up with rosemary.
Ready to deck the halls?
I hope these wintertime ideas have given you lots of inspiration for hosting your next bridal shower! The RegistryFinder GiveIt blog is the perfect source for all things bridal shower, from the best planning hacks and shortcuts to fun games and theme ideas for every season of the year!
Be sure to direct all of your shower guests to RegistryFinder.com to easily access all of the bride's registries in one place—you can even print it on the invitation!
Wishing you a bridal shower that's merry and bright!