Life-changing wedding gifts: dramatic? Maybe. But I promise that there are some wedding registry items that once you receive, you will wonder how you ever lived without! I've created a list of my favorite revolutionary registry picks from Bed Bath & Beyond® that are guaranteed to change the way you cook, clean, travel, and even sleep!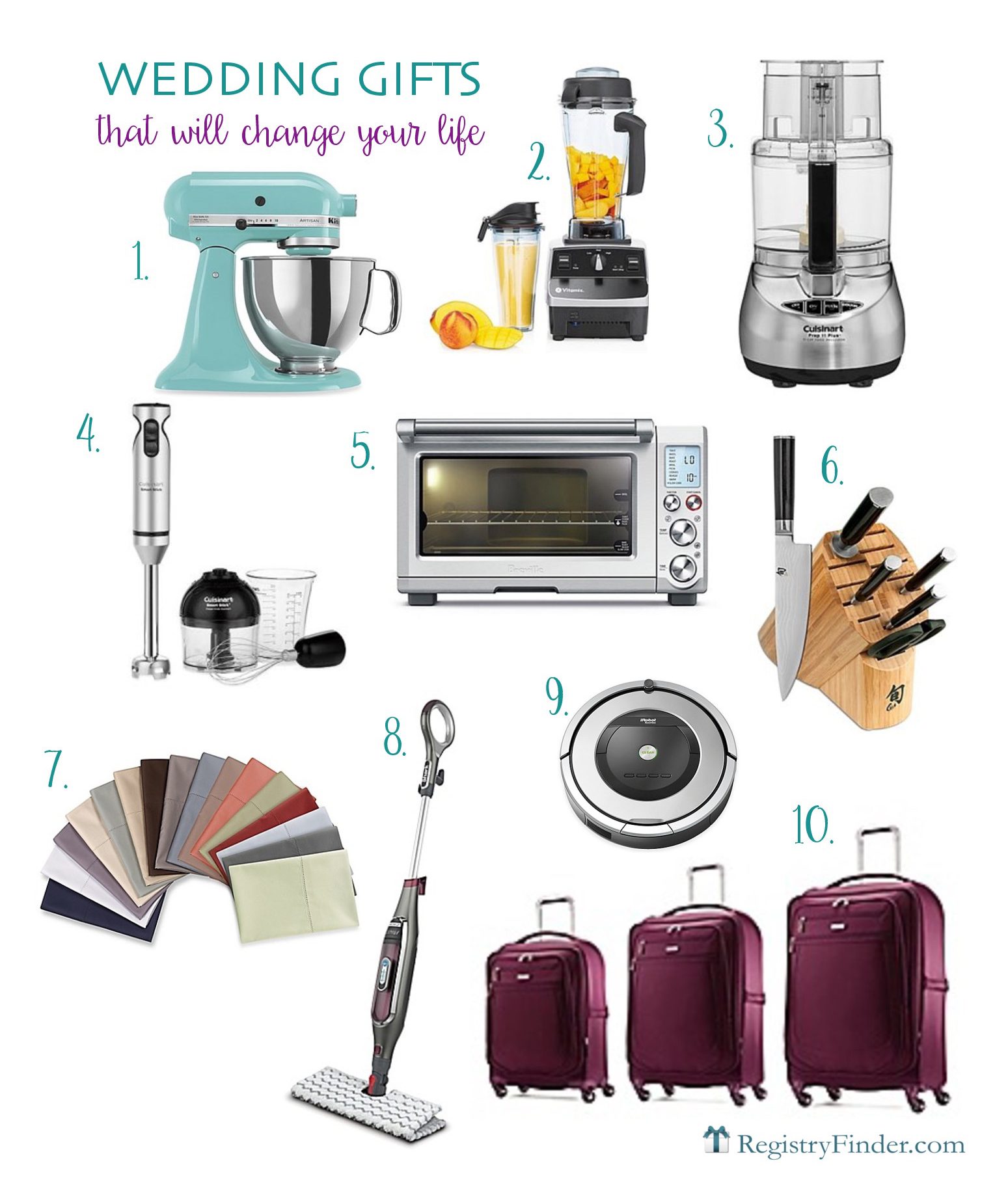 With a powerful 325-watt motor and 10 speeds, the KitchenAid Artisan 5 qt. Stand Mixer can handle all of your kitchen tasks—and I love that I never have to wipe down the bowl, thanks to 59-point planetary mixing action! Plus, with 32 color options, this mixer is guaranteed to be both powerful AND cute!
What makes this Vitamix life-changing? It lasts forever, has a powerful motor that blends ingredients effortlessly that other blenders just can't handle, makes the smoothest smoothies, and has a seven-year warranty! Plus, it comes with a 20-ounce to-go cup!
When I was creating my registry, I hesitated about adding this food processor. It seemed expensive, and I wondered if I'd ever really use it. But I'm SO glad I kept this wedding gift, as its 11-cup capacity and stainless steel blades are perfect for chopping, mixing, and blending. I use mine to make large batches of salsa, whip lots of egg whites for quiche, and to make hummus!
Confession: if a recipe requires more than three pots or pans, I stop reading it: who wants to deal with a sink full of dishes after dinner? I'm in love with my immersion blender because it cuts down on the amount of dishes I have to do! It's no longer necessary to break out the blender if I want to make homemade soup-I can just use this right in the pot! Bonus: the attachments are dishwasher safe, so cleanup is a breeze! I even use mine to whip up salad dressing and chop nuts!
I use our Breville Smart Convection Oven every.single.day. From toasting our bagels for breakfast, to roasting a chicken for dinner, and even baking a half-dozen cookies for dessert, this mini-oven can do it all!
I thought my husband was absolutely crazy for adding these Shun knives to our registry; I just didn't see what the big deal was about owning high-end knives. Four years later, I've realized that these knives are total game-changers: lightweight and super-sharp!
Once you experience sleeping on good sheets, you'll never go back! Why not register for a set of high thread count, luxurious sheets?
Imagine getting your floors clean without smelly cleaning agents, questionable chemicals, or a bucket of dirty water: it's not a dream, but a reality with the Shark Genius Steam Mop! Safe for wood and tile alike, I love the simplicity of just filling this with water and mopping every hard surface in my house! My favorite little feature: the release and switch buttons allow you to change the dirty pad without touching it!
Another cleaning life-changer: Clean carpeted or bare floors effortlessly with just the push of a button! The Roomba's revolutionary Aero Force™ Performance Cleaning System does all the work for you!
Forget the days of struggling to lug your luggage through the airport: the sleek MIGHTlite™ 2.0 Luggage by Samsonite is highly durable yet lightweight. It achieves this without sacrificing luxurious travel features, like 4 multi-directional spherical spinner wheels for easy maneuvering.
Ready to change your life with these incredible products? All of these products, and many, many more, are at Bed Bath & Beyond, so why not start your registry there? Click here to read more about why Bed Bath & Beyond is one of our favorite registry spots, and when you're ready to get started, click here!