While most of your wedding is under your control, there's a large element of the day you can't always plan for: the behavior of your guests. Among any large gathering, there is bound to be some less-than-ideal behavior. And with the added emotions of a wedding and the sky-high expectations of the bride and groom, a wedding guest's bad behavior can induce significant stress.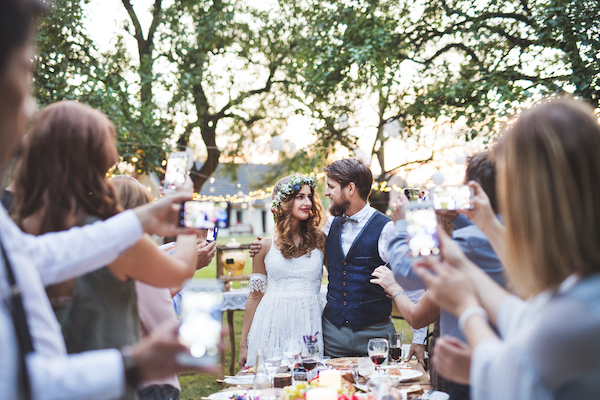 So what's a bride to do? Our real brides share some of their most cringe-worthy wedding guest moments, along with tips on how you can avoid, or at least manage, these situations if they arise at your wedding!
The Problem: Overserved Guests
It's no secret that wedding guests love an open bar: a glass of champagne or signature cocktail can help people loosen up and get out on the dance floor. But a good time can quickly slide into a sloppy one when guests overindulge.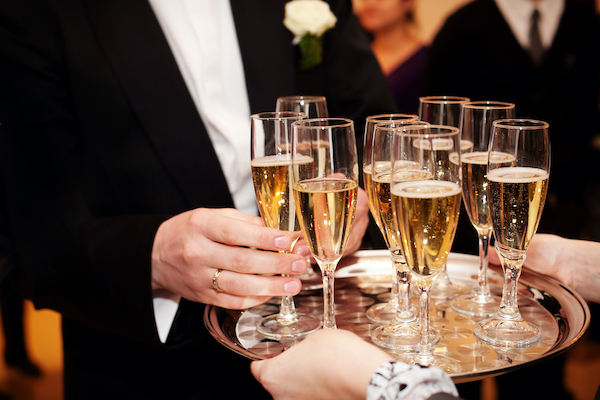 "One of our guests had too much to drink and would not leave the dance floor, even during dinner and when the DJ was trying to clear the dance floor."
"I saw one guest drink 1.5 bottles of wine and then break her arm."
"I once attended a wedding where a guest ended up in a fountain…naked."
"Two of our guests (who didn't know each other before the wedding) had too much to drink and then began making out on the dance floor. It was so uncomfortable."
"Grandma gone wild during the garter toss! Used the chair as 'performance equipment."
"My underage friends were drunk at the open bar and filled their plates and mouths from the chocolate fountain…directly."
The Solution:
With some preparation and planning, you can help every guest enjoy your wedding (even those who will most definitely have a headache in the morning).
One solution? Limit the bar menu and close it down early.
"Only serve beer and wine, and instruct the bartenders not to serve shots."
"Close the bar for the last hour of the reception. Also, give bartenders authority to stop serving guests."
If you aren't into limiting the bar, have a plan to assist overserved guests:
"Tell your planner. They can keep an eye on particular guests you might be concerned about."
"Have a mutual friend approach them with water and an offer to call an Uber."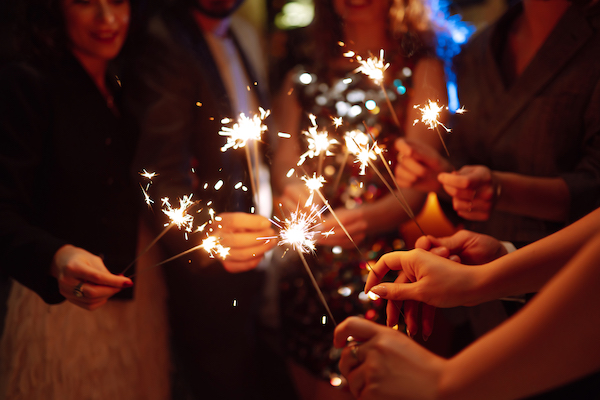 Keep the timeline tight!
Another insight I've gathered throughout the years: a tight reception timeline can minimize the impact of overserved guests. If all of the reception "events," such as speeches, special dances, and the cake cutting are completed early in the evening, a few tipsy guests later on in the night will be much less conspicuous.
The Problem: Unexpected Guests
RSVPing to a wedding shouldn't be that hard. But time and again, guests fail in this department, either neglecting to RSVP, showing up unexpectedly, or bringing an uninvited plus one with no prior warning.
"Someone brought a friend to our wedding. Not even a date. Just a friend. To our wedding."
"My cousin and his girlfriend broke up a month before our wedding, and I was told he would be coming alone. As I'm waiting in the limousine for the last guests to enter the church, who do I see walking in? The ex-girlfriend!"
The Solution:
An outright wedding crasher should be escorted out of your wedding immediately. But when it comes to unexpected plus ones, as inconvenient or annoying as it may be, graciously accommodate in the moment!
This is where a wedding planner comes in handy:
"[An unexpected wedding guest] is usually not a big deal unless it's a seated dinner. Then we usually try to pull up a chair or offer the couple standing space at a highboy with place settings." –Jenny Dansby, Threefold Events
The Problem: Inappropriately Dressed Guests
While most of us know how to decode the dress code, it's entirely possible that someone will arrive at your wedding underdressed or wearing something inappropriate. And since calling the fashion police isn't an option, what can you do?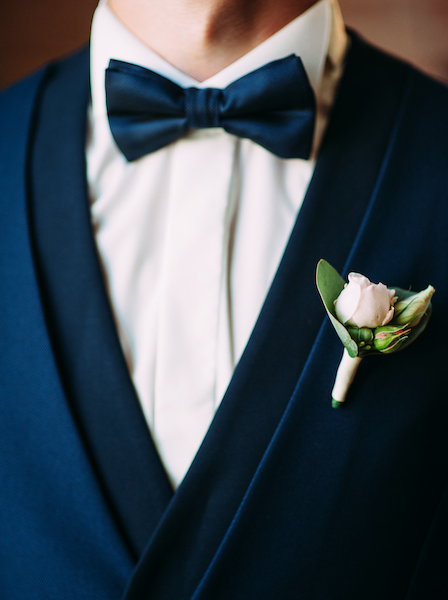 The Solution: Establish the Dress Code Beforehand; let it go on the day of!
"Make the dress code well known beforehand, like on your invitation or wedding website."
"An upcoming wedding I'm attending has an 'FAQ' on their website that goes into detail on attire."
On the big day, there's not much you can do about the guest who shows up wearing a white dress or blue jeans. Let it go and enjoy your wedding!
The Problem: Guests who arrive late
It's bound to happen: someone will get stuck in traffic and arrive a few minutes after your ceremony begins. At my wedding, a family of latecomers actually hopped across the aisle in the middle of the processional, and it's all captured on video.
The Solution:
Have a plan to handle traffic delays and late arrivals. Here's where a seasoned professional can really help:
"We will hold the ceremony for 5 to 10 minutes if we have heard of traffic/accidents on the way in to allow more time for guests to get seated.
"We hold late guests until the bride has gone down the aisle. Once she's at the front and all eyes are on her, we let people slip in the back to the outside chairs or stand in the back, depending on the venue." –Jenny Dansby, Threefold Events
The Problem: Unruly Children
There's nothing sweeter than little ones in tulle and tuxes. But when those children become fussy or hyperactive, they can cause chaos!
"I was at a wedding with a screaming child and the parents wouldn't take them out for some reason!"
"Once, a child punched the wedding cake right before it was supposed to be cut."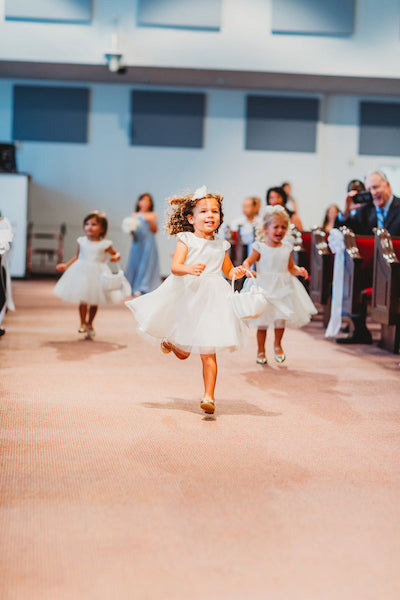 The Solution:
If you have your heart set on a formal, elegant wedding, I would reconsider the presence of any children. But there are ways to accommodate them, including providing childcare during the ceremony and kid-friendly activities for the reception. For an extensive guide to kids and weddings, check out this post.
The Bottom Line: Leave the Day-Of Drama to the Professionals
As you may have noticed throughout the post: I'm a big believer in protecting couples from any drama that occurs on the wedding day. The best person to handle wedding guest misbehavior is the wedding planner. Their professional experience and detachment from any family or friend drama perfectly qualify them to deal with misbehaving guests, insulating the bride and her family from wedding day dilemmas and allowing the bride to enjoy her day. In the absence of a wedding planner, a calm, cool, and collected relative or friend can take on this role!
Focus on What Matters
The "perfect wedding" is a myth: there will always be an element of surprise, and it may very well be your guests' behavior! While careful planning can help avoid some issues, when it comes to the day-of, all you can do is focus on what matters: the celebration of love between you and your partner. And I can assure you: those misbehaved guests can end up creating memorable moments you laugh about for years to come!
And if you have an upcoming wedding on your social calendar, be sure to brush up on your wedding guest etiquette with this comprehensive list of wedding guest do's and don'ts!
Have a Question for our Real Brides?
Let me know what topic you'd like us to tackle next! And if you're interested in learning more about etiquette, gift giving, and celebrating in style, be sure to subscribe to the RegistryFinder GiveIt blog for weekly posts on wedding etiquette, bridal showers, wedding trends, and of course, wedding registry guidelines and tips! And as always, be sure to refer your guests to RegistryFinder.com, where they can conveniently locate all of your registries in one place!