Are you hosting a bridal shower soon? Do you need some fun activities to entertain your guests? We've gathered some great games and ideas that will break the ice and add some fun to your next event. They're easy to prepare and will keep your guests involved and entertained!
The Newlywed Game
This game will provide lots of laughter for your guests! Prior to your event, ask the groom a set of questions and record his answers. At the shower ask the bride the same set of questions. If she gives the same answer as the groom, she wins a point. We played this game at my bridal shower, and for every incorrect answer, I had to add a piece of bubble gum to my mouth. You could also video the groom's answers or Skype him during your event to add a little extra fun!
The Apron Memory Game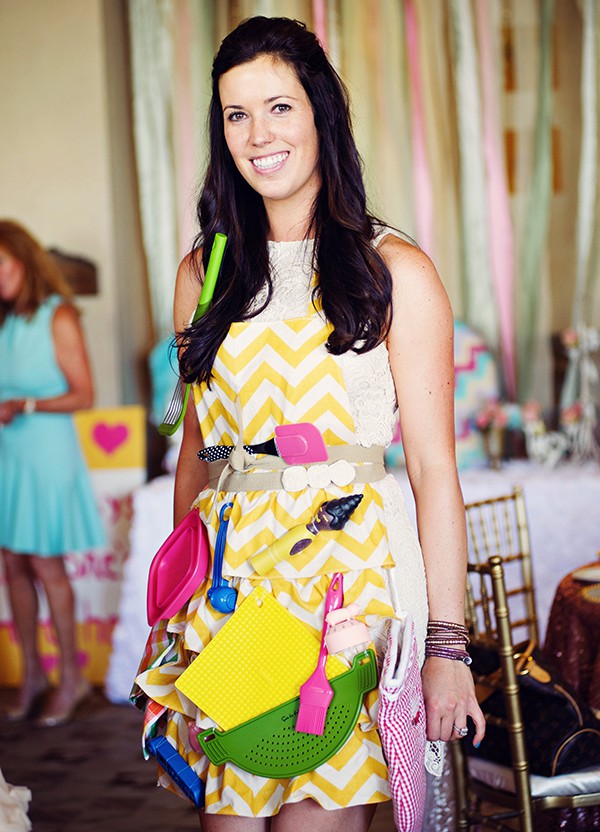 Source: Bridal Guide
Attach a variety of kitchen gadgets to the front of an apron. Put the apron on the bride and have her silently walk around the room for a minute or two. When the bride leaves, each guest writes down as many kitchen gadgets as they can remember. The guest with the highest number of correct items wins the game!
Bridal Shower Gift Bingo
Eliminate the awkward silence during the opening of presents, with Bridal Shower Gift Bingo. Give each attendee a blank bingo card and a pen. Guests fill in each space with a gift they assume the bride-to-be will receive. As the bride opens each present, guests mark off their Bingo card. The first with five in a row wins! Here is a free printable from Something Turquoise!
Bridal Shower Household Poem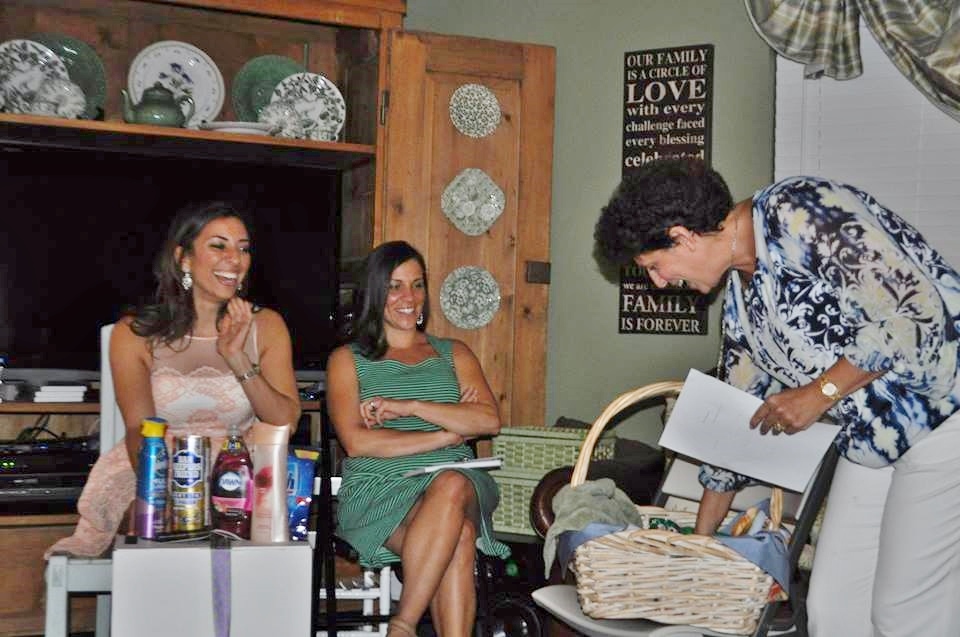 My aunt wrote this for my sister's bridal shower a few weeks ago. While reading the poem, she presented the bride with household supplies that corresponded to the words in the poem.
In 23 days you will PLEDGE your love to Bill who will be your KEEPER /FRIEND for life. We want to encourage you to greet him at the DAWN of each new day with a kiss and to FINISH off the night with a CARESS and a SOFT touch. Basically we want you two to be lovey DOVEY all the time! But of course, most importantly, we want God's blessings to CASCADE over you and your children, down to the SEVENTH GENERATION.
Here are two additional Bridal Shower Household Poems or you can tailor one for your special bride!
Bridal Shower Recipe Collection
This would be especially meaningful for a shower that included close relatives such as mom, grandmas, aunts and cousins. Include a blank recipe card with each invitation and ask guests to bring their favorite recipe to the shower. Gather all the recipes and present the bride with a collection of special recipes from her loved ones. Here is a great link with lots of free recipe card printables that would be perfect for this activity!
Date Night Jar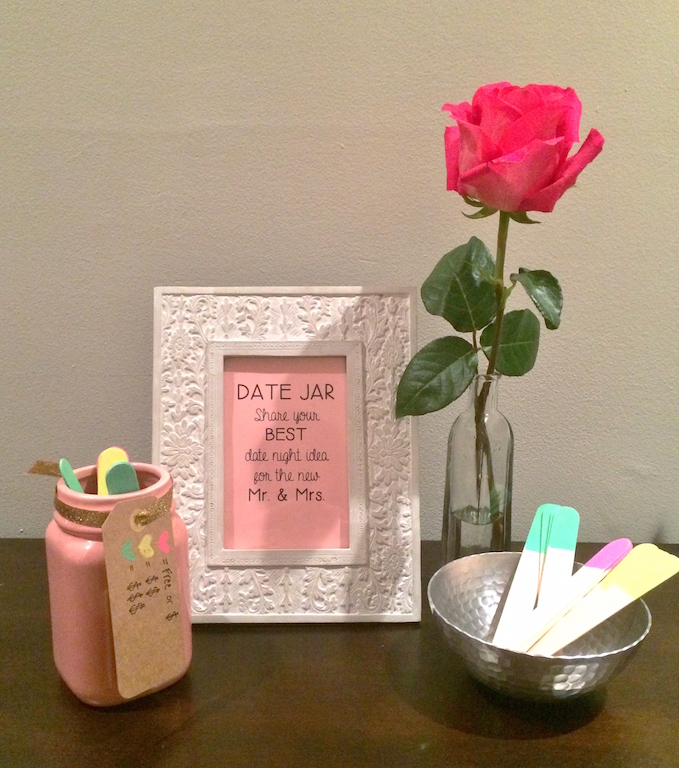 Help the happy couple keep the magic alive throughout the year! Set out slips of paper or wooded sticks and ask guests to share their favorite date night ideas. My cousin recently included this activity at another one of my sister's bridal showers and she painted the ends of the wooden sticks to correspond to the cost of the date night. When newlyweds are stuck in a date night rut, they can select one from the collection!
Who Said It?
There are a couple ways to play this game at a shower. Prior to the shower interview the bride and groom and ask questions relating to their relationship, personal favorites, hobbies, etc. (Check out this great list of questions!) In the photo on the left, the host read the questions and answers at the shower and invitees guessed who said each quote by holding up lips or a mustache. Or you can use this free printable from TomKat Studio and DIY Network and customize the quotes to reflect your couple's answers. Each guest can play the game individually and the one with the most correct answers wins the game.
Wed-Libs
MadLibs always provide some amusement and laughter. Something Turquoise has created a collection of nine free wedding themed WedLibs with topics such as- How they Met, Asking for Her Hand, Say Yes to the Dress and The Big Day. Though this isn't exactly a game, it's a fun activity that will keep your guests entertained during down time (during appetizers or the meal possibly) at the shower.
Celebrity Couples and Name that Movie Quote
If your bride keeps up on the latest celebrity news and loves to watch movies, incorporate one of these games from TomKat Studios and the DIY Network. "Married or Not Married?" lists celebrity couples and guests have to decide which couples are married. "Name That Movie Quote" includes several famous romantic quotes from well-known movies. The guest with the most correct answers wins the game!
Be sure to check out our Pinterest Board for more Fun Bridal Shower Activities. And instead of listing all of the bride's gift registries on the bridal shower invitation, consider referring your guests to RegistryFinder.com where they can find all of those gift registries in one place!