Boy baby showers don't have to be all "snips and snails and puppy dog tails"! You can welcome the newest little guy in your life in a sweet adorable way that will delight any mama-to-be. These are some of my absolute favorite ideas for a baby boy shower, and I might just be secretly hoping a friend or two will have a baby boy so I can use a few of these themes!
1. Where the Wild Things Are
I love using a classic children's book to theme a baby shower, and which could be more perfect for a little boy than Maurice Sendak's Where the Wild Things Are! The book is set in a jungle, so use greenery and wood to style this sweet shower. Greet your friends and family with wild green crowns and a mimosa bar to get the "rumpus" started!
Set your table with blues and greens to reflect the ocean and jungle in the book, and I love a beautiful, fun dessert table offset with a light and airy balloon arch which will make for beautiful photos. Have a copy of Where the Wild Things Are available so that friends and family can leave a sweet note for the little guy to read for years to come.
2. Ahoy! It's a Boy
A sophisticated nautical theme is perfect for any sea loving friends who are welcoming a baby boy. An adorable sailboat invite will set the tone and use shades of blue, tan, and white to carry the theme throughout. Wooden boats make adorable table decor and can later be used in baby boy's nursery!
Flowers are such a beautiful way to carry a theme throughout an event, and I love these arrangements in square wooden vases tied with nautical ropes. Soft hued arrangements that have the elegant feel of the ocean can be accentuated by bolder blues and reds to really bring the nautical feel.
Keep the food and drink light and refreshing. A beautiful berry salad incorporates the nautical colors, and the sweet and citrusy dressing will impress. Crab cakes may be the perfect food for a nautical event and are always a crowd pleaser; check out this extensive list of summer apps that would be perfect to serve at this nautical themed party! Lemonade prosecco punch is super delicious and can be made in a pitcher for easy pouring and as a bonus it's beautiful in a glass. Substitute the citrus vodka and prosecco with a citrusy sparkling water for mom to be and any non drinkers for an equally delicious and fun beverage!
3. A Berry Sweet Baby is on His Way!
How cute is a blueberry themed shower for a little boy?? There are so many berry themed showers, which are so adorable, but I love focusing on blueberries to make it even more boy-centric! This is the perfect theme if you want to create an elegant, but rustic vibe.
Blueberries can be used adorably in the decor, food, and drinks. Use that beautiful blue throughout and accentuate it with pale yellow and white to soften the feel and create that sweet baby shower feel. Mismatched blue table decor, greenery and dried flowers will help create that rustic vibe and large helium filled balloons adorned with greenery give the party a fun pop.
Send guests home with a useful and beautiful handmade blueberry soap bar favor!
4. Baby-Q!
A classic BBQ is the perfect relaxed, fun setting for a couples shower to welcome a new little boy! Find a backyard or even a local park to throw this shower and add some festive flair with reds, yellows and gingham. Gingham tablecloths and arrangements of sunflowers and baby's breath make simple and elegant table decor.
All the classic BBQ fare is exactly what this party needs, but you can elevate it by offering grilled fruit and veggies and crispy bacon to top burgers, and I love the idea of a mustard bar with all sorts of fancy mustards for the hotdogs!
Instead of the traditional baby shower games, top off the day with a s'mores bar and yard games for the most fun memories that will last far beyond the shower!
5. Baby on Board!
If the mama to be that you're celebrating is a certified beach babe, a beachy baby on board theme couldn't be more perfect! Choose an invite that will set the stage – I love this one that's adorned with a wave, sand, and of course a surfboard.
If you're hosting this shower inside, create a wave shape with a fun balloon arch, and use natural items like dried pampas grass and seashells to incorporate the beachy theme. If weather permits and you're hosting outdoors, go minimal on decor and allow nature to shine! I do love draping tablecloths long to create a wave shape at the base of the tables.
This beautiful mermaid punch is a fun drink that can be made with or without alcohol to accommodate your group, but either way looks amazing on any drink table. Find a local baker to create an adorable themed cookie to send home with your guests!
6. Boy Meets World
With 90s nostalgia at an all time high, Boy Meets World is a fun nod to the popular tv show and is the perfect tie-in for a travel themed shower for any millennial boy-mom to be! I absolutely love this fun invite that will set the theme just right.
The best thing about a travel themed party is that you probably have a lot of useful decor around your house or you can borrow from friends; use vintage trunks, maps and globes for the perfect table toppers!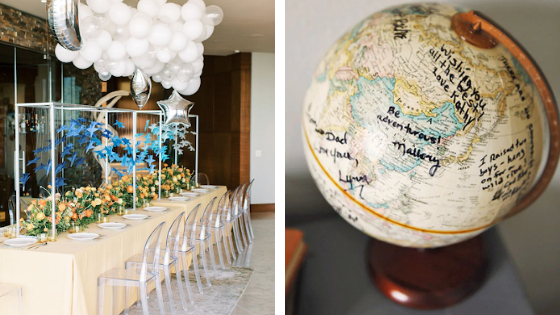 Folding 100s of paper airplanes is time consuming, but hanging those airplanes under white balloons will create a dramatic and beautiful setting and photo op that is budget and diy friendly. Snag a globe and set it up as an alternative to a guest book and it can live as decor in the new little guys room for years to come, and will serve as a reminder of all the friends and family who loved him before he was even born!
7. A Little Ray of Sunshine is Arriving Soon!
A boho rainbow theme is the perfect party theme for a laid back mom to be. If weather and season permits, a boho shower is best set outdoors to really let nature shine! All the natural elements blend seamlessly and create a beautiful party atmosphere.
To create a boho vibe, use lots of natural colors like tans, peach, and browns and accent with different shades of soft blue. Use dried pampas grass and bleached palm leaves for beautiful, billowy arrangements to create the aesthetic. If you live in an area where you can find these naturally growing, be sure to give yourself a few weeks to properly prep them, but if not, have no fear, Amazon has plenty of good options to choose from, like these! Incorporate the rainbow with wooden arches, balloon garland and a sweet cake topper.
An elaborate grazing table is the perfect way to incorporate all the beautiful rainbow colors! Line the table with craft paper and eucalyptus to match the boho vibe. Use a variety of containers for jams and other spreads and add height with pedestal servers to create a table to impress!
Plan the Perfect Baby Boy Shower
Whatever theme you land on, have a blast planning and throwing the perfect shower to welcome the sweet new boy in your life! And, while you're at it, make gift giving a breeze by sharing Registryfinder.com with guests so they can find every registry mom-to-be has carefully created!