Remember researching your baby's registry? Scrolling through 10,000 Amazon reviews to find the perfect pack and play? Stopping random moms at the grocery store to inquire about their baby carrier? Test driving strollers with your husband at the baby store?
The months have gone by in a flash, and the baby who once loved lounging in the swing you spent hours investigating is now running through the house without a diaper and climbing out of the crib you thought would last another year a two! All your "baby gear" is too small, too boring, or broken- so what's a busy toddler mom to do?
That's where we come in! As moms of toddlers, we know you need help finding products that come in handy for your walking, talking, growing toddler! We've done the research, tried each one, and can tell you from experience that your little guy or girl will love these products just as much as ours do- and we think you'll love them too. Read below for a quick "cheat sheet" on what to buy next!
Eat

These soft, flexible bibs have saved countless outfits in our house! The large size protects against spills and the pouch catches crumbs and other messes. They're made from BPA-free material and can be easily rinsed off or cleaned in the dishwasher. –Rebecca
ezpz "Happy Mat" Silicone Feeding Mat
If your toddler loves the phrase, "I'll do it myself," then these feeding mats are for you! Perfect for independent eaters, this mat helps contain the mess as your little one feeds herself. She'll love the cute color and design, and you'll love that it's BPA-free and can go straight into the dishwasher! –Christina

The Safety 1st Sit Booster Seat securely fastens to any chair and gives your toddler the added height needed to enjoy their meals. The one-piece design makes it a cinch to wipe down. Or you can throw it in the dishwasher after those extra messy meals. –Rebecca
Sleep

This little gadget will quickly become your new best friend. Why? The color-changing clock face will help your sleeping angel learn when it's time for bed and when it's ok to wake up, allowing you to catch a few extra minutes of sleep. In addition to settings for nap and nighttime sleep, My Sleep Clock plays white noise, soothing lullabies, and cheerful wake-up music. –Rebecca

The adorable Pillowfort Collection found exclusively at Target features bright colors, friendly characters, and cheerful patterns that are sure to delight your little one. When my son and daughter recently moved into a shared bedroom, we went straight to Target to pick out their new bedding. I love that this line has coordinated stuffed animals, wall hangings, and sheets from toddler bed up to queen size, allowing you to decorate your child's room like a design pro. –Rebecca
Potty

This potty doesn't have a lot of "bells and whistles," and that's how we like it. Baby Bjorn's simple and streamlined design means your tot will focus on learning to "go," and clean up is simple. Keep it close to your toddler's play area for those beginning training days, and bring it along for long car rides! –Christina

I recently purchased this potty seat after potty training my 2-year-old daughter. Prior to purchasing it, I had to accompany her to the bathroom every time she needed to go. But within 2 days, she was able to learn how to put this seat on the potty, climb up and go independently. It's easy to assemble and makes going to the bathroom a breeze for the little ones. –Rebecca

I'm convinced that my 2-year-old is on a mission to see every public bathroom in our city. Why is it that little ones get the urge to "go" the minute we step into a restaurant or store? With this foldable potty seat, you won't have to worry about germ-y public restrooms—just whip this seat out and wipe it down when you get home! It even has handles so your little one's hands stay clean. –Christina

A step-stool is a definite must in any home with a toddler! These wooden Personalized Step Stools from Pottery Barn are available in a variety of colors in a one-step or two-step style and will give those little legs the added height needed to reach the potty, sink or counter. –Rebecca

Toddlers love independence, and this faucet extender ensures that your toddler and bathroom stay dry while your little guy washes his hands and brushes his teeth. –Christina
On-The-Go

No more diaper bag! Hooray! But where to keep snacks, an extra change of clothes, and other items? I love this insulated backpack from Dwell Studios. It keeps food and drinks cool, and wipes down for easy cleanup. –Christina

The Holy Grail for toddler moms: a spill-proof water bottle. Behold, the Contigo! Cute designs, BPA-free plastic, and best of all, a design that ensures no mess! –Christina

After much research we selected The Graco Nautilus when my son was ready for a "big boy" seat. The forward-facing car seat works as a harnessed booster, a belt positioning booster, or a backless booster and easily adjusts to the height of your growing toddler. We chose the Nautilus mainly because of its high safety ratings, but my son also loved it because of the cup holder and little cubby holes that are perfect for storing snacks and small toys. Additionally, the fabric is durable and very easy to wipe down. I've washed the car seat cover several times and it still looks good as new! –Rebecca
Life with a toddler moves quickly, and this is the ideal stroller for keeping up! It's lightweight and folds up super fast, so it's perfect for travel. The extended shade means your babe stays cool. And when you're "on-the-go" tot runs out of energy, this stroller's seat reclines for a comfy naptime. –Christina
Have you found any toddler products you can't live without? Let us know in the comments below! And check out our Pinterest page Top Products for Toddlers for more products we love!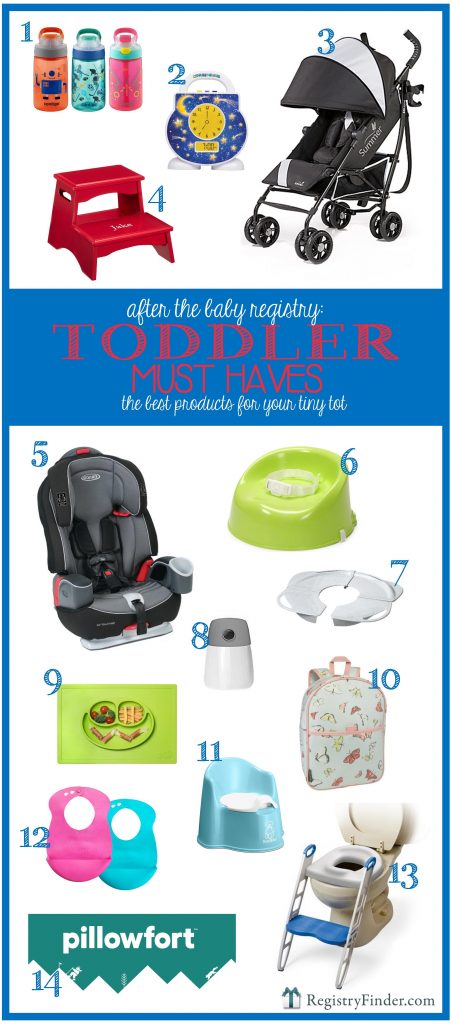 1- Contigo Water Bottles | 2- My Sleep Clock | 3- Summer Infant 3d One Stroller | 4- Personalized Step Stools | 5- Graco Nautilus 3-in-1 Car Seat | 6- Safety 1st Sit! Booster Seat | 7- Foldable Potty Seat Cover | 8- Prince Lionheart Faucet Extender | 9- ezpz "Happy Mat" Silicone Feeding Mat | 10- Insulated Backpack | 11- Baby Bjorn Potty Chair | 12- Tommee Tippee Easi-Roll 2-Pack Bibs | 13- Mommy's Helper Contoured Cushie StepUp Padded Potty Seat with Step Stool | 14- Pillowfort Bedding and Decor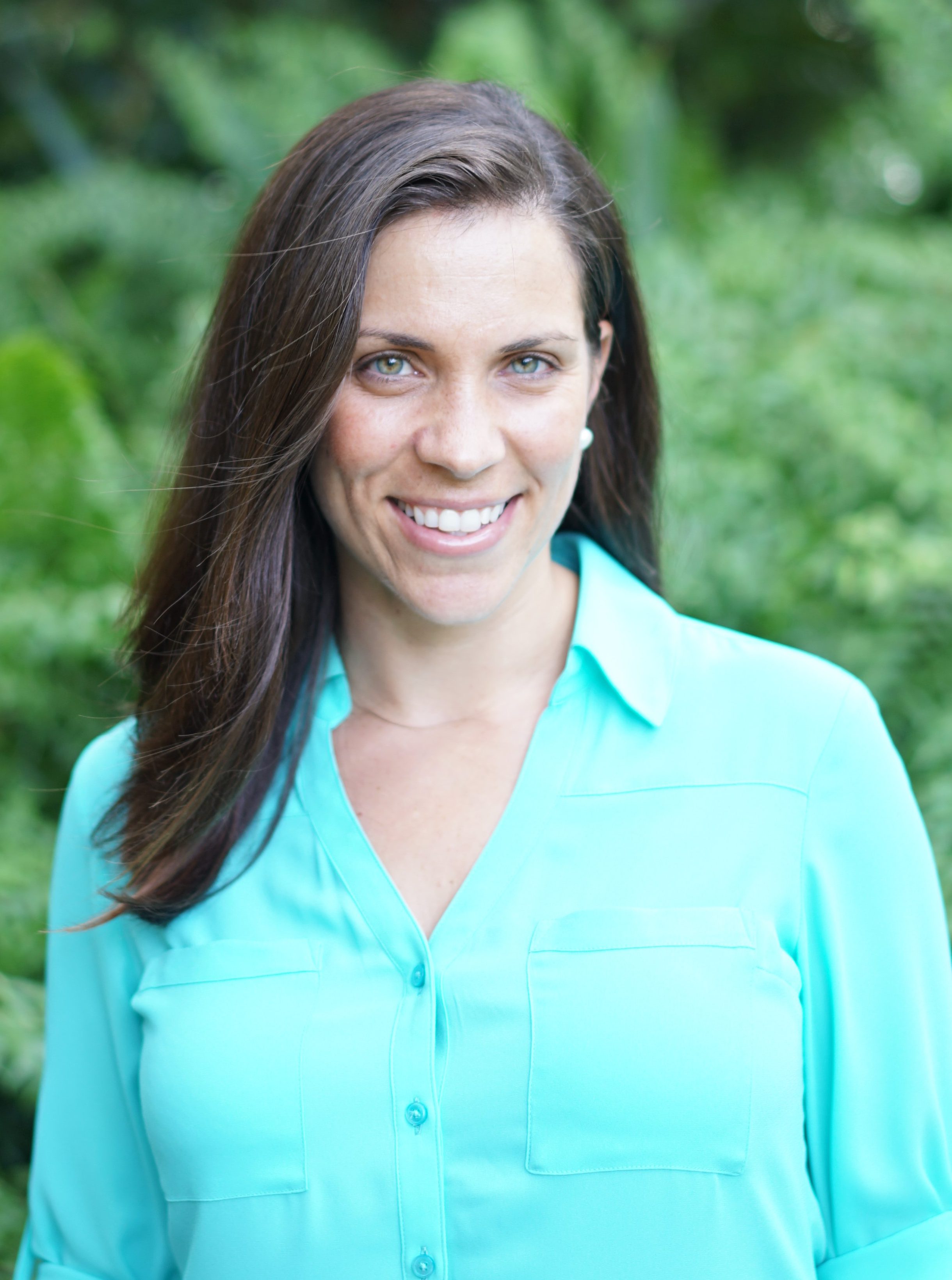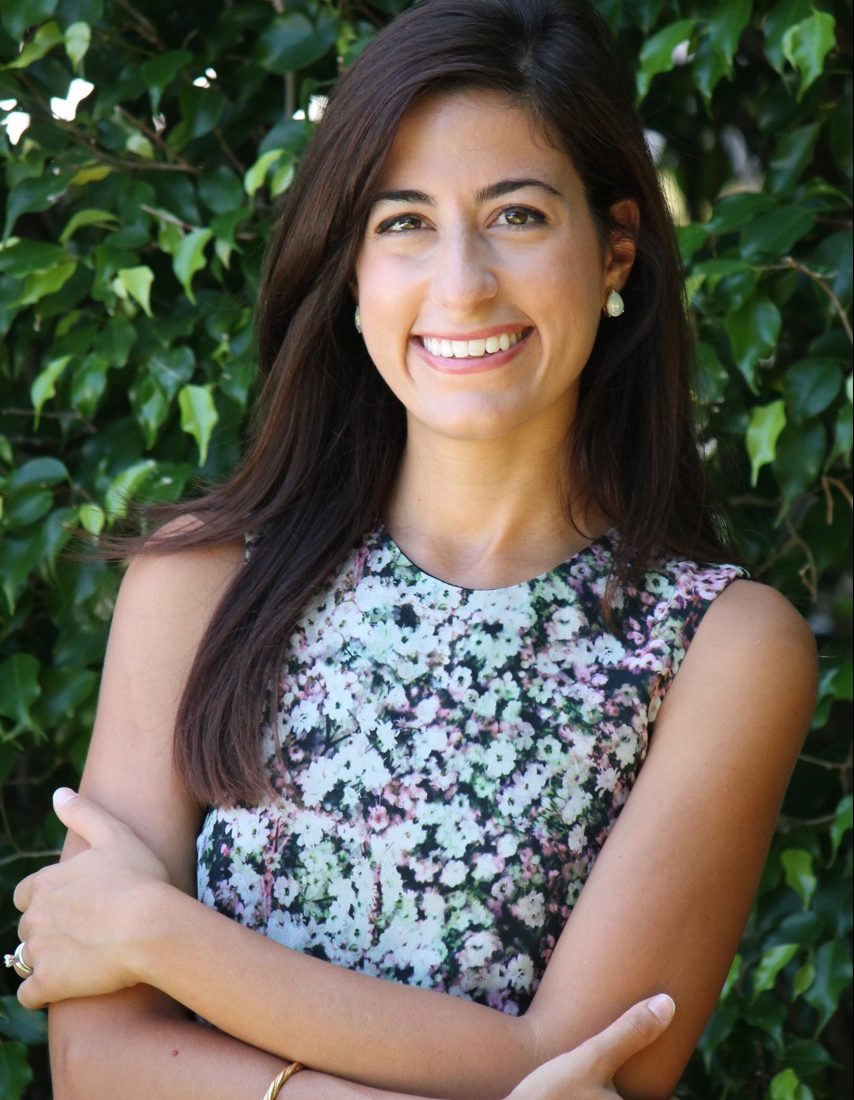 By Rebecca Haar & Christina Peterson, toddler moms and RegistryFinder.com bloggers
Save
Save
Save
Save