It's pretty hard to surprise me. So when my best friend FaceTimed me last Spring to show me the ultrasound of her first baby, I was floored when she also revealed the baby's sibling growing inside her! That's right: she was having TWINS! And with that announcement began six months of planning and research and lots of registering. Abi found out she was having a boy and a girl, and then she set to work talking to other twin moms about all she'd need when these two bundles entered her world.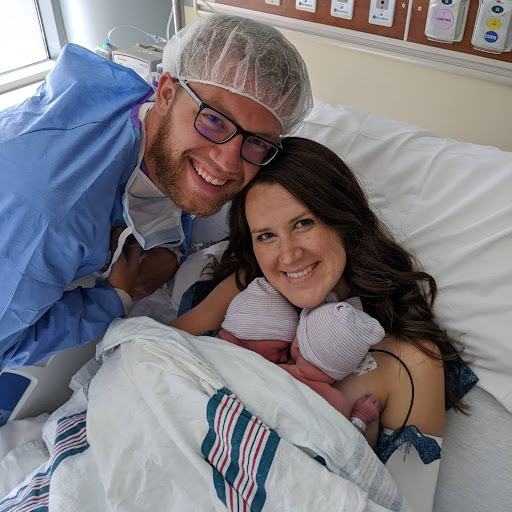 Registering for your first baby is overwhelming enough. Deciding which items to duplicate and what you need differently for twins is next level. My best friend was so grateful for fellow twin moms who offered their support and advice as she navigated her double pregnancy. And that's what we want to do for you today. I went to my favorite real moms of twins and got the inside scoop on what you'll need to start this journey with two babies!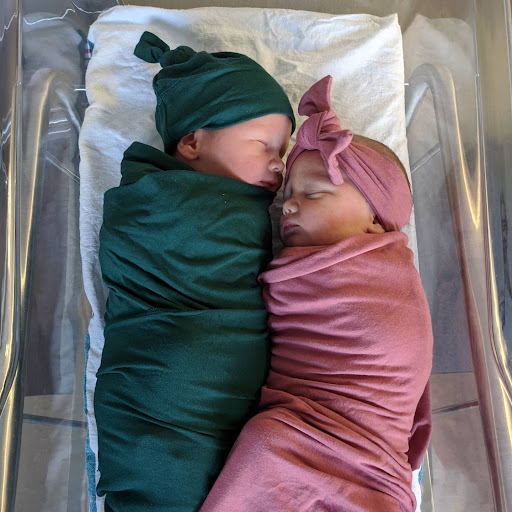 Ask a Real Twin Mom: Registry Essentials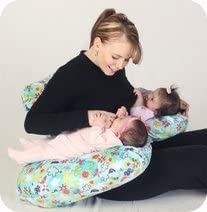 Similar to a boppy for a singleton baby, this TwinZ Nursing Pillow allows moms to nurse both babies at the same time comfortably. It provides a back support and two comfy and secure spots for babies to lay while nursing. My best friend and Real Twin Mom, Abigail C. says, "It's not the same using normal pillows; I've tried."
Real Mom Abigail C. recommends the Contours Elite double stroller for all your on-the-go twin needs. "It's stadium-style seating vs. double wide which I love. And It's easy to open and collapse." This stroller also boasts seven different seating configurations, a large storage basket, and swiveling front wheels for easy maneuverability.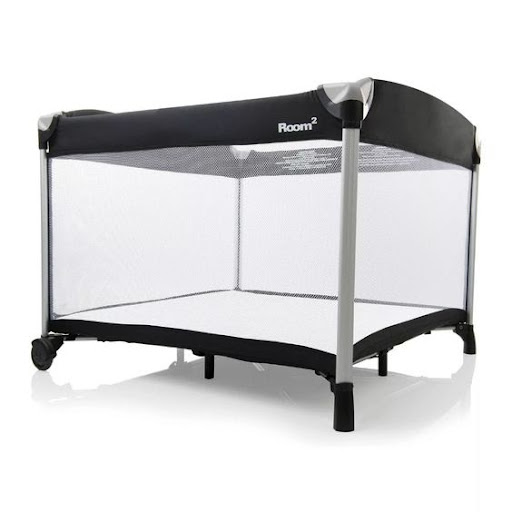 Sure, playpens are great for sleeping on the go, but they've got so many other functions too. Looking for a place to corral your babies? Set up a large playpen like this Joovy Playard. Its Large dimensions will accommodate both babies (instead of having to travel with two playpens), and it will give babies enough room to play together when you need a safe place to keep them contained.
Ask a Real Twin Mom: Add Two of These to Your Registry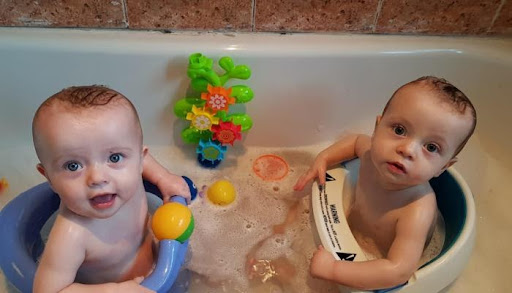 Two of these bath supports by AngelCare will fit perfectly in your tub and keep babies propped up and secure. They're designed for comfort and safety and make cleaning up easy with the mesh holes that allow water to pass through.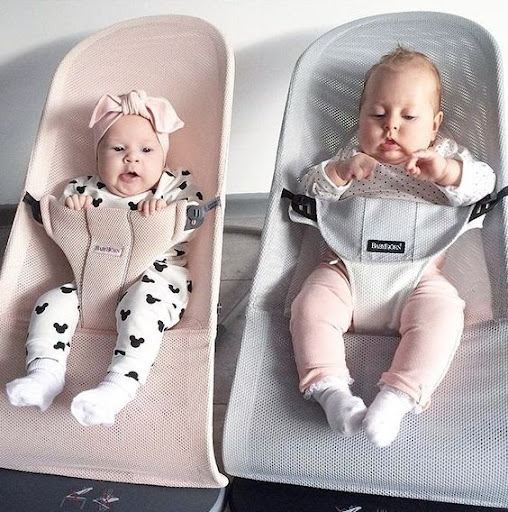 Having a pair of basic bouncer seats will come in handy for twin moms! Of course, set them up for playtime, but you can also use them for more logistical needs. Real Twin Mom Abigail C. has hers set up in the babies' nursery so that while she's changing one on the changing table, the other can be occupied and secured in the bouncer seat. Then they both sit in their seats before naptime while she reads to them.
Real Twin Mom Abigail C. says that while it might not be necessary to invest in two play mats, it would be nice to at least have one larger one. "Right now I have to angle both babies so they can fit on ours at the same time." Consider adding two coordinating playmats, especially if you're having one of each gender. We love this neutral and soft playmat by PotteryBarn Kids. Or if you want to keep it more bright and fun, the Lovevery playmat is also a milestone mat filled with teething rings, art cards and mirrors for hours of interactive play!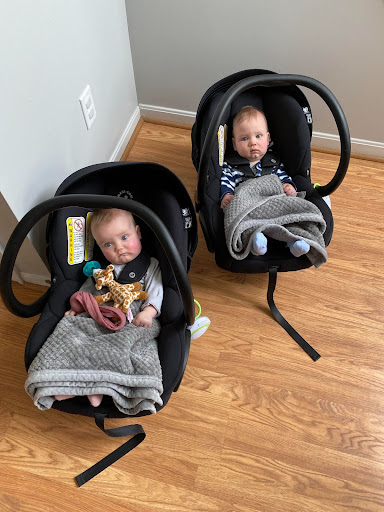 Car seats are a requirement for getting your precious new babies home from the hospital. Since you will be carrying two at once, make sure to do your car seat homework! Real Twin Mom Rachel P. encourages twin moms everywhere to find car seats that are lightweight while still being safe and secure. Make sure the seats can be easily loaded and unloaded into the car. And while I don't have twins, I feel like I have to advocate for the UppaBaby Mesa. They are light enough to carry with the cushioned protection a new mom is looking for. Plus, they snap easily into a double stroller like the UppaBaby Vista.
What You Can't Register For
A Flexible Routine
These two things may seem at odds, but Real Twin Mom Rachel P. says they're both necessary in heavy doses. Being a new mom to just one baby is enough to make the Type A women among us feel out of sorts. Add in another newborn, and I can't even imagine. So setting yourself up with the proper expectations from the beginning will help immensely. Both Real Twin Moms I talked with encouraged getting your babies on the same schedule. If one wakes up, wake up the other one. If one is hungry, feed the other one as well. Establish that pattern early on, so you're not spending all day feeding one then feeding the other in a never-ending cycle. Real Twin Mom Abi C. highly recommends Moms on Call parenting books for laying the foundation with twin schedules.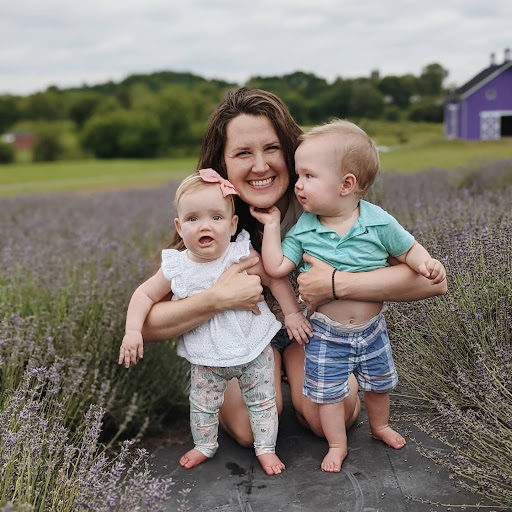 Pelvic Floor Physical Therapist
Although you can't register for this, Real Twin Mom Rachel P. encourages visiting a pelvic floor physical therapist after you've delivered twins. Not only will this help with putting your body back together after carrying and delivering two babies, but it will also help you to gain the strength and stability needed to carry and chase and care for those two babies.
As is the case with any new mom, the best gift you can give yourself as a twin mom is a big helping of grace. You're doing the best you can with what you've got, and you're growing not one but two babies! If there's anything I've learned from my twin mom bestie, Abi, it's that taking it one day at a time should be the mantra of motherhood. Keep going! And don't be afraid to ask for help or advice along the way!
Online Registy
You can add all these essentials to your online registries and then point friends and family to all your registries in one convenient location at RegistryFinder.com. If you're a mom who likes hearing from other moms just like you, check out more of our Ask a Real Mom posts on our GiveIt Blog!