A stroll through your favorite local baby retailer as a newly pregnant mom can leave you with a bit of sticker shock. Two years ago, when I created a registry for our first baby, I joked with my friends that nothing a baby needs was less than $30. Thankfully, the perk of baby gear is that it can be used for every new little one in your life (and even passed around to friends or family too!).
But, how do you narrow down what's actually worth its cost? And can you add big ticket items to your registry with confidence that you'll actually use them and love them? While we can't make any guarantees–because it's true, every baby is wildly different–we can take you to our experts. Our Real Moms offered up their favorite baby gear items that they couldn't live without and that's worth every penny! So open up that online registry you've been working on and let's get to adding!
Best Baby Gear
I'll go first and tell you that the one baby item I couldn't live without is our UPPAbaby Vista Stroller. There are a million perks, but the ones that matter the most to me are: the ease of opening and closing it, how simply it transformed to a stadium style seating double stroller (because our second baby came along only 16 months after our first!) and the large storage basket. It can work in just about any configuration and with a bassinet attachment, infant car seat or rumble seat(s). It's got all the accessories to make sure your baby is riding in style. Plus, it comes in a variety of stylish colors and has a timeless, chic look that's never going out of style.
Based on the amount of hours she logged in it during her son's first year of life, my sister-in-law Natalie M. swears by a great rocking chair or glider. She says: "You can decide what you want (rocker, glider, recliner, etc.) just make sure it moves easily and feels comfortable for nursing and soothing baby…I was so thankful we had spent the money to find something quality!"
Make sure to spend some time really trying out all the chairs you can. We love the selection at buybuy BABY and the opportunity they provide to really try before you buy.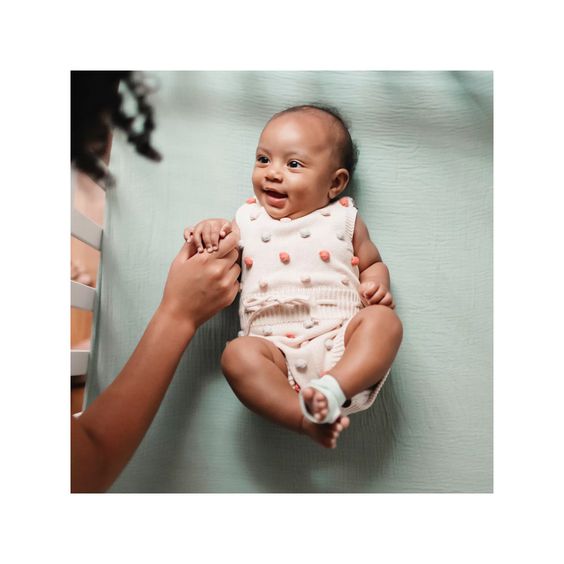 Real Mom Mackenna C. says the Owlet Smart Sock is her go-to in terms of baby gear. The Owlet provides parents peace of mind with real time updates of baby's sleep, heart rate and oxygen levels – all delivered to an app on your phone in real time.
It's like a Keurig for baby formula bottles! Real Mom Jennifer H., who just recently had twins, swears by the Baby Brezza. It automatically mixes a bottle, at the perfect warmed temperature no less, and easily dispenses the customized amount for your baby's bottle. The best part: it only requires cleaning every 4th bottle (so roughly once a day after you're out of the newborn feeding stage) and it's easy to do!
We didn't have a swing at all with our first baby, but we were gifted the mamaRoo when our second baby was born. Honestly, I don't know how we ever lived without one! The mamaRoois sleek, and our baby loved the different settings like car ride and kangaroo. She was an especially big fan of the faster speeds and the white noise that played through the speakers. While we only used it up until our daughter was 6 months old, we are lending it to my brother and sister-in-law when their baby arrives this winter. It's an easy product to share because it's simple to clean and babies only use it for a short window of time.
When it comes to baby gear, the options are endless it seems. We hope our Real Moms were able to help you narrow the search a little bit and add some items to your registry that your baby will use and love for years to come.
If you haven't started your registry, now is the perfect time!
So many of our favorite retailers (like buybuy BABY and Target) offer online options and you can start right now without even having to leave your home. To get you started, we've got the best baby registry checklist on our GiveIt blog. Want to hear more from our Real Mom experts? Check out more posts like these here.
Once your registries are ready to go, send your shower guests and loved ones to one convenient, easy to navigate spot at RegistryFinder.com.