From invitations, to food and drinks, and even the party favors—we've got you covered.
I don't know about all you readers out there, but whenever I'm faced with the task of celebrating a friend or family member's milestone, my first feeling is one of sheer panic. It might seem rude at first read but let me explain: I'm sweating bullets over wanting to throw the best party out there—and a baby shower is no exception! There are so many components to include, and so many themes to consider, it can make you nuts during a time when you should feel excited.
Perfectionist or not, I'm sure that if you've found yourself in a similar position, you've felt that familiar pang of anxiety. There's no shame in that game! It's a day focused entirely on your friend or family member, and it's completely normal to want to make the celebration absolutely perfect. That's why we've come up with an easy planning guide for every month of the year to help ease any of the stress and nail every component.
Don't feel pressure to stick to the month you're throwing the party—get inspired by the baby's due date or the theme you know the mom-to-be will love the most. No matter which month or theme you choose, all it takes is five simple steps to get from panic to party in no time!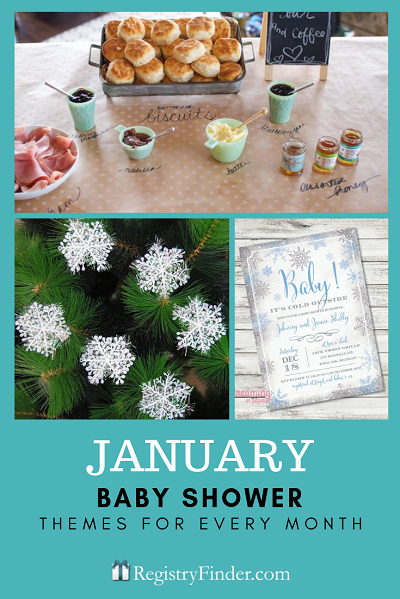 January Baby Shower Theme: Baby It's Cold Outside
Embrace the chill and throw a winter wonderland-themed baby shower in January: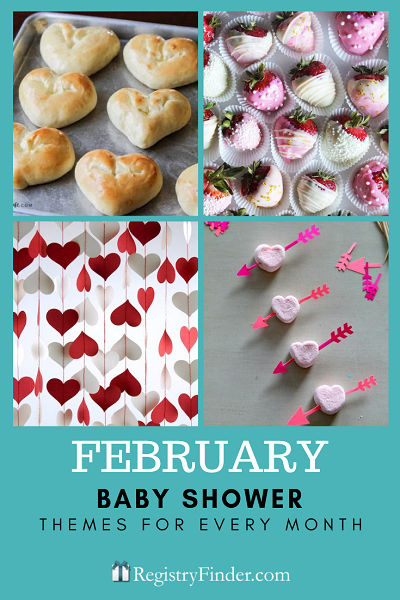 February Baby Shower Theme: Love Is In The Air
Let the Valentine's Day vibes inspire your planning and celebrate all things love for your February baby shower: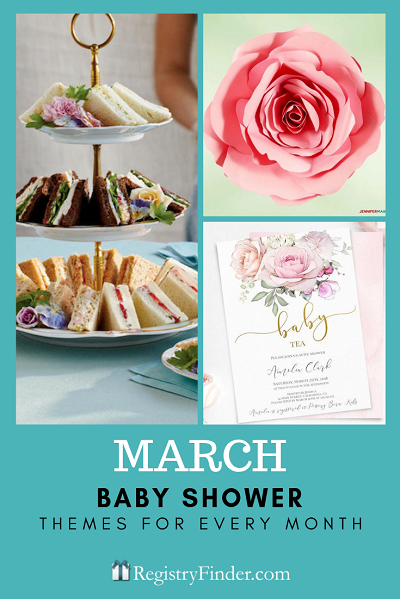 March Baby Shower Theme: Tea Party
Use Alice In Wonderland as your inspiration for a baby shower in March: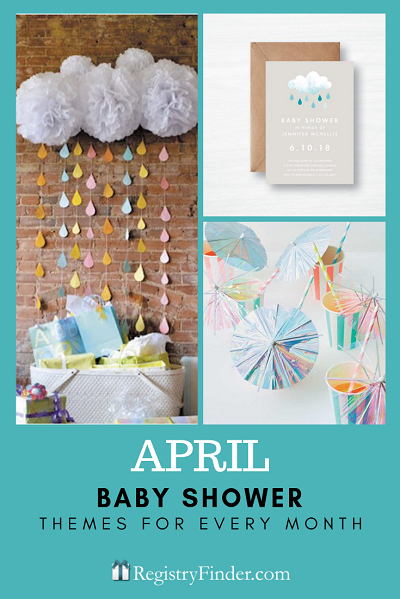 April Baby Shower Theme: April Rain Showers
Put the "shower" in your April baby shower with a cozy, rain-themed party: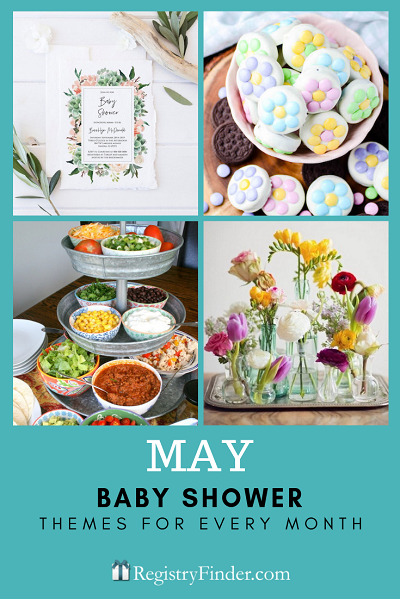 May Baby Shower Theme: May Flower Fiesta
Get into the Cinco de Mayo spirit with a May Flower Fiesta-themed baby shower:
Pop floral baby shower invitations in the mail so guests know when and where to celebrate the mama-to-be!
Turn mismatched clear bottles into easy, breezy centerpieces with a few flowers in each. If you need inspiration, lily of the valley and hawthorn are May's flowers.
Keep in the floral theme and stir up a pitcher of hibiscus mint lemonade garnished with real edible flowers!
Set up a taco bar with all the fixin's. For dessert, dip Oreos in white chocolate, then use M&M's to make flower designs on your creations for a cute and fun treat.
Help guests embrace their inner child with a flower-shaped piñata!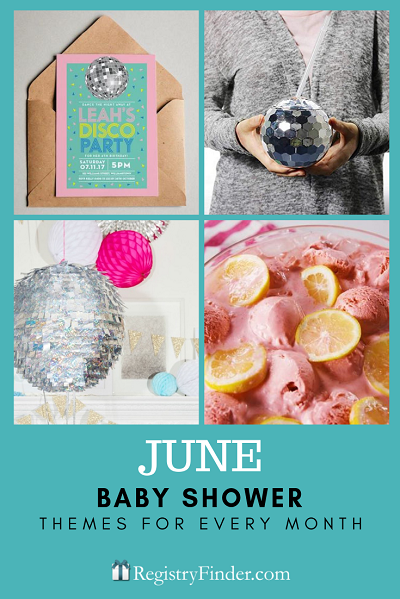 June Baby Shower Theme: Disco Fever
For a June baby shower, tell everyone to dig up their bell bottoms for a trip back to the 1970s:

July Baby Shower Theme: Tropical Hawaiian Luau
July is all about fun, sun, and vacation—celebrate the mom to be with a Hawaiian Luau-themed baby shower: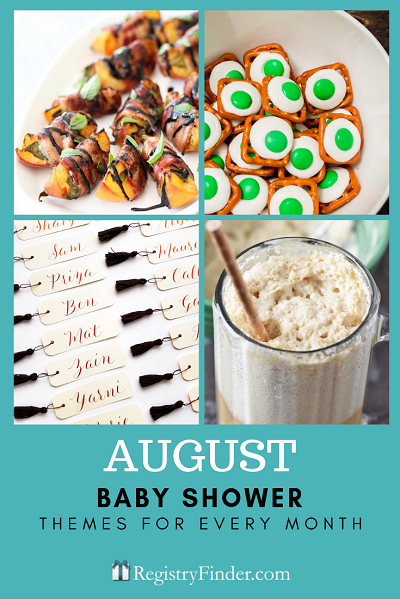 August Baby Shower Theme: Books & Their Characters
An August baby shower lines up perfectly with back to school and all things books (and their characters):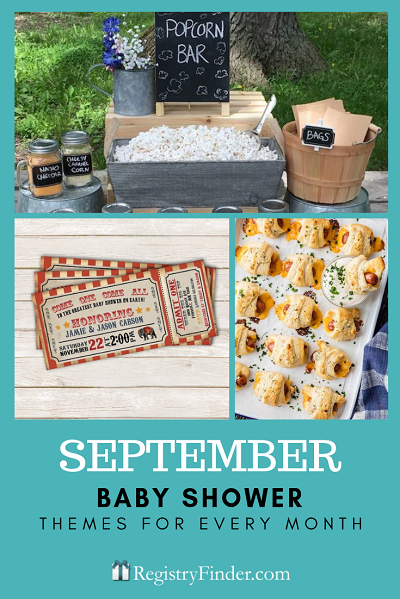 September Baby Shower Theme: A Day At The Carnival
Bring back September childhood memories and throw a carnival baby shower:
Send guests their ticket into the festive baby shower and let them know to bring the circus!
Gather seasonings and fun toppings to let everyone go to town and create their ultimate batch of snack foods at a DIY popcorn bar.
Keep everyone ready for the shower games and set out a platter of finger foods like cheesy pigs in a blanket and easy rainbow fruit kabobs.
Tap into your guests' creative sides and let them concoct their own flavored sodas at a fully loaded drink station.
Give the perfect excuse for goofy photos with a DIY strongman barbell prop—the results will be hilarious!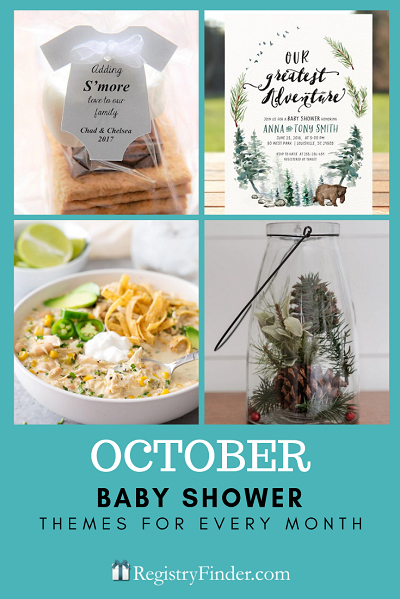 October Baby Shower Theme: The Great Outdoors
Gather up some pinecones and grab the crock pot for a perfectly outdoorsy October baby shower: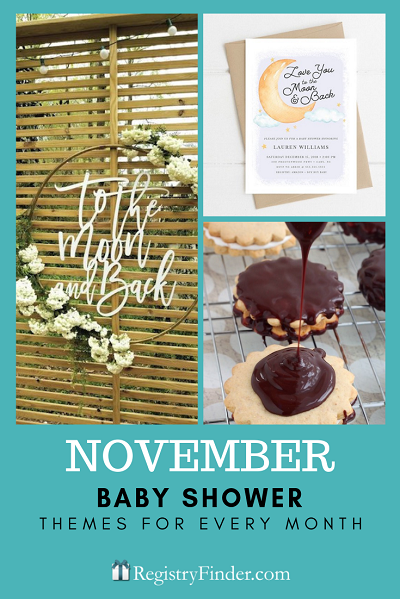 November Baby Shower Theme: Love You To the Moon
Make sure the stars shine bright on the upcoming bundle of joy with a space-themed November baby shower: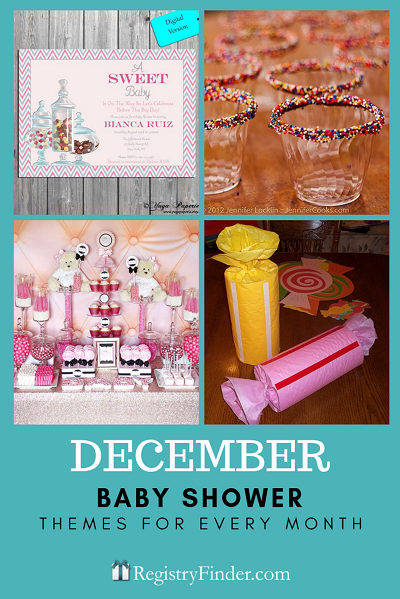 December Baby Shower Theme: Sweet Child Of Mine
How sweet it is to throw a December baby shower! Celebrate all things sweet this month: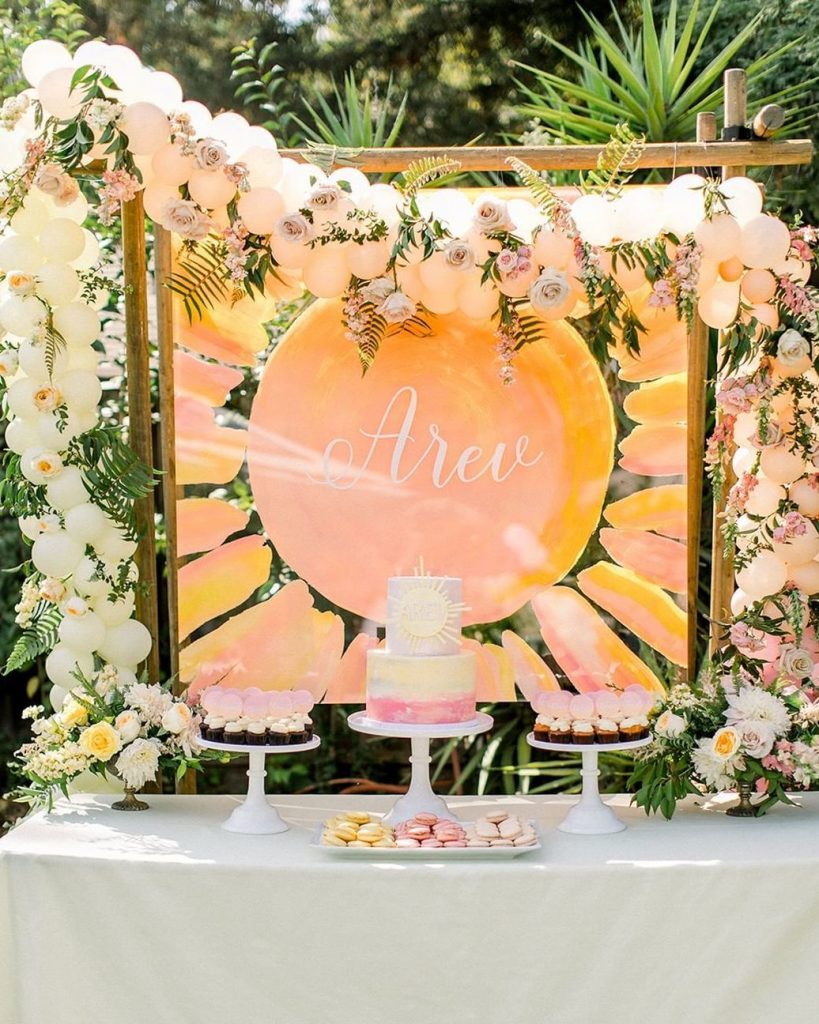 Celebrate Mama-to-Be!
If there's one thing you should be doing when a loved one is expecting a bundle of joy, it's celebrate—not stress. Now that you have an arsenal of twelve turnkey themes in your back pocket, you may just find yourself offering to host a baby shower more often! And, whenever you do wind up in that exciting position, be sure to direct all guests to RegistryFinder.com for easy gifting.
For additional inspiration for baby showers in any month, be sure to check out our Pinterest page full of more party decorations, invitations, recipes and activities. To make shopping for the shower easy on you, visit our Amazon Store.