At the beginning of the Christmas season each year my parents, in laws, siblings and friends ask what they should buy for my children, ages 3 and 1. As a parent, I usually ask for toys that are engaging, multi-functional, and educational. At RegistryFinder.com, we've discovered that many people have a difficult time choosing a gift for children under two, so we've compiled the following list of toys, plus a few other options, that are perfect for the special baby or toddler in your life. If you're a doting aunt or a grandma that loves to spoil her grandkids, this is for you!

Parents love nothing more than hearing the sounds of their child's laughter. With silly songs and monkey sounds, this cute toy will definitely make your baby giggle! Infants as young as 6 months will enjoy holding the balls and putting them in the monkey's barrel. Once they're standing, babies can put the balls in the monkey's hat. A simple touch of the monkey's nose and the fun begins again!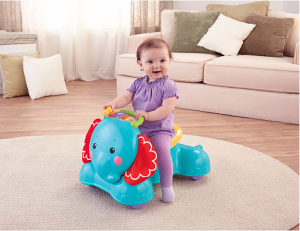 This adorable elephant is the perfect pal for young children. Beginning at 9 months, babies can sit and bounce on the elephant. It can then be used as a walker as they are learning to walk. Toddlers will be able to quickly zip around the house while riding on the elephant. This versatile toy also features songs, sounds and phrases.
This is not just any old wagon! This updated classic features a durable body, seat belts, cup holders, a storage bag and a shade canopy! Did I mention that it has seating for three kids? Parents will love the extra-long handle because it folds under the wagon for easy storage and transportation. It also makes towing the little munchkins around a piece of cake. It's perfect if you are looking for a combined gift for siblings.
On your marks, get set, Go Go! This engaging race track features colorful ramps and loops, as well a flag launcher, pit stop, and rocking launcher. There are 8 SmartPoint locations on along the track. When the car reaches one of these spots, it activates educational music and phrases. Toddlers will have fun while learning about colors, vocabulary and songs.
Newborns and infants can explore their surroundings during tummy time as they are supported by this pillow. This bright, plush toy plays classical music and features a teether, mirror, crinkle leaves, and textured fabric that will interest any baby.
The special baby in your life will love spinning and bouncing in this brightly colored exersaucer. The cute animals swing, twirl, light up and play music. Parents appreciate this engaging, 3-in-1 activity center because it grows with their child. It can be converted to an activity mat or table, making this an excellent gift for babies 0-24 months old.
This activity table is perfect for infants 6 months and older because the legs can be detached for floor play for sitters. As they get older, babies will enjoy cruising around the table exploring the piano, laptop, book and phone. Each button that is pushed plays a song or phrase and introduces children to numbers, letters, opposites, shapes, colors- even Spanish!
First Builders are an excellent way to introduce children to building blocks. The blocks are brightly colored and easy to hold for babies as young as 9 months. As they grow, babies will discover that these large blocks are simple to stack up and break apart. Before you know it, they'll be creating castles, skyscrapers, and fire stations!
The Activity Garden will provide hours of entertainment for the curious child in your life! Babies will love the cozy feel of the enclosed garden. There are many activities including a shape sorter, ball drop, activity board, and moveable telescope for them to discover. New walkers will enjoy climbing through the archway and can practice cruising around the perimeter of the garden.
This study, wooden toy is 100% kid-powered! Each side presents babies with several hands-on activities. There's a spinning animal alphabet, peek-a-boo doors, a zig-zag track, and a revolving animal match up. All of this is topped off by a brightly colored bead roller coaster full of loopty-loos, twists and turn that will keep children entertained for hours!
If you prefer a more practical gift, check out one of the adorable items in the Skip Hop Zoo product line. There are luggage and tableware sets, lunch kits, storage bins, travel blankets, and bath towels each adorned with the face of a cute, smiling animal. The luggage sets would be the perfect gift if it came paired with a weekend away at grandma's house!
Tickets or Annual Membership to Local Attractions
Another great gift for a young child is an annual membership to their local zoo, children's museum or amusement park. Or how about spending the day together at one of those local attractions? Have fun and make memories with the people you love!
We hope this list gives you a few ideas as you're searching for the perfect toy for the sweet baby or toddler in your life. For even more gift ideas, check out our Pinterest board, "Holiday Gifts for Children Under Two."
By Rebecca Haar – teacher, blogger, mother of two and new contributor to the RegistryFinder.com blog.
Save
Save