Last week we brought you part one of our series the Best Places to Create Your Wedding Gift Registry and featured department stores and discount retailers that carry a variety of basic housewares to outfit every room in your home. We're back this week a list of our favorite specialty retailers and websites that are also great places to create your wedding gift registry. Based on your hobbies and interests, you may want to consider creating a registry at one of these retailers which offer experiences, services and merchandise to suit many personalities and lifestyles. Keep in mind that, you may register with as many places as you'd like since your guests can quickly and easily locate all of your wedding gift registries at RegistryFinder.com.
For the Couple That Wants to Decorate their Home: Pottery Barn and West Elm
Pottery Barn is an upscale specialty retailer with 180+ stores across the United States. Offering classic furnishings and décor for your living room, bedroom, kitchen and more, Pottery Barn combines style, quality, value and comfort to bring you signature pieces that will transform your house into a home.
Pottery Barn's younger sister, West Elm, also features stylish home décor and furnishings to help modern couples create a home that tells their story. They specialize in contemporary, unique and handcrafted pieces with items often curated from artisans around the globe.
Top Perks of a Pottery Barn or West Elm Registry:
Free design services
10% completion discount for 6 months after wedding date
Monogram Shop with exclusive products
Universal Gift cards good at Pottery Barn, West Elm, and Williams-Sonoma
For the Couple That Loves to Cook or Wants to Learn: Sur La Table or Williams-Sonoma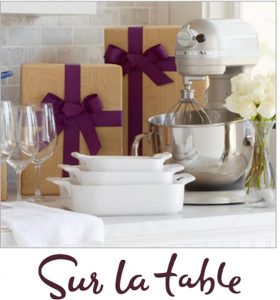 Sur La Table is the ideal registry location for the serious cook. It is the mecca of kitchen discovery and exploration, complete with knowledgeable staff and in-store cooking classes. Although the company has roughly 100 stores across the country, its website and catalog are viewed by millions. It's the destination for exclusive and premium-quality items for the kitchen. Sur La Table also offers a Registry Concierge, available to help every step of the way, including product and registry advice.
Top Perks of a Sur La Table Registry:
Dedicated registry concierge and private in-store registry events
Exclusive bonus gifts from favorite brands
10% completion discount
William-Sonoma celebrates the pleasures of cooking and entertaining with premium products and world-class customer service. If you enjoy spending time in the kitchen, create your gift registry at one of the 250 stores nationwide. With cooking classes, specialty food tastings, and kitchen equipment demonstrations, it's easy to discover which products are perfect for your home. Make a private appointment with a registry specialist to get started on your wedding gift registry.
Top Perks of a Williams-Sonoma Registry:
10% completion discount on unlimited purchases for up to 6 months after wedding date
Bonus gifts for products from leading brands when guests purchase from your registry
Universal gift cards also good at West Elm and Pottery Barn
Free gift wrapping
Thank You Note Manager
For the Couple That Wants Electronics or Appliances: Abt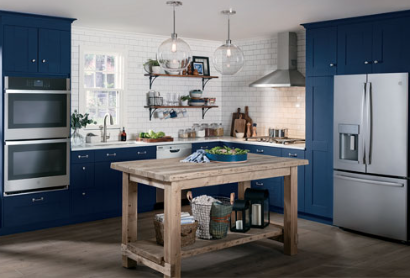 Whether you are looking to create a wedding registry, bridal shower registry, birthday wish list, anniversary or graduation wish list, Abt offers a large selection of options that are sure to include the gifts you are hoping for!
Abt Electronics has been around since 1936 and is a family owned business. As one of the largest independent retailers of consumer electronics and major appliances, Abt's goal is complete customer satisfaction, from start to finish.
For the Couple That Loves Outdoor Adventures: REI
If you love to get outside and play, then REI (Recreational Equipment, Inc.) is the perfect place for you to create your gift registry. With over 140 stores across the country and a comprehensive website, REI offers everything you could ever need to camp, hike, paddle, cycle, climb, ski or snowboard all in one place.
The premier retailer for couples who enjoy the outdoors
Free shipping on orders over $50
100% Satisfaction Guarantee
Easy Returns
For the Couple That Wants to Give Guests Extra Options: Honeyfund
Honeyfund began as a free honeymoon registry, allowing couples to register for honeymoon travel and experiences that guests can contribute to. Today it has expanded to give couples the option to raise money for a variety of things including a down payment, home renovations and even charity. Last year, Honeyfund partnered with nationwide retailers to introduce their universal gift registry which also lets couples register for household items and furnishings from around the web. If you want to give your guests a variety of gift options, Honeyfund is the registry for you!
Top Perks of a Honeyfund Registry:
Free and easy to create
A one-stop, all-encompassing wedding gift registry for travel, monetary contributions, and household items
And all of these stores or services have additional perks that may be just what you're looking for. We hope this helps get you started on your journey to creating the best wedding gift registry possible. Be sure to check out last week's blog post, Best Places to Create Your Wedding Gift Registry – Part 1 which outlines the benefits and perks offered by big box retailers we love, like Bed Bath & Beyond and Macy's (just to name a few).
Save
Save
Save