Congrats on your recent engagement! Now the fun really begins as you start planning your wedding- and that includes creating your wedding gift registries. Registering can be so much fun, but it can also be overwhelming as there are so many choices to make. So, we're here to help with these 3 easy steps:
Download our new Wedding Registry Checklist and keep it with you whether you're heading to the stores or registering online!
Take a peek at our best tips for creating your wedding gift registry.
Decide where you're going to register. We compiled this handy registry chart which compares all of the registry perks from our favorite retailers and registry providers. We like to break it down into three types of registries:
• Essentials Retailers: everything you need for kitchen, dining, bedding, bath and more
• Specialty Retailers: tailored more to a specific home category or hobby- home décor or kitchen, outdoor adventures
• All-Inclusive Registry Providers: universal registries that all you to combine all types of registries in one place
Feeling overwhelmed at all of your options?
Click the image below to get all the info you need about the best wedding gift registry providers!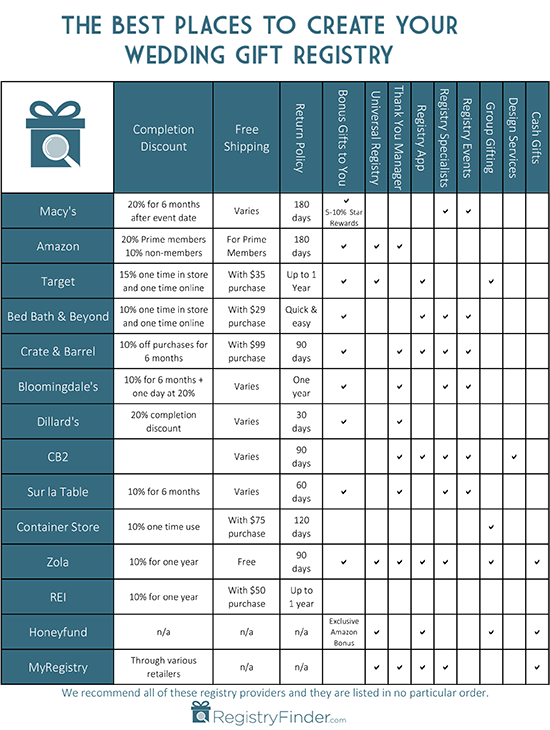 You can set up as many registries as your heart desires, but we recommend at least one essential and one specialty registry provider. Then you just refer your friends and family to RegistryFinder.com where they can find all of your wedding gift registries in one place!
Essential Retailers
Below is a list of our very favorite essential retailers. We love their their great selection of quality products as well as helpful resources and registry perks.
Bed Bath & Beyond | Registry consultants, 20% completion discounts and bonus gifts
Macy's | Registry advisors, 20% newlywed discount, Registry Star Rewards (cash back to you) plus other perks and discounts, thank you manager
Bloomingdale's | Personal registry consultant, 10% completion discount, special events, thank you manager
Crate & Barrel | Private registry parties, 10% completion discount, thank you manager
Target | Universal registry, 15% completion discount, 1 year return policy
Amazon | Universal wedding gift registry, 10% completion discount (20% for Prime members!)
Dillard's | 20% completion discount, thank you manager, bonus gifts from favorite brands
Specialty Retailers
If you prefer a honeymoon registry, love cooking or outdoor adventure, or want to decorate your home, we recommend going with a specialty retailer or alternative registry provider.
Sur La Table | Premium and essential tools for the kitchen; Registry concierge, 10% completion discount
The Container Store | Home organization and storage; 10% completion discount
Food 52 | Pro kitchen gifts for the home cook; 10% completion discount
CB2 | Modern and eclectic home furnishings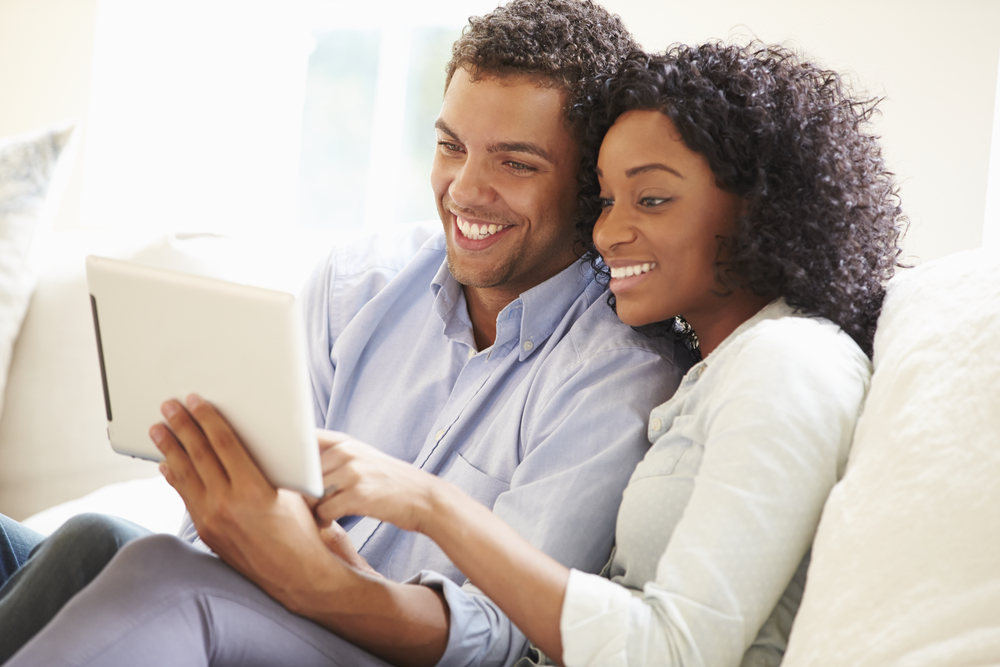 All-Inclusive Registry Providers
Zola | Register for gifts, experiences, and money all in one place
Honeyfund | One-stop wedding registry for your honeymoon, monetary contributions and household items
MyRegistry | Add gifts from any store in the world and register for cash gifts
Blueprint Registry | Add gifts from any store, import existing registries, set up a cash registry
Ready, set, register!
Now that you're equipped, go tackle that wedding gift registry and select the registry providers that fit your personal style and needs. Not sure what items you should add to your registry? Don't forget to print our wedding registry checklist and take a peek at 13 Things You May Not Think of Addding to Your Registry. Once your registry is set, refer your friends to RegistryFinder.com where they can get all your registry info with a few quick clicks!
This post was originally published in 2017. We always want to provide the latest information so we've added some new tips and registry providers- including our new registry comparison chart! We hope the chart makes it easier for you to select the best wedding registry provider for you!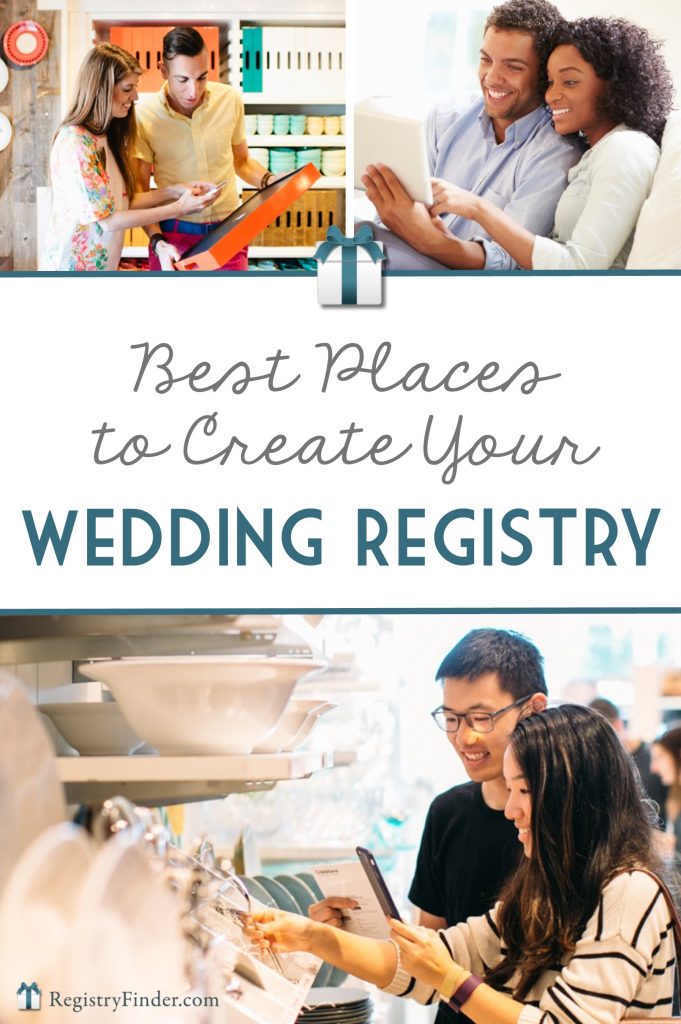 Disclosure: This post contains affiliate links. The ideas are ours, but we may be compensated if you make a purchase by clicking on one of the links. Thanks for your support!
-Written by Rebecca Haar, RegistryFinder.com GiveIt blog contributor
Save