Baby Shower Inspiration from Your Favorite Book
When it comes to throwing a baby shower, we know you want to keep it simple, yet creative. Maybe you've been to enough pink, blue or neutral colored showers to be in the hunt for a different way to celebrate the mom-to-be in your life. As always, you've come to the right place here at our Give It Blog.
Lately, we've seen a trend at baby showers: moms-to-be registering for children's books. Some hosts will ask that instead of bringing a card with their gift, guests include a book with a handwritten message for the baby. And while that idea is adorable, we think you could kick it up a notch by throwing a children's book-themed baby shower.
We've collected a few of our favorite children's classics and come up with games, decor, menu options, and favor ideas. Stick to one theme or combine a few different books for an adorable literary soiree.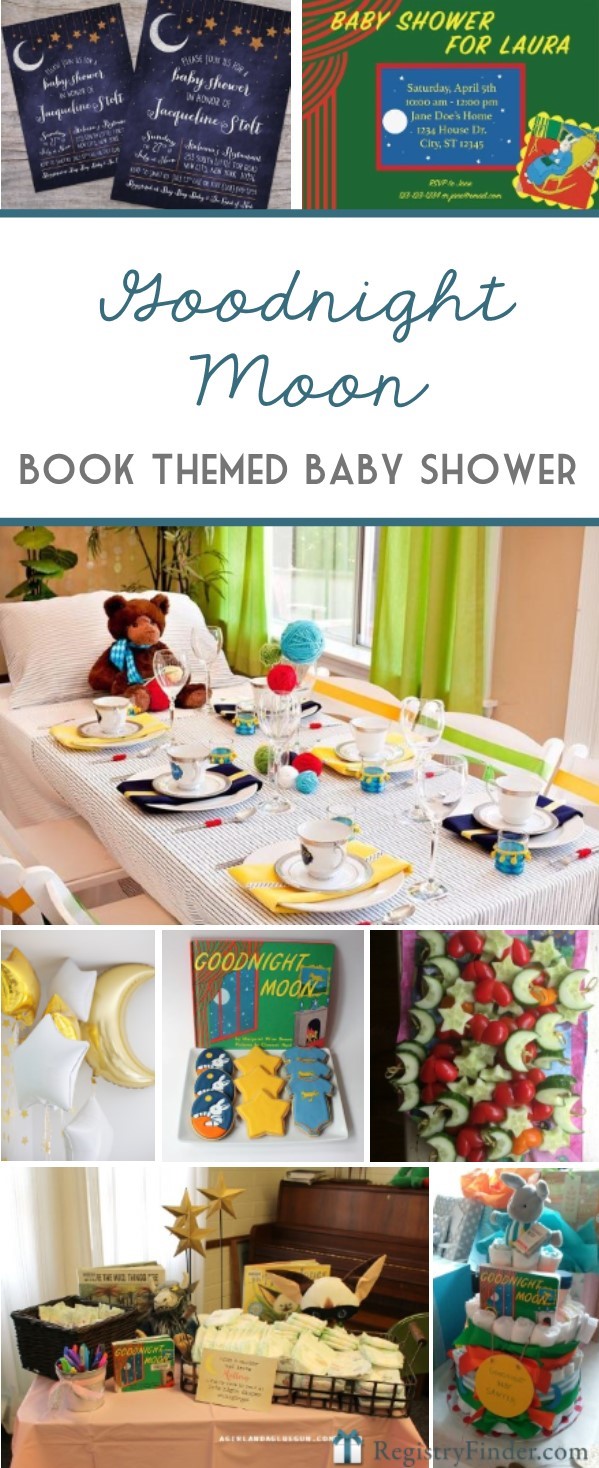 Goodnight Moon
Start by getting guests "over-the-moon" excited for your Goodnight Moon themed shower. We love these invites designed by Etsy seller WildBerryPrint. If you want to stay really close to the book, you also might consider an invitation that looks like the book cover, like the one from Etsy seller, PaperyParty
Welcome your guests into the world of Goodnight Moon by transforming your tablescapes into mini bed sets. Use your table linens as "bedding" and prop a pillow and stuffed toy at the head of the table. Tie in the book's bright primary colors in your paper products and centerpieces.
Create a diaper cake with a Goodnight Moon topper and add it to the gift table.
Add in moons and stars throughout the party with simple ideas like gold-foiled balloons and paper banners.
We love this diaper game for a Goodnight Moon Provide diapers in various sizes and a variety of colored sharpies. Guests can write messages on the diapers for the parents to read during a late night changing!
Decorated sugar cookies like these are the perfect way to tie back to your Goodnight Moon Consider cookies shaped like stars, moons and even bunnies!
Use cookie cutters to cut your fruits and veggies into moons and stars. Bonus points for carrot sticks for the book's bunny character!

Guess How Much I Love You
Keep your color palette light and neutral for this shower theme. Light grays, whites, and yellows will tie this theme together making it the perfect shower to throw if mom and dad are keeping baby's gender a surprise!
Etsy is home to the perfect handmade invitation designs to fit your nursery rhyme shower themed after the classic book, Guess How Much I Love You! We love the calendar detail on this one from Etsy seller, PersonalMomentDesign.
Get adorable banners and balloons from Etsy seller Super Sweet Party and use fresh flowers to accent tablescapes.
For guest tables, run moss or faux grass down the center as a runner and top with mini trees, logs or flowers to give an outdoor vibe to an indoor space.
Sugar cookies are a must have at any shower. Display these carrot cookies alongside copies of the book.
Games for a Guess How Much I Love You shower are easy to come by. Give guests lines from classic nursery rhymes and have them guess which nursery rhyme it's from.
Add Hershey's Kisses into a big jar and have guests guess how many are in the jar by writing their answer on a slip of paper. The winner gets to keep the jar of chocolate.

The Giving Tree
If the mom-to-be in your life knows she's having a boy, a Giving Tree themed shower is the way to go. The invitations can mimic the cover design of the book and we love the added book quote: "And she loved a little boy".
Bring the outdoors in with log centerpieces, succulents, and decorative miniature apples. If you're setting the table, add leaves or tree bark as well.
Create a banner for behind your food table with leaf cutouts and a "Welcome Baby" sign in green.
Veggies are a must at this shower, especially since broccoli works so well as a real Giving Tree.
Instead of a traditional cake, consider a cupcake pull-apart cake that looks like the book cover.
As an activity, have guests fill out well wishes for the newborn baby and hang on a "wishing tree". It will add to the decor and be a precious treasure for the new mom to cherish.
Guests can also create their own bookmark at this shower. Simply pre-cut cardstock and thread with green ribbon. Then offer stamp and ink pads, markers and pens for guests to remember the shower with.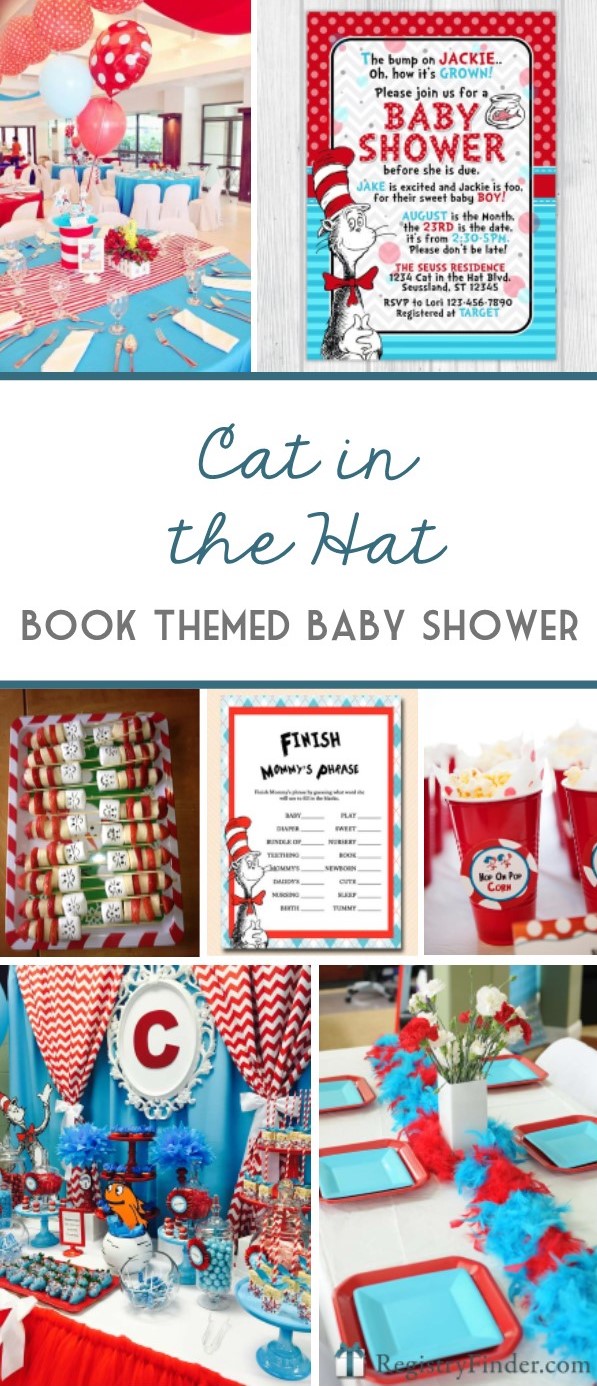 The Cat in The Hat
Happy Planning!
Start planning your book themed baby shower today! Not sure where to start? Ask the mom-to-be what her favorite childhood book was and theme your shower in honor of her.
When you're ordering invitations, simply list RegistryFinder.com as the spot to locate all of new mom's baby registry items. Shower guests will love the simple convenience of shopping via RegistryFinder! Need more baby shower ideas? Our Give It Blog is full of shower games, recipes and themes that are sure to be crowd pleasers!