As a self-proclaimed amateur interior decorator, I often find myself falling into a daydream full of furniture, art, knickknacks, and organization. Shortly after my husband and I found out we were expecting our first child, I began searching the internet for ways to maximize our little one's nursery space. We planned to convert the tiny sunroom in our townhome into a gorgeous nursery for our newest and cutest roommate. Unfortunately, there was a lack of information surrounding the topic of small space nurseries, which led to a very frustrated and very pregnant momma-to-be. Oh, how I wish I had come across a post such as this one to help me create my small space nursery!
We at RegistryFinder believe that the fun multiplies when you realize how many great products out there will make any dream nursery (no matter the size) a full-blown reality. The three things to look out for? Clever storage solutions, multifunctioning furniture pieces, and space savers for the truly small-space nursery.
Below, we've compiled the best, most versatile furniture, storage, and room decor items to hit all the right points and maximize every inch of your baby's nursery.
Cribs: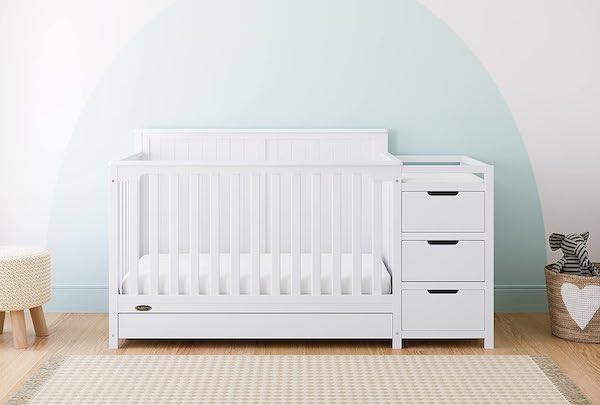 To be honest, I didn't even know it was possible to buy a crib with a changing table attached, so imagine my surprise when I learned that this somehow does even more than that! In addition to offering added storage space with three roomy drawers, the bed itself serves as the frame for a crib, toddler bed, daybed, or full-size bed. Yes, you read that right—this crib transitions through your baby's lifetime without a hitch!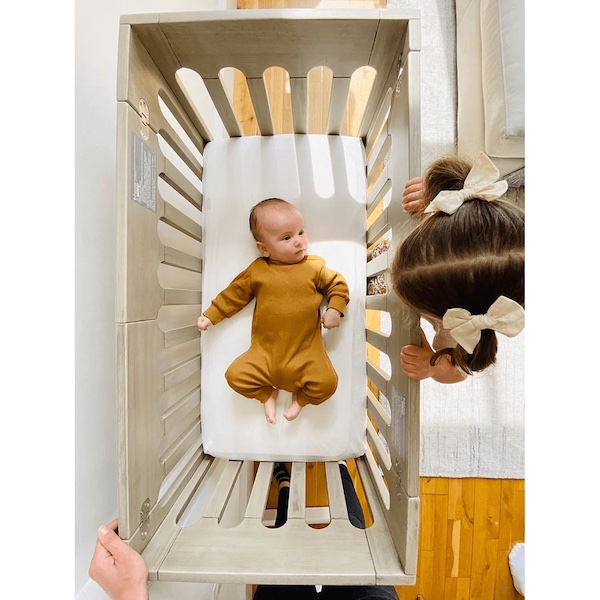 Cribs have gotten a serious upgrade in the twenty-first century; designers have finally realized that nurseries of all sizes still need a place for the baby to sleep! This mini crib sleeps up to twelve months—small but mighty, as they say—and folds away for easy storage when not in use. It's a beautiful solution for anyone designing a small space nursery.
Changing Tables: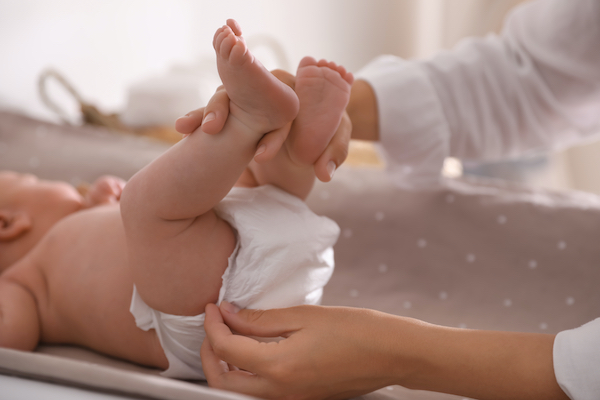 One of my favorite pieces of furniture in our son's nursery is his changing table. I had such fun organizing all the newborn necessities while envisioning what it may look like to change his diaper and dress him for the day. While the idea of a changing table may sound like an extra piece of furniture, we have just the items that will help maximize your nursery space!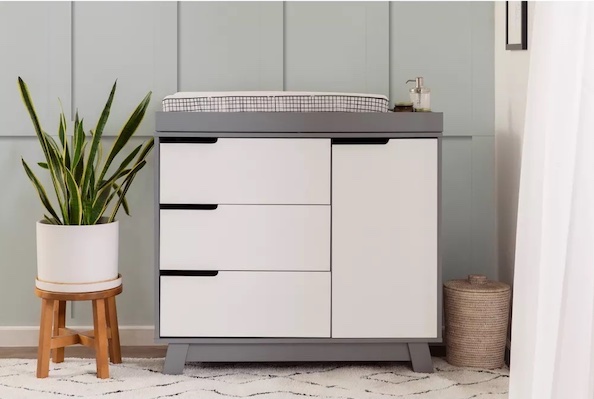 This changing table-dresser hybrid is essential if your baby's nursery doesn't have a closet or has a very small one. The added side panel gives you just a bit more storage space and easily accommodates a small hamper or receptacle for dirty diapers. I love the simple, modern design that integrates with other styles while making a statement in a small space nursery.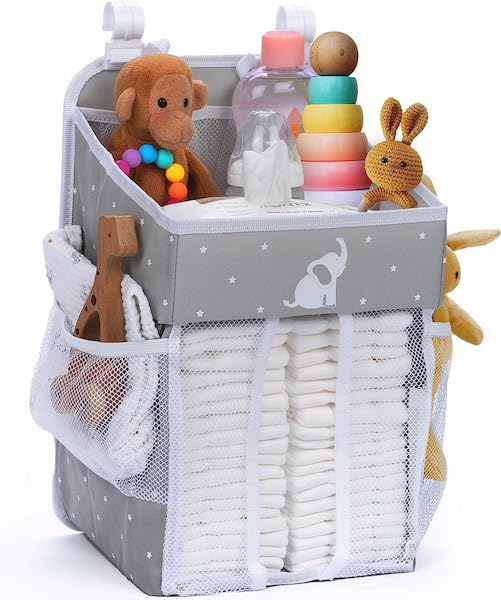 Just because that changing table comes with built-in storage doesn't mean you should stuff it with diapers! Free up valuable drawer or shelf space and make diaper changes a breeze with a caddy that attaches to the changing table or crib. It's got a spot for everything you'll need to make your little one feel clean and comfortable. Plus, it packs up easily for travel and comes in various colors—sounds like a no-brainer!
Rugs: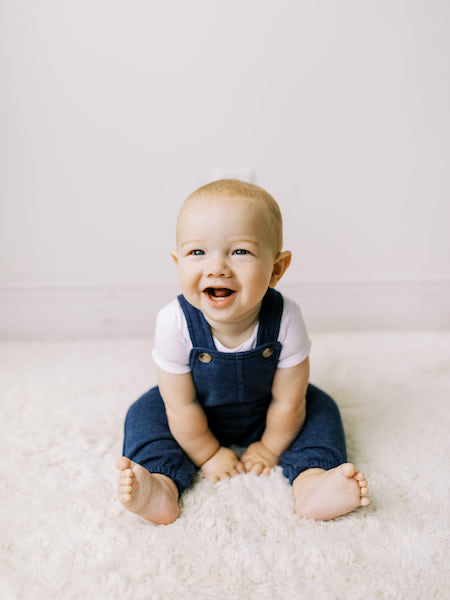 A rug makes any room feel infinitely cozier, and a light-colored area rug will make any small-space nursery feel bigger. It also provides a safe and comfortable place for your little one to play and explore. For more babyproofing techniques, visit our Babyproofing 101 post. Below is a list of our favorite rugs that will elevate your baby's nursery.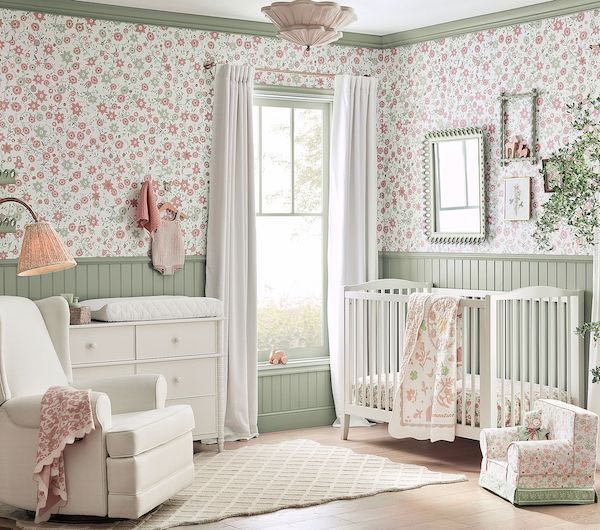 We love this Pottery Barn Kids Scalloped Border Rug because the high-pile, super soft rug makes for a gentle and comfortable spot for tummy time, and the neutral color goes with any other decor you may have already picked out. Bonus: the wool is soil and stain resistant, making it a great choice for a nursery.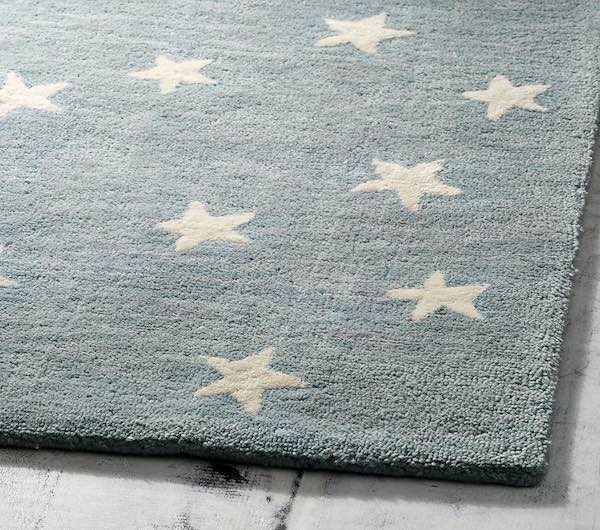 I love this dreamy star-spangled rug for a small space nursery, but really, for any nursery—it just makes you happy to look at. The gender-neutral design is created to be soft on the feet so that the floor space can become the most comfortable playground in town.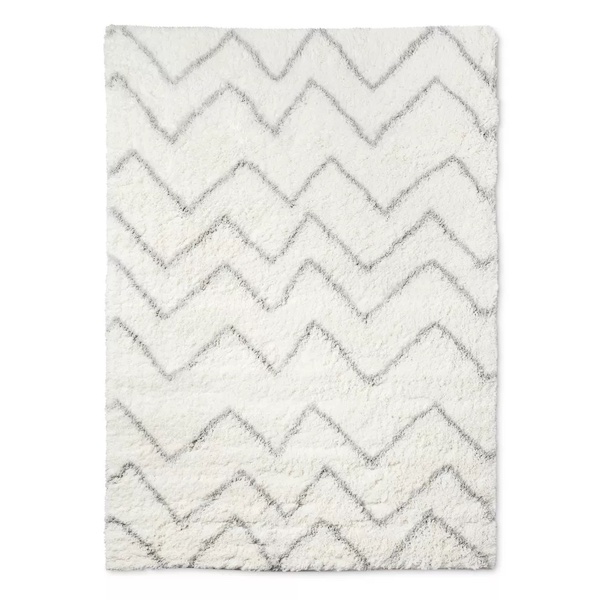 There's something about walking on a shag rug that feels luxurious, and this chevron-patterned rug is no exception. It comes in a variety of sizes to fit perfectly into your small nursery space, and the design offers a contemporary element to the room.
Bookshelves / Storage: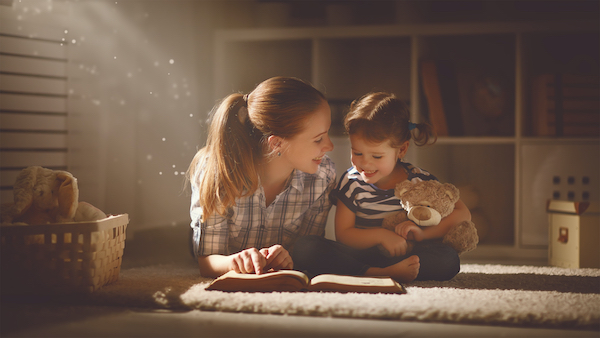 Dr. Seuss said it best, "The more that you read, the more things you will know. The more that you learn, the more places you'll go." One of my favorite spots in our son's bedtime routine is when he picks out a book, and we read it together. You'll be surprised at how quickly your child's library (and toy basket) will grow, so we made sure to supply you with just the right tools needed to assist you on this journey.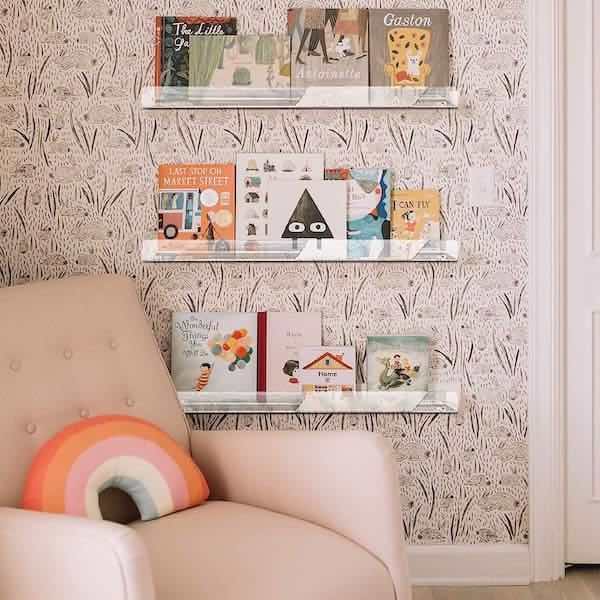 Are you searching for someplace to display baby books and photos in your small space nursery? These floating shelves are sure to do the trick without adding too much bulk to your baby's bedroom walls, and the acrylic is sure to add a sophisticated touch!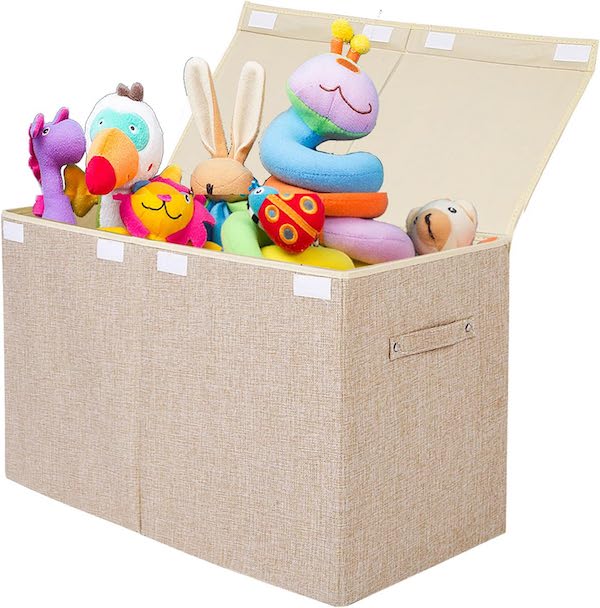 If you're anything like me, having a storage container for your little one's treasures with a lid is a must! With over 4,000 reviews and various color options, you will surely find one that fits your nursery aesthetic. This toy chest is an excellent option if you're looking to add extra storage to your nursery- The best part – when not in use, this toy chest can collapse to save even more space.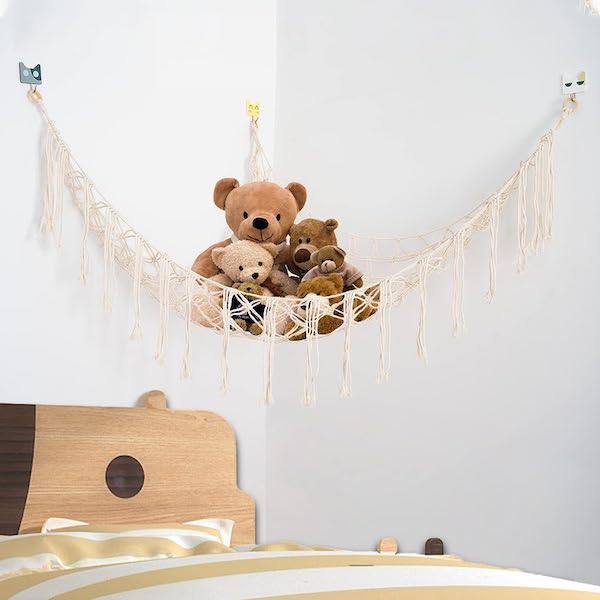 Almost all of my friends had one of these hanging above their beds when I was growing up, and when I saw it again recently, I knew it belonged in a small space nursery. The mesh net stays suspended wherever you choose to hang it (*cough* over another piece of furniture to maximize height), and it's perfect for holding lightweight toys when it's not time to play!
Closet Organization: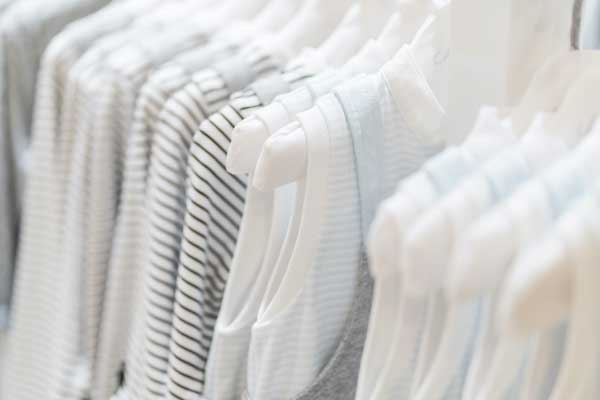 The nesting phase of pregnancy was a favorite of mine, especially when it came to organizing newborn-size sleepers and socks. If your baby's small space nursery happens to have closet space, then look no further than these closet organization tools.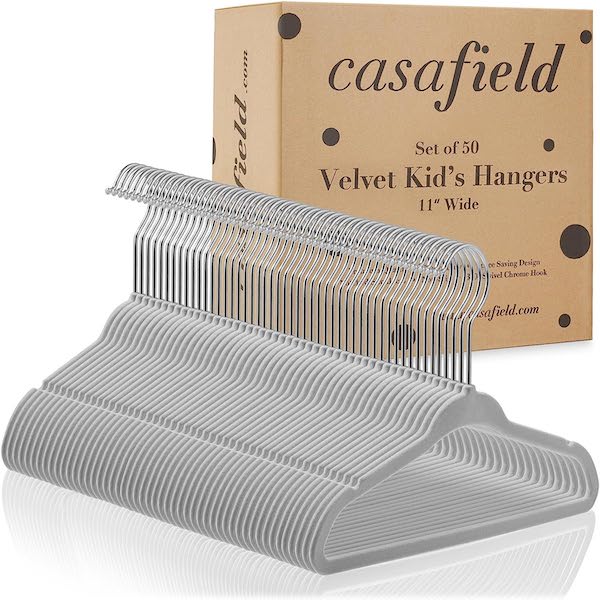 There's a good chance you already employ the full-sized version of these in your own closet, which means there's a good chance you have experienced their wonders in full. These slim, velvet-coated hangers are sized for baby clothes and truly maximize every inch of space in even the tiniest of closets. The texture means nothing slips off, so everything is always in its place.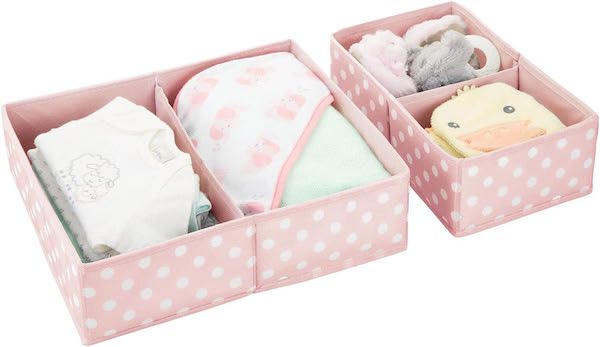 Whether your little one's nursery has closet space or not, I highly recommend these Nursery Storage Organizers to aid in maximizing your space. Whether they house extra diapers, bath towels, or burp cloths, incorporating these storage bins into any shelf in your nursery is sure to add a great touch to saving space!
Just In Case…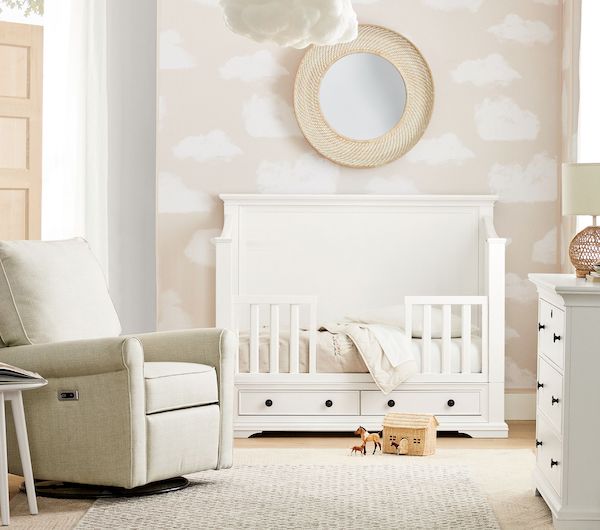 As we've learned, open walls are a huge benefit to a small space nursery, so there's almost no point in cluttering it with too much decor. That said, wallpaper and decorative decals make a great alternative that makes a bright and fun statement. Pottery Barn has a great collection of both that will fit seamlessly with your vision!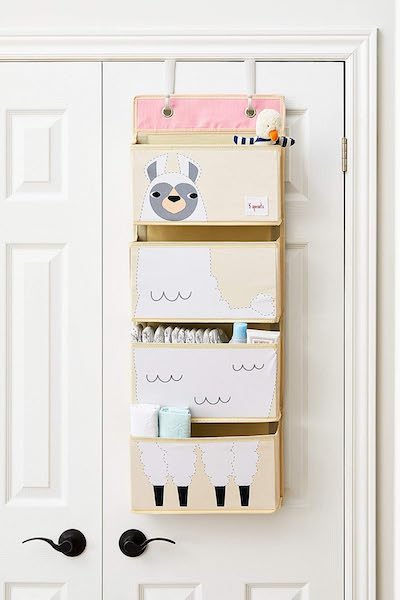 Whether or not your baby's small space nursery has a closet, there's a good chance there's a door somewhere! I love this over-the-door organizer with an adorable llama motif that's perfectly playful. Its sturdy design means it can hold heavier items, but we all know that storage is a vital aspect to consider when designing your baby's room, so stash whatever needs a home here!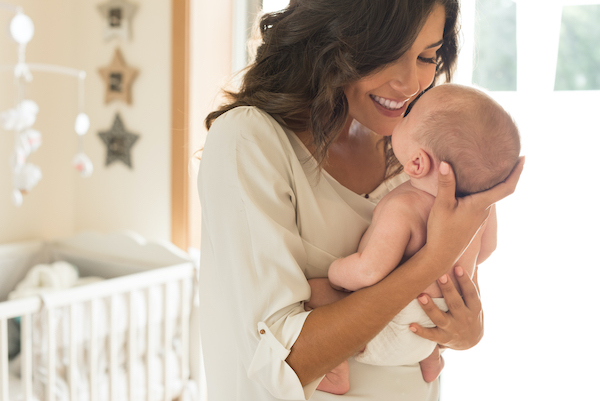 The most important thing to remember when designing a small space nursery is to be open to unexpected challenges and overcome them with creative solutions. There is a lot of stress that comes with bringing a new life into this world, don't let the size of their nursery be one of them. Continually remind yourself that love is what makes a house feel like home, and your baby will be happy and content as long as they have you.