Are veils a mandatory requirement for brides? Real brides share their advice to help you decide if you should say, "I do" or "I don't" to a veil!
Nothing makes me happier than helping brides problem-solve, and so I'm delighted to share a recent text I received from a bride who will be married in just a few short months and had a question about bridal veils.
Dear Christina,

Please give me an honest opinion on this: are veils still a 'must-have' at your wedding? Like would it be totally taboo if I didn't wear one? At most weddings I've been to, the bride wears one. Our wedding will be outside at a barn venue, and my dress is a little detailed and elaborate already. A veil just feels like too much for me and the venue!

–Haley
Veils are a bride's signature piece–this is literally the only occasion where you can wear cascading tulle and lace–and throughout history, they've added a sense of femininity and mystery to the bride's ensemble. But are veils required? Our real brides weighed in on Instagram, and offered a few helpful tips for brides who love them and those who would rather remain unveiled!
Let's begin with a baseline fact: the vast majority of brides we surveyed wore veils for their weddings.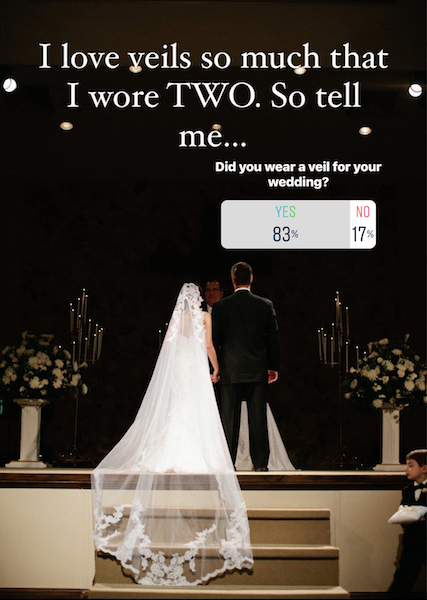 Thanks to the many bridal shop reality shows, we know that the moment the salesperson adds the veil to a bride's ensemble, the woman trying on the white dress seems to transform into a bride, and the tears begin to flow. The veil, for many women, is the pièce de résistance that makes them feel like a bride!
Personally, I love a beautiful veil–so much in fact, that I wore two: my mom's cathedral length veil for the ceremony (pictured above) and a shorter veil for the reception.
But even though the vast majority of brides chose to be veiled, the results on whether a bride should or has to wear a veil are more evenly split: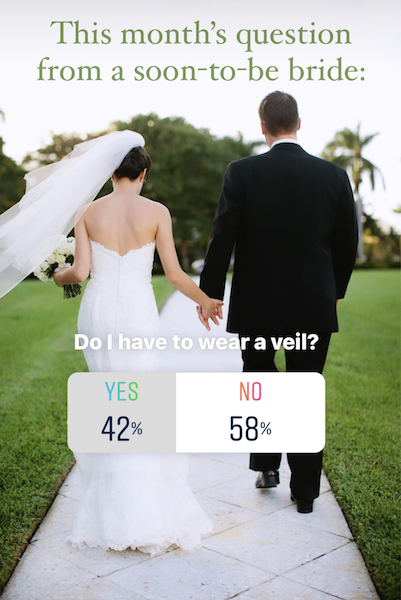 A little over half of our respondents feel like the veil can be skipped, and I agree: I feel like the wedding ensemble is a matter of personal preference, and factors such as the ceremony location definitely influence whether you say, "I do," or "I don't" to a veil.
Should you say "I do" or "I don't" to a veil?
I wanted to hear more from the unveiled brides: what drove their choice to skip this quintessentially bridal accessory? I hope their answers help Haley and any other brides making this choice decide if a veil is right for them!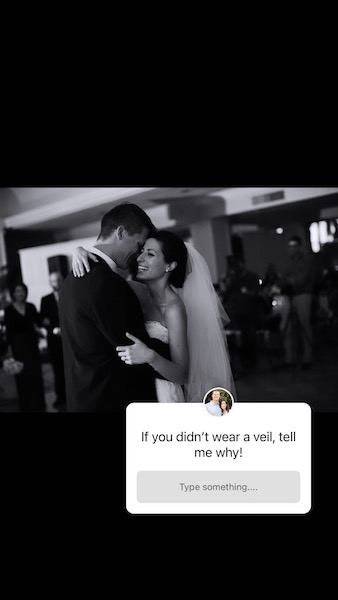 Consideration #1: The Style of Your Dress
"I really liked the back of my dress!" –Kim D.
"I didn't want it to take away from the back of my dress. I loved the corset look!" –Alyson R.
For the majority of your ceremony, your friends and family will be looking at your back–so make sure you love how it looks! For some, it's the perfect opportunity to showcase a show-stopping dress, so feel free to "unveil" it!
Consideration #2: Your Venue
Whether it's a beach, a barn, or a garden, the formality of a veil doesn't always feel right for an outdoor wedding.
"We had a beach wedding in Costa Rica. I didn't think it was necessary because we were already going the non-traditional route!" –Shannon D.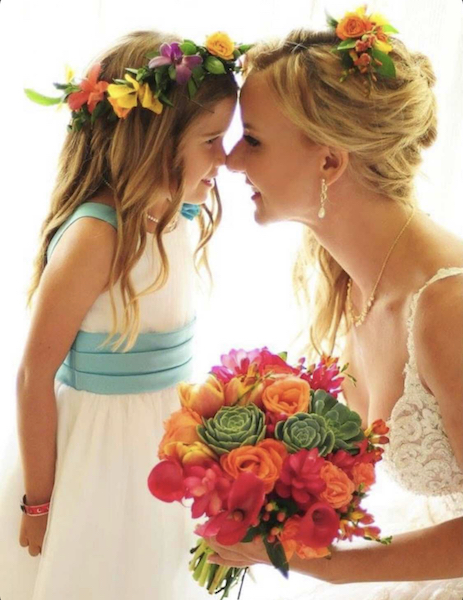 Shannon, pictured above, and her flower girl wore coordinating flowers in their hair, all local to Costa Rica! I love the bright colors–so fitting for a tropical wedding, and a special way to incorporate the setting into her ensemble!
"I just don't like them! We had a garden wedding and the veil felt too stuffy." –Amber L.
Another practical point: a long veil can also become hazardous at an outdoor wedding–beware of sand, twigs, leaves, and anything else that could snag your veil and cause you to stumble.
"If you're getting married outside, determine if your veil will 'catch' as you walk down the aisle–many brides choose to skip for that reason." –Jenny Dansby, wedding expert and founder of Threefold Events
Wind can also cause veil problems: I once officiated a wedding where the bride's veil flew right off in the middle of the ceremony! We all laughed about it, but definitely a factor to consider!
Consideration #3: A Second Marriage
There was an etiquette "rule" surrounding veils and second weddings: much like a white dress, tradition says that second-time brides should skip them. Why? Because veils traditionally symbolized purity, and the father would often 'lift the veil' when he gave his daughter away at the top of the aisle. While that's the history of the veil, it need not dictate your choice in the modern age: wear whatever makes you feel comfortable and beautiful–it's your wedding day!
The Bottom Line: You DON'T have to wear a veil!
Your wedding day is all about you, and your look should feel right for your personal style, your venue, and the overall feel of your wedding. But before you totally rule them out, I recommend trying on a few veils at the bridal store: much like the dress-finding process, you might not know what you love until you see it on! You could also ask a friend or family member if you could try on her veil; veils are one of the most popular items for "something borrowed," and a meaningful way to honor another person.
And if a veil still doesn't feel right to you, you can always wear a fancy hairpiece, a flower, a tiara–or nothing at all!
Have a Question for our Real Brides?
Let me know what topic you'd like us to tackle next! And if you're interested in learning more about etiquette, gift giving, and celebrating in style, be sure to subscribe to the RegistryFinder GiveIt blog for weekly posts on wedding etiquette, bridal showers, wedding trends, and of course, wedding registry guidelines and tips! And as always, be sure to refer your guests to RegistryFinder.com, where they can conveniently locate all of your registries in one place!