From wine and cocktails to beer, our handy guide will help you determine the right drinking glasses for your wedding registry or your next celebration.
Deciding on drinking glasses and barware for your wedding registry or celebration can feel intimidating once you start thinking beyond your typical red and white wine glasses. While there's no problem sticking with the usuals, I've always loved being able to impress guests by serving a martini in an actual martini glass or pouring a few fingers of whiskey into a rocks glass.
When it comes to actually choosing the vessels you'll get the most use out of, though, it's easier said than done for most of us. You might be familiar with a few specialty glasses, or maybe your knowledge goes as far as your personal experiences at Happy Hour, or, you could be totally in the dark when it comes to selecting the right glass for your drink.
So, we figured we'd help take out the guesswork and make this a little easier. From the drinkware we think everyone needs to the fancy specialty stuff, we've put together a handy list of the top glasses out there with our favorite picks in a variety of styles. No matter where you land on the spectrum, this guide will help you understand the basics of drinking glass shapes and sizes so you can be sure your registry reflects your lifestyle down to the last sip.
The Usuals
Pint Glass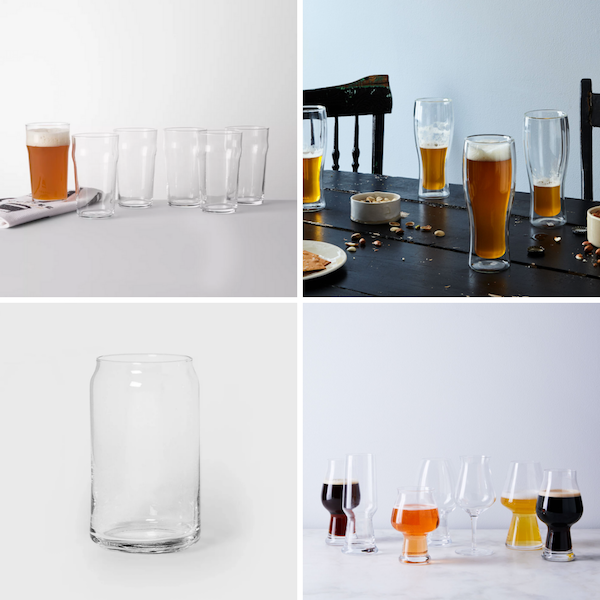 Every home needs a good set of pint glasses — or even a variety of beer mugs — for whenever the mood strikes to crack open a cold one. Sure, you could sip your favorite brews straight from the can or the bottle, but it's so much nicer to pour it into a frosted glass straight from the freezer. Trust me on this, you definitely want to add some to your wedding registry.
Red Wine Glass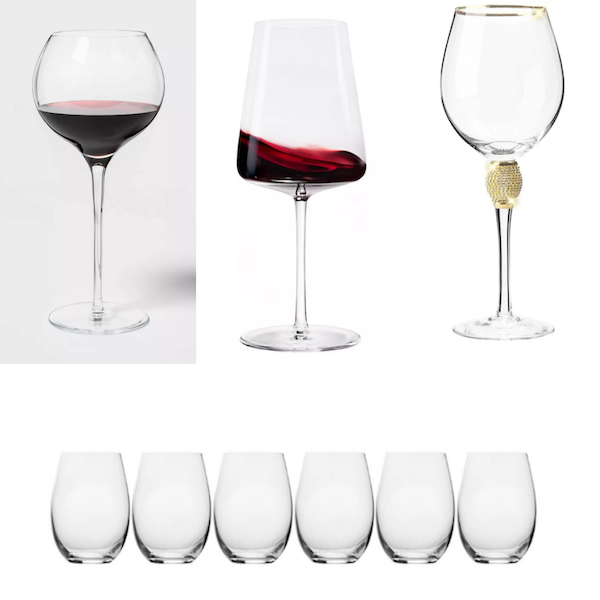 I'll be honest here: I use my red wine glasses for both red and white wine because they tend to be larger (and therefore hold more wine). That said, there's a reason why red wine is served in a larger bowl: most of them have a more complex and layered assortment of aromas, and the wide surface area and mouth allows you to breathe in and appreciate every single one. Which definitely isn't a bad thing if you also want to use them for your whites!
White Wine Glass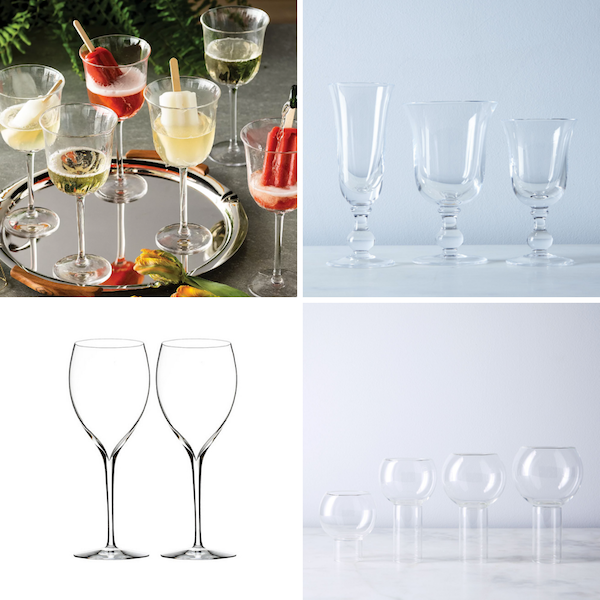 If, however, you consider yourself a traditionalist, I would recommend adding a set of white wine glasses to your wedding registry. Since white wines are typically served chilled, the smaller bowl of the glass keeps the liquid colder longer, and the smaller mouth preserves the floral aromas floating in the glass.
The Bar Basics
Rocks Glass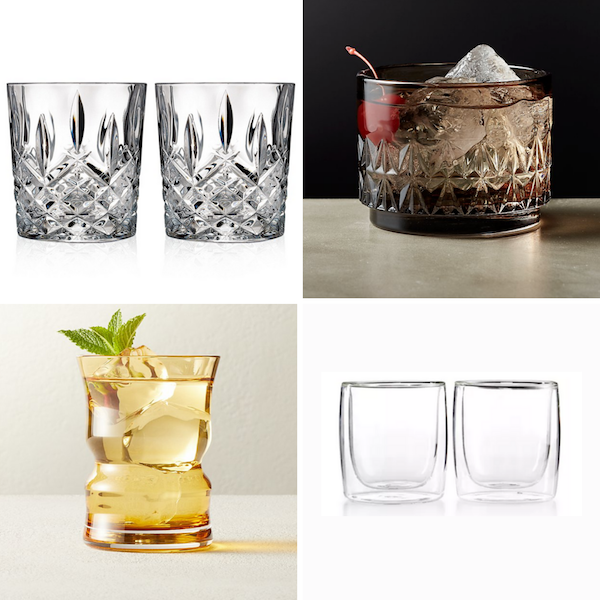 For occasions when you want to sip on your spirits on the rocks (on ice) or neat (on its own), a rocks glass is your go-to. It's the glass Don Draper pours his evening scotch into after a long day. Its short height also makes it a perfect glass for muddling ingredients. Did someone say Old Fashioned?
Martini/Cocktail Glass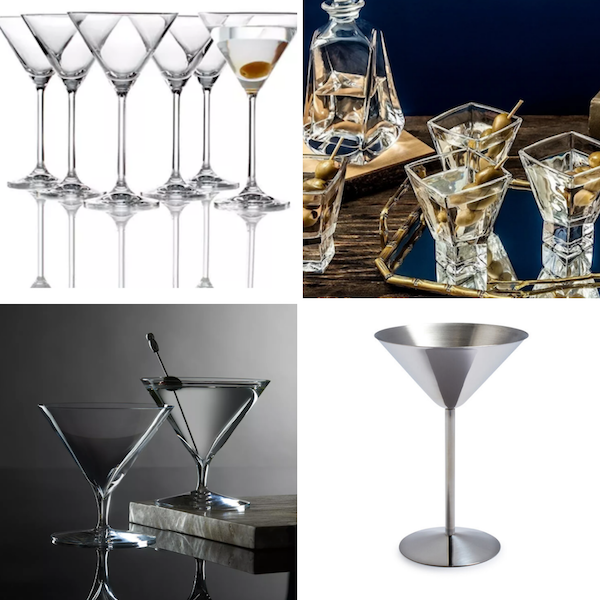 Martini glasses are so awkward sometimes. But, I'll explain why it's shaped the way it is. The classic martini is chilled and served with olives, so the shallow depth helps the cocktail stay nice and cold while giving you the opportunity to fish out an olive or two whenever the mood strikes. Plus, it's just more fun drinking a martini out of an actual martini glass.
Coupe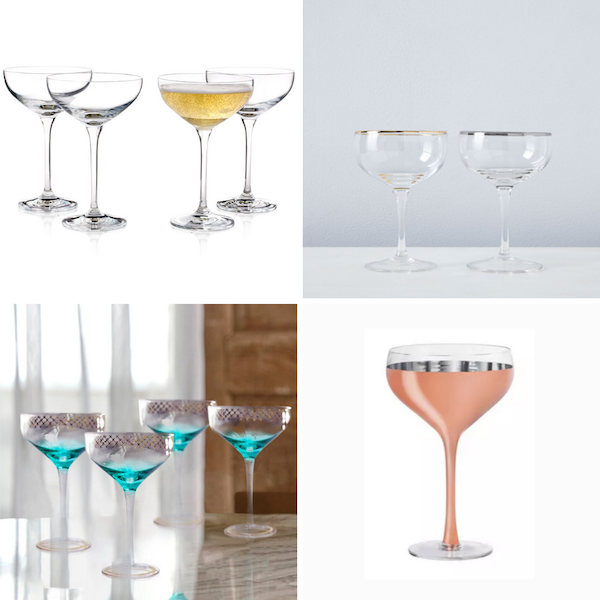 While its original purpose was for Champagne — think The Great Gatsby — the coupe has become a popular staple at bars both public and personal. These versatile glasses are a little less awkward than a traditional martini glass, so if you choose to add these to your wedding registry, you've got plenty of fun cocktails covered!
Shot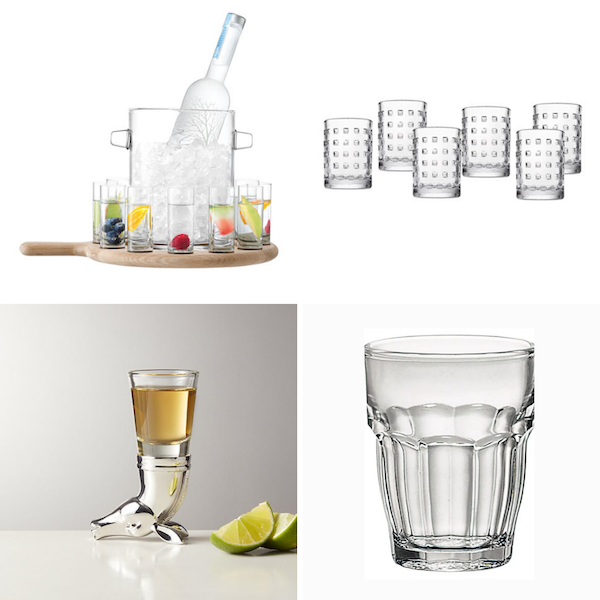 I know what you're thinking, but hear me out. Shots get a bad reputation because plenty of people tend to pour straight alcohol and shoot it back. That said, a mixed or blended shot is a whole different story, and when you do decide to serve some up at your next backyard barbecue, chances are your friends don't want to take them out of mismatched souvenirs from your college semester abroad. Need I say more?
Highball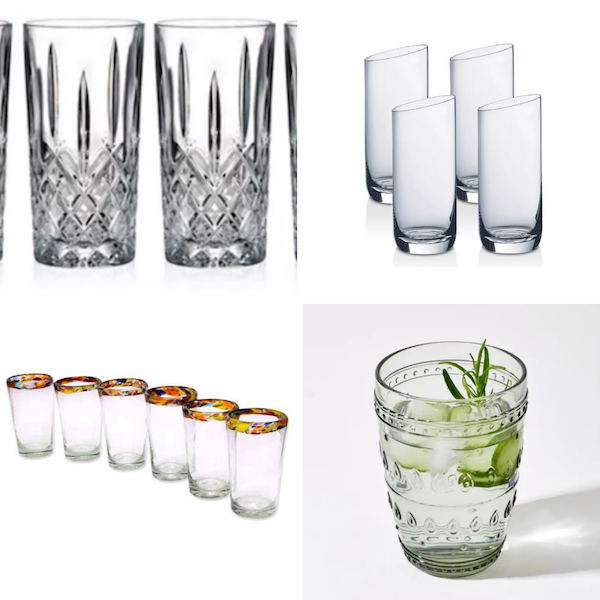 While you can always use a trusty pint glass for the same purpose, a highball glass definitely has its place in the home bar. Typically used for serving cocktails with more ingredients or more non-alcoholic components, they're also a great glass for shaking up a Bloody Mary!
Getting Fancy
Collins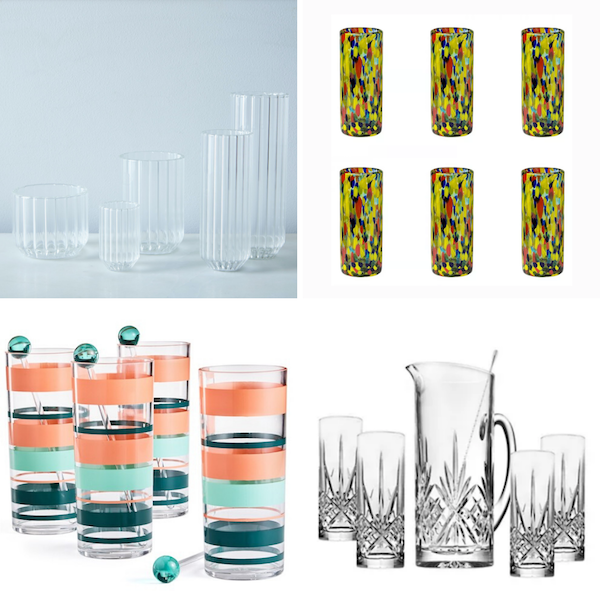 Think of the Collins glass as a taller and slightly thinner highball glass — that's really the only difference between the two you need to know when it comes to adding one or the other to your wedding registry. Its namesake, the Tom Collins, is a classic gin and lemonade drink that inspired its very own glass shape, but you can serve just about any cocktail that incorporates a variety of ingredients in it.
Irish Coffee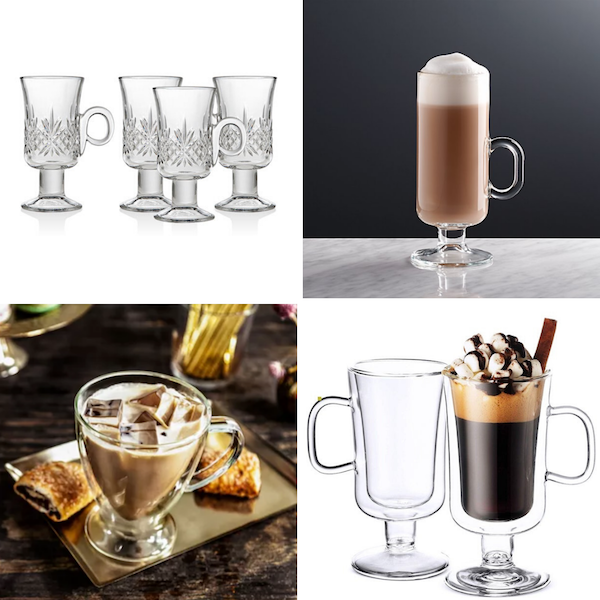 From Irish Coffee to hot toddies and mulled wine, it's so much nicer to drink an adult hot beverage from a proper mug than to reuse your morning coffee cup. Sure, it'll taste the same, but there's an added sense of authenticity when you're served a glass mug of delicious warmth Even if they are a novelty, they're nice to have on hand.
Champagne Flute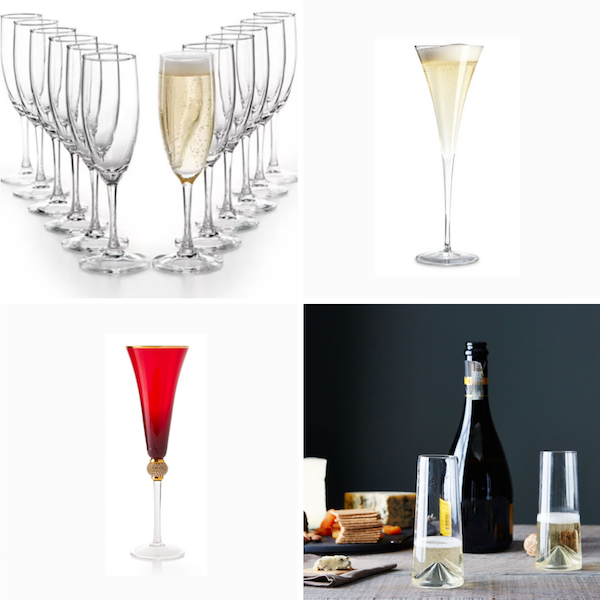 I don't think this glass needs much of an introduction, but since we did cover the coupe's intended use as a champagne glass, here's a fun fact: the traditionally taller, straight vertical sides of the classic Champagne flute keep the bubbles bubbly longer. And who doesn't love a proper toast with the right glass? Honestly, this is a wedding registry non-negotiable.
Getting Serious
Copper Mug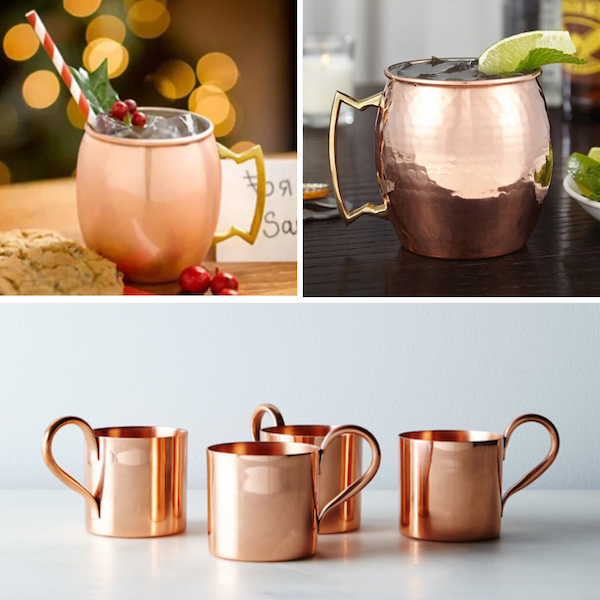 Let's be honest: plenty of us order Moscow Mules when we go out just for that fun copper mug. Bring the fun home when you add them to your wedding registry — it's a simple combination of lime juice, ginger beer, and vodka — and make your own personal version of this classic cocktail whenever the craving strikes. Served in the right mug, of course.
Brandy Snifter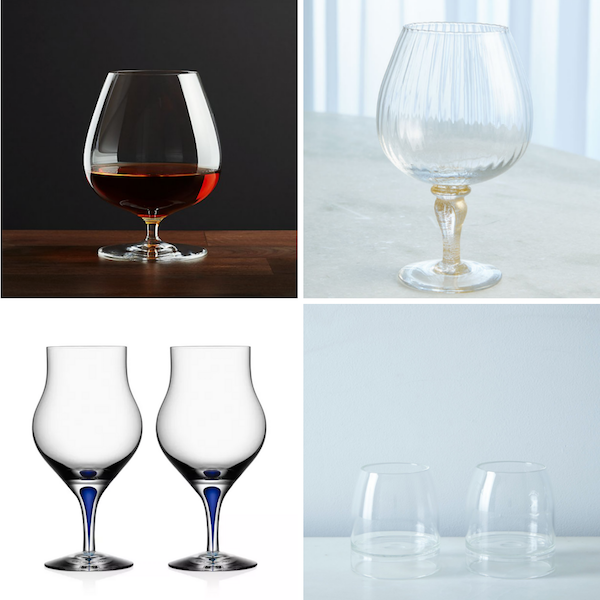 You've probably seen these and may have assumed they're for certain beers (at least, I've made that mistake more than once), but a brandy snifter is actually made for — you guessed it — sipping brandy. The large bowl is meant to be cradled in the hand, warming up whatever is in the glass, while the narrow opening concentrates all the aromas with every sip. If you enjoy your fair share of whiskeys, bourbons, and brandies, be sure to add some to your wedding registry.
Cordial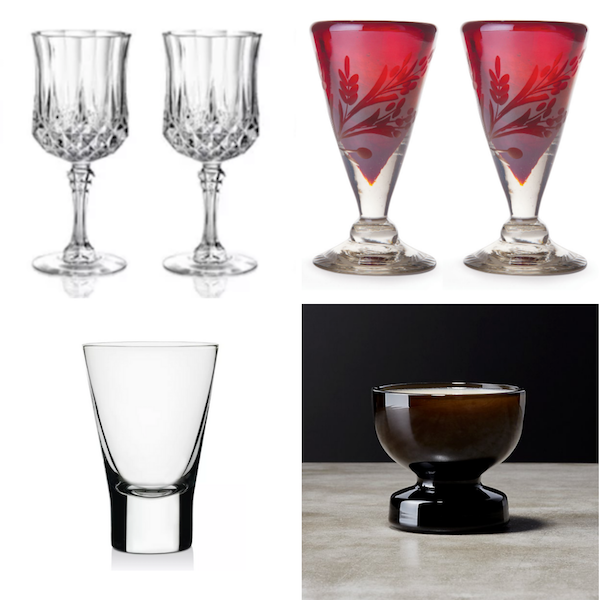 In the past, cordials were served after dinner as a way to soothe the stomach and aid in digestion, often times made locally in whatever village or town it's poured in. Now, cordial glasses are typically employed for serving liqueurs or other strong spirits meant to be sipped slowly after a meal.
While ours is by no means an exhaustive list of all the glasses and bar accoutrements out there, we know you'll be able to find all the staples and advanced tools for your wedding registry. Even if you think you might not get much use out of some of them, it's worth adding any glass that catches your eye. Truthfully, you can serve just about any drink in just about any of these glasses — so make sure to have fun and be true to your personal style.
As always, don't forget to point your wedding guests to RegistryFinder.com, where they can find all your registries in one place, plus plenty of tips and advice for the big day. Cheers to you!