When a couple chooses a non-traditional, destination wedding, family and friends might still insist on traditional pre-wedding celebrations, like a bridal shower.
How should couples handle the pressure to register and have showers when their wedding guest list is small?
Cheryl offers her solution, and the one etiquette rule that should never change with the times!
Hello Cheryl,

My fiancé and I are planning a destination wedding. We are much older and feel we have everything we need, but our friends want us to have a bridal shower.

My problem is they also want us to register. I think many want to give gifts and others who are not invited to the destination wedding would like to celebrate with us.

What do you recommend? I'm not sure how to politely decline gifts and just have a gathering to celebrate?

Thank you,
Sylvia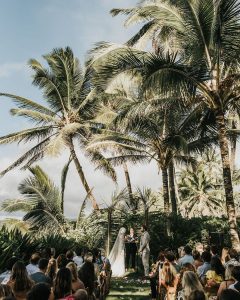 Photo via inspiredbythis, Photo by Gabriella Katalin Photography,
Venue: Waimea Valley, Design and Florals by La Flor
---
Hi Sylvia,
Thank you for writing- your instincts are correct! Your friends are obviously happy for you and want to be part of your celebration, but don't be forced or persuaded to do anything that doesn't feel right to you. You can certainly decline a bridal shower and it's totally OK not to register.
You mentioned that some of your friends and loved ones who will not be invited to your destination wedding may want to give you a gift. That may be true, but a pre-wedding shower basically requires them to give a gift. A bridal shower, by nature, is a gift-giving event. There is one etiquette rule that shouldn't be broken: shower guests must also be wedding guests.
Here's your solution: host a gathering or party for your friends that were not invited to the wedding when you return, not before. This can be called a reception or celebration, but not a shower. At a reception held after the wedding, guests are not obligated to give a wedding gift, although they may if they wish.
My recommendation is that you pick a date for your post-wedding party and send out invitations before you leave for your wedding; or spread that word that the event is being planned. Your friends will then feel included and look forward to celebrating with you. The party can be as formal or casual as you like, and you can ask the friends that want to give you a shower to help. This should make everyone happy.
All the best to you and I hope you have a wonderful wedding
---
If you have questions or comments about this post, or about gift giving, bridal shower, baby shower, or wedding etiquette, please comment below or email [email protected].
Questions in this column are received from readers. They may be edited for spelling, length and grammar, or to remove sensitive information. However, we are careful not to alter the intent or content of the question.