"When the witches go riding, and black cats are seen, the moon laughs and whispers 'tis near Halloween." -Anonymous
Halloween was one of the holidays I could not wait to participate in once I had kids. I mean, is there anything cuter than a baby in an adorable costume? But gone are the days when the costumes were just for kids- now the parents are joining in to create group costumes perfect for a photo op and lifelong memories!
If you're excited to get in on the fun with your partner and kids, we've got ideas ranging from all-in to DIY. Check out these sweet, unique, family-themed costume ideas to get the pumpkins rolling.
And even if your littlest pumpkin hasn't arrived yet, consider adding a Halloween costume for your new baby to your registry! They make the perfect gift!
Disney Costume Themes
101 Dalmatians
Spotted: the cutest family theme for you and your crew! If you don't mind being Cruella de Vil, kiddos of any age and gender will make adorable little puppies. This theme is an easy and doable last-minute costume that you can make yourself.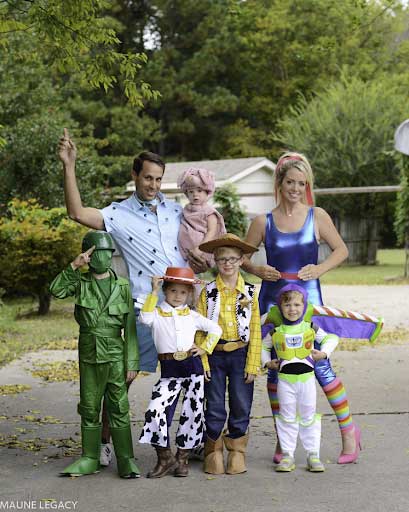 Toy Story
Another fun costume idea for kids of any age and stage, the Toy Story theme has costume inspiration for everyone: choose from Woody, Buzz, Jesse, and even Barbie. Another cute idea: if you have twins, make each one an end of Slinky Dog!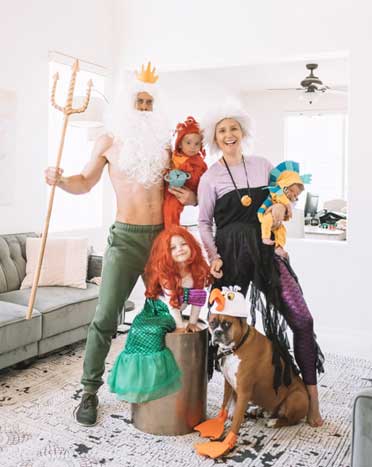 The Little Mermaid
Summer may be over, but who says you can't take one more dip "under the sea?" If your daughter adores Ariel, center your family costume around your very own little mermaid! Siblings and even pets can join in as seaworthy sidekicks, like Sebastian, the crab. And what dad wouldn't be thrilled to be King Triton?
Easy DIY costumes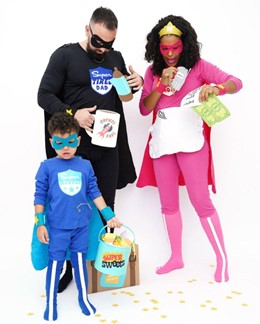 Superheroes
Here's a super idea for an easy DIY! Moms and dads, the real heroes, don't always wear capes, but you can this Halloween! Put your hero title into action and make your family superheroes. These costumes are surprisingly simple to create for every member of your family.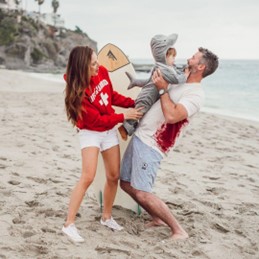 Shark Attack
Can't get "baby shark" out of your head? Turn it into Halloween inspiration! Add this baby shark costume to your baby registry, and DIY the rest!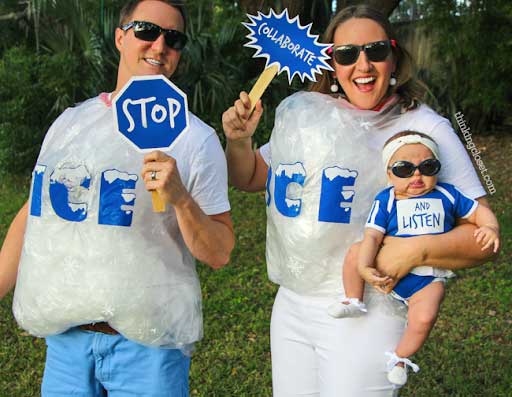 Ice, Ice Baby
Who would've thought this '90s classic would make such a hilarious and unique costume idea! "Ice Ice Baby" is an easy last-minute theme that takes a couple of garbage bags, sunglasses, and lyrics to make a memorable costume.
Big Family Halloween Costumes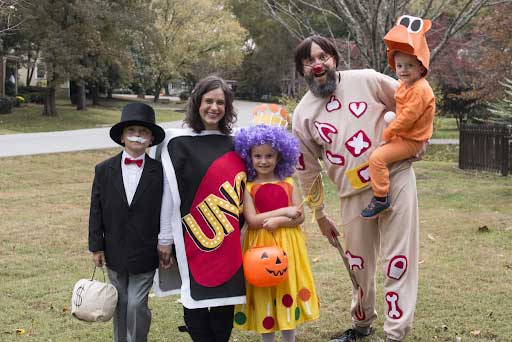 Board Games
We love family board game night costumes. Each of your family's personalities can shine through their favorite board game. Whether you choose Candy Land, Mr. Monopoly Man, Uno, or Hungry Hippo, the ideas are endless!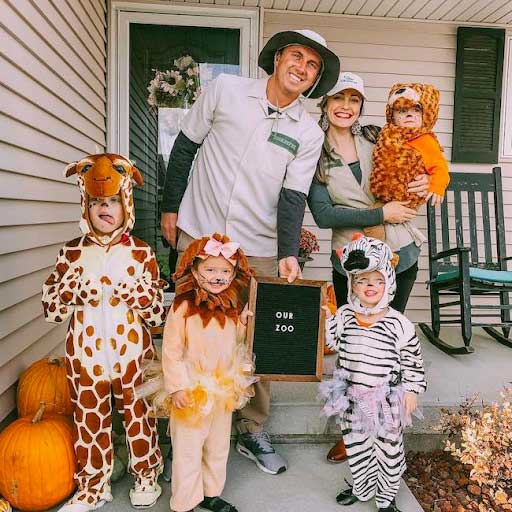 Zoo Keepers and Animals
Who doesn't feel like a zoo keeper every now and then as a mom? This theme gives your kids the freedom to choose their favorite animals, from a cute flamingo to lions and tigers and bears, oh my!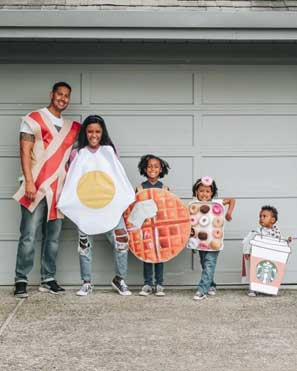 Breakfast Feast
Breakfast is the most important meal of the day, and it makes for a cute costume theme too! Perfect for big families with both older and younger kids, this breakfast feast is also doable as a DIY project if you're feeling crafty!
Pregnancy Halloween Costumes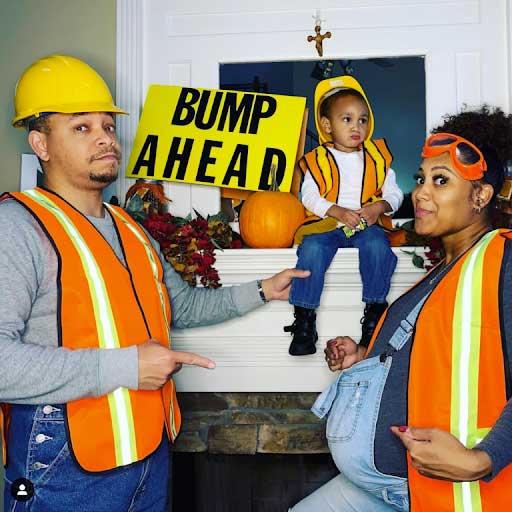 Bump Ahead
Although pregnancy isn't always a magical time for everyone and getting dressed can be a challenge, keep it simple on Halloween! We love this "Bump Ahead," theme especially if you have a little boy who loves all things trucks.
Spaghetti is Served!
We love easy costumes and this one couldn't be easier. All you need is a red shirt and a Prego label. Plus, look at that cute spaghetti baby! If you have a little one who likes to be worn, check out this spaghetti in a pot costume that attaches to a baby carrier!
The Non-Coordinating Halloween Costumes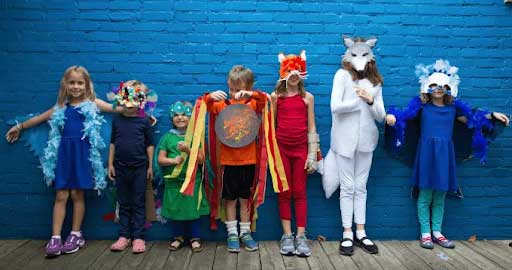 The Homemade, The Spontaneous, The Creative
If you're not the family who coordinates costumes, THAT'S OKAY. If each of your children wants to be something different, let them be little and choose to dress up as something they love. Even though social media and magazines make us think we need to be picture-perfect for each holiday, knowing your kids are happy and having fun is the best treat of all on Halloween!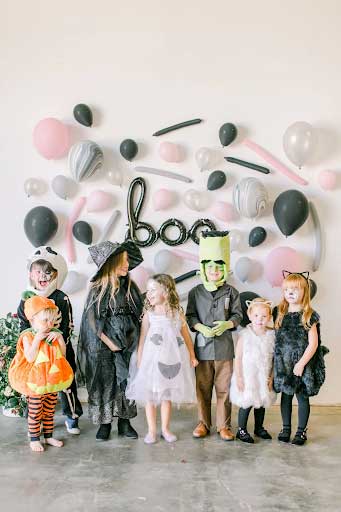 Halloween full of sweet moments
No matter what costume you choose, I hope your Halloween is full of sweet moments you'll savor long after the candy is gone!
If you are expecting, be sure to add some cute costumes to your registry, as they will make the cutest gifts to open. And if your baby is due around the holiday season, be sure to check out our Autumn-Themed Baby Shower blog to get fun fall-themed ideas.