Say "thank you" to your bridesmaids with gifts as special and unique as they are!
In the many weddings I've been involved in over the last decade, I've noticed that brides and grooms aren't afraid to ditch tradition and follow trends that better reflect their personalities.
My personal favorite of these new trend has been mismatched bridesmaid dresses—I absolutely love that brides are embracing the unique styles of their girls and letting them choose dresses and styles that suit them best!
So why should finding a bridesmaid gift be any different?
When it comes to saying, "thank you," to the ladies who will stand by your side on your big day, there's no need to go with a "one size fits all" approach. Instead, find a gift that expresses your gratitude and fits their personalities (but do spend roughly the same amount on each bridesmaid).
Personalizing a gift for each girl doesn't mean you have to run around town to shop—we turned to Macy's Wedding Shop for bridesmaid gifts that are perfect for every personality!
For the girls who love going out:
If you've got a few friends who love a night out on the town, find gifts that are perfect for getting dolled up and dancing the night away!
Help your girls prep for the perfect night out with The Love Edit: Romantic Eye Shadow Palette from Smashbox!  With 14 shimmering shades, you can create any look from simple to smoky! $58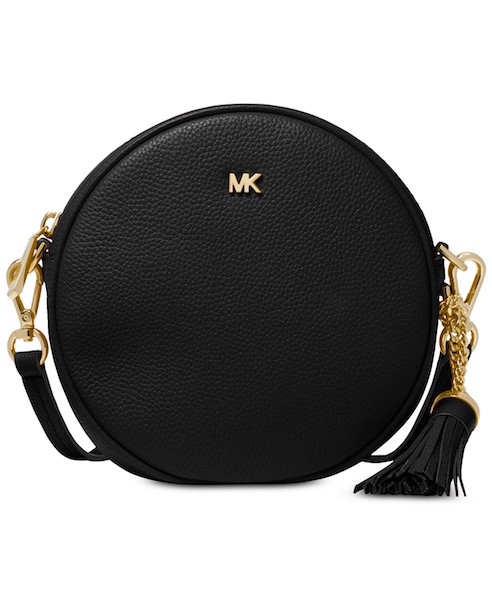 A crossbody bag is perfect for a night out, and I love the canteen style of this one from Michael Kors! The generous shape means you can squeeze a slim wallet, your cell, lipstick, and your keys inside, all while staying hands-free. Choose from a variety of colors, too! $158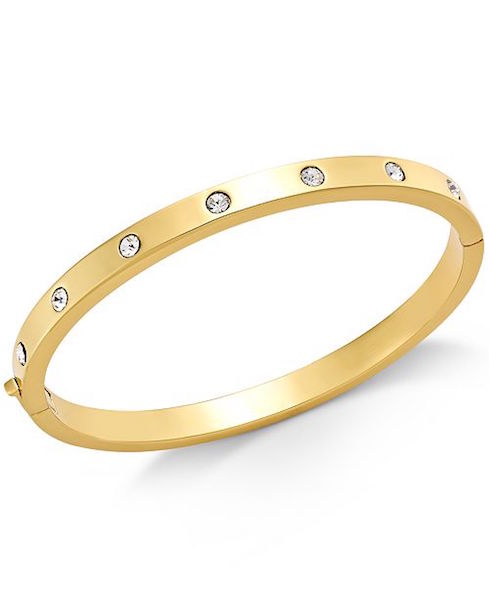 This kate spade new york bangle bracelet is all about understated glamor—the crystals add the perfect hint of sparkle! Bonus: if you want to give this bangle to each of your girls, they can wear them on your wedding day! I gave my bridesmaids bangles, and they photographed beautifully! $48
For the girls who love staying in:
Maybe your girls prefer a cozy night in—here are a few gifts they'll love!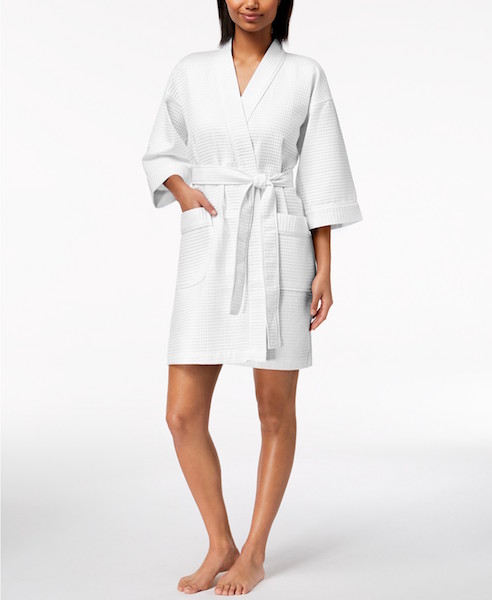 There's no better way to kick off a luxurious night in than by wrapping yourself in a cozy robe. This waffle robe is sure to make your girls feel like they're spending some time at the spa! $39.99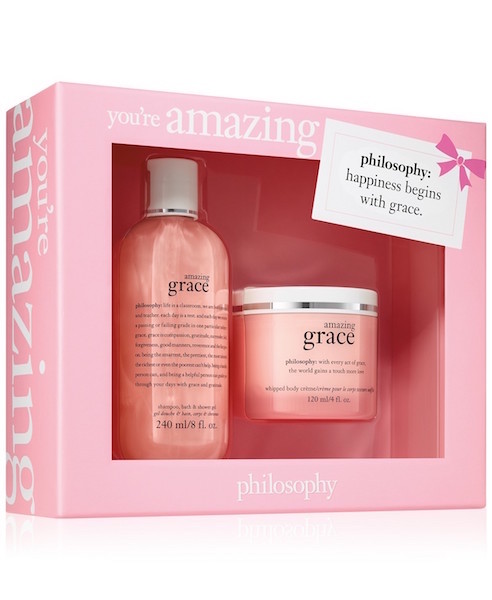 This is one "ahhmazing" way to tell your ladies how truly amazing they are! Packaged for presenting, this luxe gift set features philosophy's most-loved, iconic scent in two indulgent formulas, for head-to-toe softness with an air of clean, classic beauty. $32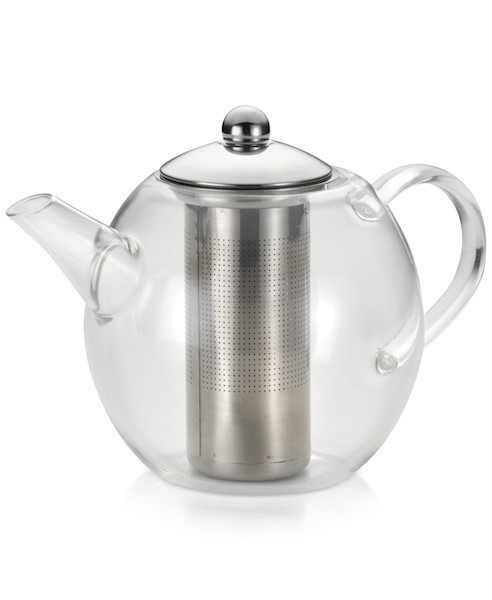 The hand-blown glass carafe in this teapot holds an infuser for perfect loose leaf tea brewing! Perfect for your girl who loves to cozy up with a piping hot mug and a good book. $84
For the girls on the go:
If you have a frequent flier in your group, make her travels a little smoother with one of these thoughtful gifts!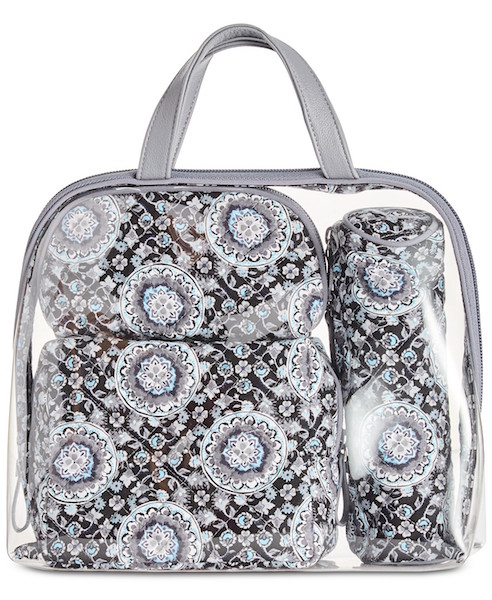 A clear outer shell holds a trio of cosmetics cases in matching Vera Bradley prints, so you can pack up all your pretty little things and still look chic. $68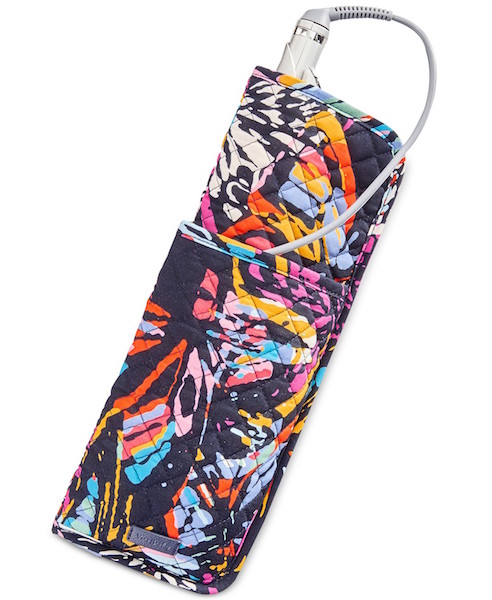 This curling and flat iron cover is a game changer—I'm not sure how I traveled without it! No need to wait for your styling tool to cool: just place it in this case and hit the road!  $24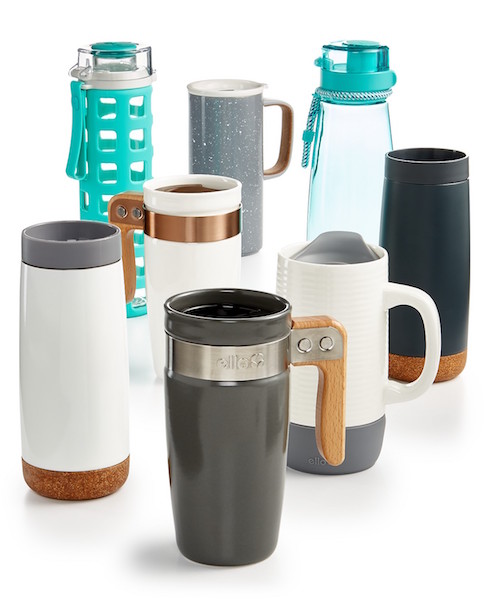 Whether you're looking to keep your beverage hot or cold, this collection promises durability and no spills, no matter where you go! $21.99-$25.99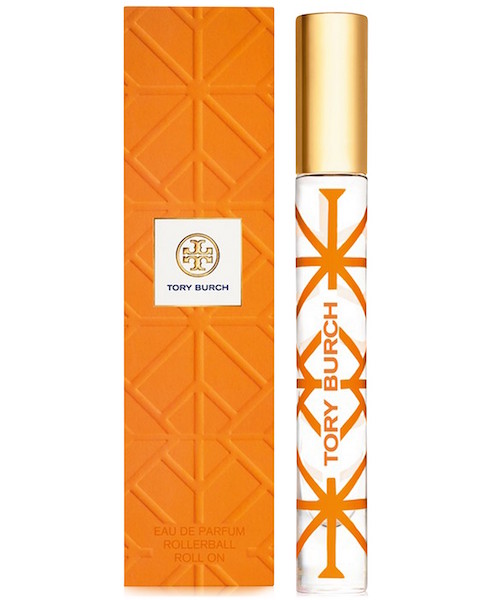 Traveling with perfume is downright nerve-wracking. What if the bottle breaks? What if your clothes end up drenched in your favorite scent? Thankfully, Macy's perfume department offers a roll-on version of practically every scent in their extensive collection—this Tory Burch happens to be my favorite! $29
For every girl in your group: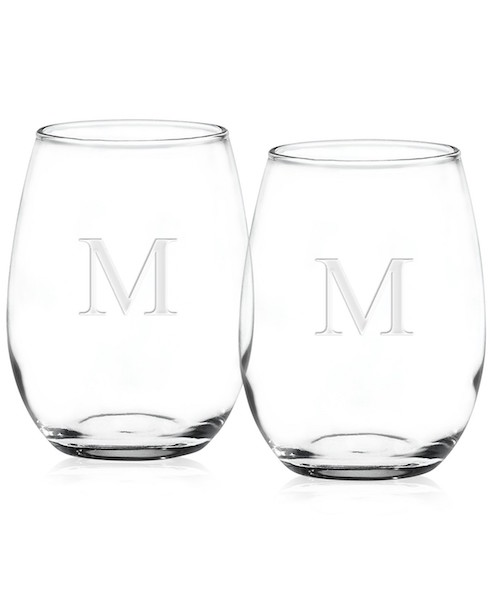 It's no secret that I'm obsessed with monograms, and I'm sure your girls will be obsessed with these monogrammed stemless wine glasses! The best part? They're dishwasher safe! $43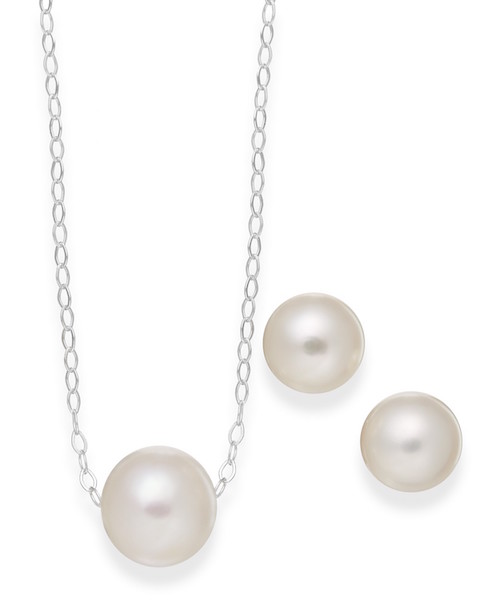 Everyone loves a classic, and it doesn't get more "classic" than pearls! Your girls can wear this freshwater pearl jewelry set on your wedding day and enjoy it for years to come. $100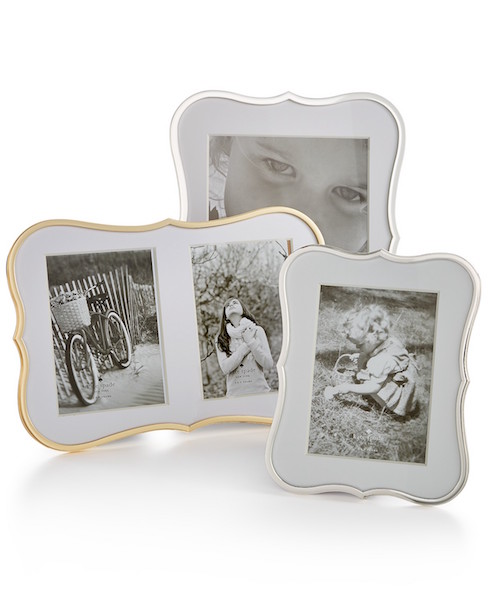 You can never have too many picture frames! Give your girls one of these classic kate spade new york frames to hold a special memory! For an extra personal touch, frame a photo of the two of you together when you present this as a gift. $40-100
Want to see more bridesmaid gift ideas? Venture over to Macy's Bridesmaid Gift Guide.
Before you say "I do" – say thank you!
Bridesmaids' gifts are often handed out prior to the wedding at the rehearsal dinner, bridesmaids' luncheon, on the day of the wedding, or during another private moment. Make sure you set aside time to write out a heartfelt thank you card to attach to each gift, to let each lady know just how lucky you feel to have them by your side.
You can also check out our Pinterest Board: Perfect Bridesmaid Gifts to find more beautiful gifts for your besties! And don't forget to refer your guests to RegistryFinder.com where they can find all of your wedding registries with a few simple clicks!