Help Others Find All Your Gift Registries at RegistryFinder.com
It's true that getting married, having a baby, or a graduation is not about getting gifts. But that doesn't change the fact that your friends, family, and co-workers want to buy you something to commemorate these special occasions, and you have to admit, it's fun to get gifts!
Due to the fact that it is considered in very bad taste to include gift registry information in a wedding invitation or a baby announcement, RegistryFinder.com was developed to help guide your friends when purchasing a gift. At RegistryFinder.com all your registries are housed in one place, making it easy for your friends to purchase the perfect gift.
How to make RegistryFinder.com work for you
It's very easy to make RegistryFinder.com work for you if just follow these four simple guidelines:
Same Name & Spelling – Make sure to use the same name for each gift registry you create. By the same name we mean the exact same version and spelling. Check the spelling of the name. Yes, we have seen people that actually misspelled their own or finance's name. At RegistryFinder.com we search all major retailers to find each registry. We then combine the results to display all the stores at which you are registered in one place. If a name is a different form or misspelled, we won't be able to combine the results. Check your registries — Does Target say Michael and Macy's read Mike? The example below shows a registry for Ashley Jones, but for one of her gift registries she uses the name Ashley Nicole Jones.
Same Date – Some people use the date of a shower for one registry and the event date (wedding or due date) for another registry. This can be confusing. It's best to use the actual event or due date on each registry.
Same Location – we've noticed that some couples use different state locations for different registries.  Maybe you live in one state but are getting married in another, but make sure you use the same location for each registry.
Check Privacy Settings – some retailers ask you to confirm that you want your registry to be seen by others (those wanting to buy you gifts). I cannot imagine creating a gift registry just for myself, but in any case, make sure you check that box. I had a friend that registered at Sur la Table. When I told her I couldn't find her registry there, she thought I was crazy. It turned out she had accidentally made her registry un-viewable.
If you just take a moment to double check the four items above, it will make it easier for your guests, friends, family and co-workers to find all of your registries in the same place.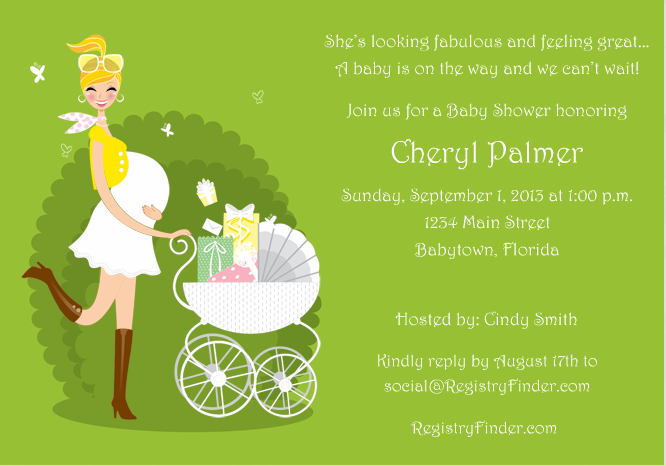 If a friend offers to have a shower for you, consider printing RegistryFinder.com on the invitations, instead of listing many different stores. That will keep the invitation looking clean and keeps it simple for the gift giver too. RegistryFinder.com is all about making gift giving simple and easy.