Moving into your first dorm can come with a bit of a shock — from the realization that you're on your own for the first time in your life, to the fact that you're sharing your living space with strangers. That can be especially true when your dorm is smaller than expected.
Most schools provide room dimensions and general dorm layouts for incoming students who plan to live on campus, so if you haven't already, take some time to find them and determine just how much space you'll be working with. Then, make the most out of your small dorm with our favorite organization solutions from Bed Bath & Beyond!
Below, we've listed the top items that will save space in every corner of your room so you can move in with confidence.
Under & Over the Bed
Before you can actually make the most out of your under-the-bed storage, you need to make the space for it. A set of bed risers can give you an additional 8 inches of height underneath your bed. I personally loved having these in my dorm, both for the added storage and the elevation.
Now that you've made the space, you can start putting stuff under your bed. Use this space for items you won't use too often but still need to keep within reach. Rolling bins can come in extra handy for storing heavier things, while stacking drawers make it easy to see and access whatever you put in them.
No room for a nightstand? No problem! This felt bed caddy slips right between your mattress and bed frame and gives you the added storage you need to keep by your side. The large pocket is perfect for books, magazines, or tablets, and you can tuck your phone and other small items in the outside pockets.
It's easy to forget about all the vertical storage options available, but this over-the-bed shelf is one item you'll love having in a small dorm. You'll get two shelves of added space in an area that would otherwise go unused — and if you really want to get crafty, you can even add some stick-on hooks for extra hanging space. If space-saving was a class, you'd get an A+ for this one.
Clothing & Shoes
Whether you're bringing clothes for all seasons or have extra blankets for when the weather turns cold, vacuum bags are some of the best investments you can make toward maximizing the space in your small dorm. Simply fill them and then remove all the extra air, then store them away until you need them!
For the clothes that you do want to wear sooner than later, you don't have to worry about bringing only your favorites when you hang them up on slim, space-saving hangers. This set of 50 features a velvet finish to keep everything in its place.
You might assume that drawer dividers will just take up extra room in your already limited space, but they can actually help you keep all the clothes in your dresser organized and easy to keep track of. They'll make it so much easier to keep your small dorm room neat and tidy without clothes piling up on surfaces.
There's a chance you'll get lucky and have a tall closet or built-in shelves above your dorm's door. If that's the case, you can make it a lot easier to access with a portable, folding step stool that tucks away when you don't need it. I use one of these in my closet now and it's made me much more willing to use more of my vertical space.
If you're limited on closet space, it can be hard to find room for your shoes. There's no need to compromise when you strategize your storage with an over-the-door shoe rack. You can choose from a soft-sided option or a metal shelf style to keep all your footwear organized and within reach without using precious room in your closet.
Even More Space-Saving Organization
Some dorm desks include a small shelf or hutch already, but if yours just sports a flat surface with no vertical storage, you can easily add one! This cubby-style hutch is specifically made for dorm desks, so you can rest assured it will fit into your space hassle-free. Store your books, extra supplies, or anything you need room for.
I love this rolling utility cart for a few reasons. First, the wheels make it easy to move around and tuck away in your space. Second, the narrow design keeps it from taking up too much room in your small dorm. Third, it's so versatile that you can use it as a makeup station, coffee station, or even additional bookshelf!
When it comes to space-saving solutions for a small dorm, you can't beat a 3-in-1 storage ottoman. Not only can you fit your clutter inside the cube, it doubles as added seating, or you can flip over the lid and use it as a coffee table.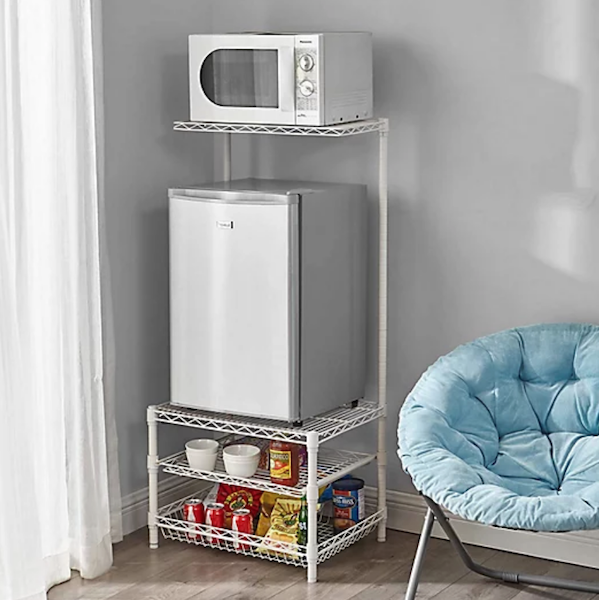 There are some products that make you wonder how you never thought of them before seeing them, and a mini fridge shelving station was one of those items for me. While a mini fridge can take up significant floor space in a small dorm, you can add some storage around it with a wooden shelf or increase its vertical footprint with this metal option.
There's no reason why a lamp should take up precious surface space in a small dorm, and this clip-on lamp is proof! The flexible gooseneck support allows you to position it wherever you need extra light, and the classic style will match perfectly with any decor you add to your dorm.
Bed Bath & Beyond is your solution to all things dorm-related.
No matter what size dorm you're moving into, you can rest assured they have everything you need to feel right at home. Plus, with their Pack & Hold option that allows you to choose items for pickup near campus, and their College Savings Pass that gives you 20% off every purchase, there's no need to shop anywhere else!
P.S. Don't forget to print out our handy college checklist to make sure you pack the essentials for a successful move-in!