When it comes to wedding guest fashion, there are plenty of ways to have fun and step out in style without looking (or feeling) out of place!
I'm sure I'm not the first to admit this, but anytime I open up my mailbox to find a wedding invitation inside, I do a little happy dance because I have a new excuse to go shopping. Yes, weddings are wonderful for genuinely sentimental reasons—we all know this by now. But, there is no shame in putting your best foot forward while celebrating, and for us fashion-forward wedding guests, we love the opportunity to step out in style.
All that said, it's important to heed a few hard-and-fast rules when it comes to attending a wedding with any dress code. Firstly, patterns and bright colors are fine (especially in the upcoming summer months), but don't upstage the bride with anything too eye-catching, and never ever wear white. Next, always adhere to the dress code on the invitation, no matter how tempting it may be to stray. And third, have fun, but be respectful of any venue or traditional restrictions on wardrobe.
Now that we're done with the formalities, find a collection of our favorite wedding-appropriate yet fashion-forward dresses, jumpsuits and sets from Modcloth and Anthropologie below: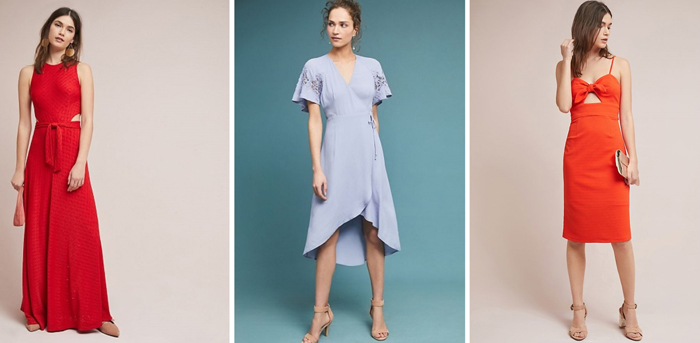 Solid Statements
Each of these dresses and jumpsuits has one thing in common: their singular color palettes. Even for wedding guests who don't necessarily consider themselves fashion-forward, this is a great starting point if you want to dip your toe into a semi-adventurous pond. I love that each of these pieces has a distinct shape and flow to it, giving so much personality to each of the bold fabrics they're cut from. Not to mention, they all provide the opportunity to wear a statement shoe.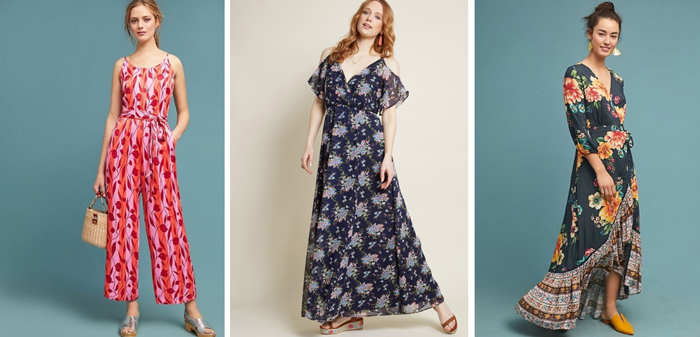 Pretty Patterns
Let's ignore the great Miranda Priestly just this once and embrace florals for spring—and for summer! A flowy, flowery pattern is almost begging to be worn to a wedding, and all of the above shapes and styles are gorgeous options for nearly every dress code. You, my fashion-forward wedding guest comrade, are good to go.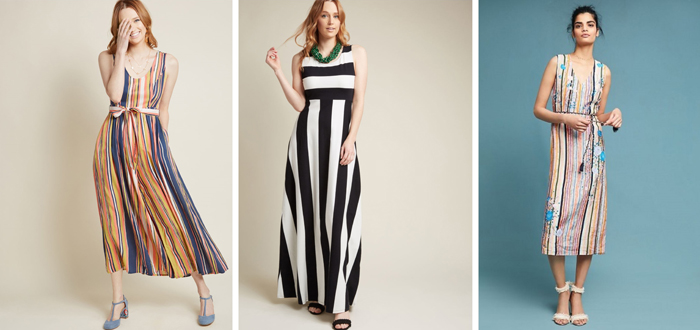 Stripes, Stripes, Stripes
I would venture to bet that there are plenty of women out there (you might be one of them) who are terrified of wearing stripes. I am here to tell you: have no fear! Embrace your wild side and the power that comes with a bold stripe. Monochromatic options take the pattern to the edge, making them great options for a fashion-forward wedding guest facing a cocktail attire dress code, but you can make a more subtle statement wearing a carefully-curated rainbow of colors.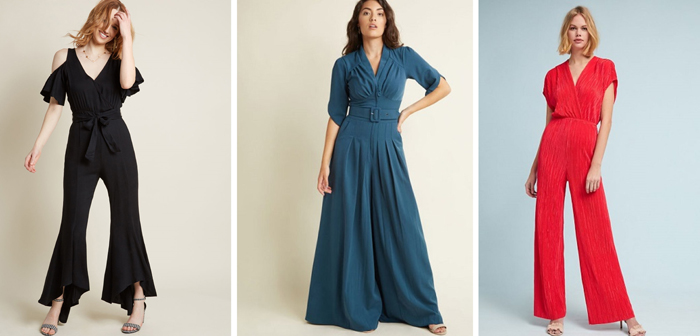 Power Jumpsuits
Let's say it together: jumpsuits are funky yet functional. Oh, and they can also be a beautiful alternative to a dress. As a fashion-forward wedding guest myself, I love the opportunity to wear a jumpsuit on the dance floor. These fun, confident options are fair game for dress codes up to black tie optional, and just like the solid beauties up top, you can pair them with a bright shoe to add a pop of color.
Beaded Beauties & Eye-Catching Embroidery
I'm sure your mother never told you this, but textured dresses are your friend. In fact, they could very well be your best friend if you find just the right piece. If you're looking for a fashion-forward dress that plays it on the border of safe, these embroidered dresses are just the trick: they offer a touch of color, wedding-friendly patterns, and can still be considered modest when it comes to pushing the fashion envelope.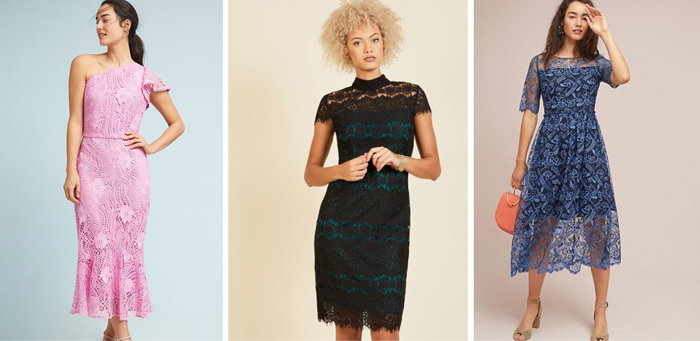 Sheer Overlays & Classic Lace
If you still need some convincing but are excited to enter your next wedding as a fashion-forward guest, these lacy feminine options are perfect. Each has a unique silhouette, but they all offer modest coverage with a few exciting details, making them a great first step to achieving a more adventurous wedding-guest look without feeling out of place.
Nowadays, it's easy to feel comfortable at a wedding even as a fashion-forward guest, and with so many nuptials-friendly options out there, you've got something for every occasion of the season. As a general guide, always remember to stick to the dress code communicated to you by the couple, but most importantly, have fun!
Now that you have your dress, be sure to pick up the perfect gift for the couple! We've made that task easy for you- head to RegistryFinder.com to find all of their wedding gift registries in one place!