In my opinion, the best season of the year is fall. At least where I'm living in southwest Ohio, the weather cools off and crisps up, the leaves start falling and pumpkin everything is finally unleashed! It's the perfect time to celebrate a mom-to-be in your life. If you'll be throwing a baby shower this season, we've got a ton of adorable (and pumpkin centric) ideas to make this the cutest shower ever!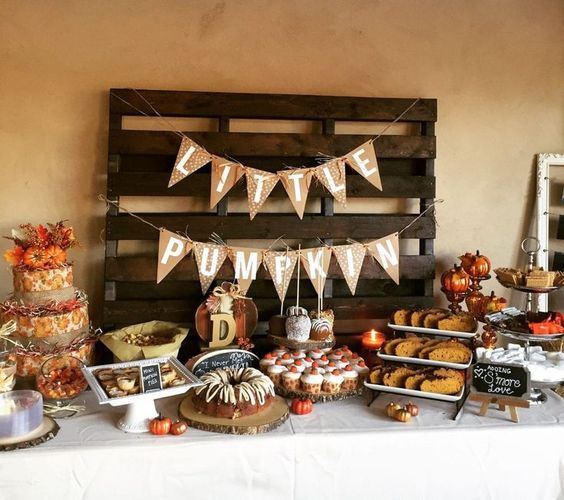 Cutest Pumpkin in the Patch Fall Baby Shower
The theme practically speaks for itself–a pumpkin patch baby shower!  Have you ever heard of anything cuter?
Fall Baby Shower Venue
If there happens to be one nearby and it fits within your party budget, we can't think of a better place to host this shower than at a pumpkin patch! Many orchards, farms and pumpkin patches near us offer party packages with dedicated space for celebration and maybe a treat or two thrown in. (Fingers crossed it's an amazing apple cider donut!)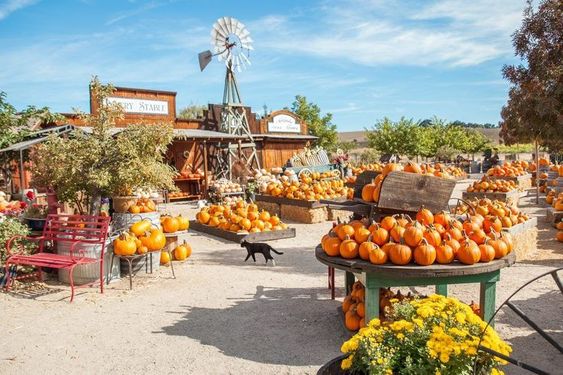 If you'd rather host at your home, there are so many ways to bring a pumpkin patch to you. See more ideas under "Decor".
Invites
Invitations for a pumpkin-themed baby shower come in any variety your heart desires.  We love what you can find easily (and some you can download instantly) on Etsy!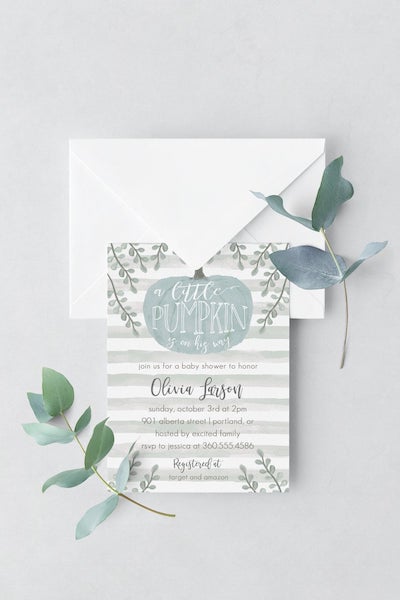 This is a sweet choice for gender neutral pumpkin-themed showers. It also incorporates greenery that would look so beautiful with white pumpkins and buffalo plaid accents at the shower!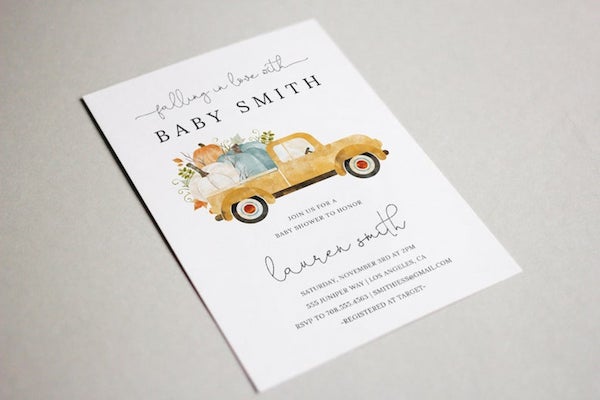 We love how this invite adds the vintage truck to the fall theme!  It's a great choice for a baby boy's celebration.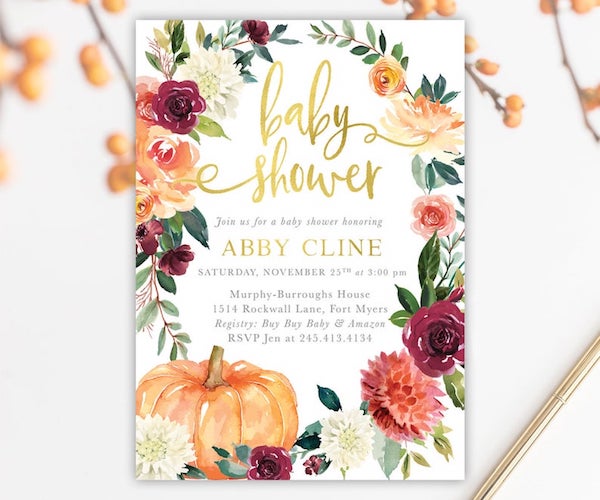 If you'd like a more subtle fall and pumpkin vibe and you're celebrating a little girl, we love an invitation that adds fall florals. The colors on this design are stunning and would look beautiful in any location!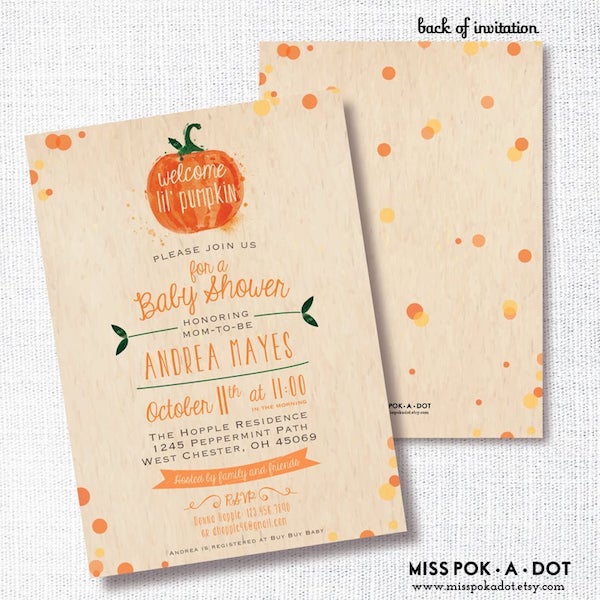 Keep it simple and perfectly fall with this invite. This is the perfect selection for a shower you're throwing at the pumpkin patch!
Decor
Like we mentioned above, if you're not throwing this shower at an actual pumpkin patch, you've can bring the pumpkin patch to you!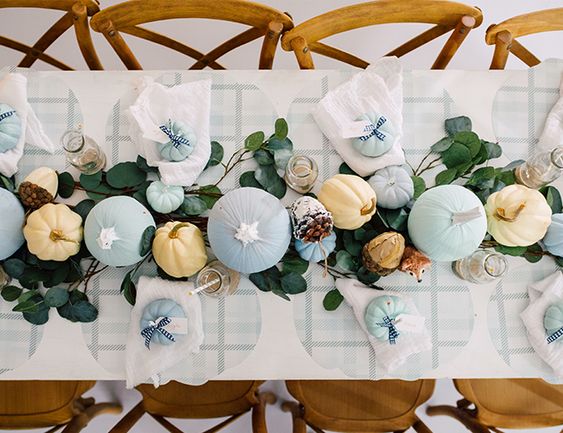 If you're going for the gender neutral and subtle pumpkin patch theme, this greenery and gray inspired tablescape is the perfect setup. We love using the greens as a runner on the table and building it up with as many pumpkins as possible. You can carry this same table decor over to the food table, gift table and backdrop for where mom-to-be will be opening presents.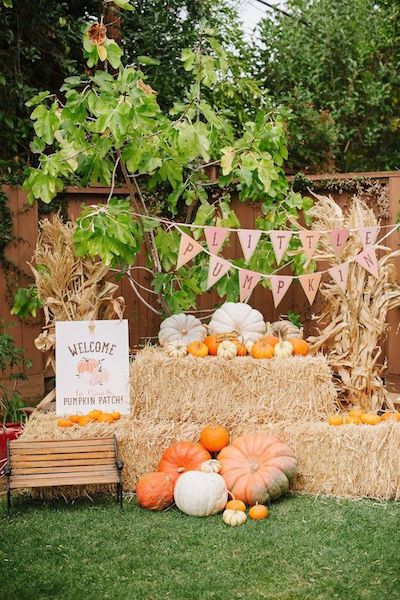 A few hay bales will go a long way in transforming your front or backyard into a pumpkin patch! Stack the hay bales with an assortment of pumpkins and have a sign designed to welcome guests (or write your own on a chalkboard!). We love the added touch of the dried corn stalks in this look as well.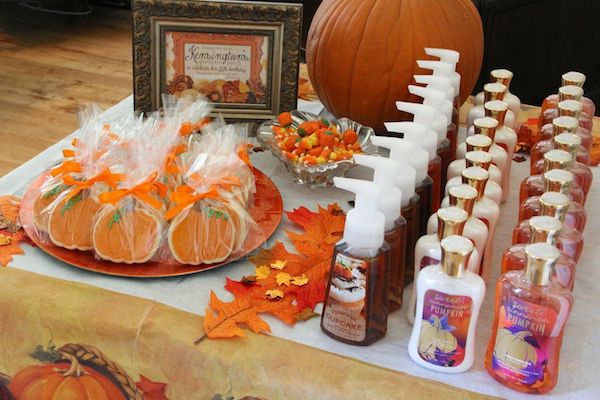 If you're going to do favors for shower guests, use them as part of the decor. Who doesn't love Bath and Body Works fall products? Arrange hand soap, hand sanitizer or lotion on a table and have guests choose one on their way out of the shower.
Menu
A fall inspired menu is easy to come by for this shower–just make sure there's plenty of pumpkin everything!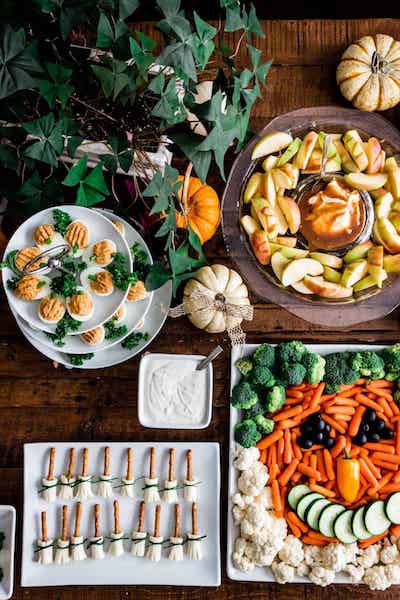 A spread of cute appetizers will add not only to the menu for your shower, but also to the decor. We love a fruit and veggie platter that's presented in a fun way and elevating classic appetizer staples like deviled eggs to match the pumpkin theme.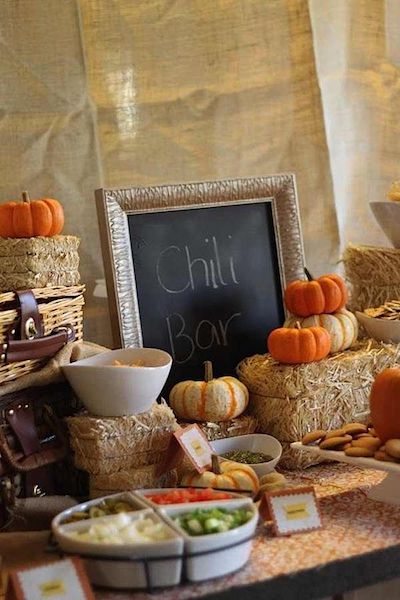 Who doesn't love a food bar at showers? Chili is a fall staple and it's easy to turn into a perfectly themed bar at this pumpkin shower! Select one or two favorite chilis (a classic and a white chicken perhaps) and load up on the toppings like sour cream, cheese, onions, Fritos and even noodles! (That's the Cincinnati way to eat chili!)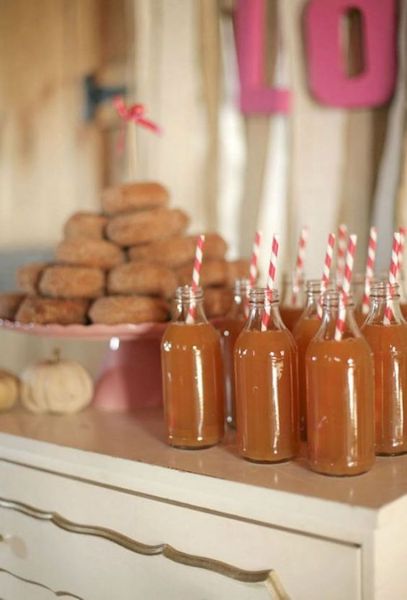 Any pumpkin patch would be lacking without fresh apple cider and pumpkin donuts. We love these pre-poured glass bottles of cider, but you could also do a hot apple cider station with toppings like whipped cream and cinnamon. And donuts are the easiest crowd pleasing dessert that look so cute stacked on cake plates!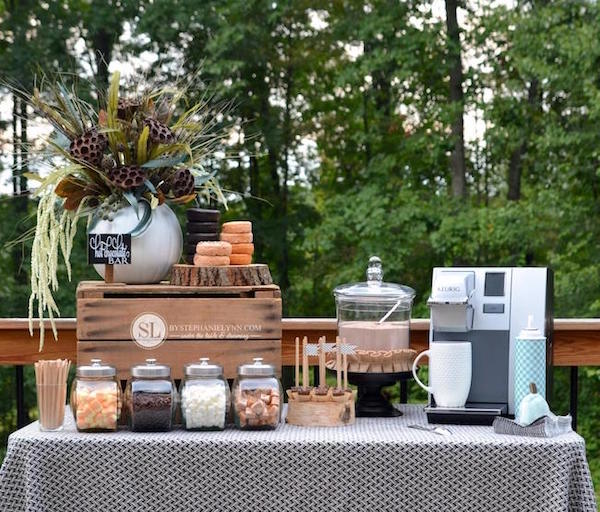 A coffee bar is a fun way to do a signature drink at this fall shower. Set up your Keurig with some pumpkin flavored pods, load up on the toppings (chocolate sauce, cinnamon, whipped cream, caramels, flavored creamers) and you're all set.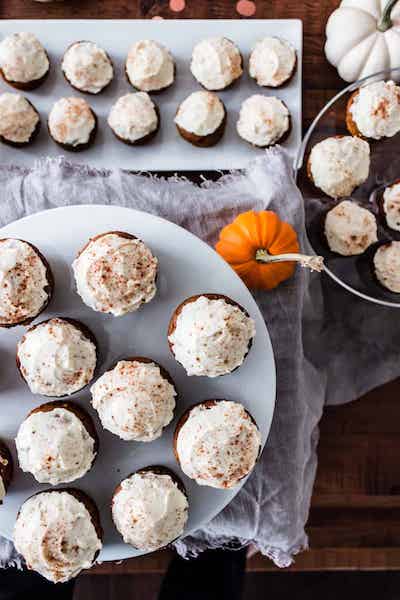 In addition to the donuts, you'd be remiss to pass up on all the decadent pumpkin flavored desserts of fall. Create an entire dessert table (or consider even just a coffee and dessert shower with tons of choices for guests!). A few of our favorites include: pumpkin cupcakes with cream cheese frosting, chocolate chip pumpkin bread, mini pumpkin pies and pumpkin spice cookies.
Activities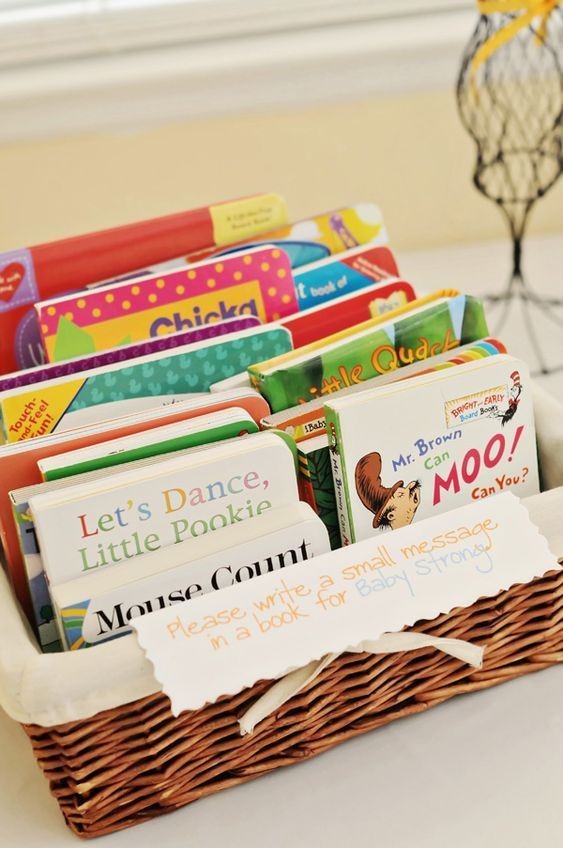 We love a baby shower guest book, especially one that's functional. Choose a pumpkin themed kids book (we love the one pictured below) and have guests write messages to the little one. It'll be a treasured keepsake for years to come!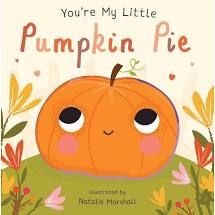 You'll want mom-to-be to remember all the loved ones who came to celebrate with her so we love the idea of a polaroid station at this baby shower! Set up a cute photo backdrop (we love the fall one pictured below), a polaroid camera, film and a marker for guests to sign their names on each picture. Make it a decor focal point as well by stringing up clothespin and clothesline and having guests add their photos as they take them.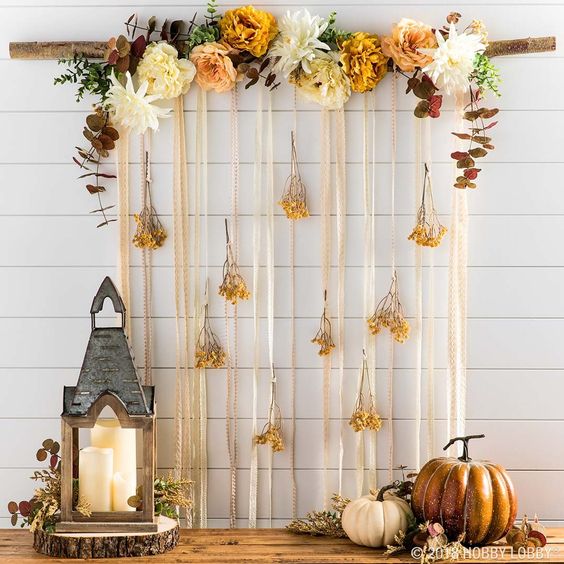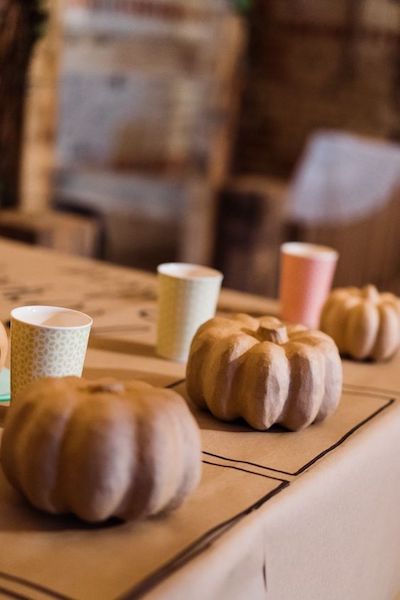 It wouldn't be a true fall get together without a little pumpkin painting. We love these kraft decorative pumpkins that are easy to paint or decorate. Pick up a few of the pumpkins, fall colored paints, stickers and maybe even some glitter and have guests show off their creative skills. Bonus: they all leave with a sweet new fall decoration for their home that they created themselves!
The mom-to-be in your life and her little pumpkin will feel so loved by this shower and all those who come to celebrate with her. Don't forget to point guests to mom's baby registries, all available quickly and easily at RegistryFinder.com. And if you're looking for a few more baby shower ideas, we've got them all ready for you on our GiveIt Blog.
Featured Image Courtesy of @cowtowncookieco