We know the basic information to include on a wedding invitation. And we are familiar with the faux pas of what NOT to include on a wedding invitation. But what about other important wedding information and details?
Hi Cheryl,

If our wedding website has a lot of information that may be pertinent to the wedding – accommodations, details, FAQ – how should we let our guests know this website?

I know you shouldn't do this with the registry (and we don't want to) but we fear this info could be too much to mail with the invitation and could change leading up to the event. Could we put it with the save the date or the invitation on either the back or a separate piece of paper?

Is that considered rude? I want to make it as easy as possible for our guests without committing any social faux pas.

Thank you in advance!
Rebecca
---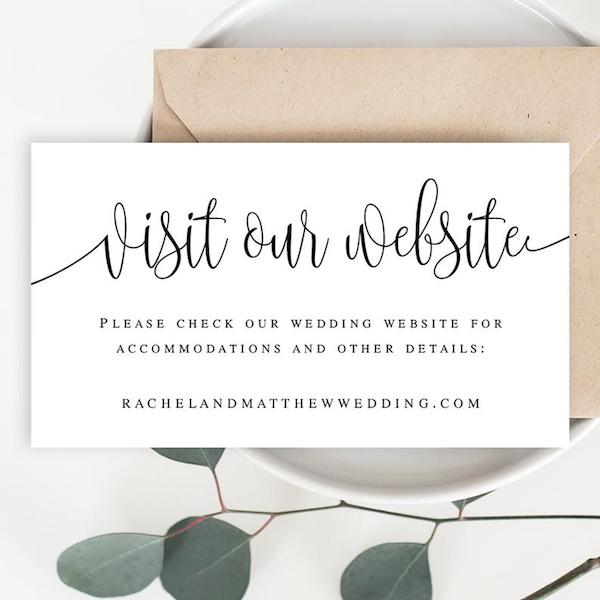 ---
Hi Rebecca,
Thanks for writing and your instincts are right on point!
Wedding websites are now common and most guests have learned to refer to them for all wedding related information.
When sending a Save-the-Date card, most couples start by including their website URL on this piece of correspondence. It can be placed on the front or back. There is no rule here. It's so valuable for guests to have easy access to travel and lodging information so they can make their plans early. You can feel comfortable that it's not rude to include it here.
You can also include the wedding website within your invitation packet, but don't list it on the actual invitation. You can add the web address to the response card, put it on a separate enclosure, or on another information piece included with your invitation. If there is not a good fit, you can send a group email to your guest list.
A good guideline when including your wedding website is to make it about wedding details and information, never about gifts. As you mentioned in your question, you should not include any registry information (or any reference to gifts) on the invitation, Save-the-Date card, or any other wedding correspondence. This includes emails and social media posts.
So feel free to order those Save-the-Dates and include your wedding website.
All the best to you! Wishing you much happiness and joy during your wedding planning and marriage.
---
If you have questions or comments about gift giving or wedding etiquette, please comment below or email [email protected].
Emails in this column are received from readers. Emails may be edited for spelling and grammar, or to remove sensitive information, however, we are careful not to alter the intent or content of the question.