There comes a time in every couple's registry experience when, amidst the scanning and choices and checklists, a thought enters their minds: where are we going to put all of this stuff?
Those registry checklists (which are totally helpful, by the way), seem designed for couples with a pantry, linen closet, and endless drawer and cabinet space, but most couples begin their lives in cozy apartments and starter homes, meaning storage and space are limited.
Today we're tackling the most extensive category of the registry checklist: the kitchen. With a few tips and tricks, and the right tools and appliances, you'll achieve maximum efficiency with minimal space!
Space Saving Tip #1:
Create Countertop Space
When you're working within a tight space, you'll want to clear your counters and create more work surfaces if possible.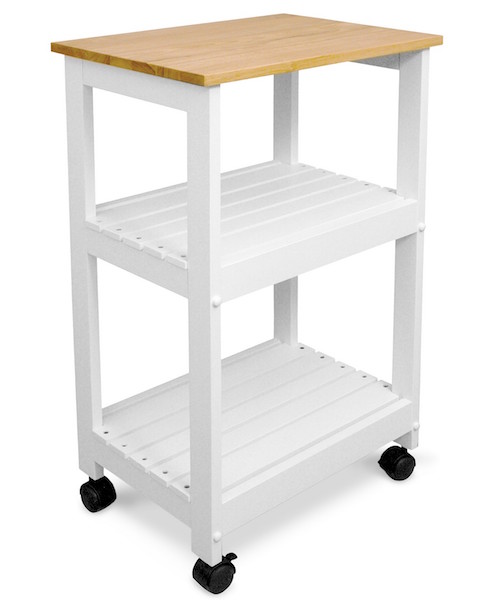 One simple way to do that is with a utility kitchen cart. Use it as a kitchen island during food prep, and then wheel it out of the way when not in use! Bonus: the shelves serve as extra storage space, too.
Free up the counter space you do have with vertical storage! This copper tiered fruit basket is a functional and cute way to store and display your produce.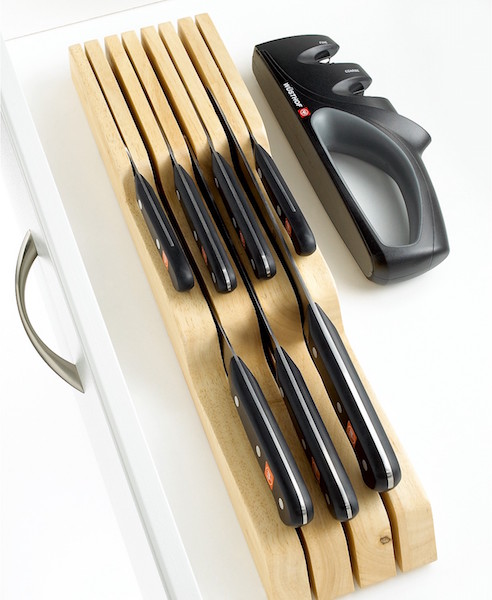 Try to get as much as possible off the counter. Instead of a knife block, go for an in-drawer knife set, and you'll have more room to prep!
Space Saving Tip #2:
Go for Mini Appliances with Major Power
In a tight kitchen, you'll want appliances that pack a major punch at a minimal size.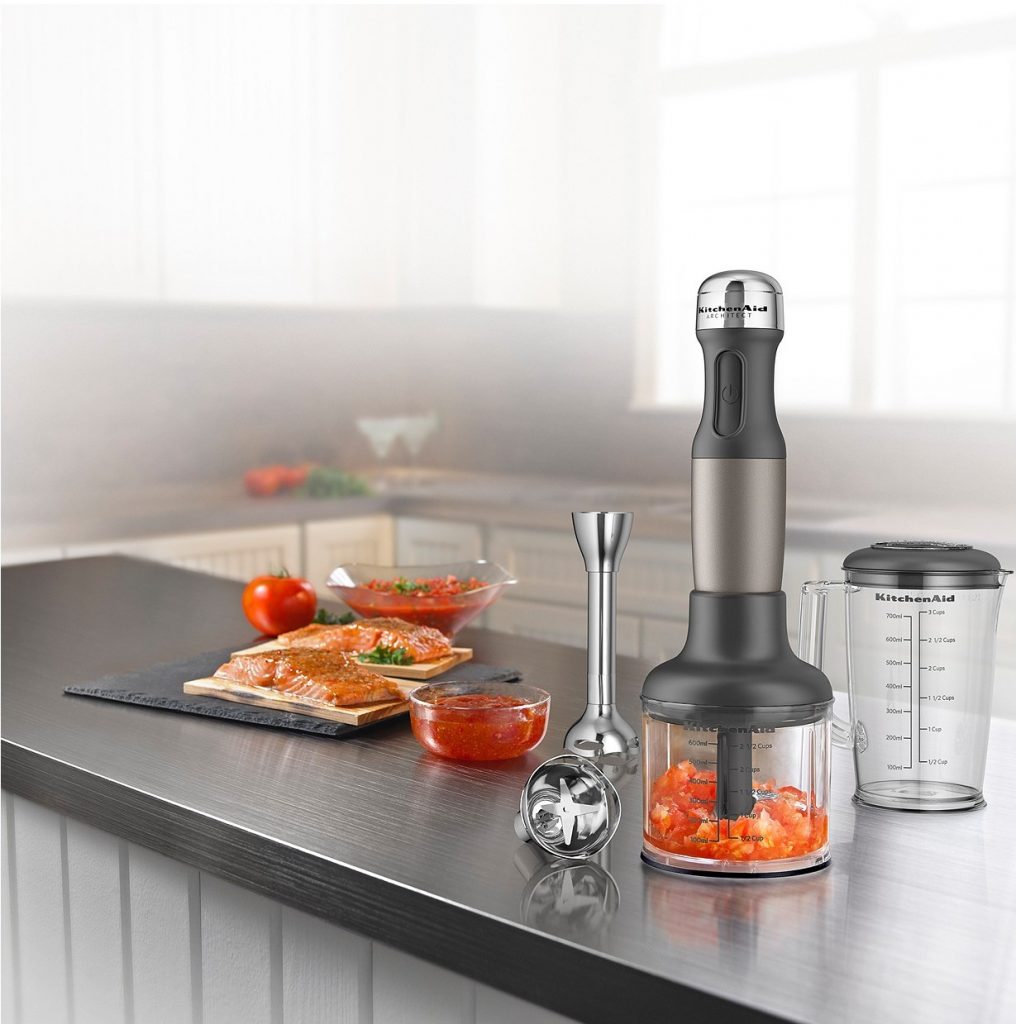 This KitchenAid hand blender is the ultimate space-saver: it serves as a blender and mini food processor but takes up a fraction of the space! The three interchangeable blades allow you to puree, blend, crush, chop, froth, beat and mince—and when you're done, store it away in its streamlined storage case!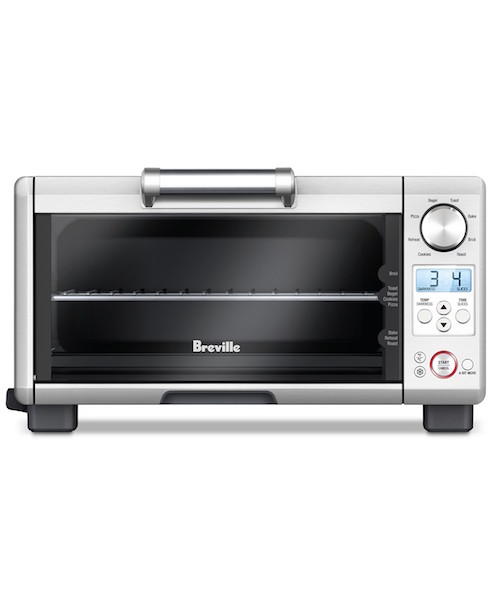 Compact in size but big in function, this mini oven features 8 preset functions that make everything from broiling to roasting to baking cookies a simple science. Though it only occupies a foot of counter space, it toasts up to 4 slices of bread at a time and can accommodate an 11″ pizza! It's a small wonder.

This little single-serve blender blends ice and fruits (including peels and seeds) quickly, so you can keep up your juice habit without having to operate and store a heavy-duty juicer.

You can sacrifice a lot of things in the quest to de-clutter, but coffee should never be one of them. At only 5" wide, this Nespresso Espresso Maker will keep you caffeinated and your countertops clear!
Space Saving Tip #3:
Stack, File, Fold, and Roll
Thanks to innovative design, these once clunky products have been streamlined, allowing you to pack as much as possible into your drawers and cabinets!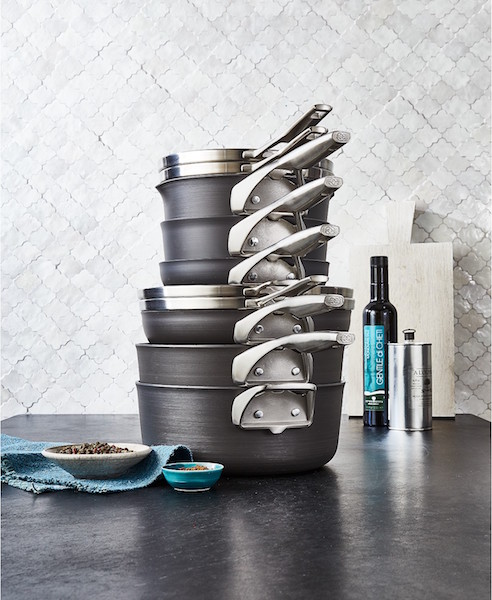 No more missing lids or toppling towers of pans: Calphalon's 10-piece cookware set creates a perfectly balanced stack, allowing you to achieve maximum storage efficiency.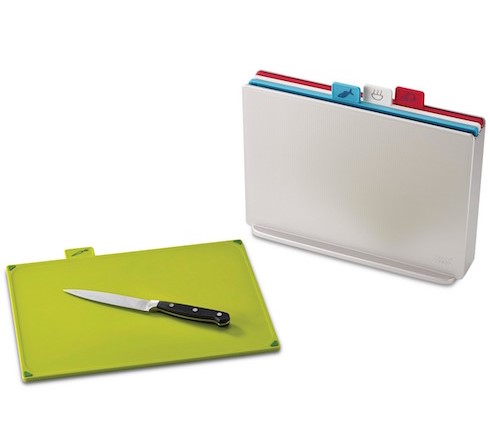 In addition to being easy to store, this cutting board set helps reduce the risk of cross-contamination. Use a different color-coded board for produce, fish, and meat, and throw them in the dishwasher for easy clean up!

Colorful and space saving, this nesting system includes nine pieces ranging from a teaspoon to a large mixing bowl. The set stacks compactly and snaps securely for easy storage.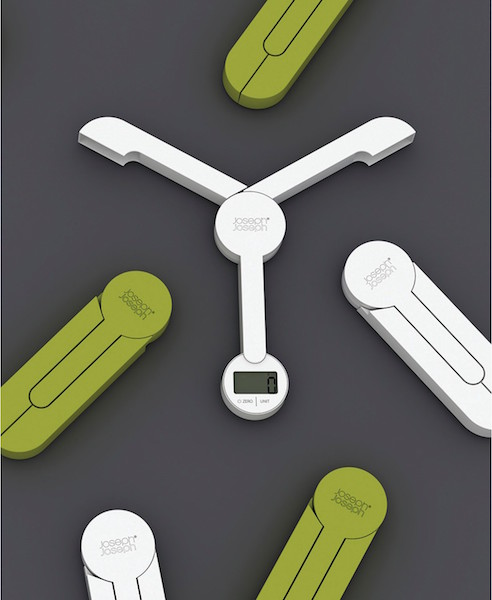 Top chefs know that measuring alone isn't always accurate: some delicate recipes call for weighing your ingredients. This folding kitchen scale gives an extra layer of precision without requiring any extra storage space.
Looking for More Inspiration?
Creating a registry can be overwhelming, but Macy's offers an inspiring starting point! Browse their curated collections and collaborations with of-the-moment influencers to create the registry of your dreams!
And our team at RegistryFinder has you covered with everything you need to know about a Macy's registry, including the perks, rewards, and discounts!