Now that spring is right around the corner, it's time to start looking forward to warmer weather and a new party planning season— that means baby showers! If you'll be celebrating a mom- or parents-to-be, one of the first things to do is figure out your party theme. Luckily, we've got you covered with six fresh spring baby shower themes you'll love pulling together.
I've included everything you need to host the perfect baby shower for each theme, from the invitations to the party favors and everything in-between. To help you easily coordinate your invitations, games, and signage for the cohesive look you want, we partnered with VistaPrint– they make it easy to customize and complement your theme from start to finish.
1. Boho Picnic
Snag an outdoor space and set up the ultimate girly, bohemian spring picnic if you're celebrating a down-to-earth mom-to-be. Just make sure your guest of honor has a comfortable place to sit that's easy to get in and out of.
Get guests in a nature-loving groove with these flower and feather invitations or these greenery-adorned invitations. If you are hosting an outdoor picnic, let guests know to dress accordingly!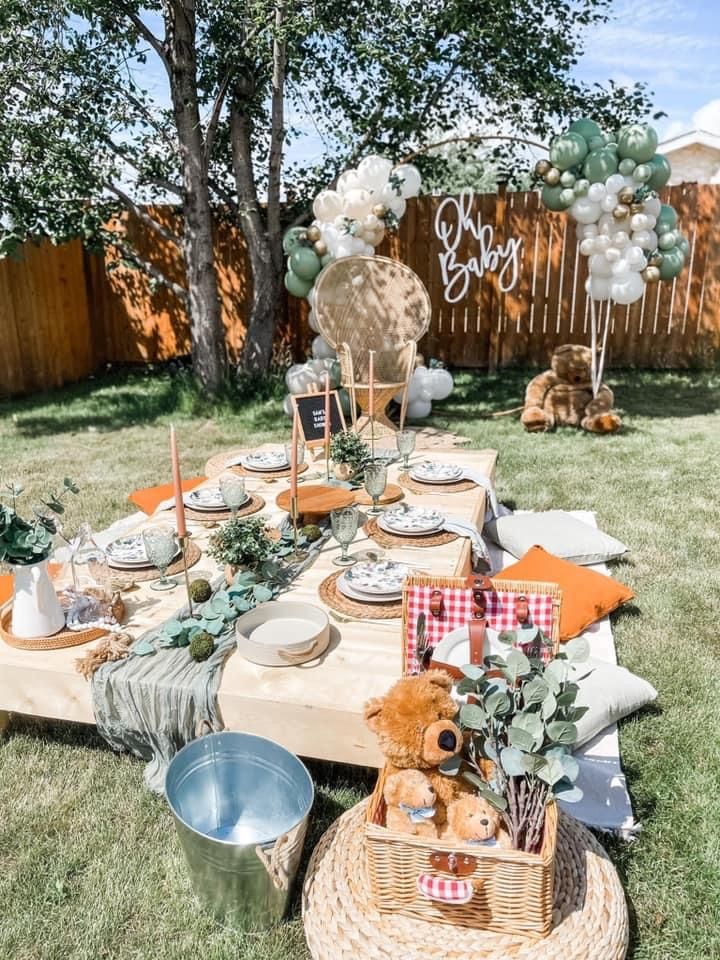 Keep your guest of honor comfortable in elevated seating, and set up floor pillows and blankets for guests to spread out and enjoy the celebration. Hang string lights and set out mini polaroid cameras so everyone can snap photos! Decorate tables with assorted greenery, flowers, feathers, and candles.
For food, give each pair of guests a curated picnic basket filled with goodies: Caprese sandwiches, sliced apples and honey, and macarons from the mama-to-be's favorite local bakery.
There's nothing more bohemian than macrame, and these sweet handmade feather keychains are a nod to the past that guests will love to sport as a memory of their celebration.
2. Classic Tea Party
Who doesn't love an excuse to dress up and drink tea? Indulge in all things girly and throw a tea party-themed baby shower that pulls out all the stops.
Get things started with VistaPrint's fully customizable floral invitation design, letting guests know to dress in their tea party best. Don't forget a set of thank you cards for when the party's over!
Set tables with tablecloths, teacups, and proper silverware to set an elegant vibe, and use vintage teapots as flower vases for your centerpieces.
Prepare a hot tea bar: use an electric kettle to keep water hot, and set out an assortment of tea bags, milk, and sugar for guests to prepare their drinks. Make proper tea sandwiches with these recipes, and serve them up on tiered trays to continue the upscale feel.
Send your guests off with loose-leaf tea and a heart-shaped tea infuser to remind them of the bundle of love they're celebrating.
3. Baby Bunnies
We love this shower theme because you can customize it in so many ways: play up your favorite bunny rabbit storybook character, incorporate farm or garden elements, or use Easter as your decor inspiration!
Every party starts with the invitation, so customize these cute bunny invitations from VistaPrint and send them out to your guest list. You can order the corresponding thank you cards here!
Make or buy a simple but show-stopping cake! Create bunny ears using paper-wrapped floral wire, stick them in the top of your cake and add assorted flowers and greenery around the base of the ears.
Use spring flowers such as tulips, hyacinth, daffodils, or pansies with rustic pots or wooden crates as centerpieces or decor. (These double as the perfect take-home gift!) You can complete the garden theme with watering cans and garden tools.
In keeping with the garden theme, serve farm-inspired finger foods like veggies with ranch dressing, pigs in a blanket, deviled eggs, and cucumber cream cheese finger sandwiches. Don't forget the fresh-squeezed lemonade for the mom-to-be!
4. Spring Flowers
Throw a floral baby shower filled with beautiful blooms! Here's a quick list of flowers for each month of spring: daffodil & jonquil (March); daisy & sweet pea (April); lily of the valley & hawthorn (May); rose & honeysuckle (June).
Set the tone for your flowery get-together with watercolor-hued floral invitations on VistaPrint — it's so easy to customize every element! This invitation is available in 6 colors to match any color scheme you choose. (Matching thank you cards are also available here.)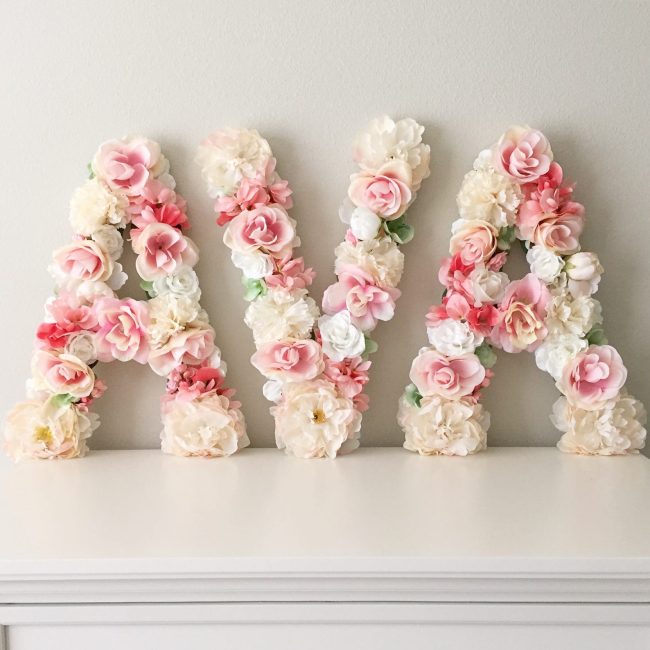 Go all-out with the decorations — think DIY floral table runner, colorful bouquets, or even a custom baby name display made entirely of any flowers you choose! Or, try your hand at easy DIY floral hoops. Use silk flowers, and they'll double as gorgeous nursery decor.
If you haven't already seen the charcuterie flower trend taking the internet by storm, do yourself a favor and watch the tutorial, then arrange a long spread of meats, cheeses, fruits, and crackers for everyone to enjoy. Here's some inspiration if you need a visual.
To commemorate the celebration, give each guest beautiful peonies made of soap for party favors. Put them in mini cardboard boxes for convenient transport.
5. Sweet Honey Bees
Is there anything sweeter than celebrating the upcoming arrival of a bundle of joy? A honey bee-themed baby shower will get everyone buzzing with excitement!
Tell your hive to save the party date with honeycomb-patterned invitations — and don't forget to grab matching thank-you cards from VistaPrint while you're at it. VistaPrint even lets you customize display boards to greet guests or point them in the right direction — use them to designate party areas throughout your venue.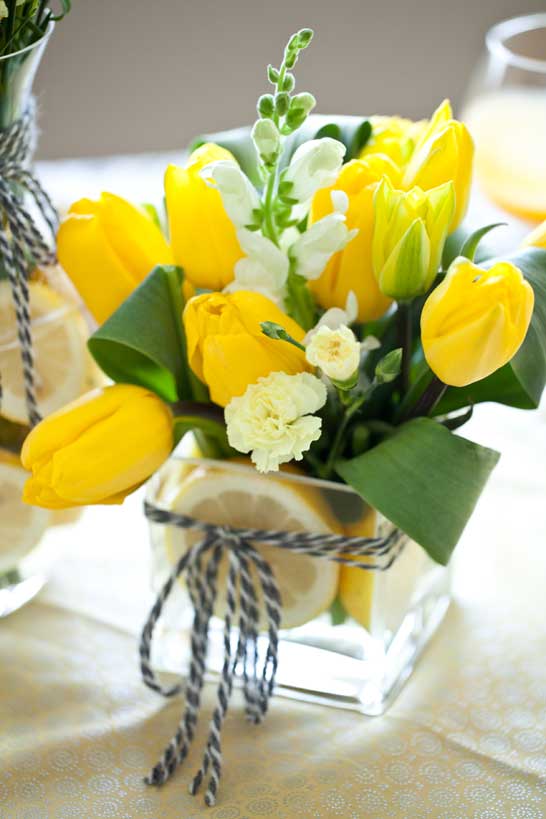 Decorate with yellow and white tulips, accented with black ribbon. And incorporate the word "bee" into a cute DIY banner!
In the spirit of all things honeycombed, set up a waffle station with sweet and savory topping options: berries, whipped cream, and syrup, along with crème fraîche, bacon, and chives. Lean into the brunch buffet and set up a mimosa bar for guests!
Don't let guests leave without handcrafted honey spoons that are packaged and ready for gifting!
6. Rain Showers & Rainbows
You know how the saying goes: April showers bring May flowers — but they also bring beautiful rainbows and inspire a colorful spring baby shower theme.
Your guests will love opening their mail when you customize these fun, vibrant baby shower invitations through VistaPrint's easy-to-use virtual design tools. You can also order your thank you cards through their one-stop-stop.
Order assorted balloons and make an eye-catching rainbow arch where guests can place their gifts in a "pot of gold" (set up a large basket at one end of the arch). Hang iridescent foil curtains as a rainy photo backdrop complete with colorful props!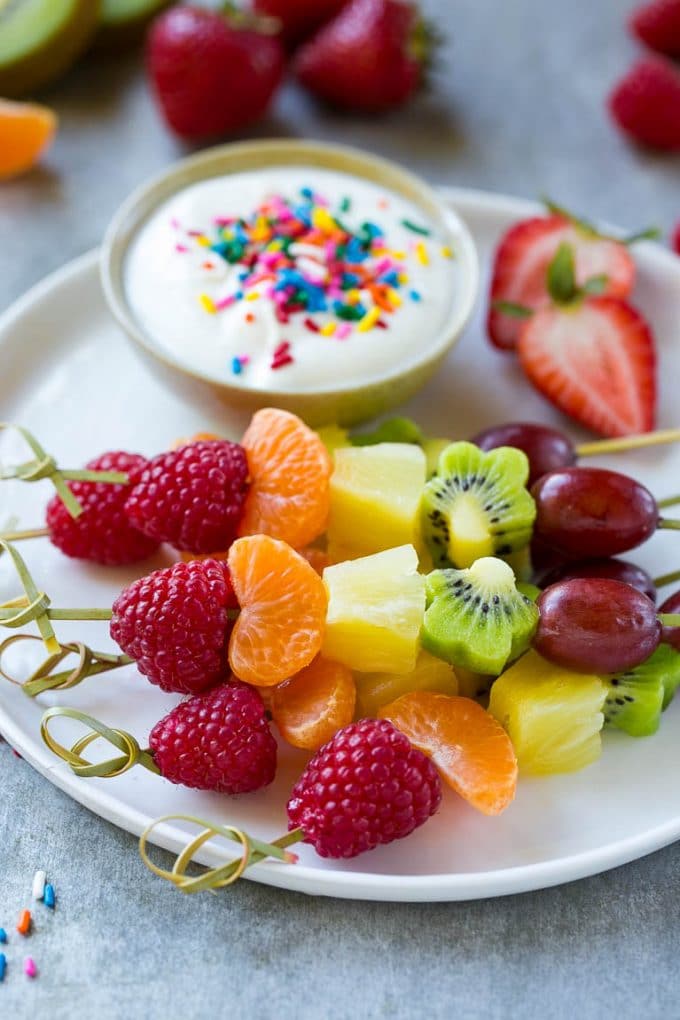 Set up fruit kebabs arranged in rainbows — strawberries, cantaloupe, pineapple, kiwi, blueberries, and red grapes — and serve up everyone's rainy day favorite: mini grilled cheese sandwiches with tomato soup shooters!
Personalize M&Ms with the baby's due date and hand them out in rainbow-stamped goodie bags as a party favor for guests — tie on a tag telling them to save their snacks until the baby comes!
Ready, Set, Plan!
Don't put off your spring party planning any longer — it'll be here before you know it! When it comes time to celebrate life's milestones, VistaPrint is a budget-friendly source for custom, quality invitations for any theme. Once you've discovered the design you love, you can apply it to any number of party goodies, from display boards and banners to personalized drinkware and tote bags.