Trust me, I get it, shopping for a mother of the bride/groom dress can be hard! How do I know? I'm actually in the middle of trying to find one for myself right now! My son is getting married in August and finding a dress hasn't been easy for me! From color to trend to what looks best on you, it's just HARD to find one you love! We all dream of the day our son or daughter will say, "I do." We imagine every detail of our child's wedding day, from the flowers to the wedding dress, but our imaginations don't always include a vision of ourselves (moms are kind of used to putting ourselves last, aren't we?)
And while no mother wants to stand out at the ceremony, the mother of the bride or groom wants to dress to impress. All eyes will be on you as you walk down the aisle, and your look will live on in the wedding album and video. When I started looking, all I saw were dresses that looked too old, too flashy or like a nightgown. How discouraging! My mother is 82 years old and most of these dresses look too old for her! Well, stress no more! You can sit back and relax because I've done all the dirty work for you, and I'm happy to share what I have found!
First, a few tips to help get you started:
#1: Start looking for your dress as soon as possible:
As much as I love shopping and have a wardrobe of dresses, I thought I would have no trouble finding a beautiful dress to wear. Unfortunately, that has not been the case. Your role is important, and you want to look and feel your best. Searching early for your dress will allow you more options and give you plenty of time for alterations.
#2: Ask the Bride what she'd like you to wear:
Be sure to ask the bride if she has any preferences as to a specific color or style she would like you to wear and stay within the parameters the bride gives you. If the bride leaves the choice solely up to you, move on to Tip #3.
#3: Choose a color that compliments the MOB and bridesmaid's dresses:
If you're the mother of the groom, wait for the MOB to pick out her dress and then choose yours to compliment the color of hers as well. It's a good rule of thumb to keep within the same color palette as the rest of the group. You don't want to stand out by wearing a bright red or yellow, if the color theme is soft, and definitely stay away from any shade of white which is only reserved for the BRIDE.
#3: There are two types of people:
a.) those who love to make a party out of finding a dress by taking their best friends and making a day of it or b.) those who order 25 dresses online, try them all on in the privacy of their own home, and send back the ones that didn't make the cut. I happen to be option b. I like to shop from my computer, try the dresses on in the comfort of my own home, send pics to my friends of the ones I love and narrow it down again by actually trying on my favorites in front of my friends. I try to shop from sites that have free returns which usually isn't hard to find.
Ok, now that we've set these tips in place, it's time to take a look at the type of dress that will most likely look best on your body. Your body is beautiful no matter what shape it is and the first thing you want to do is determine your body type. I have put together some dresses to show what is most flattering on four of the most typical body types.

Triangle Shape
 If you carry your weight in your  hips and thighs, have a smaller bust and shoulders and a defined waist here are some dresses that will look great on you!  (They usually refer to this as "pear" shaped but I hate being compared to a fruit, don't you?) When you have this body type it's best to look for dresses that are A- lined or are a "fit and flare" style.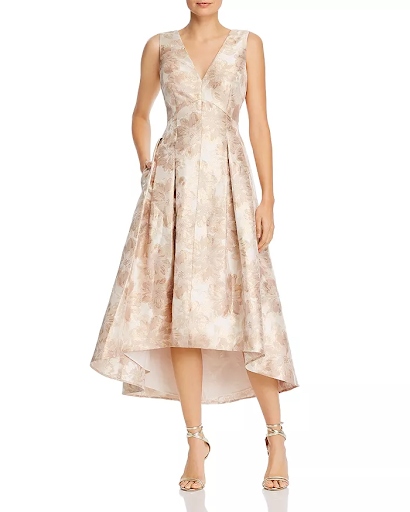 This sleeveless floral V-neck will be stunning as you stand next to your son or daughter in pictures. It has a unique high low hem and it even has convenient pockets!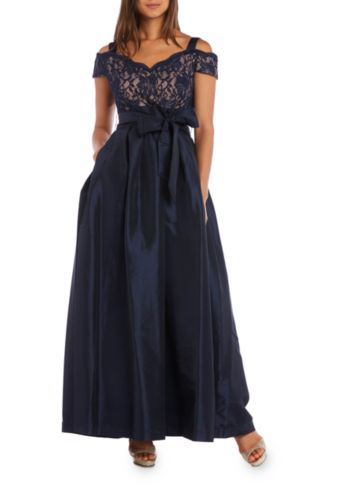 If "effortlessly elegant" is your goal, this is your dress! This lace, nude bodice over a full skirt is sure to be a head-turner and the hidden pockets will hide your phone on the dance floor!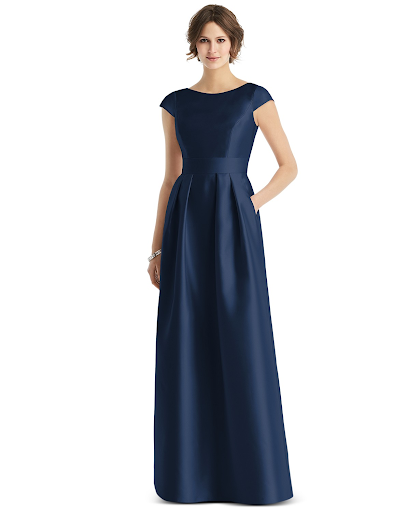 Show off your timeless beauty in this chic cap-sleeve dress. It showcases a sleek maxi silhouette, convenient slit pockets at the hips and just enough comfort to carry you late into the night!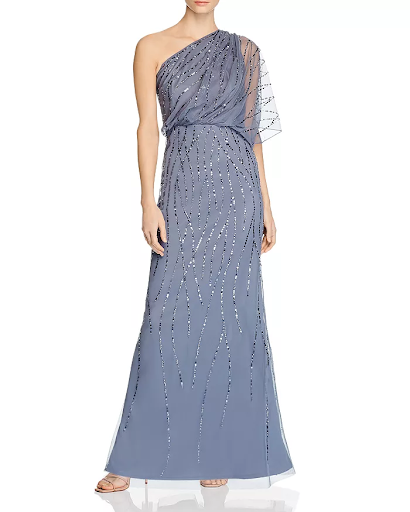 Shine all night in this beautiful gown with a one-shoulder neck and blouson bodice. Chiffon, beads and sequins are always a "yes" with us and sure to be admired by all the wedding guests!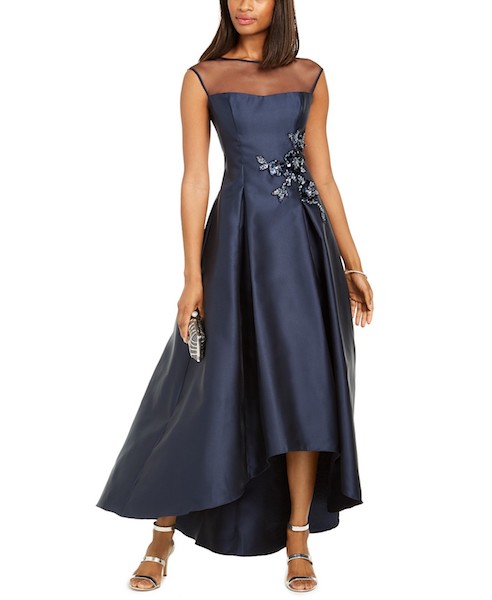 Elegance awaits in this gown designed with a chic illusion neckline and a beautifully beaded floral accent at the waist. A high-low hem completes the striking look.
Show off your legs—and dance moves—in this dazzling dress.  Shimmer & shine from day to night- a total stunner that's entirely covered in sequins.
Hourglass Shape
Next are the dresses that look best if you have a figure that is curvy with a defined waist, where your bust and hips are close to the same size. With an hourglass shape you want to look for dresses that have a flattering v-neck as well as come in at the waist and then flare out over your hips. Find one to show off your best feature-your waist.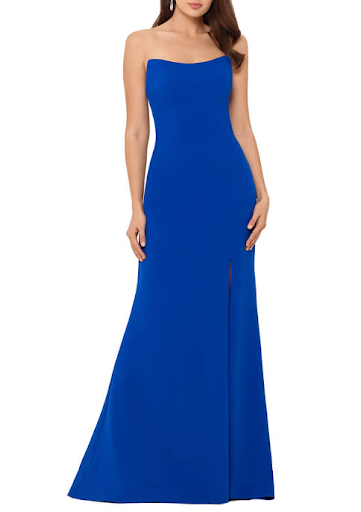 Strike a balance with glamour and ease in this  strapless silhouette. The flattering side slit adds a flirty touch and will withstand the test of time.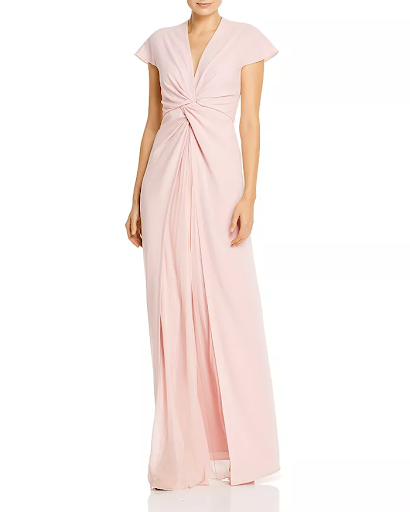 Heads will turn as you are dancing with your son in this elegant classic. With a statement twist at the waist, it's sure to emphasize your best features!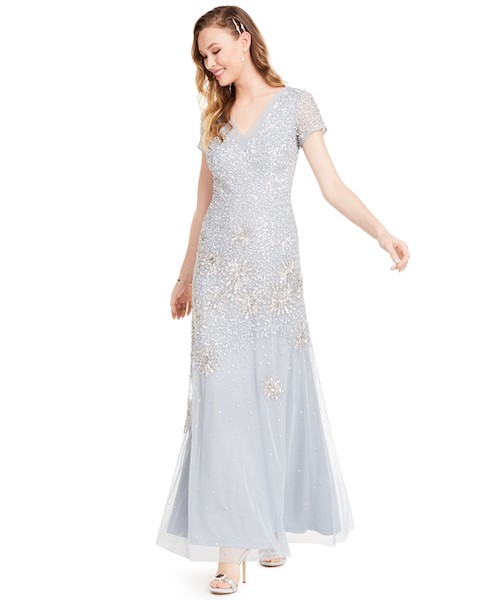 You'll make a sweeping entrance in this gorgeous gown: delicate beaded and sequined embellishments, airy chiffon, a flattering trumpet silhouette topped with short sleeves. This deep V-neck style is finished with opulent embellishment for added shine and sparkle.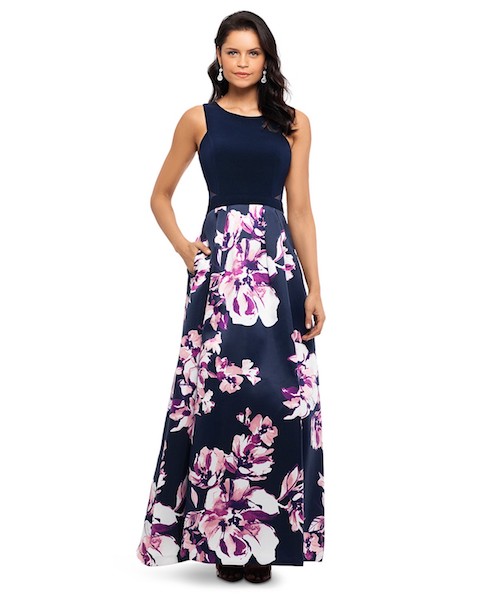 You'll look like a movie star, but feel like yourself in this bold floral dress! Subtle on the top, voluminous on the bottom. This floor-sweeping gown is the best of both worlds with its dramatic two-tone design.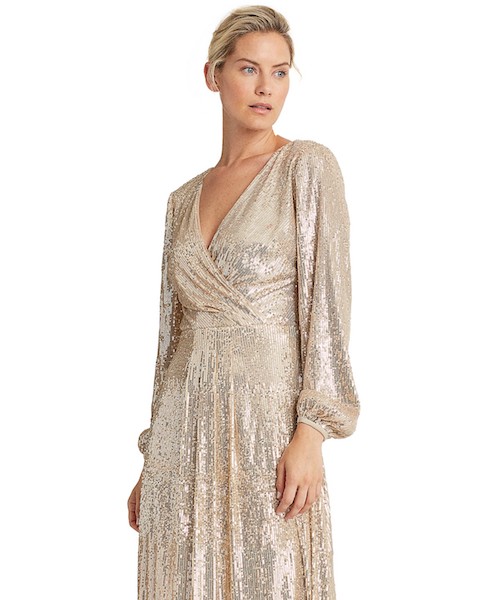 You won't want to leave the dance floor in this shimmering dress adorned with sequins. A hint of romance with a whimsical feel, it may have you up way past midnight!
Rectangle Shape:
This body shape has a straighter build. If your weight is evenly distributed, you have an undefined waist and your shoulders and hips are aligned, here are the looks to show off your straight silhouette: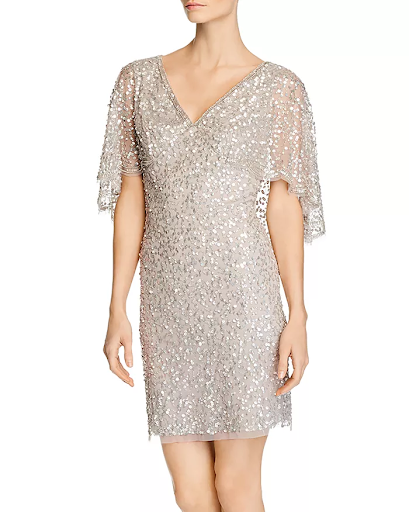 Perfect for the rehearsal dinner or the wedding, this scalloped cape-style overlay sleeves with a sheath silhouette is comfortable and classic with the right amount of sparkle that can't be overlooked. Just like you!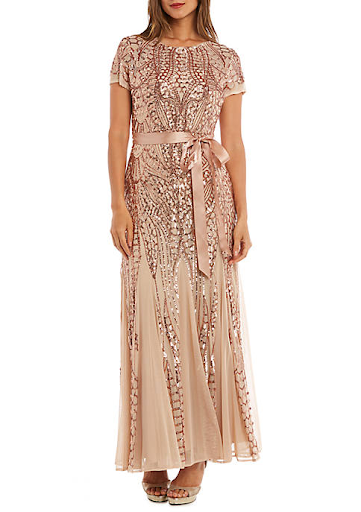 With sparkles in all the right places, this dress will take you to the next level and make you shine like the mother you are! This one-piece, short-sleeved, fully-lined floor-length gown is offset by a satin bow in front, and makes you feel beautiful as you walk down the aisle in style.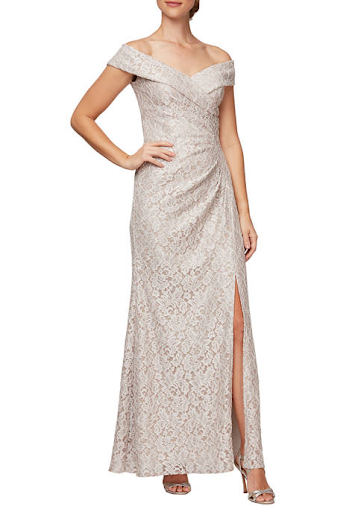 Show them all you've still "got it" with a fit-and-flare silhouette. This dress by Alex Evenings is crafted with lace and features an off-the-shoulder neck which will make the perfect dress for a romantic evening.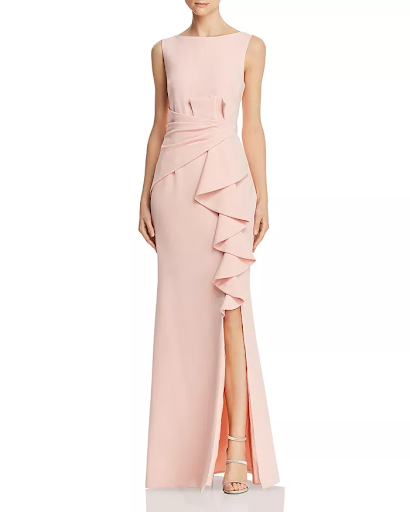 Effortless and Elegant, what more could you ask for? High-quality crepe meets clever design on this cocktail sheath, styled to emphasize the waist with a cascading ruffle trim.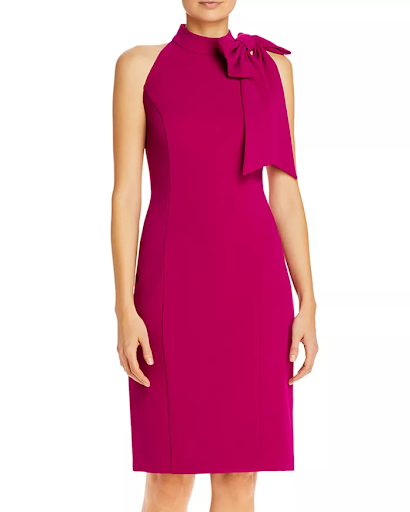 Keep it classy in this sheath dress with a high-neck with side bow accent for added charm. Classic yet daring. Sound like someone you may know?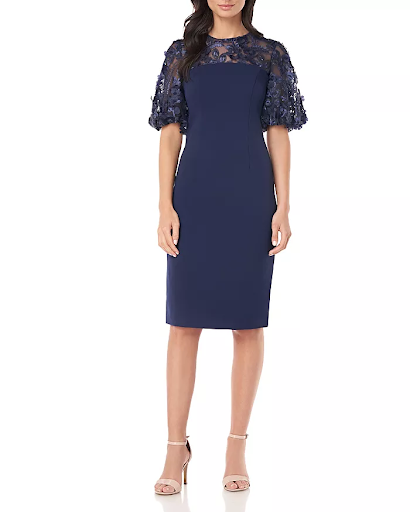 All eyes will be on you in this simple, timeless sheath dress. Simple yet special with the floral balloon sleeve. If you're going "conservative with a touch of fun," this is the dress for you!
Round Shape
If you carry your weight in the middle section and have shoulders that are broader than your hips, then we suggest more of a sheath style and even one that shows off your pretty legs. Look for a dress that draws attention to your upper body. A-line dresses, wrap dresses, and dresses with full skirts are also great options, as they help conceal the midsection.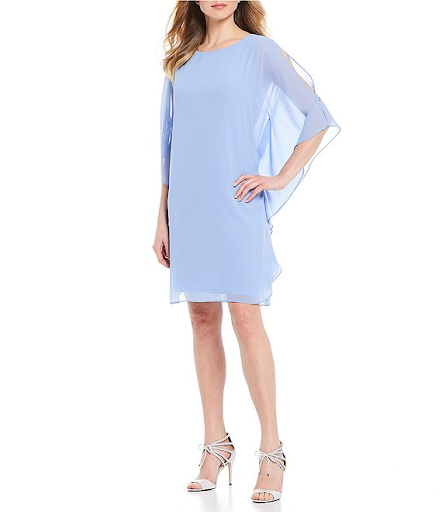 Show off your classic yet flirty side in this beautiful dress. The split sleeve hides your arms in all the right places and the elegant ruffle overlay adds the extra detail added to give it a unique look.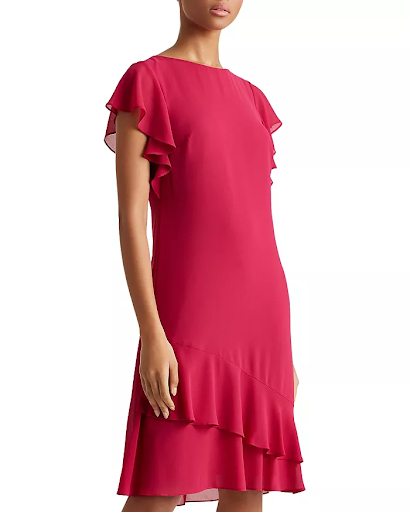 Wear this dress with confidence as it represents all that you are, timeless, classic, simple and beautiful.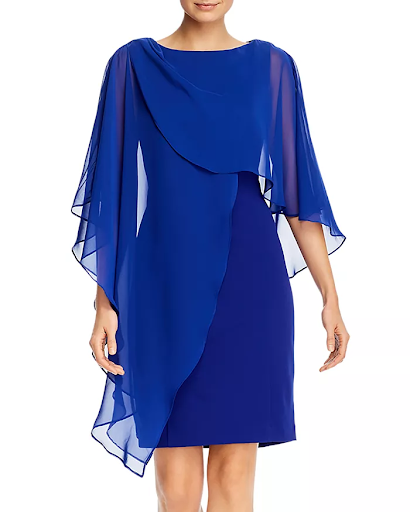 Consider this dress your new best friend because it shows off your beautiful legs, covers your imperfections in all the right places and offers the most perfect color of blue that's sure to get you compliments all night long!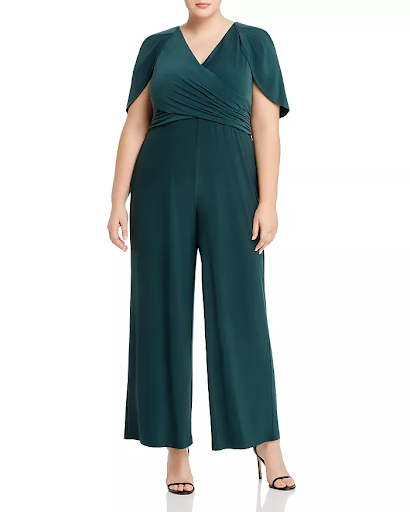 Let's be honest, who doesn't love wearing pants? This wide leg capelet jumpsuit is "all the things" including comfortable,  elegant and slimming!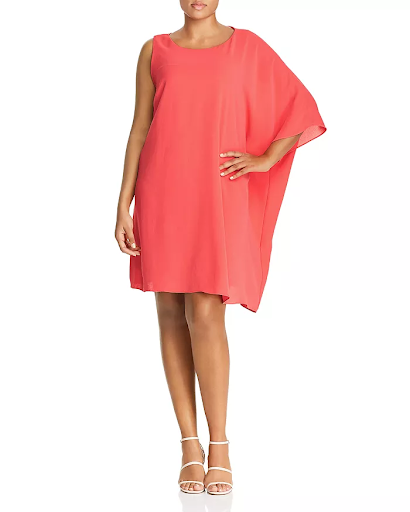 The wow factor is an understatement in this asymmetrical beauty. It has a three-quarter length dolman sleeve at left, sleeveless at right and a draped silhouette. You will feel fun, fashionable and fabulous in this dress!
The Extras:
No matter what size or shape you are, almost all of us can agree on one thing…we won't turn down the extra help to smooth out the little bulges here and there. Thankfully they now offer many great COMFORTABLE options of shapewear for helping us enhance and contour our natural shape. Here are some great options for you to wear under your dress. Make sure you try it out before the big day to make sure it's comfortable, works with your dress and stays in place!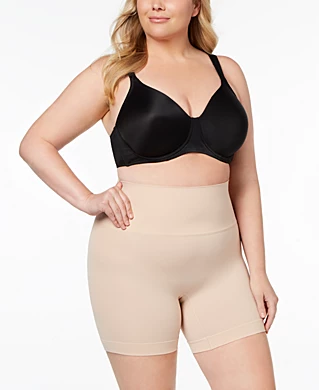 Smooth and shape your silhouette to create the shape you desire in these plus size shaping shorts from SPANX
Consider wearing this under your favorite, flirty dress to help you look great in all the right places.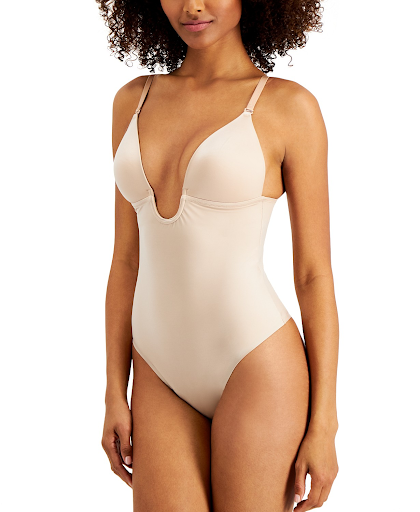 This is the ultimate low-front and low-back solution to a dress with a plunging neckline. This bodysuit will smooth out  all your worries.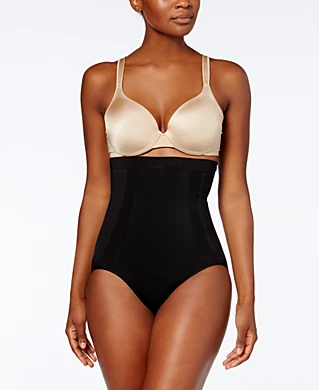 Looking for total transformation? This sculpting brief from SPANX is lightweight and powerful, featuring fully bonded front-panels for a flatter stomach and edge-bonded side panels for comfortable, squeeze-free slimming.
I hope this has helped you find a dress that is most flattering to your figure, comfortable and chic for the formality of the big day! Your role in the wedding is pretty special so make sure that you take the time necessary to do all the things that are going to make you feel like the wise, beautiful and special mother that you are!