Summer is the busiest time of the year for weddings! And that means many of you are hosting bridal showers in the next few months. We know that Pinterest is overflowing with great ideas, but that those ideas can also cause you a lot of stress. (Remember, most of those over-the-top, picture perfect parties are planned and photographed by professionals!) If you want to host a lovely, pin-worthy event, without losing your mind, you've come to the right place!
We've created a delectable brunch menu, but we've swapped out the common bridal shower brunch faire- breakfast casserole, muffins and mimosas- with dishes that will impress your guests. The recipes are all easy to make and can be prepared ahead of time or in minutes on the morning of your shower. We've also included a few simple decorating ideas to help you throw the perfect bridal shower.
Food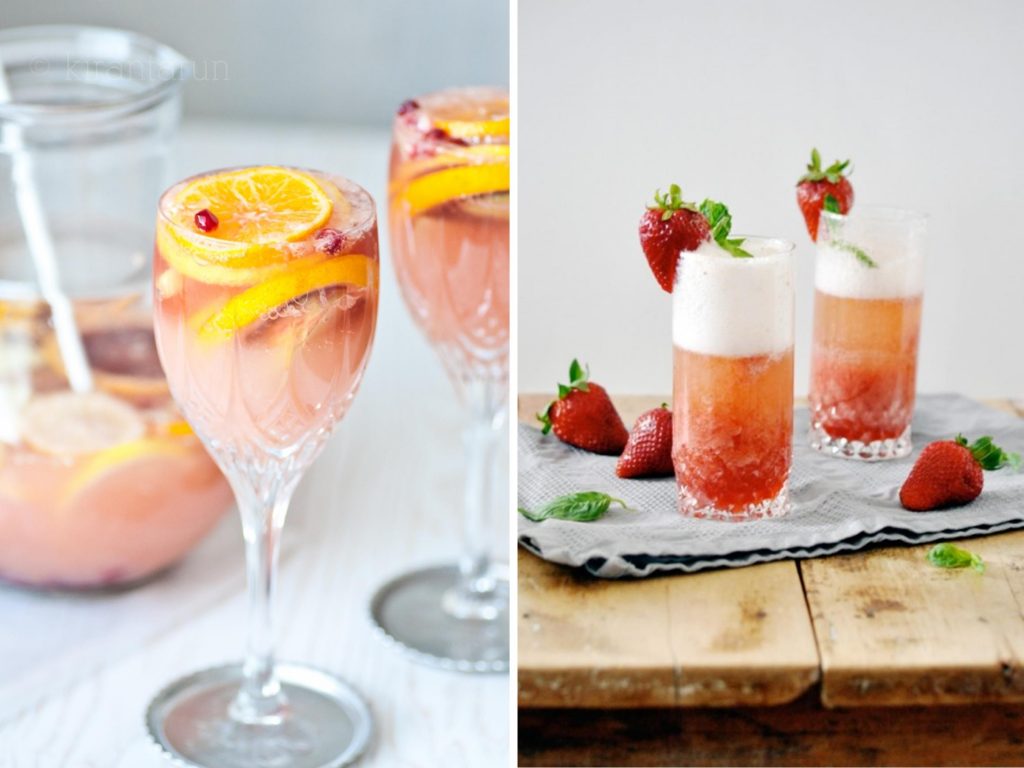 Source: Kiran Tarun and Jacquelyn Clark
The Brunch Cocktail
Move over champagne and orange juice- there are new bubbly drinks in town! Your guests will love the Strawberry Basil Belini or the Citrusy Champagne Sangria. Prepare the base of both drinks a day ahead so that flavors can really meld together. Add the bubbly right before your party and you're ready to go!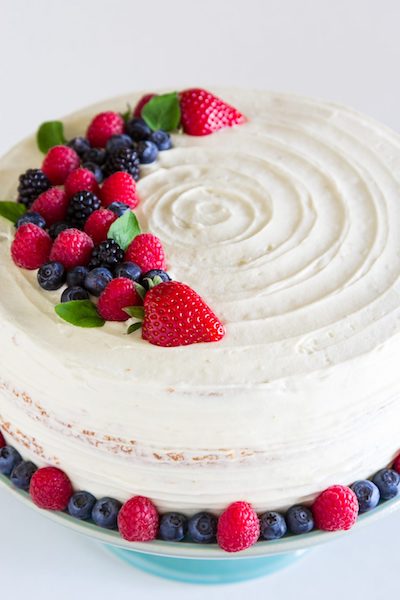 Berry Chantilly Cake
A shower is not complete without cake! This mouthwatering vanilla cake is layered with four different berries and sweet mascarpone cream cheese frosting. This cake can be made up to two days in advance: bake the layers one day, frost it the next day, and it's ready for the shower!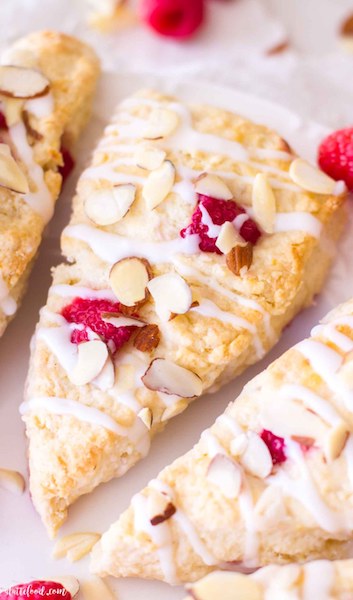 Raspberry Almond Cream Scones
We all know that scones can be dry and boring, but not these! The sour cream in this recipe makes the scones perfectly tender and flaky. The best part is- these can be made a day or 2 in advance!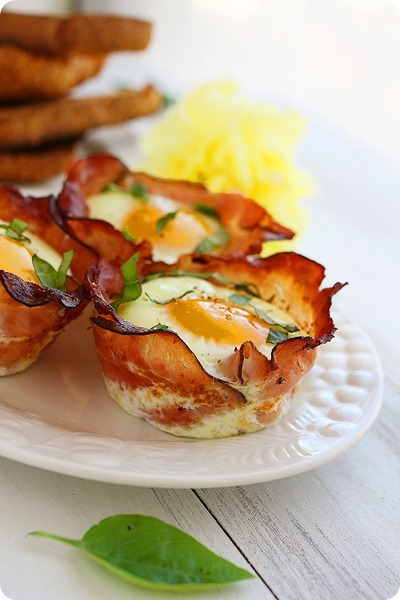 Egg and Ham Tarts
We decided to forego a breakfast casserole in order to create a unique brunch menu. However, we also want you to enjoy your own party without spending the entire time in the kitchen. Check out these beauties- you won't believe how easy they are! Grab your muffin pans, press a slice of ham in the bottom of each cup, crack an egg over the ham, sprinkle with salt and pepper and they're ready for the oven. Garnish with chives, basil or other fresh herbs once they're cooked.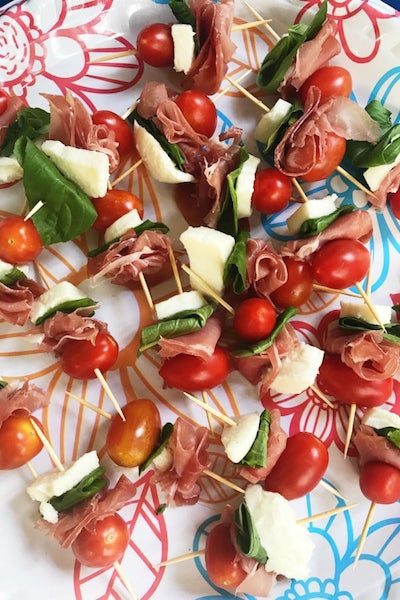 Prosciutto Caprese Kebabs
A good brunch should have some savory items to balance out all the sweets. Try these prosciutto caprese kebabs. They can be prepped a day ahead, and then drizzled with the balsamic glaze the morning of your shower. They taste great and look great too!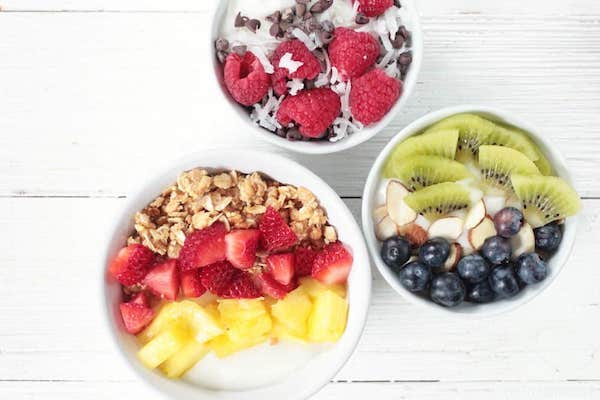 Yogurt Bar
For a breakfast or brunch event, we like the idea of a Yogurt Parfait Bar. Serve plain yogurt with lots of toppings: fresh and dried fruit, nuts, granola, coconut, mini chocolate chips and honey, fruit syrups or jams to sweeten the yogurt. Cut up all the fruit the night before your party. Homemade granola is quite simple and can be made weeks in advance if stored in an airtight container. (It also makes a great party favor for your guests!) Check out these recipes if you need some granola inspiration!
Flowers
Now that you've got the menu planned, let's focus on the décor. Whether you have a specific more elaborate theme or have decided to go with a simple classic gathering, flowers are the easiest way to decorate. An added bonus is that your centerpieces can double as prizes or take home favors for your guests.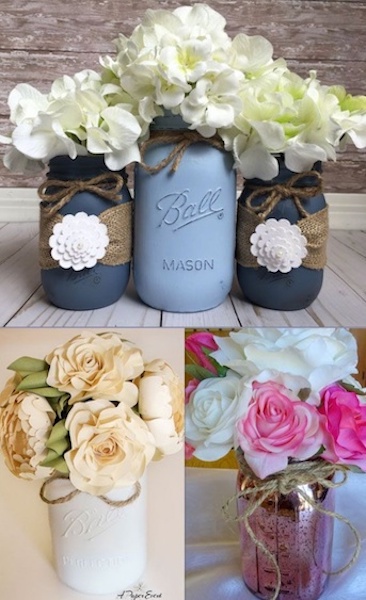 Mason Jars
Mason jars are one of the most versatile options for floral arrangements. They can be frosted, painted, wrapped in lace, or tied up with a twine bow or satin ribbon. The decoration possibilities are literally endless (as are the flowers you could put inside them). However you want to decorate the jars, it would be easy enough to DIY. But if you are short on time (or helping hands), Etsy has plenty of ready-made bridal shower Mason jars to choose from.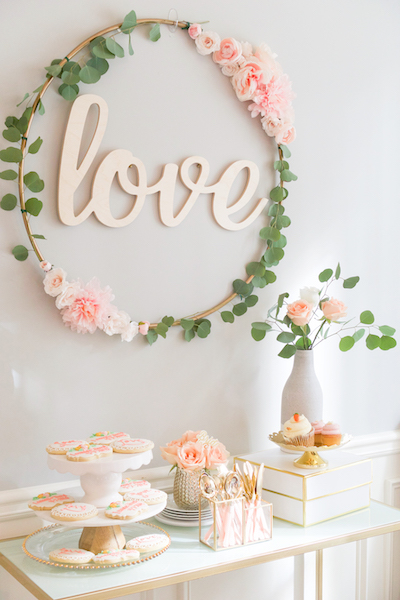 Floral Hoops
Floral hoops are another versatile way to brighten up your party. You can use any flowers and colors you like or just wrap the hoop in some simple greenery. You can make a bunch of small hoops to arrange on the wall or around the room; you can also make one big floral hoop (out of a spray-painted hula hoop!) as a frame for a picture collage of the bride and groom or for a custom carved word: Love, Bride, Mrs., XOXO, etc. If you decide to DIY, you could use fresh flowers and greenery; but if you want to prepare them early, fake flowers work well too. And the bride can take the flowery decoration to hang in her new home as a sweet memento of her special day.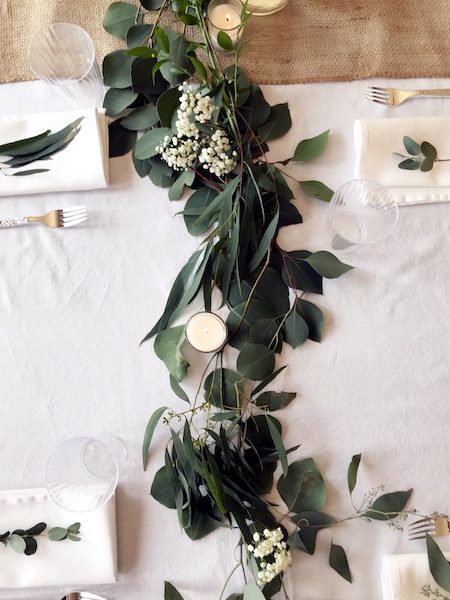 Garland
Another simple but elegant way to decorate is with some greenery. A strand of greens (with or without flowers) can be woven around the food at a buffet table. Or place some greens around votives, single blooms of the bride's favorite flowers, or around those mason jar floral arrangements on each of the tables around the room.
Get Inspired
We hope we've inspired you to host a beautiful, effortless bridal shower. If you're looking for other recipes, games, and décor ideas for your party, check out our Pinterest board: Bridal Shower Brunch. Happy Planning!