Summer is the busiest time of the year for weddings! And that means many of you are hosting bridal showers in the next few months. We know that Pinterest is overflowing with great ideas, but that those ideas can also cause you a lot of stress. (Remember, most of those over-the-top parties are planned and photographed by professionals!) If you want to host a lovely, pin-worthy event, without losing your mind, you've come to the right place. We've created a delectable brunch menu, but we've swapped out the common bridal shower brunch faire- breakfast casserole, muffins and mimosas- with dishes that will impress your guests. The recipes are all easy to make and can be prepared ahead of time or in minutes on the morning of your shower. We've also included a few simple decorating ideas to help you throw the perfect bridal shower.
The Brunch Cocktail
Move over champagne and orange juice- there are new bubbly drinks in town! Your guests will love the Strawberry Basil Belini or the Citrusy Champagne Sangria. Prepare the base of both drinks a day ahead so that flavors can really meld together. Add the bubbly right before your party and you're ready to go!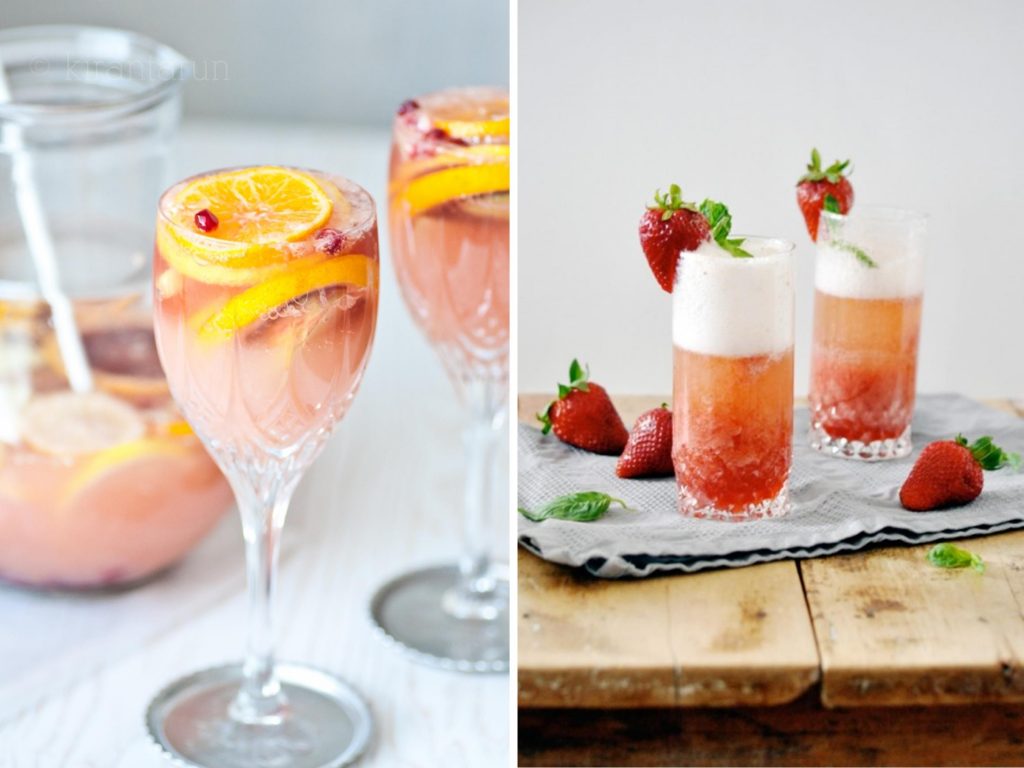 Source: Kiran Tarun and Jacquelyn Clark
Hummingbird Coffee Cake
A shower is not complete without cake! This mouthwatering cake is filled with bananas, pineapple and coconut and topped with a delicious cream cheese frosting. It's comes together quickly and can be made a day before your shower.

Mixed Berry Scones
We all know that scones can be dry and boring, but not these! We love this recipe because even though berries are used you can substitute just about any fresh or frozen fruit you'd like. These yummy treats can be made up to 4 days in advance!

Egg and Ham Tarts
We decided to forego a breakfast casserole in order to create a unique brunch menu. However, we also want you to enjoy your own party without spending the entire time in the kitchen. Check out these beauties- you won't believe how easy they are! Grab your muffin pans, press a slice of ham in the bottom of each cup, crack an egg over the ham, sprinkle with salt and pepper and they're ready for the oven. Garnish with chives, basil or other fresh herbs once they're cooked.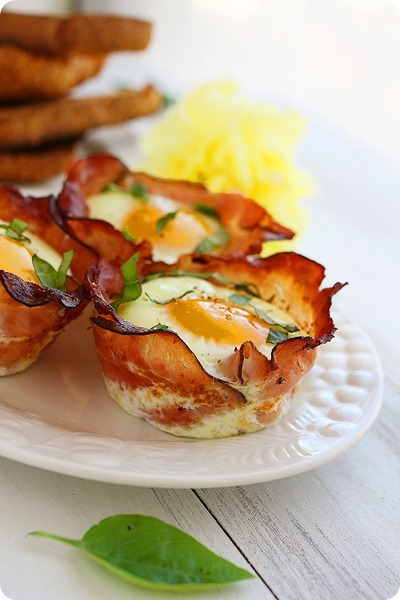 Prosciutto Wrapped Asparagus Spears
A good brunch should have some savory items to balance out all the sweets. Try these prosciutto wrapped asparagus spears for your next party. They can be prepped a day ahead, and then broiled the morning of your shower. They taste great and look great too!
Yogurt Bar
Make-it-yourself food bars are all the rage these days. We don't suggest having more than one at your event because you don't want guests to feel like they're cooking their own meal. For a breakfast or brunch event, we like the idea of a Yogurt Parfait Bar. Serve plain yogurt with lots of toppings: fresh and dried fruit, nuts, granola, coconut, and honey, fruit syrups or jams to sweeten the yogurt. Cut up all the fruit the night before your party. Homemade granola is quite simple and can be made weeks in advance if stored in an airtight container. (It also makes a great party favor for your guests!) Check out these recipes if you need some granola inspiration!
Now that you've got the menu planned, let's focus on the décor. When it comes to centerpieces for you shower, we've found some effortless arrangements that anyone can create. Potted flowers and herbs are an inexpensive way to decorate your tables. An added bonus is that your centerpieces can double as prizes or take home favors for your guests.
Source: Eco-Beautiful Weddings, Martha Stewart, and Wedding Dish
Or if you're feeling creative, try one of these pretty (but oh-so-easy!) flower arrangements, perfect for a spring bridal shower.
Sources: Lia Griffith, Colson Griffith, , Frosted Petticoat
We hope we've inspired you to host a beautiful, effortless bridal shower. If you're looking for other recipes, games, and décor ideas for your party, check out our Pinterest board: Bridal Shower Brunch. Happy Planning!
by RegistryFinder.com contributor Rebecca Haar