Start your college experience with everything you need with the help of your favorite retailers
Starting college brings a host of changes, both for the student and their close family and friends. It's an exciting new chapter in life that comes with a lot of new items to purchase — which can become overwhelming if you don't have a plan. That's where a college and dorm gift registry can come in very handy. Not exactly sure what that is or how to create one? You've come to the right place. Keep reading to learn everything you need to know about gift registries for college students.
What is a college gift registry?
We've all had experience building or shopping off of wedding and baby registries. A college registry is really no different, aside from the actual items being added to said registry. In addition to all the must-have supplies and gadgets that you'll find on most college dorm checklists, it also gives students the chance to add specific items and personal wish lists to their unique registry.
If you're a parent of a student preparing to head to college — whether into the freshman dorms or their first apartment — building a college registry is also a great exercise in independence. It's a task with a clear deadline and specific requirements for success.
How do you communicate college gift registry information to friends and family?
Graduation announcements are a practical spot to include your college student's gift registry info. One easy way is to add a simple note that loved ones can head to RegistryFinder.com, enter the graduate's name, and find all their registries in one place.
Feeling extra fancy? You could even set up a one-stop website for friends and family to find graduation ceremony information, browse through photos of the graduate throughout their education, and read other exciting updates — like all those awesome acceptance letters. It also serves as a perfect place to add a list of retailers where your graduate is registered.
Which retailers offer a college gift registry option?
Target
Target's universal registry makes it easy to add items from the popular retailer, as well as other stores. Once you've set up your account, you can customize your registry page with images and a personalized URL, and track all your gifts through the site.
The Room Essentials brand — owned by Target — is a favorite for college shoppers moving into the dorms. We love their organization solutions that make even the smallest shared spaces feel like home. Some of our most-loved items include:
Dorm closet space is precious, sacred even, and must be preserved at all costs. By employing an over the door shoe organizer, you can maximize otherwise unused vertical space and store everything from flip flops and sneakers to sunscreen, cleaning supplies, and other miscellaneous must-haves.
These simple, effective cubby shelves are ubiquitous to dorm living for a reason: they make it easy to organize just about anything. Use it as a kitchen supply and coffee station, store workout equipment in the accompanying bins, or display favorite books and plants for some much-needed ambiance.
When it comes time to hit the showers, you want to be able to get in and out without any trouble. Having a trusty shower caddy that carries all your essentials and dries quickly is a non-negotiable. This mesh caddy comes with exterior pockets and ample interior storage to fit a standard towel.
Your dorm registry should include a variety of items that double as storage. Take this lamp, for instance. Not only does it add soft lighting to your living space, but it also includes built-in shelves, giving you a home for even more of your items. You could even use it as a nightstand!
A trusty shower caddy isn't the only requirement for dorm bathrooms — you can't forget to bring extra-soft towels to dry off with! While you can't make every aspect of college living feel like home, the right set of fluffy, 100% cotton towels can make a huge difference.
Even if you have a meal plan, a mini fridge can make a huge difference in your quality of dorm life. Stock up on extra snacks and drinks for easy access when you're short on time or don't feel like schlepping to the dining hall. Moving into an apartment? It's a great place to keep an extra water filter and study snacks.
For those busy mornings when you don't have time to swing by the campus Starbucks, a single-serve K-cup maker can be a huge game changer. The compact design makes it easy to fit into even the smallest dorm or apartment space, so there's no excuse to go a day without your morning cup of coffee.
Amazon
Amazon's gift registry makes it easy to celebrate any milestone, including graduation. With a seemingly endless catalog of products, you can find just about anything you need to stock up for your college experience. When you build your registry, you also get extended return periods and an automated thank you list — what more convenience could you need?
Whether you need to round out your college checklist with electronics or some extra funds, creating an Amazon gift registry for your college needs is a no-brainer. Add these to your list for next-day delivery: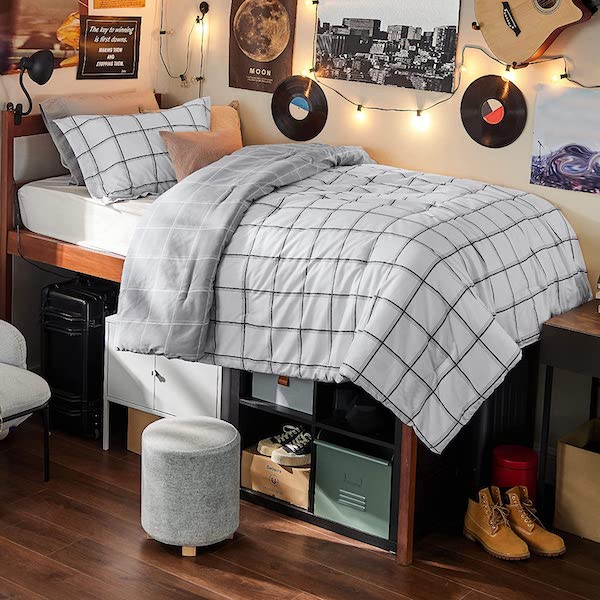 Pretty much every dorm room includes a twin XL bed for each student. That means you'll need extra-long bedding to fit your extra-long mattress. Bed Bath & Beyond has everything from sheets and comforters to quilts and mattress toppers so you can make your sleeping quarters as comfortable as possible.
There's nothing wrong with straight up asking for cash. You never know when you'll need to make an emergency order for school supplies, snacks, or laundry detergent in a pinch. Looking for a weekend pick-me-up? Use it to rent one of the over 25,000 movies available on Amazon Prime.
You know if I'm making a gift list, it's going to include some form of a smart home device. Even your college living space deserves an Echo Dot so you can quickly learn important facts, play music, find out the weather, or see the time. It's a convenience that everyone should have nearby!
There comes the time in every adult away from home's life where they realize that there is a cord that they need — but they don't have. Luckily, you can find just about any charger or connecting cable you're looking for on Amazon. May as well just throw them all on your registry, just to be safe.
Don't leave for college without a proper cleaning routine! Add a cleaning kit to your Amazon gift registry so you can start off on the right foot from day one. This mini bundle comes with everything you need for a good deep clean once every few weeks.
Start Adding to Your Registry Today!
Now that you know about all the great graduation registry perks available through your favorite retailers, it's time to start shopping! Download and print out our handy college registry checklist to help you stay on track and guarantee that you get everything you need for an amazing move in.