When I got engaged, my first priority was nailing down a wedding date. The second priority? Figuring out our engagement photos. From the location to the time of day to the outfits, everything had to be perfect — and I know I was no exception as a modern bride.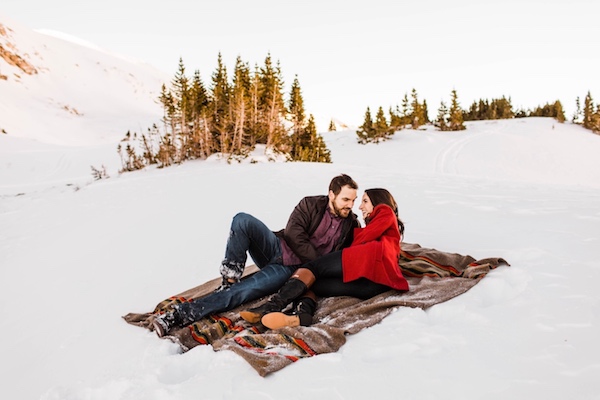 These days, an engagement photo session can hold almost as much importance as the big day itself, since it's basically your first opportunity to present yourself to friends and family as an "adult" couple. The way you look — as individuals and together — is a big part of how you'll be perceived, so it's no surprise that many couples (read: brides) feel pressure to find the perfect wardrobe.
For a winter engagement shoot, it's all about working with the elements, embracing the chill, and showing off your personality as a couple. From outfit ideas to tips for staying warm, we've compiled a variety of romantic wintertime looks to inspire your session. Keep reading to put your perfect look together!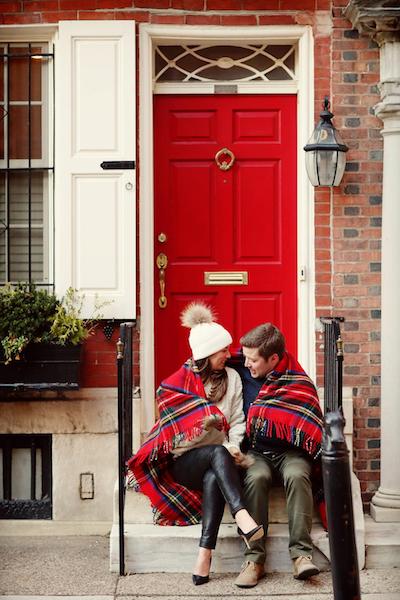 Tip 1: Bring a Blanket
When it's cold outside, baby, there's no shame in incorporating a blanket into your winter engagement photos. If you go with a patterned blanket like this classic wool Pendleton throw, keep the rest of your color palette simple with muted colors and earth tones.
Recreate her look: Faux fur pom pom beanie // Faux leather leggings // Cable knit sweater // Black pumps
Recreate his look: Chukka boots // Dockers chino pants // Crew neck sweater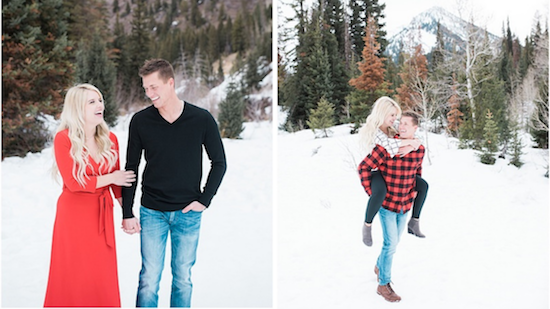 Tip 2: Bring a Second Outfit
The beauty of taking winter photos in the snow is that while your backdrop doesn't change too much, your clothes can! A good rule of thumb is to bring one casual and one formal outfit each, and be sure to aim for colors that will pop against the white snow, like reds and blacks.
Recreate her looks: Wedge booties // Thermal leggings // Plaid sweater // Maxi wrap dress
Recreate his looks: Flannel button-down // Slim fit straight jeans // Leather boots // Black v-neck sweater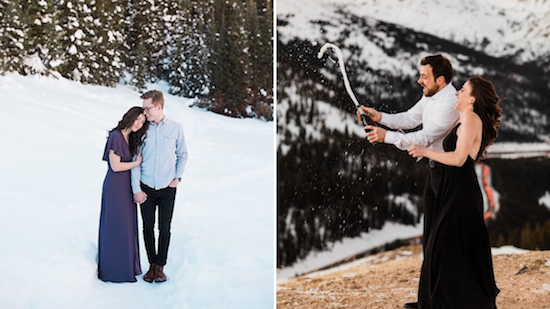 Tip 3: Don't Be Afraid to Embrace the Cold
When it comes time to brave the chill, it typically means that the bride-to-be winds up baring more skin while her soon-to-be husband stays warm in slacks and a button down. But trust us, the stunning photos will be worth it. Our top tip? Pack a parka to shrug off when it's time to say cheese!
Recreate her look (left): Split shoulder gown
Recreate her look (right): Halter maxi dress

Your engagement photos are your time to shine, so don't shy away from a more formal look if that's what you've envisioned. Don't feel pressure for both of you to go all-out elegant, as long as your groom-to-be feels comfortable and complements your look, you're good to go!
Recreate their look (left): V-neck velvet gown // Guess platform sandals // Slim fit suit // Calvin Klein dress shoes
Recreate their look (right): Tulle skirt // Duck booties // Cashmere cardigan // Hooded trucker jacket // Plaid flannel shirt // Sperry waterproof boots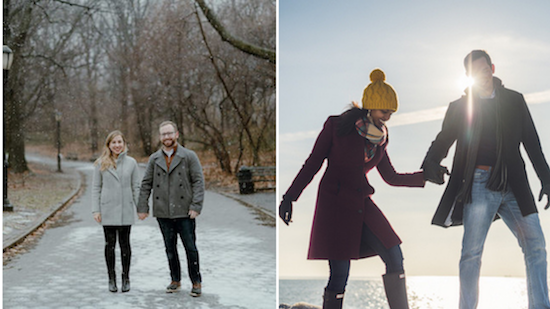 Tip 5: Or Keep Things Casual
As a Floridian, I completely understand comfort being the name of the game during a wintertime photo shoot. If you're not quite used to the cold, you prefer to keep things casual, grab your favorite jeans, a scarf and a beanie — and embrace it!
Recreate their look (left): Asymmetrical coat // Wool peacoat
Recreate their look (right): Double-breasted peacoat // Hunter rain boots // Zip-front coat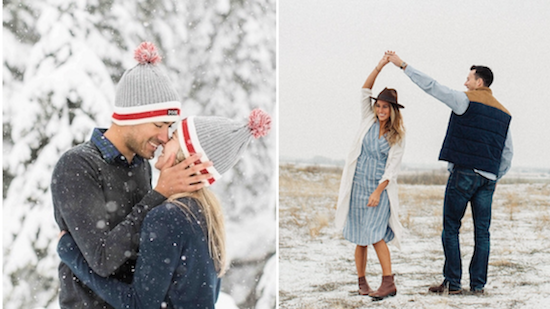 Tip 6: Wear a Hat
There are plenty of ways to tastefully incorporate headwear into your winter engagement photos. A fun pair of beanies can add a pop of color to your winter wonderland backdrop, while a chic fedora can really pull a look together with a more formal look.
Recreate their look (left): Textured beanie
Recreate her look (right): Wide brim fedora // High-low dress // Frye booties // Duster cardigan
A Few More Tips
Bring chapstick to keep your lips from getting wind-burned out in the cold.
Moisturize your skin a little extra in the days leading up to your shoot to protect your complexion.
Expect the unexpected — you never know what can happen, especially in the snow!
Wear layers. Even a thin camisole and a pair of tights underneath your clothes can make a big temperature difference.
Have fun!
Your engagement shoot is a big deal, and when you're working with the elements, it can feel like the pressure is on. Hopefully, you can rest easy knowing you have the perfect outfit picked out for your upcoming session with our helpful tips and inspiration. Be sure to check out our blog for even more tips for your engagement shoot — and how to share your photos on social media — on the blog!