Ask a Real Mom: Toddler Feeding Essentials
I've raised two babies through the solid food introduction phase, and I have to tell you: it's been one of my favorite phases thus far. Both my kids have loved exploring new food, and my husband and I have loved the hands-free dinner we get to have while the babies enjoy their high chairs. Sure, starting solids is messy, a little intimidating, and takes a bit of planning, but it's so fun to watch your kids experience something brand new!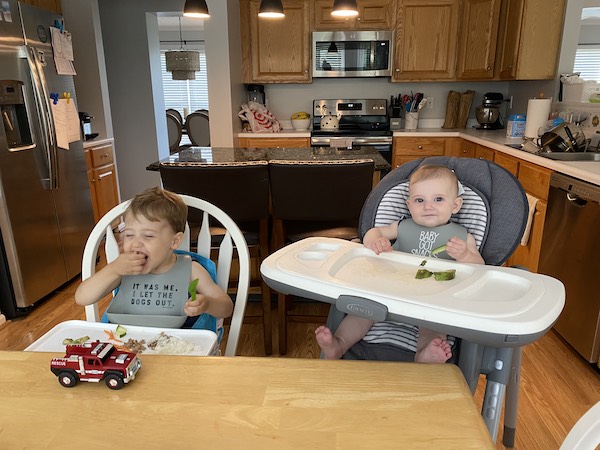 If you're falling into that camp – about to embark on the solid feeding adventure – and feeling a little bit overwhelmed by all the options and opinions, then this is the post for you. I went straight to our experts, Real Moms, and friends of mine who have truly enjoyed the journey through the self-feeding phases with their own babies.
Minimize the Mess (As Much As Possible)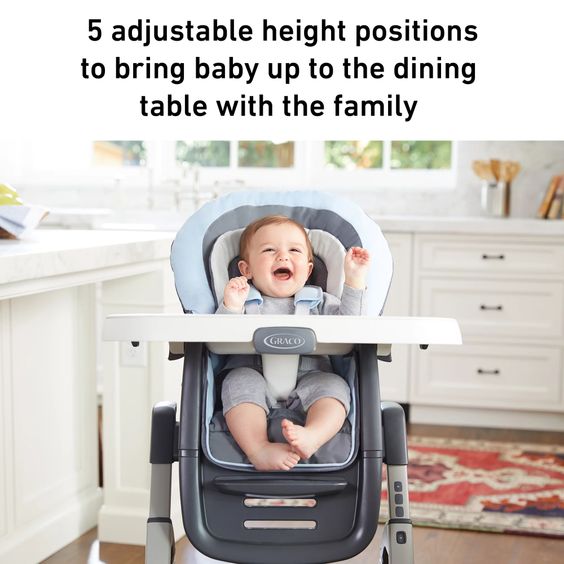 When registering or purchasing a high chair, one of the most important things to consider is how easy it is to clean. I looked for a high chair where the cover could be removed and thrown in the washing machine, and the tray could be easily removed for wiping down. This Graco 6-in-1 was the winner! We also love that this chair totally transforms into just a booster seat as baby gets older. Right now, our 16-month-old daughter sits in it right up at the table with us, and it's the best.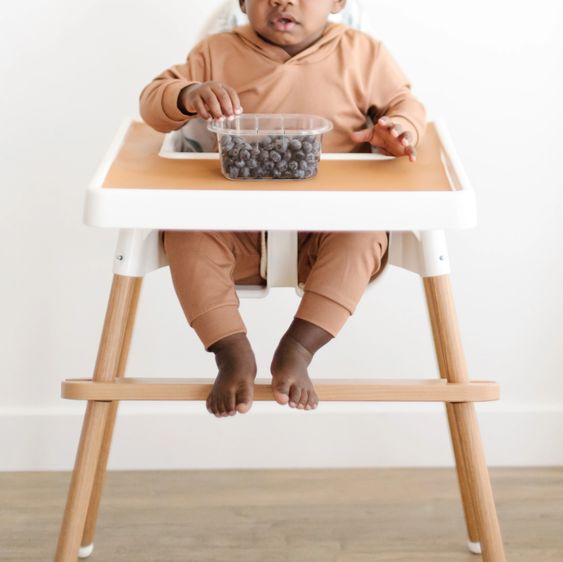 You can't beat the simplicity of the Ikea Antilop highchair. Since it's made entirely of plastic, it can be hosed down outside after an especially messy meal and is lightweight enough to carry anywhere. Jazz it up with mats, cushions, and a footrest from Yeah Baby Goods.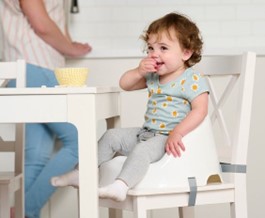 Low on space in your kitchen? My sister-in-law and Real Mom, Natalie M., recommends starting with a booster chair right off the bat. From day one, her son (now 2-years old) has been at the table with them, sitting in a booster and eating from there. "We loved having Beau right at our table from the very beginning, and I honestly think that's a huge reason eating has been so easy for us."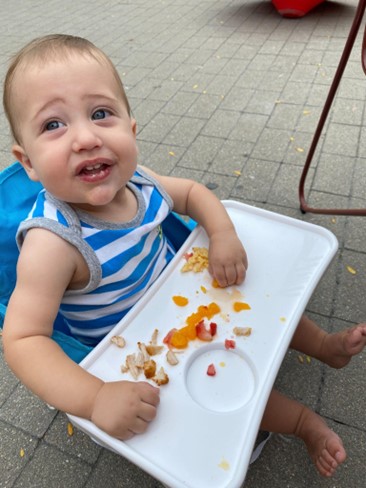 We've also loved having this pop-up baby-sized camp chair for travel and on-the-go eating. It pops up and sits on the ground for actual camping or outdoor eating and also straps to a chair to act as a travel booster seat. It's lightweight, has its own carrying case, and the tray wipes down for an easy clean-up.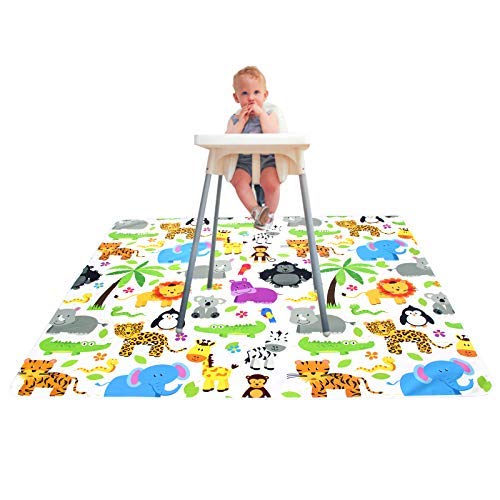 Real Mom Hannah K. recommends a big splat mat to sit under baby's high chair for the inevitable spills. Of course, they're making them in all sorts of fun and trendy patterns and they're easy to wipe clean when baby has finished a snack or meal.
A Good Mop
An accessible and easy-to-use mop for quick clean-up after meals is a feeding essential, according to Real Mom Hannah K. Keep it close to the kitchen and just do a quick once over on your floors at the end of mealtime to keep everything ready for the next meal.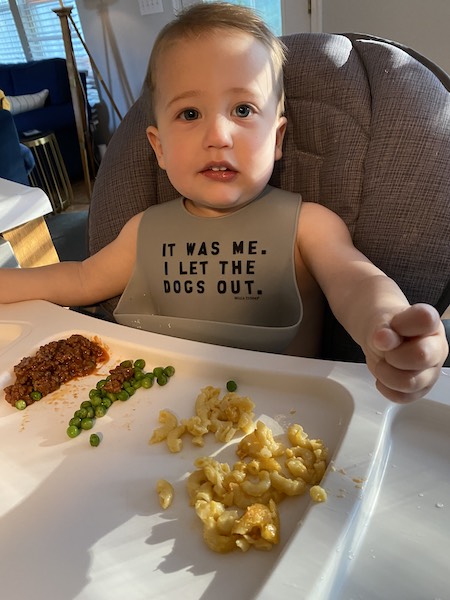 Easy to Clean Bibs
If I could only recommend one product for starting solids, it would be these Bella Tunno bibs. They're silicone, they're sturdy, and they are so funny. I love that they have a built-in tray that catches food. (And it gives kids something to do when food on their tray is done–we call it "bib shopping"!) We wipe them clean after each meal and then throw them in the dishwasher at the end of the day. I also keep two spares in the diaper bag for on-the-go eating.
Serve It Up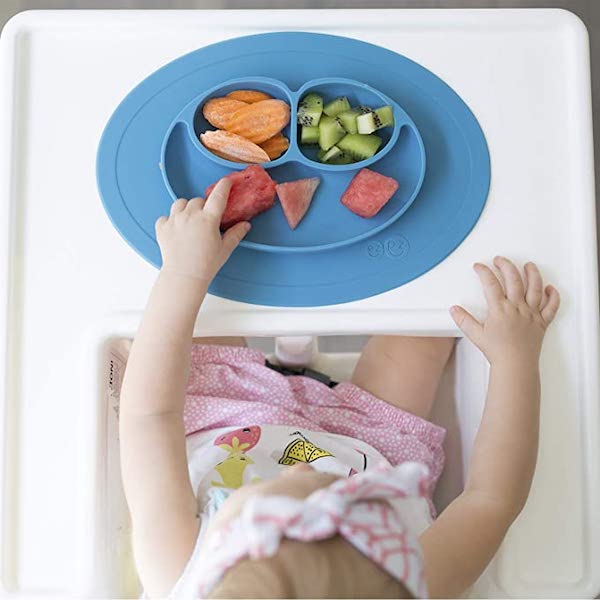 You'll start to see a theme in this section and it's: suction. Anything that can stick to a table or a tray and avoid being thrown overboard is a win in the feeding game. I love this EZ PZ mat because it not only suctions, but offers the compartments for multiple foods. It's also dishwasher safe and easy to throw in a diaper bag for meals on the go.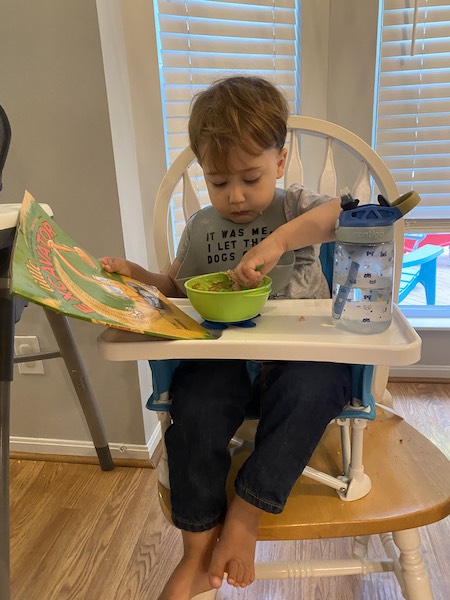 Suction Bowls
Real Mom Olivia R. also recommends suction bowls and plates for keeping feeding as clean as possible. Since our kids began solids, we've had these suction bowls from Munchkin, and I still use them every day. It seems that bowls are even more tempting to toss over the edge than a plate or mat, so being able to suction them down onto the tray has been a game-changer. Plus, I can prep snacks or meals right in the bowls, cover them with saran wrap, and store them in the fridge until it's time to eat.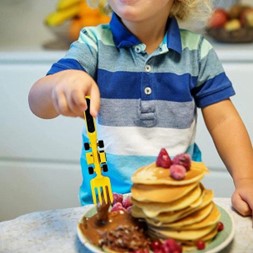 Fun Utensils
My mom got these fun utensils for my kids, and they're just the hit you'd think they'd be for our construction vehicle-loving boy. (We've even got a cute pink garden set for our little girl!) The novelty of the utensils helps promote eating, especially with older toddlers who are developing their own preferences.
Take a Class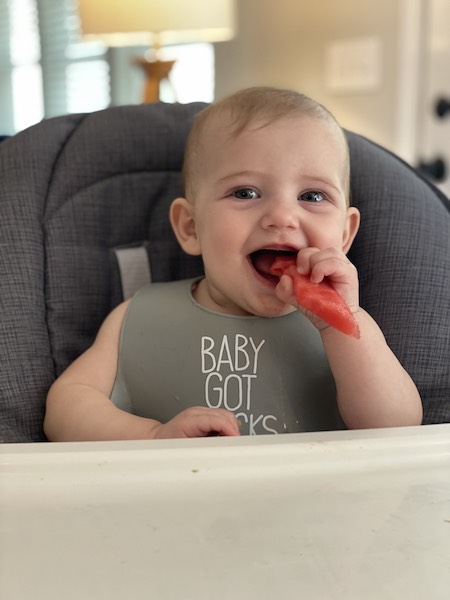 Ok, I know I said the bibs were my #1 recommendation for starting solids, but I'm changing my mind. (Or rather, I'm adding a tie!) We took the Feeding Littles Baby Led Weaning infant course online before we started introducing solid foods to our son, and it helped us so much. We've got lifetime access to the program, so when it was time to start solids with our daughter, we reviewed the basics and felt confident all over again. It came chock full of great tips for introducing any kind of food, as well as sample meal plans and grocery lists.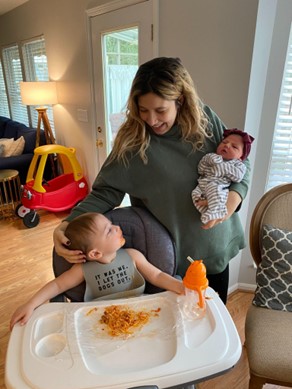 Feeding Essentials
As with most things in motherhood, I'm learning that introducing solid foods is a lot of trial and error. What works for one child might not work for the next. But, what does work is setting yourself up for success. I was so grateful to have on hand and ready to go all the things I needed to prepare, serve, and clean up meals.
Need to add some feeding essentials to your registry? Leave this post open and hop over to your registry to finish it up. Need to start a baby registry altogether? Don't worry- we've got you covered, of course! Check out our other "Ask a Real Mom" posts for registry essentials and our registry checklist to make sure you don't miss a thing. And once you're finished with that registry, you can point all your loved ones to it in one convenient spot at RegistryFinder.com.