Don't let social distancing stop you from throwing an exciting virtual bridal shower!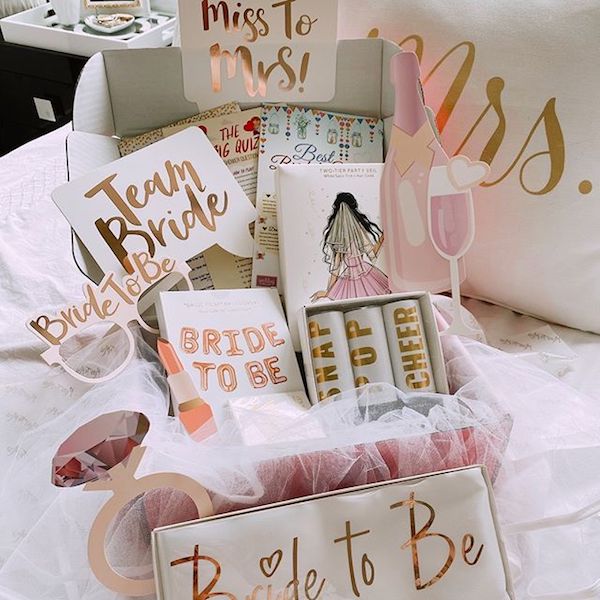 With the recent outbreak and spread of COVID-19, couples have had to forgo their intended wedding dates, reschedule with vendors, and even flat-out cancel their wedding festivities. Of course, the number one concern for everyone these days is health and safety, and while it can be incredibly disappointing to have to shift your expectations, there are plenty of ways to keep your celebrations going.
If you've been assigned the duty of throwing an upcoming bridal shower, fear not. Even with new social distancing protocols in effect, modern technology makes it insanely easy to get a group together and celebrate the happy couple in your life. Today, we're going to help you tackle the logistics, from setting up a virtual venue to what the guests are supposed to do when they get there.
We know that this is a difficult, unprecedented time for so many. It may not be ideal, but with a little faith, fun, and a festive attitude, the perfect bridal shower is still possible. Read on to find out our top tips for hosting a virtual bridal shower.
The Setup
The first thing you'll want to do is get your guest list in order. The beauty in hosting a virtual bridal shower is that you can actually include people who wouldn't normally be able to attend, like out of towners (and, of course, the bride!).
Next, it's time to get a little technical. Setting up a virtual "room" for everyone to gather in is surprisingly simple these days, so even if you don't consider yourself tech-savvy, you should have no issues logging on. Free hosting sites like Zoom, Google Hangouts, and Skype make it easy to download and set everything up and get the party started. Keep in mind, each service comes with its own pre-set limits when it comes to group size and how long you're spending on the platform, so be sure to check on those before making your final choice.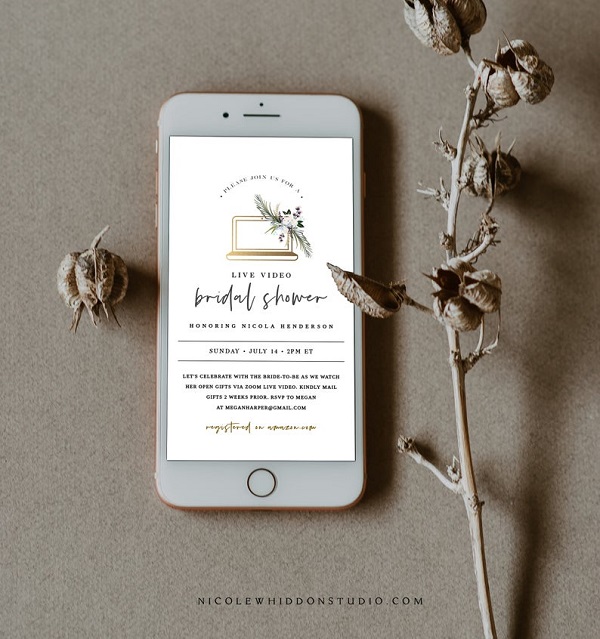 Once you've gathered everyone's email addresses, it's time to send out e-vites. Go to Evite or Punchbowl to put together a free invitation to the shower with instructions for everyone to log into the hosting site (if there's a link to an instructions page on the actual website itself, even better). You can also purchase a beautiful, custom invitation from Etsy that can be sent via text or email.
Be sure to also include the bride's mailing address for gifts, as well as a suggested deadline for gift-givers to be able to send theirs in time for an on-screen gift opening. And of course, encourage everyone to visit RegistryFinder.com to find the couple's registries.
If you really want to make a statement, include a link to a downloadable image file that everyone can use as their backdrop to feel even more like you're all in the same room. All you need to do is search for an image of a local venue, or even a favorite locale of the bride and groom, then download and send it to the guests ahead of time.
The Execution
Now that everyone is prepared to celebrate, gather in your "room," set up your backdrops, and prepare for some fun. Even though guests will likely be attending from somewhere in their own homes, encourage them to pour themselves a drink and wear a cute outfit to set the tone.
From there, anything goes! Depending on how comfortable you are with using technology and hosting a virtual shower, the sky and your creativity truly are the limit. Since everyone will be attending from a variety of locations, think up a fun hashtag and ask guests to post pictures to social media for the bride — and make sure she has some gifts to open during the party by including a gifting deadline on your e-vite.
Don't forget the music! Put together a fun playlist of the bride's favorite songs, have the guests collaborate on a playlist together, or set a Pandora station and let the good times roll. The main idea is to create an environment where you all feel like you're in the same room, even though you can't be physically together.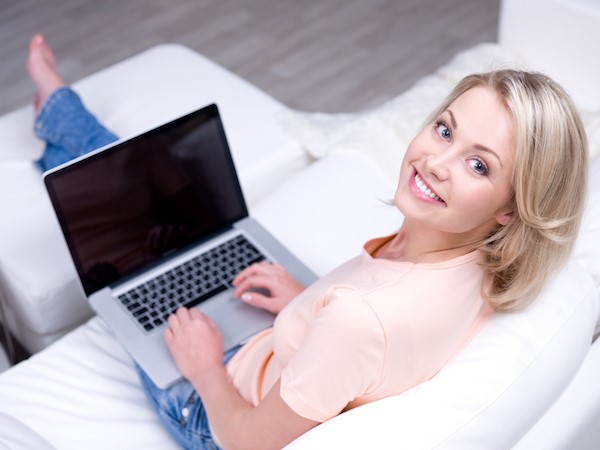 The Activities
To tie everything together, add a few fun games and activities to the shower itinerary. You don't have to put together anything complicated, just a few tried and true group activities for everyone to enjoy.
For instance, send everyone a list of couple-related questions to answer and send back to you before the shower. During the event, ask the questions to the bride and see whose answers matched up the closest.
You can also create a short slideshow of images of the bride and groom together and ask everyone to guess what year each photo came from or where it was taken. Or, collect baby photos from the couple's parents and have guests guess who is who (you'd be surprised!). Kahoot is an easy to use app that lets participants submit their answers via cell phone, coming in handy for whatever activity you land on.
At the end of the day, the goal is to keep your virtual gathering cohesive, fun, and inclusive. As long as the bride feels celebrated and appreciated, you've done your job as host.
Want to Keep Things Super Simple?
We get it, not everyone is up to the challenge of coordinating a virtual hangout session. If you're more comfortable keeping things simple, that's no problem! You can still throw a virtual bridal shower that everyone will enjoy. Here are a few more easy ideas:
Host a virtual movie night through Netflix Party

– It's easy to create a party and watch the same movies or shows with the bride and her favorite ladies. Just download the app and pick a video!

Put together a virtual game night

– There are plenty of apps and websites out there to help you get a group gaming together in no time, regardless of the (social) distance between you.

Throw a virtual brunch party

– Send a link to the menu of a local brunch spot to the guests and ask them to order their favorite dish to be delivered to their doorstep. Then, get together on a group FaceTime call to enjoy.

Send care packages for a virtual spa night

– Put together a simple mani/pedi kit, some face masks, and a foot scrub and send them off to the bride's gal pals. When it's time to celebrate, pamper yourselves together via video.
While it may not be ideal, pivoting from an in-person bridal shower to a virtual event can be a ton of fun. Don't worry about technical difficulties or any glitches that may happen. Keep your focus on making the bride smile, and everything else will fall into place.
Looking for more COVID-19 party planning ideas?
Check out our blogs, Ask Cheryl: How Do I Host a Post-Wedding Virtual Bridal Shower? and How to Host a Virtual Baby Shower, for more ways to celebrate friends and loved ones during this time.