When Jon and I got married in South Florida four years ago, we were blessed to have a bunch of our out-of-town family and friends join us for the celebration. Jon is originally from Michigan and we met at college in Ohio. I have family spread across the globe from Canada to Jamaica so it meant a lot to us to have all these people we love make the journey to witness our matrimony.
We wanted to welcome and honor our guests and let them know how grateful we were to have them make the trip for us. In addition to reserving a bank of rooms at a nearby hotel, (a tip I always tell brides is worth its weight in gold because as a wedding guest it's always fun to have breakfast with your other out-of-town family and get to spend time together during the wedding weekend) we put together welcome bags for our guests.
There isn't an exact science when it comes to creating a great welcome bag or basket for your family and friends. Start by brainstorming the things you and your fiance love, then add in some items that are unique to the area where you're getting married and finally add in the practical necessities you might need when traveling. We've compiled a list of some of our favorite basket treats that we think your guests will love!
1. Pick Things You Love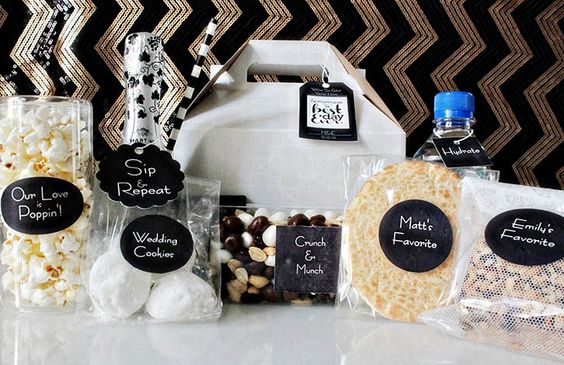 Where did you and your fiance go on your first date? What's your favorite snack? The one thing you can't live without? Create a list of these fun things and add a few of them to your welcome basket. If you love going to the movies together, add microwave popcorn and a few boxes of movie theater candy.
If your first date was a country concert, have a personalized koozie made for your guests to keep their drinks cold all weekend. If the groom can't go anywhere without his favorite Icebreaker mints or Orbit gum, include a few packs in the welcome bags. Consider adding a label to each of these treats, like "Our First Date" or "Groom's Favorite".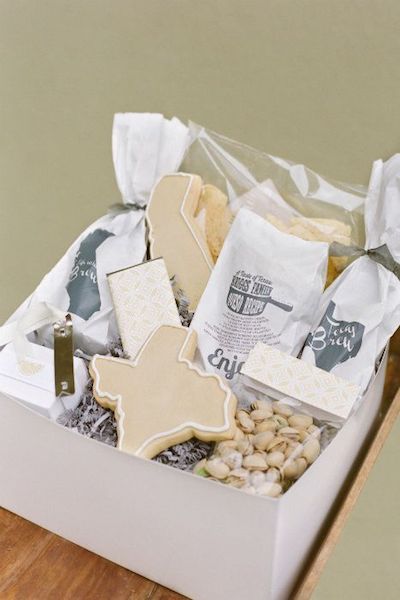 Personalize the bags with your favorite things, like your favorite coffee shop's coffee or cookies in the shape of your home state.
2. Include Regional Favorites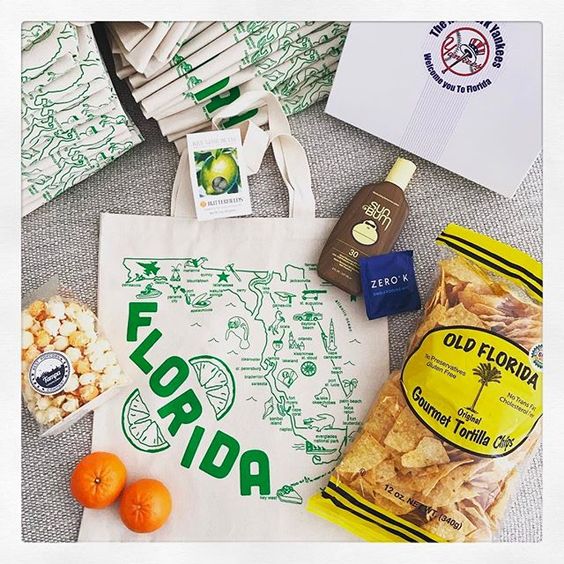 Where are you getting married? In your hometown? Across the world in a beautiful destination? Whatever your wedding location is known for, include a few of those treats in the basket.
If you're getting married in Florida, gift guests with Florida's Natural orange juice. If your wedding day is in Michigan in the summertime, guests will love sampling Michigan cherries or blueberries. In Ohio, shower guests with buckeye chocolates.
Don't forget to include a map of your city, a visitor's guide and/or a list of your favorite spots to check out while guests are in town.
We also love when welcome bags include souvenirs, like a magnet or postcard to help guests remember their time in your city.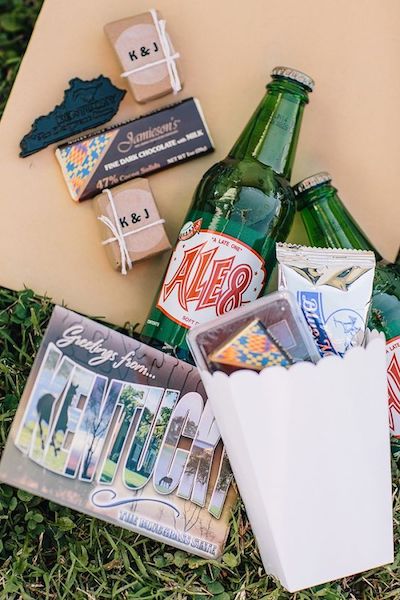 3. Add Snacks and Drinks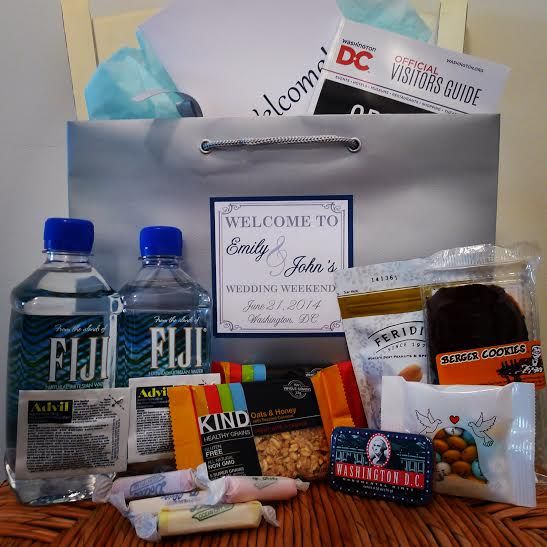 Don't forget about the practical pieces for your traveling guests. Include a few bottles of water–and even custom order a bottle label that includes your name and wedding dates to place over the original label. Purchase prepackaged snacks, like chips, candy, cookies and crackers, in bulk and put a few in each bag. Consider what guests might need while they're in town- chapstick, a first aid kit, or sunglasses (for those summer weddings).
Start the celebration off right with a few small bottles of champagne or your favorite liquor.
4. Wrap It Up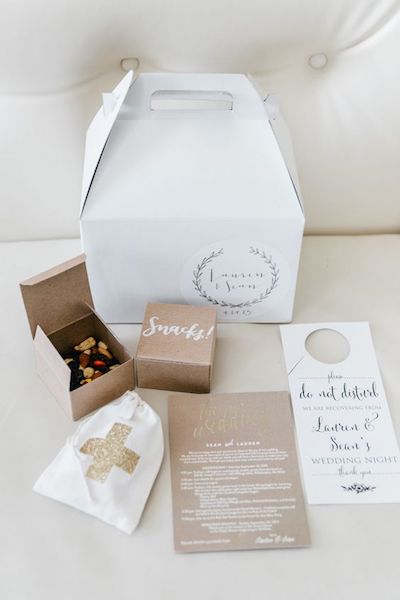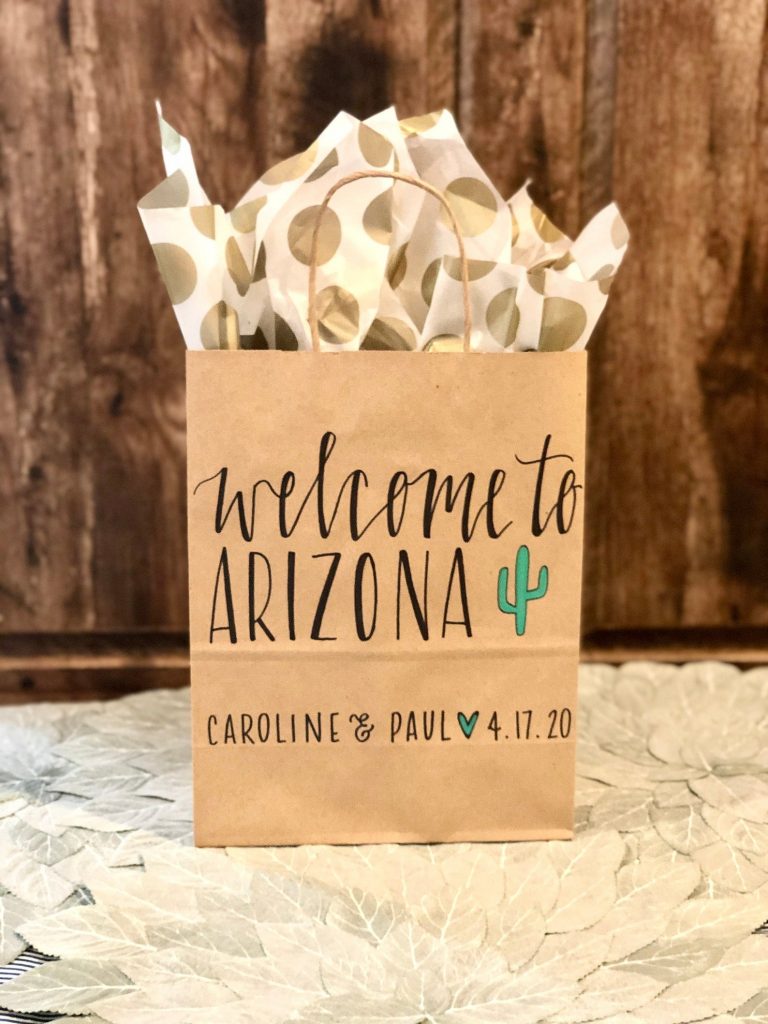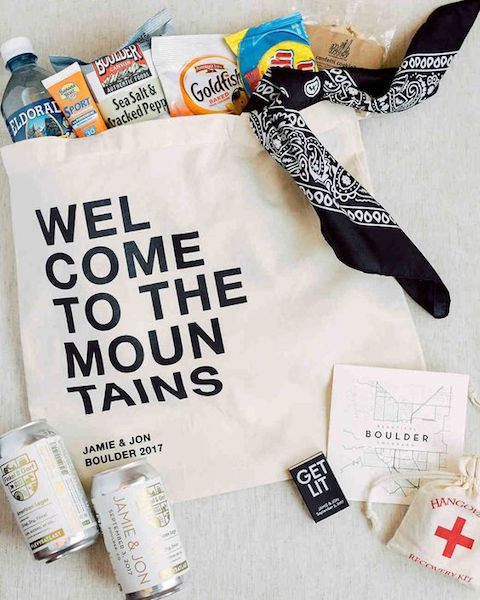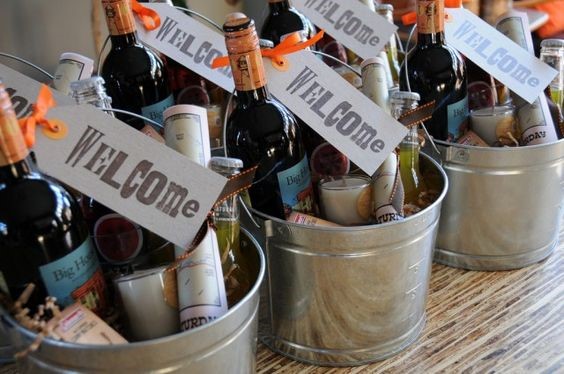 Now that you've gathered your supplies, you need a few more details to finish tying the wedding bow on these welcome bags.  First, decide what's going to hold all your special goodies. You can use a:
Simple gift bag: Personalize it with a bow and a tag with your new monogram or add a sticker to the front.
Box: We love the open-faced box look or the ones that seal up like in the photo above.
Tote bag: Have a bag made with your names on it or your wedding date or you can choose to use a generic one that says "Best Day Ever" or "Welcome".
Bucket or crate: Depending on the look of your wedding, choose a galvanized tin bucket or a wooden crate.
5. Don't Forget the Details
Finally, don't forget to include your wedding week details in your welcome bags. Create a timeline of events for the week complete with time, location and directions and include events such as family dinner in the middle of the week, the bridesmaid's brunch or the rehearsal dinner.
Add in a list of local contacts phone numbers for people to call (that doesn't include the bride!) with any questions during wedding week. You may also choose to include a list of fun things to do, see, eat and drink while guests are in town. Above all else, write a thank you note to your out-of-town friends and family and let them know how thrilled you are that they're here celebrating with you!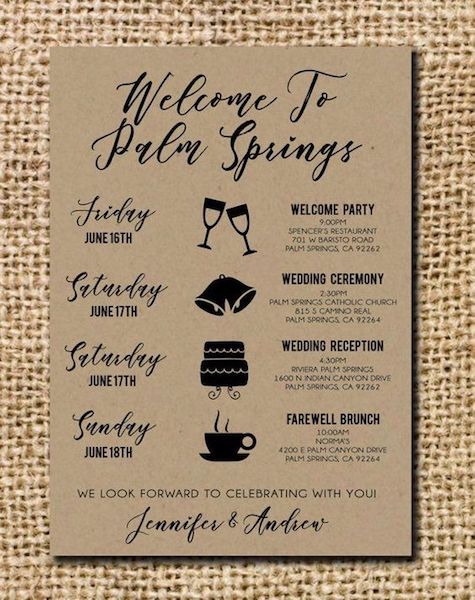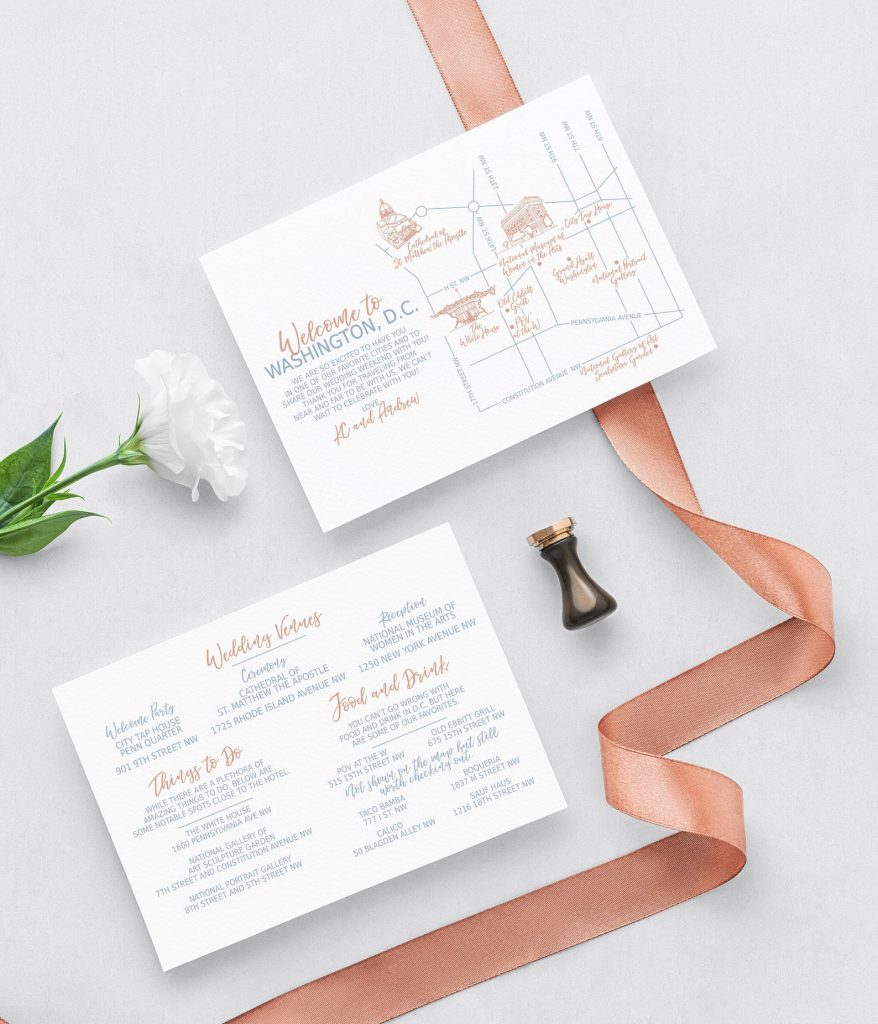 Bonus: For the Kids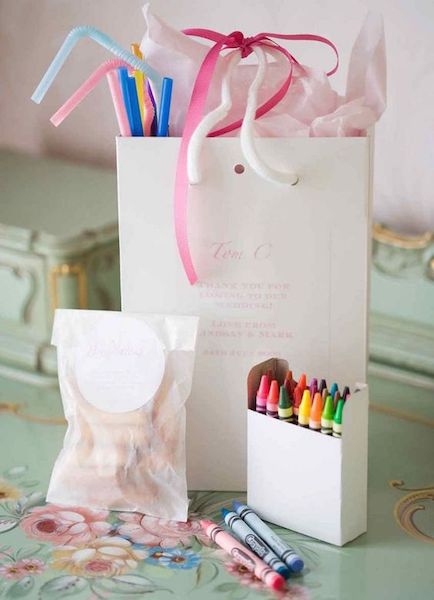 If you're having families at your wedding, don't forget about the kids. Add in a few fun surprises for the mini wedding guests- we're sure they'll love it!
For our wedding in Florida, we tucked sand toys, water guns and coloring books into our welcome bags for Jon's nieces and nephews and my little cousins and their families. Other ideas include a box of crayons, wedding themed coloring pages, a travel game, stickers, disposable cameras, matchbox cars or bubbles.
Keep it simple by adding these kid friendly gifts into the welcome bags or go all out and create gift bags just for the littles in your life. Either way, it'll be a big hit!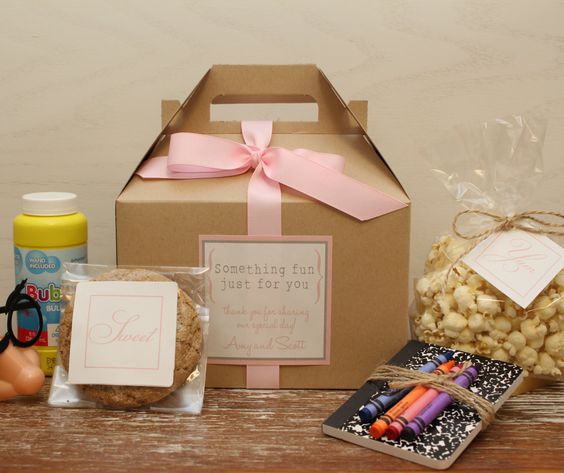 Show You're Thankful
No matter how you choose to welcome your wedding guests, make sure everyone knows how thankful you are to have them here for this big day in your life!
If you're looking for more wedding week tips or answers to your most etiquette questions, check out our GiveIt Blog. And as always, as you look toward your wedding day, you can point guests to all your registries in one easy-to-find place at RegistryFinder.com.