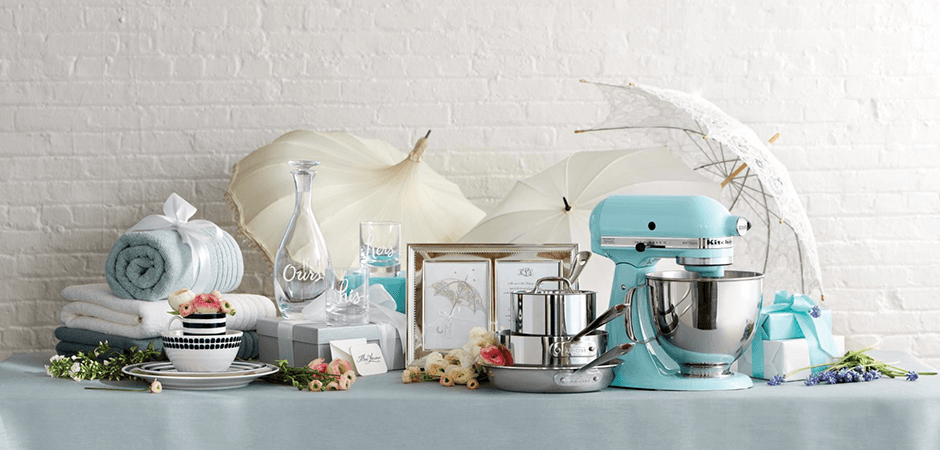 With endless options for each room in your home and so many choices in colors, patterns and styles, it can be overwhelming to decide what to include in your wedding gift registry.
We surveyed couples that have been married for at least a few years and asked them which wedding gifts they really used and what gifts they wished they had received. From their answers, we compiled this practical list of items that you will need and use in your home…and that you might NOT think of adding to your registry. We partnered with Macy's to bring you this post. So check out this list and be sure to add some of these items to your wedding gift registry!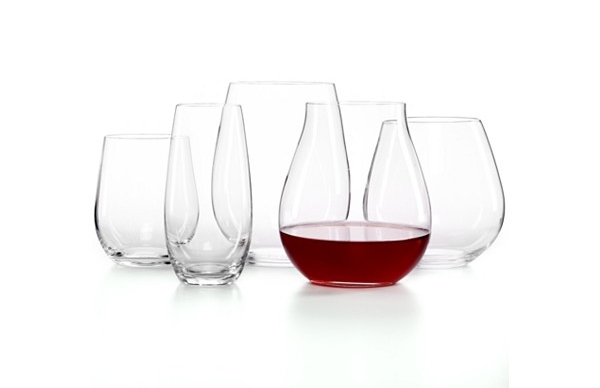 We love this new trend in wine glasses because there is less spillage (more wine!) and the glasses easily fit in any dishwasher. Stemless glasses are less likely to tip over so you will also be prepared for the curious little fingers of your (future) kids or the friend that may be enjoying their wine a little bit too much. The Riedel O Collection offers several different varietal-specific shapes so you will be ready for both casual and formal gatherings!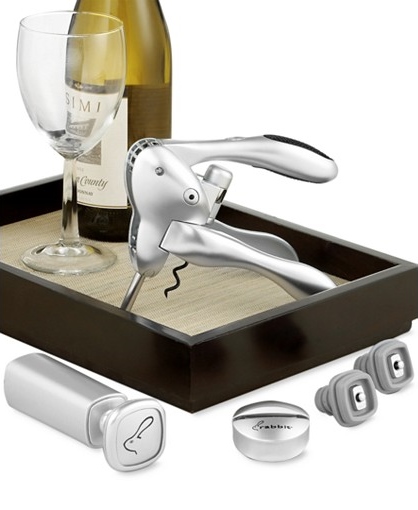 Be sure you're ready to put those stemless wine glasses to good use! Open your red or white in just a few seconds with the Rabbit Corkscrew and then save your unfinished wine (is there really such a thing?) for another day with the vacuum pump preserver. Both are included in the 6-piece set — a must for your wedding registry.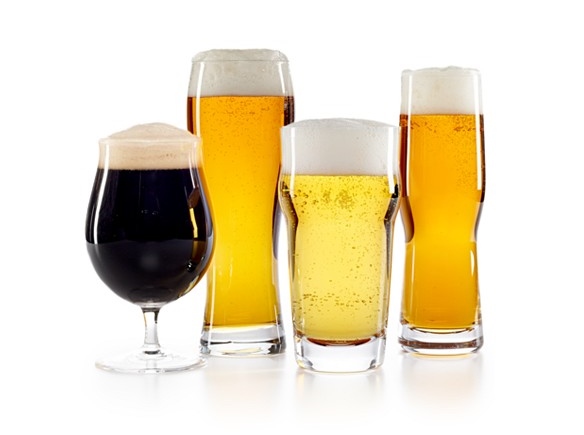 Almost everyone registers for at least one set of wine glasses, but couples often forget about the beer glasses even though there are more people who drink beer. Craft beer is a rising trend across the country, so ditch the can and register for a set of beer glasses. The Lenox Tuscany Craft Beer Collection offers several styles and you can purchase sets of four based on your beer preference, or an assorted set of four as seen in the picture. If you still don't think you need them, check with your fiancé. He would probably love to have them!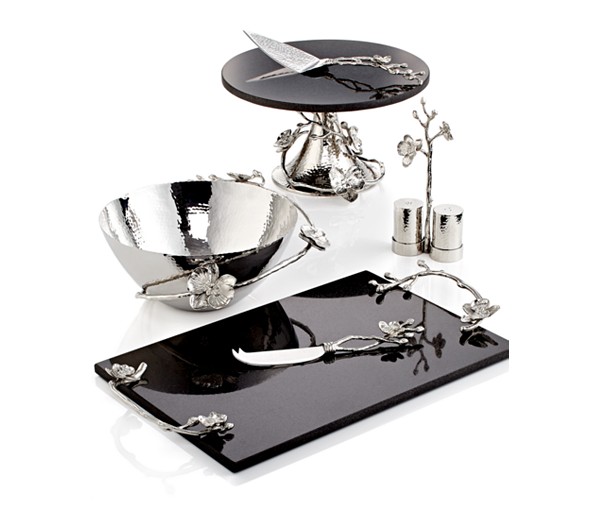 On those occasions when your friends and family are gathered in your home, you'll be happy that you have serving pieces to display your culinary creations. The popular Michael Aram White Orchid Collection (pictured above) is a beautiful addition to any home. Macy's offers a wide variety of entertaining collections to suit any style or buget – whiteware, glassware, and acacia wood designs – perfect for everything from appetizers to dessert!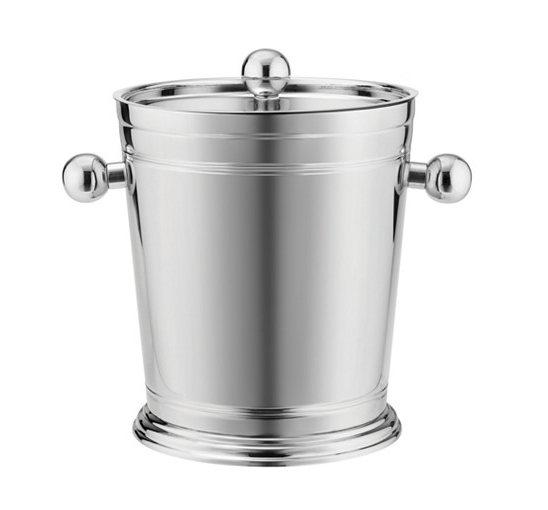 An ice bucket is an item you may not think you need. Like serving pieces, you'll appreciate having it when you're entertaining. It adds elegance and style to any gathering. And you don't want your guests going back and forth to the freezer just to get ice. It may seem a bit old fashioned, but it's definitely not out of date!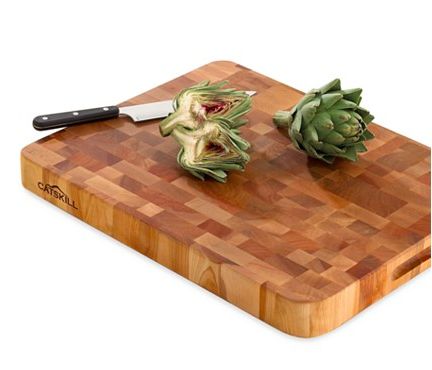 This humdrum little item is easy to leave off your registry, but you'll miss it in a big way if you don't have one when you're ready to chop, slice and dice. This reversible butcher block from Catskill will look beautiful on your countertop. Another great option is the 3-Piece Cutting Board Set from the Martha Stewart Collection. It will have you equipped for everything from cutting an apple to carving your holiday roast.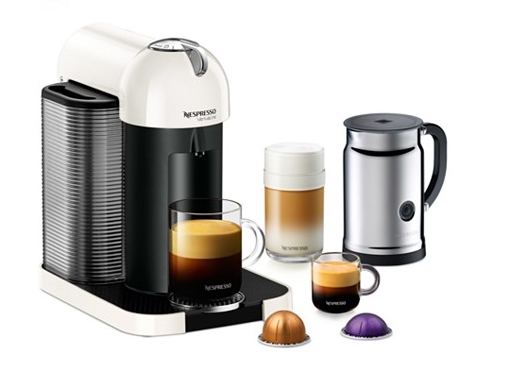 Spice up your morning coffee routine with the newest Nespresso coffee system, the VertuoLine. A quick push of a button and within seconds you can have a regular cup of coffee or shot of espresso ready to go. Additionally, you easily create your favorite latte or cappuccino with the included milk frother.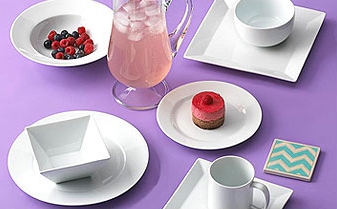 You may think white is boring, but hear me out. If you pick a trendy pattern for your everyday dinnerware, your tastes may change or you may move and change your home décor. In both of those cases, you're beloved dishes would no longer suit your style. However, white will stand the test of time. It's the ultimate way to mix and match and you'll never run out of options because it's so versatile. You can accessorize your table with a cheerful bouquet of flowers, glittering chargers or bold table linens. Additionally, your culinary creations will stand out best on a crisp, white dinner plate. The Cellar Whiteware Dinnerware Collection is exclusive to Macy's and available in four styles to fit the modern or traditional couple.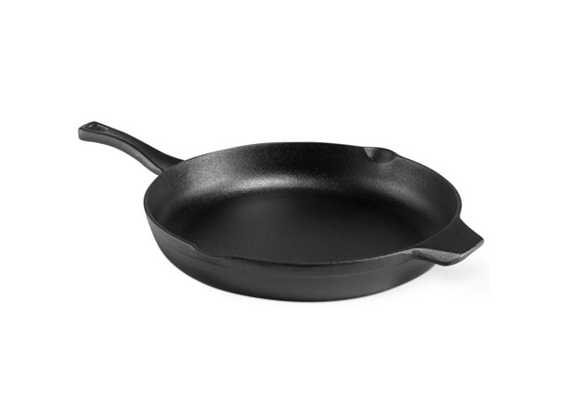 Back in the day, your great grandmother only had one pan, and it was most likely a cast iron skillet. Though you probably included an 8-piece set of cookware on your registry, you'll want to include a cast iron skillet as well. They have a naturally non-stick surface, go from stovetop to oven and retain heat better than other metal pans of the same size. The Calphalon Cast Iron Skillet comes pre-seasoned and ready to cook. And did I mention they last for decades? You may pass this treasured heirloom on to your granddaughter one day!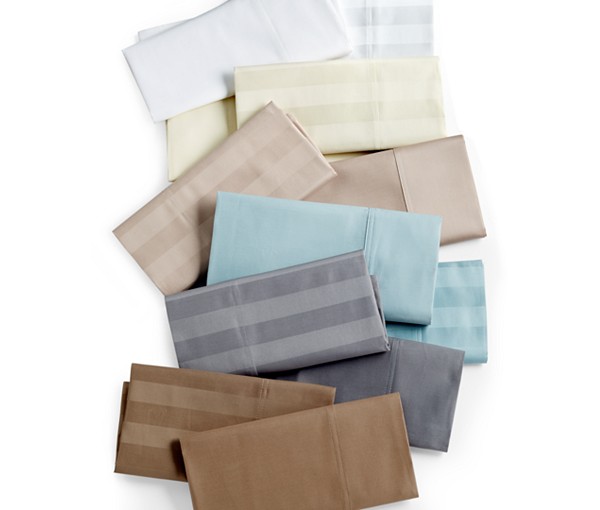 You spend about one-third of your life in bed, so don't skimp on your sheets! 500 or 1000 thread count? Pima or Egyptian cotton? Sateen or percale? So many choices! But fear not, Macy's has an excellent guide that explains all your options! We personally like these luxurious 1000 Thread Count Egyptian Cotton Sheets.

My whole life I slept with the same worn out pillow. I really hadn't given it a second thought, until I was compiling my wedding gift registry. There are SO MANY options. If you (like me!) didn't realize that you should select a pillow based on your sleeping position, check out this Buying Guide from Macy's to determine which pillow is perfect for you. And don't forget about registering for pillows for your fiancé too!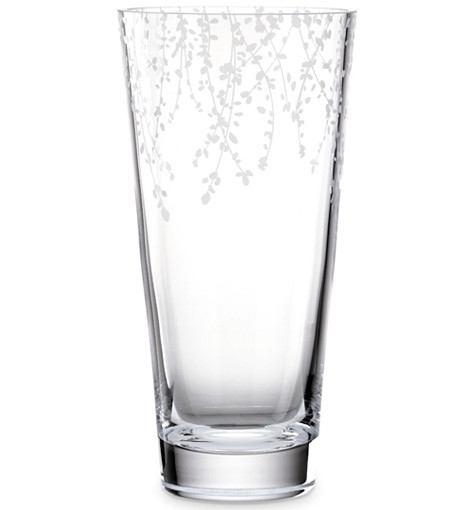 You'll definitely want to have a vase ready for that spontaneous romantic bouquet, and fresh flowers brighten your home when you are entertaining or anytime. The Kate Spade New York Gardner Street Vase is 11" high and fits a dozen roses or large bouquet perfectly. Macy's has a great selection of décor items so you will be able to find a vase that expresses your style perfectly.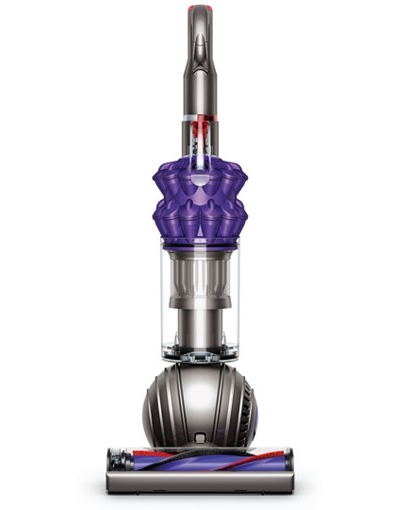 Listen, there are vacuum cleaners and there are vacuum cleaners. This is your chance to get a quality vacuum, so don't be shy, take a leap of faith and add it to your registry! (What's the worst that happens? You don't get it!) We love the Dyson Ball Multi-Floor Upright because it has the strongest suction of any vacuum and has a self-adjusting cleaner head. If you're not familiar with Dyson vacuum cleaners, you may be wondering why they're so special. The bagless, cyclone technology picks up dirt, dust and allergens and spins out clean air. Not only are you cleaning your floor, you're clearing your air.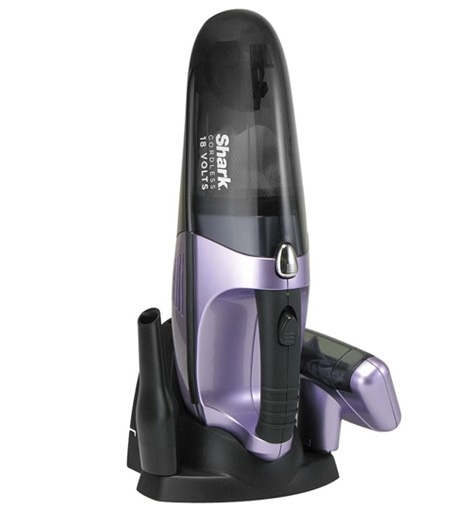 When you don't feel like dragging out your big vacuum, a cordless, handheld vacuum is a great tool to quickly clean the little messes in life- dirt tracked in from the yard, crumbs dropped from dinner, and pet hair! The powerful Shark SV780 includes 3 attachments to tackle a variety of spills and everyday messes.
Good luck as you're creating your Wedding Gift Registry. Be sure to check out our Pinterest Board to see these and other great essentials from Macy's to add to your registry!