Each month, we ask real brides for their opinions on everything from wedding budgets to wedding blunders, but today, we're turning the tables: a more appropriate title for this month's edition might be "Tell a Real Bride," because we're gathering intel from guests!
While there is no doubt the day belongs to the bride and groom, every couple wants their guests to enjoy the wedding celebration. So what really matters? What can couples do to ensure that their family and friends have a good time? What do wedding guests wish they could tell you?
I turned to Instagram, where I first asked people to share what I call their "wedding guest grievances." Once I gathered their complaints, I polled over 200 people to see if I could identify what bothers wedding guests the most.
The good news? The list is pretty short! And it's my hope that brides will see that making your guests happy is simpler than you might think.
Here's What Your Wedding Guests Wish You Knew:
Wedding Guests Hate Waiting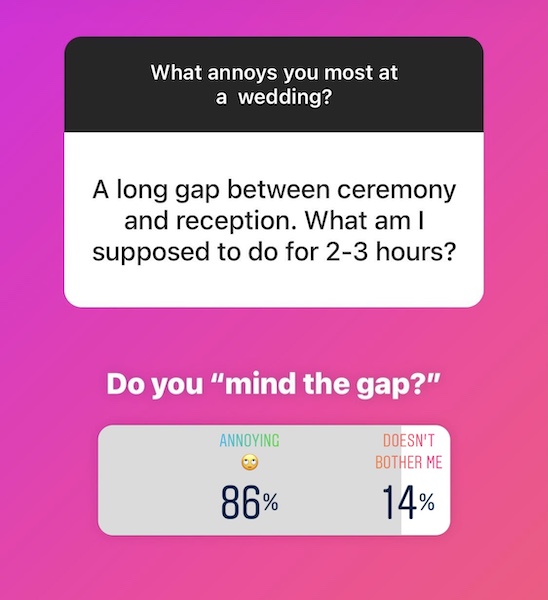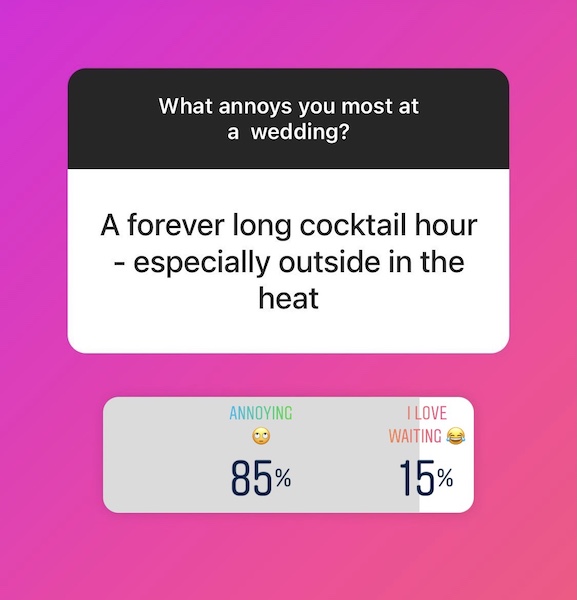 Wedding guests are a pretty impatient bunch! In all fairness, it is annoying to be all dressed up with nowhere to go, nothing to do, and nothing to eat. The best way to avoid pockets of "dead time:" work with a wedding planner to perfect your wedding timeline, consider a first look to cut down on photos during cocktail hour, and choose a trusted and well-reviewed caterer and venue that you trust to keep the evening moving at the correct pace.
Keep the Ceremony and Speeches Short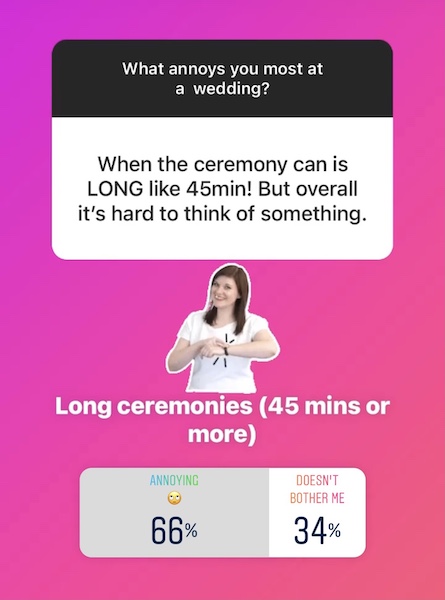 These results aren't quite a landslide, because I think some guests truly enjoy a meaningful, personalized ceremony. But if the ceremony drags on without any personal touches, like readings, music, or special vows, cresting the 45-minute mark can feel a little long. Work with your officiant to share your vision for the wedding and consider how you can make it meaningful!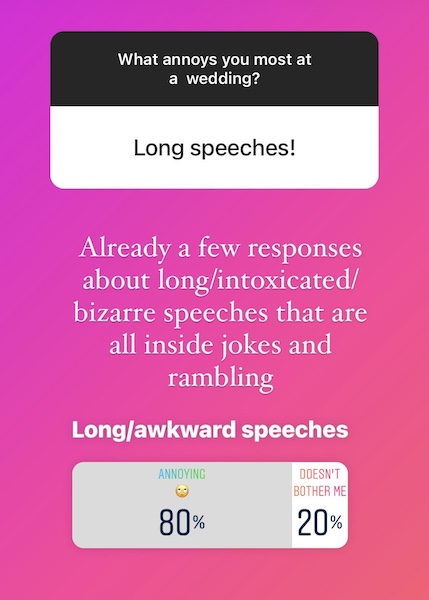 Here's a landslide: guests are definitely uncomfortable with long, rambling speeches. So how do you prevent a cringe-worthy speech from your maid of honor and best man? Have them check out these speech-writing tips for the maid of honor and best man, and schedule the speeches for the beginning of the reception before anyone has had too much to drink.
Guests often want to get through the ceremony and speeches so they can enjoy everyone's favorite part of the wedding: dancing! That leads us to our next wedding guest grievance…
Skip a Cheesy DJ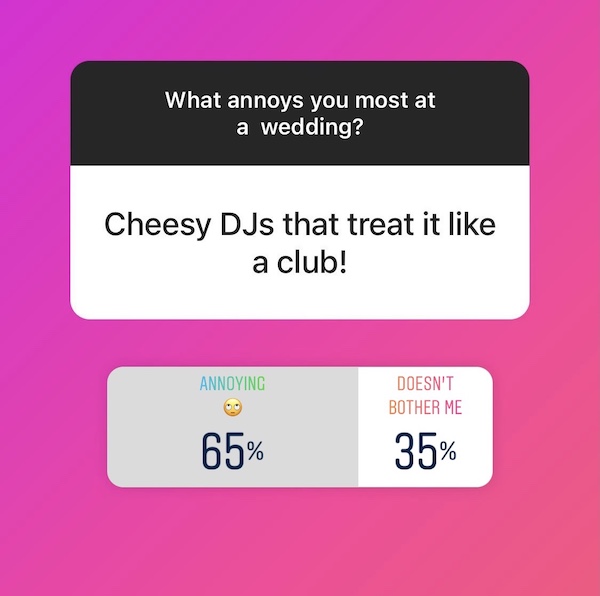 This is a case of "know your audience:" if you have a lot of elderly guests and/or children at your wedding, make sure your DJ plays a variety of music that every age and stage will find enjoyable (and appropriate). I've been to a few weddings where the DJ spends a lot of time on the microphone urging people to get up and dance, but if your guests don't feel moved by the music, those repeated calls to get up can quickly grow annoying. If most of your guests are in your age group, you probably won't have to worry about this!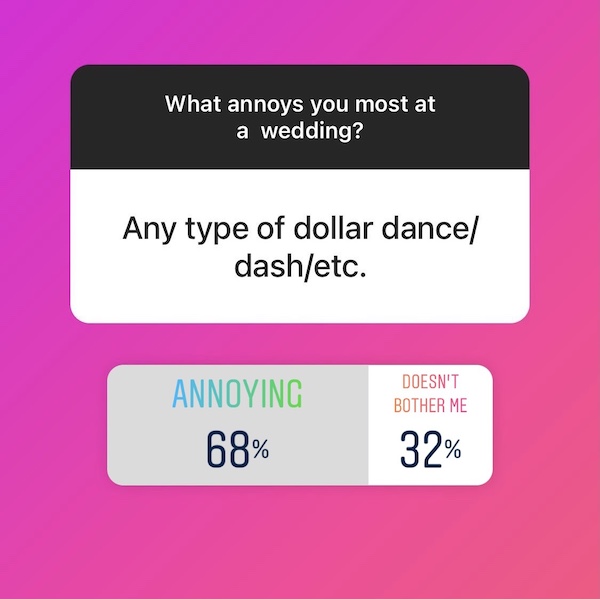 Another thing to run by your DJ: the plan for special dances and traditions around the bouquet and garter. Most guests prefer to skip the dollar dances (basically a dance floor fundraiser where guests pay to dance with the bride or groom) and the potentially awkward moment when two strangers are forced into the spotlight.
Talk through the plan for these moments with your DJ and wedding coordinator, and know that these are some traditions that are totally okay to skip!
The Bottom Line:
Brides spend a lot of time stressing over each detail of their weddings, but for the guests, a few simple things can make or break the day: a minimal amount of time spent waiting, good entertainment, and plenty of time to enjoy the party! Take a deep breath, brides: things like bridesmaid dresses, flower arrangements, cake flavors, and custom cocktails have little to do with your guests' experience; while they're fun to plan and should certainly be choices you love, rest easy knowing that as long as you have a tight timeline and a plan to keep the party going, your guests will talk about your wedding for years to come (in a good way)!
Have a Question for our Real Brides?
Let me know what topic you'd like us to tackle next! And if you're interested in learning more about etiquette, gift giving, and celebrating in style, be sure to subscribe to the RegistryFinder GiveIt blog for weekly posts on wedding etiquette, bridal showers, wedding trends, and of course, wedding registry guidelines and tips! And as always, be sure to refer your guests to RegistryFinder.com, where they can conveniently locate all of your registries in one place!