Many of my best and favorite childhood memories were made around our family's dining table, usually featuring the most delicious spread of food and the most beautifully set table. My mom is the one who taught me the art of celebrating each and every day, and most of the celebrating started with our family meals. While it didn't happen every night, every so often we did use fine china, crystal glasses, silver, cloth napkins and placemats.  And let me tell you, it was a beautiful sight to behold!
When it came time for me to create my own wedding registry and choose pieces for my family, including fine china was a no-brainer. (I created a Macy's registry for the sheer fact that they have an incredible selection of china on display in their stores!) As I've spent the last few years of life attending a copious amount of weddings (12 in one year!), I've noticed that I was mostly on an island all to myself when it came to prioritizing china, crystal and more "special occasion" pieces.
If you're a current bride looking for those special pieces to put in your first home, I'm here to advocate for the return of fine china. Some of our favorite brands are making china both modern and timeless all at once. And if I learned anything from my mom (who learned this from her mom), it's that your family is the thing worth celebrating always. And every day- no matter if it's just a random Tuesday in January- is a sweet and special occasion worthy of a pretty place setting.
Our Favorites in Fine China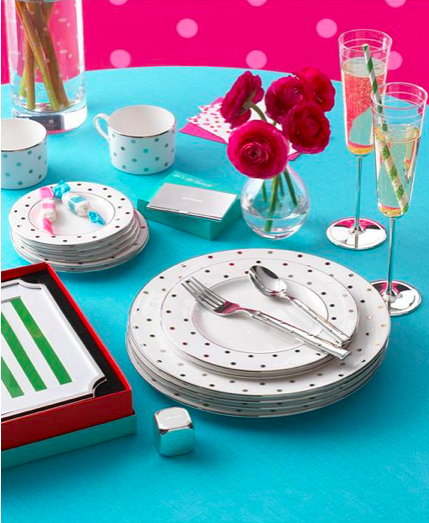 Who says gold polka dots can't be elegant? Kate Spade takes a fun pattern and turns it fine on this Larabee collection of china and we couldn't love it more. This set is perfect for dipping your toe into the world of fine china if you're not quite convinced yet. (And we think you'll be convinced by the end of this blog!)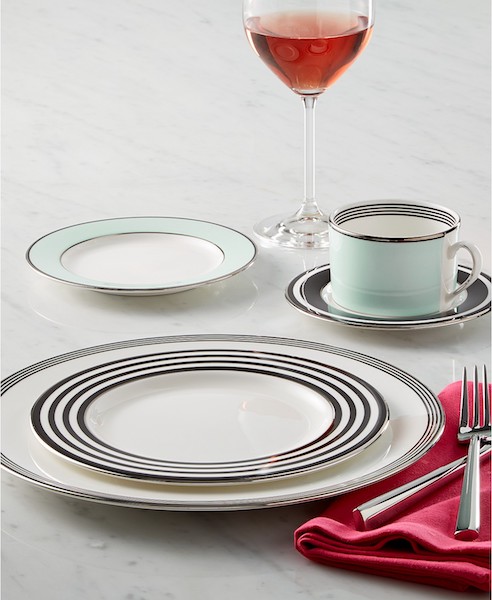 Add a splash of color to your dining table with this beautiful set from Kate Spade. The striped salad plate is the perfect eye-catching detail that elevates these pieces into modern elegance.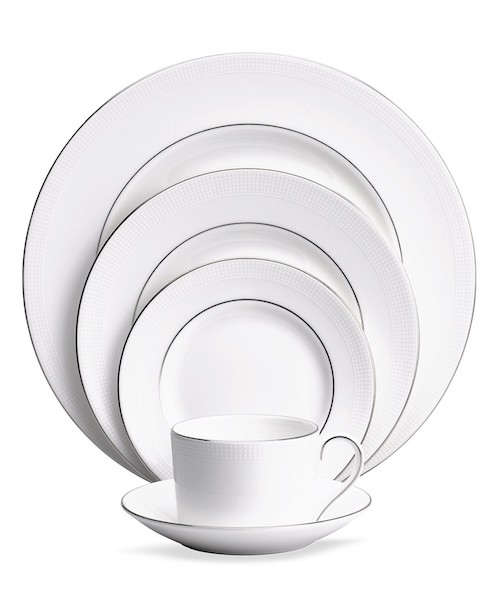 One of our favorite wedding dress designers has expanded her talents to china and it agrees with her! Vera Wang, in partnership with classic brand Wedgwood, offers a simple and clean set of china that will complement any decor style.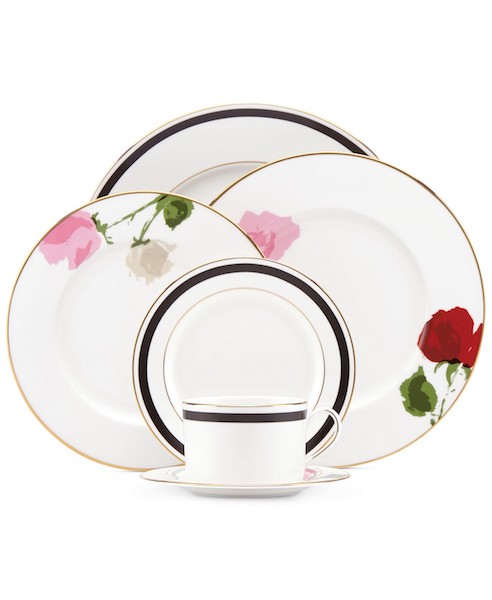 A great way to combine modern and classic is with a china set like this. Several plates have the navy and gold trim that take me back to my own mom's wedding china (which I love!), but the accented floral plates give it your own flair.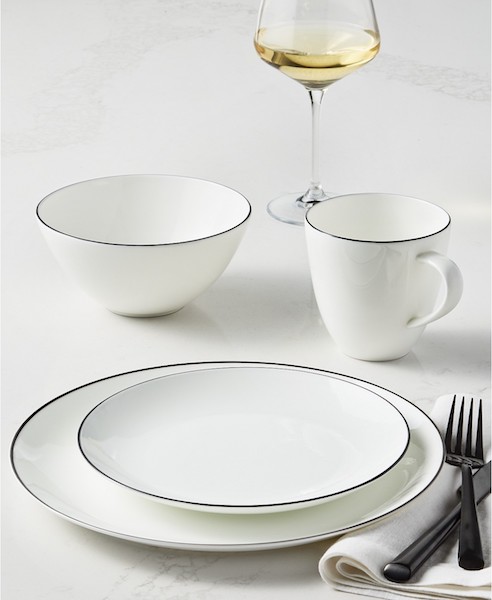 If your style is more modern minimalist, we love this set of china by Hotel Collection. The thin black lines offer simple sophistication to your future special occasions.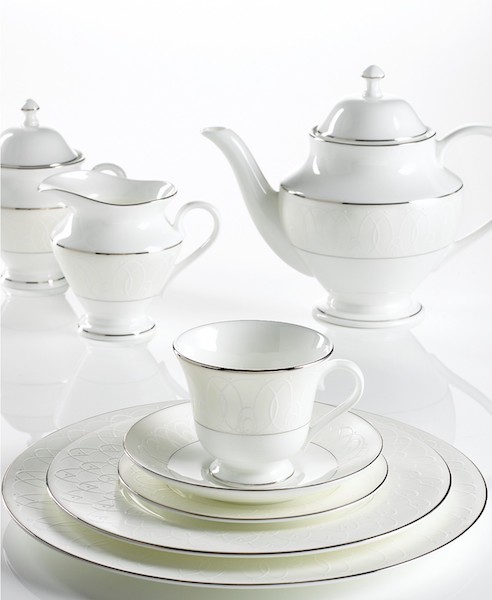 The raised design on Waterford's Ballet Icing china set offers a contemporary spin on this classic. Pieces like this are perfect for any home–traditional or otherwise–and will take any occasion to the next level.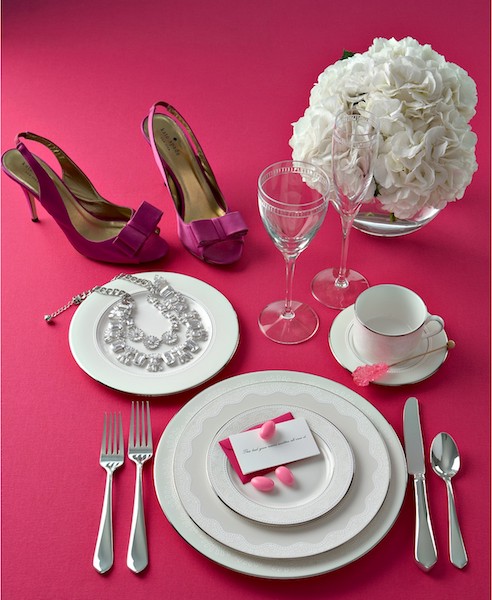 I couldn't let this post end without recommending to you the same china set that we have in our home. I was drawn to Kate Spade's Chapel Hill collection because of the dainty and beautiful lace design and the white and off white coloring. I knew that these elegant place settings would fit perfectly into any tablescape!
Don't Forget the Serving Pieces
Maybe committing to entire place settings of fine china still feels like too much. If that's the case, I'd like to suggest choosing a few luxury serving pieces for your registry. I use my china bowl and platter frequently, especially for events like bridal showers or birthday dinners.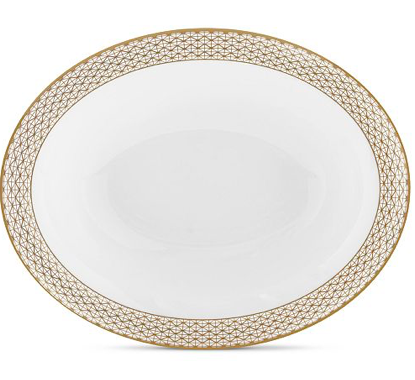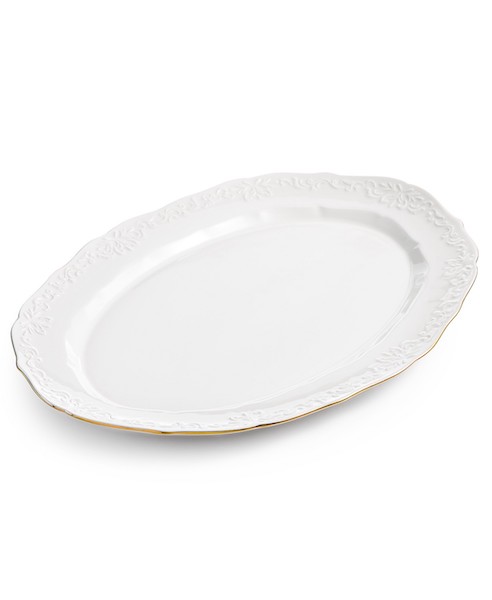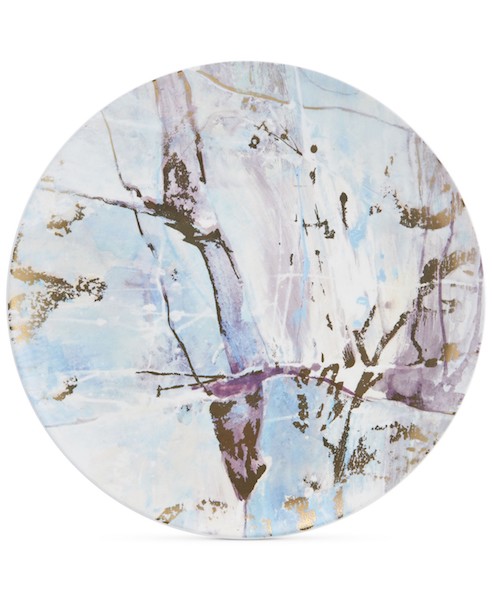 Make a statement with this modern bone china platter by Mikasa.  It will look stunning as your table's centerpiece!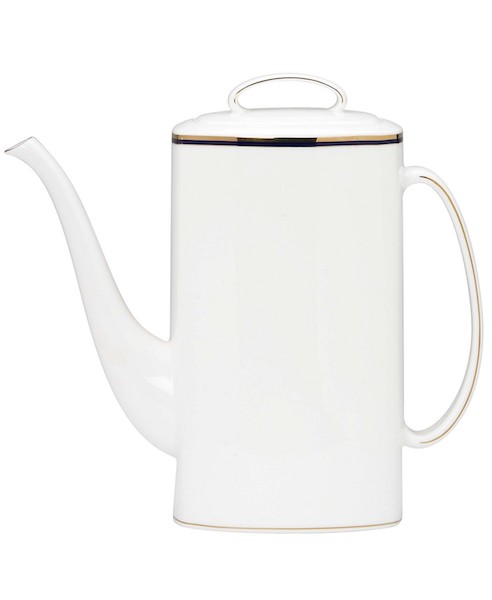 Since most china place settings come complete with coffee cups and saucers, it's nice to also have a china coffee pot.  It completes your table's look and elevates your after dinner coffee and dessert.
We believe the pieces you choose as you begin your new life together with your spouse can last a lifetime! We love the idea of legacy that can be passed down through simple items like plates and cups and bowls. And any day can be a special occasion or reason to make lasting memories with your family and friends around the table.
Love what you scrolled through in this post? It's easy to create a Macy's wedding registry and add any of these pieces to it. Visit Macys.com to create a profile and start adding china and serveware to your registry today.
Point your shower and wedding guests to your Macy's registry and any other registries right in one convenient place with the help of RegistryFinder.com.  Find more must-have registry items and Macy's bestsellers on our GiveIt Blog.