We've got your bridal shower covered from start to finish!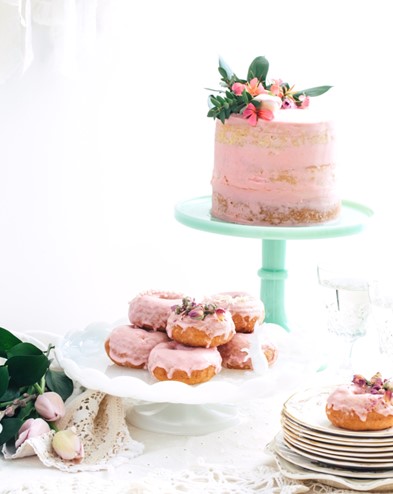 Hosting a bridal shower is an incredible honor. Having the opportunity to show a bride-to-be just how special she is, surrounded by her closest friends and family members, is nothing to be taken lightly. If you're planning a spring-time bridal shower, we will help you pull off a memorable and successful event!
We've put together a variety of "no-fail" spring bridal shower themes, with everything you'll need to succeed. From the decor and food, to activities and gifts, we've got you covered.
I am a fan of "grazing buffets", where guests can grab food as they want, rather than having a sit-down, formal meal. The atmosphere is a bit more casual, and frees up time for activities.
For that reason, you won't find much in the way of a three-course meal in this guide. That said, we won't be cutting corners in the food department… Your guests will love every single bite!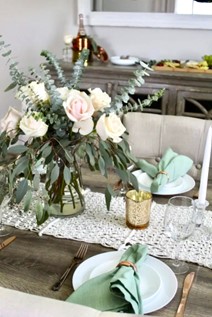 Lucky In Love ☘️
St. Patrick's Day is the inspiration behind this theme, but don't worry, there won't be four-leaf clovers and leprechauns all over. Instead, keep it classy with "hints" of luck and charm.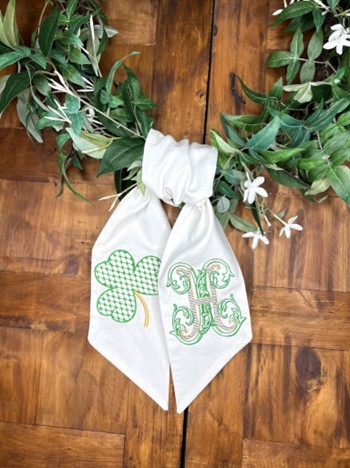 Decor
Set the tone at the entrance of your party with a simple greenery wreath that you can use again (we love this eucalyptus wreath!), and customize for the bride with a tasteful sash that she can use for years!
Keep the theme going throughout with simple green bouquets, with hints of white. Add some luck with a custom horseshoe with the couple's anniversary date. Leave empty glass jars with advice cards to help the couple keep their good luck throughout their marriage!
Lastly, no bridal shower is complete without a place to take photos with the bride-to-be! Set up a festive backdrop where everyone can strike a pose and thank their lucky stars for such a fun celebration of love. We love this simple green balloon arch!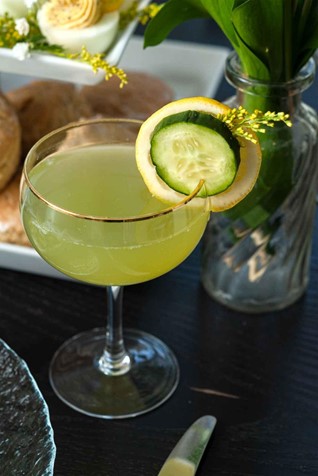 Food and drinks
Offer guests a light green "Four-Leaf Clover Mimosa", or serve up a fortune-cookie cocktail that adds a dose of the luck of the Irish. Presented in a festive champagne flute, this drink combines vodka and Irish cream and is garnished with a chocolate-dipped fortune cookie. You can pre-batch this for easy self-serving, too!
Pretzel twists ("fingers crossed") with assorted dips, a fruit platter (pomegranate and grapes are especially lucky), and mini pork meatballs on toothpicks are easy to set up and will bring the bride to be and all her guests the best of luck.
Dip Chinese fortune cookies into green-chocolate for an on-theme dessert, (or buy them from Etsy bakers)!
Activities
Play the saran wrap ball game! Wrap small prizes into a big ball of plastic wrap and have the guests sit in a circle. Pass the ball to the next person to unwrap until they reach the next item, then pass it on to the next guest! Alternate among silly and sentimental items to keep everyone guessing.
Set up a game of horseshoes. There's nothing wrong with a little friendly competition at a bridal shower. All your guests need is a little bit of luck as they toss horseshoes in the classic backyard game. If you're setting up inside, this set is safe for both indoor and outdoor play.
For more game ideas, check out our list of bridal shower games that will compliment any theme!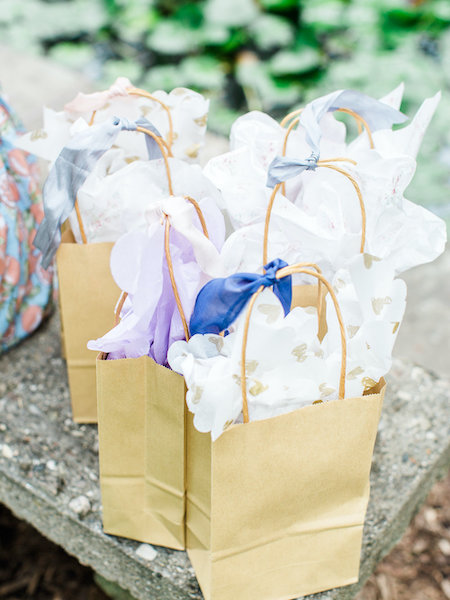 Guest Gifts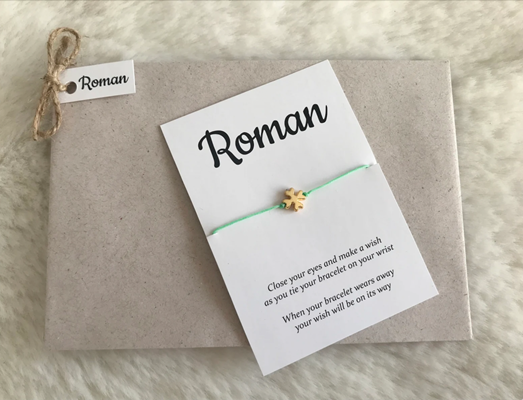 Send everyone home with a cute clover charm bracelet. They'll be able to keep their good luck, and memories of the celebration, close.
A dreamcatcher reminds your guests that their dreams are powerful enough to come true, just like your Bride-to-Be's love story.
Clip a ladybug keychain to the wire cage of a mini champagne bottle as a reminder of good luck and the good memories ahead.
Flower Power
Flowers and spring go hand-in-hand, so when you're celebrating a Bride-to-Be you can never have too many florals! This theme is all about maximalism and all things girly, so "think pink" as you gather inspiration. Bonus points if you can find a flower shop willing to host the celebration!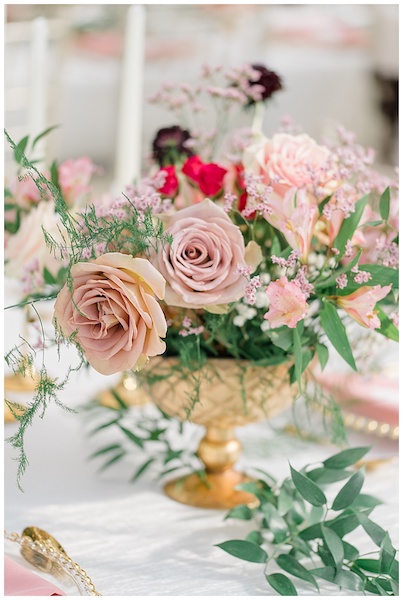 Decor
Decorate like you normally would for a party, then add more flowers. A lot more. Floral garlands make beautiful backdrops and surface decor, and centerpieces featuring gorgeous bouquets of assorted pink flowers will make the entire place feel totally romantic.
When it comes to a floral party, the more chic the better. Set the mood by setting the table with formal place cards tied to flower stems. Even with a casual dining format, guests will love the elevated touch. If your venue has a pool or fountain that you can add more blooms to, why not? Trim the stems off of water lilies or lotus flowers, and gently set them on the surface of the water. Additionally, set up a cake table (and a gift table!) with a floral tablecloth, in pink or gold.
If you're not afraid of a little DIY, your photo backdrop will be so worth it. Use this tutorial to attach artificial flowers to a wire mesh structure in the dimensions of your choice. Your bride and guests will love the whimsical, feminine decor — in fact, you may not be able to keep them away from it!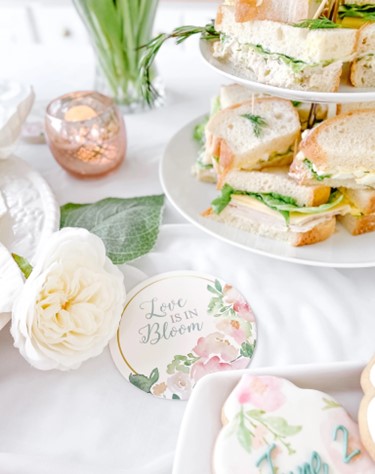 Food and drinks
Tea sandwiches can be such an easy, impressive treat to make for a large group of guests. The trick is all in the presentation. Once you've assembled your sandwiches, use floral cookie cutters to cut them into fun shapes. For a final touch, add a toothpick with rosemary, baby tomatoes, or cucumber slices to the top.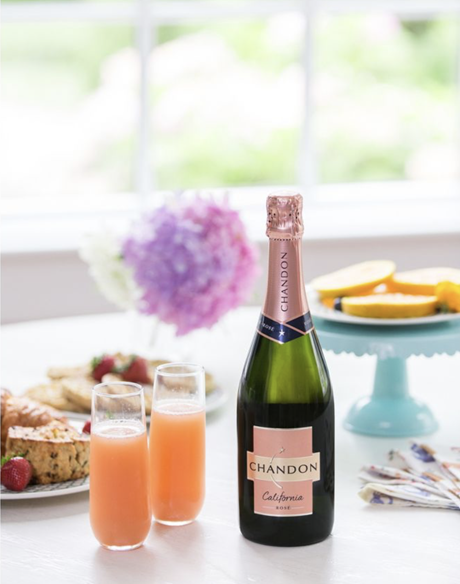 What could possibly be a more appropriate flower power bridal shower wine than rosé? Set out an assortment of blush-colored wines for guests to taste. Consider every last detail, down to blush pink stemware, to really be immersed in the theme. You can even leave out a voting sheet in front of each bottle to see which was most popular. Go the "extra mile" with personalized wine charms that double as a fun favor.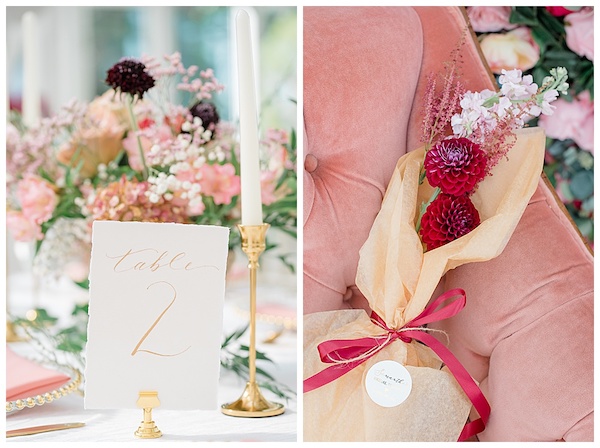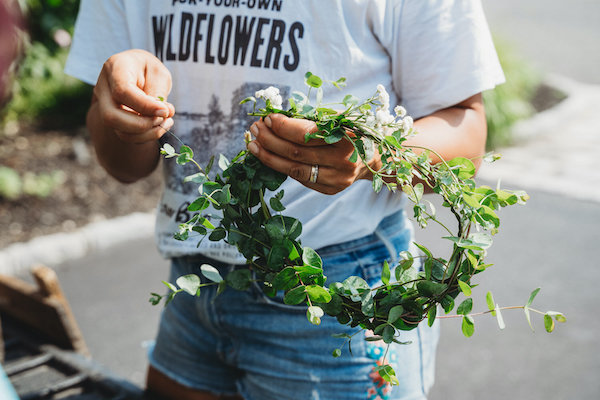 Activities
Have a bouquet building competition. Put your bridal party guests to the test and have them compete against one another to build the most beautiful bouquet. Set up a few dozen assorted flowers in large vases for easy-grabbing. The bride is the final judge in crowning the winner.
Make DIY floral crowns. This tutorial includes a list of all the equipment you'll need for your guests to put together their own floral crowns. Not only do they make you feel more feminine, but they also make for a great photo-op!
Host a paint-and-sip. If you prefer a completely structured celebration, call your local paint and sip venue to book a private event. These places usually let guests bring their own food and drinks, so you can set up your rosé bar and tea sandwiches without issue. If you're DIY, get your materials at Hobby Lobby (canvas or wine glasses!) and find a YouTube tutorial!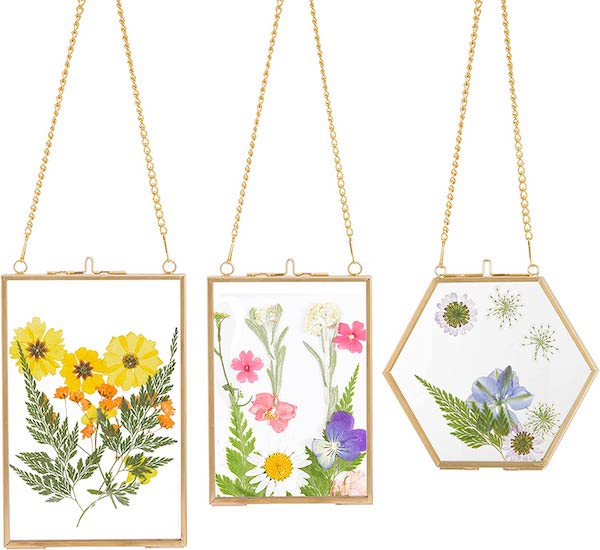 Guest gifts
A framed pressed flower is a party favor that guests will actually want to keep. Just like marriage, they are an age-old tradition that symbolizes longevity and the beauty in simple things.
Mini rosé champagne bottles are always a great idea as a parting gift for bridal shower guests. Whenever they decide to enjoy it, they'll be reminded of the celebration all over again!
Send them home with packets of flower seeds they can plant at home and watch grow for years to come! They can even double as place settings at your tables.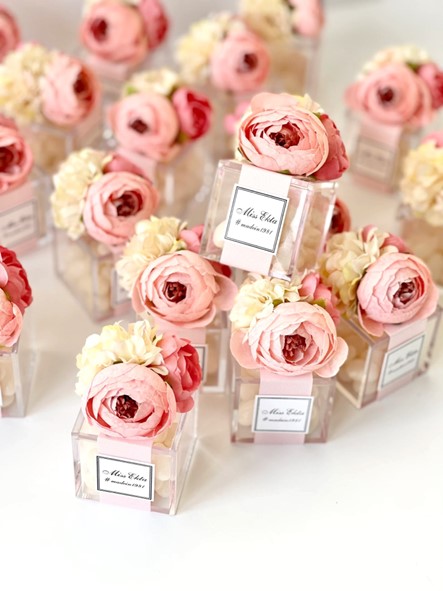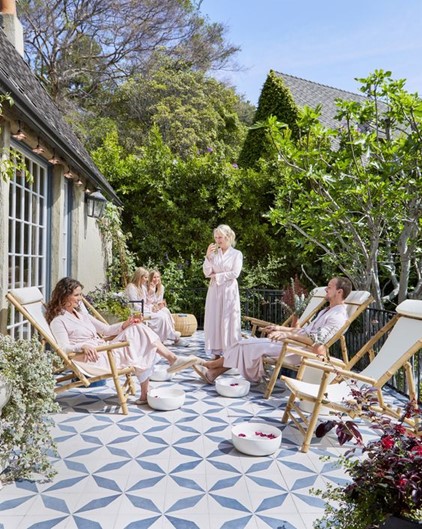 Bubbles for the Bride
Who doesn't love a spa day? Break out the bubbles and pamper the bride-to-be with the ultimate self-care day bridal shower! Encourage guests to show up in their fanciest pajamas or something equally comfortable so they can fully indulge.
Decor
If you're going to opt for a legitimate spa-day and book your treatments at a local spa or hotel, then the decor will already set the right vibe for your group. For at-home self-care days, the goal is to make your space feel as cozy and relaxing as possible.
Place white pillar candles and essential oil diffusers around the perimeter of the space to start the sensory experience. Wherever you set up your food and drinks, use neutral-toned linen tablecloths to further soften the room and keep guests relaxed. Put small vases of lavender and eucalyptus on the tables as a final touch.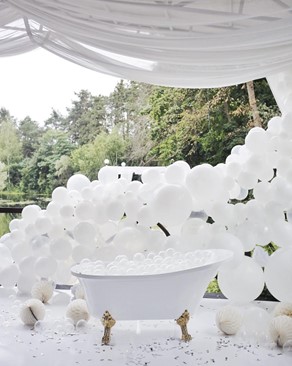 As with all our themes, we wouldn't leave you without a perfect photo station for your spa-day bridal shower. We are thinking white and iridescent balloon arches and drapery to keep with the "relaxed-bride" vibe. A few bubble garlands and spa tunes will take your guests to their "happy place"!
ProTIP! You may need to purchase 2-3 balloon kits to achieve the look featured above, (200-300 balloons)!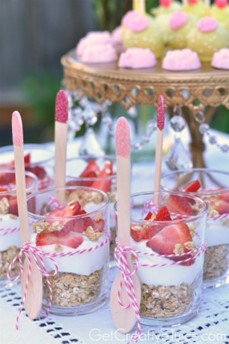 Food and drinks
For a spa day, keeping your foods on the lighter side is always a good idea. Offer small yogurt cups, or set up a yogurt parfait station with granola, mixed fruits, nuts, and honey to offer a custom treat. Balance out the sweet with a savory option, like deviled eggs topped with chives (or caviar if you're feeling fancy).
Since this theme is all about bubbles, you can't forget the bubbly! Add a special touch of floral ice in the ice buckets, a simple DIY! Directions featured on Martha Stewart's blog. Include carafes of juice and berry garnishes for a mix-and-match mimosa bar.
Activities
Set up a manicure bar at your table where guests can get a polish change. Bring in professionals to provide the services — it keeps things flowing smoothly and gives you space to host.
Hire a yoga instructor to lead everyone through a 30-minute stretching session to relax and loosen up. You don't have to be good at yoga to enjoy its benefits, and even when you're downright bad at it, it's still fun (as long as you have a sense of humor).
Guest Gifts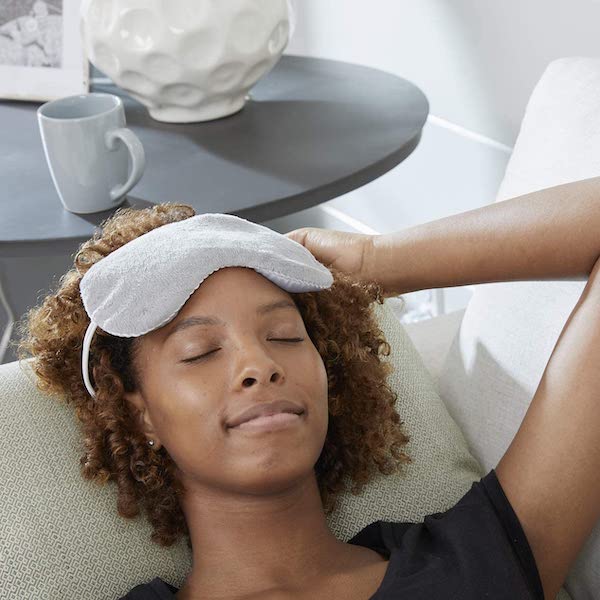 Send guests home with Peter Thomas Roth face masks to keep the self-care going after the party is over. The kits come in a set of five so you can decide how many to include in each goodie bag.
You may have heard of bath bombs, but shower bombs are a practical alternative and another great way to help your bridal shower guests stay relaxed whenever they need a pick-me-up.
Lavender sleep masks can work wonders for headaches, anxiety, and restlessness. Plus, they're microwavable, making them ultra-comforting.
Any Bride-to-Be would appreciate one of these three themes!
Check out our Amazon store with additional links; we have everything you need to pull off a fabulous celebration.
Remember to take our ideas and make them your own! There are so many ways to fit a great bridal shower into any budget. Let us know which idea is your favorite!! Comment below!