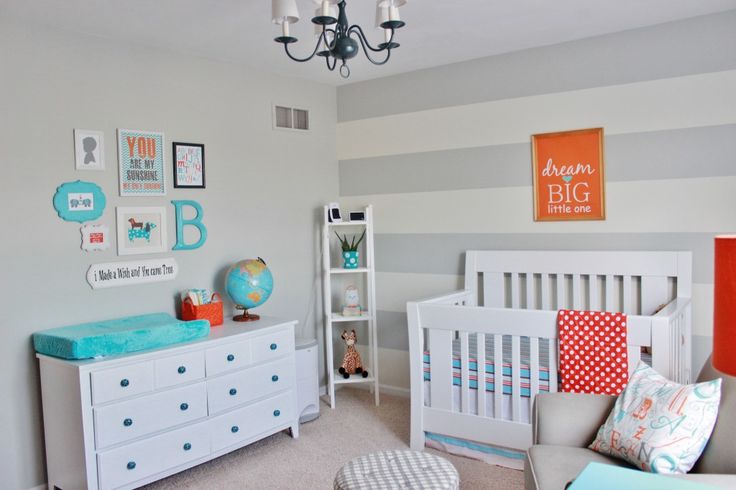 Photo Source: Project Nursery
Most of the rooms in our home had been decorated little-by-little, over a long span of time, so when we found out we were expecting a little girl, I was thrilled for the opportunity to design and decorate the whole room at once! However, I soon got discouraged when I realized the high cost of nursery furniture and bedding. But I was not going to be deterred from my goal of creating a beautiful room for my baby girl. If you're decorating a nursery on a budget, I'm sure you've run into this problem as well…don't give up just yet!
We collaborated with our friends over at Wal-Mart to bring you some great pieces that can be included in your baby's nursery. If you'd like to create a lovely space, without breaking the bank, check out these tips and products for creating a budget-friendly nursery!
1. Remember what's important!
Your new bundle of joy won't know if you spent $500 or $5000 to decorate their room. Be sure the nursery is practical, functional, and most of all safe! Regardless of the price, all cribs sold in the United States must meet the same safety standards.

Both of these cribs can be found at Walmart:
DaVinci Jenny Lind Crib (available in 3 finishes)
Delta Canton 4-in-1 Crib (available in 4 finishes)
2. Select a Crib that Grows with your Child
If you purchase a convertible crib, there's a good chance your child will use it for a long time. Most convertible cribs have 3 or 4 configurations and can transform from crib to toddler bed to day bed and even to a full size bed! How's that for getting your money's worth? No matter the style of your nursery, Walmart has a crib for you!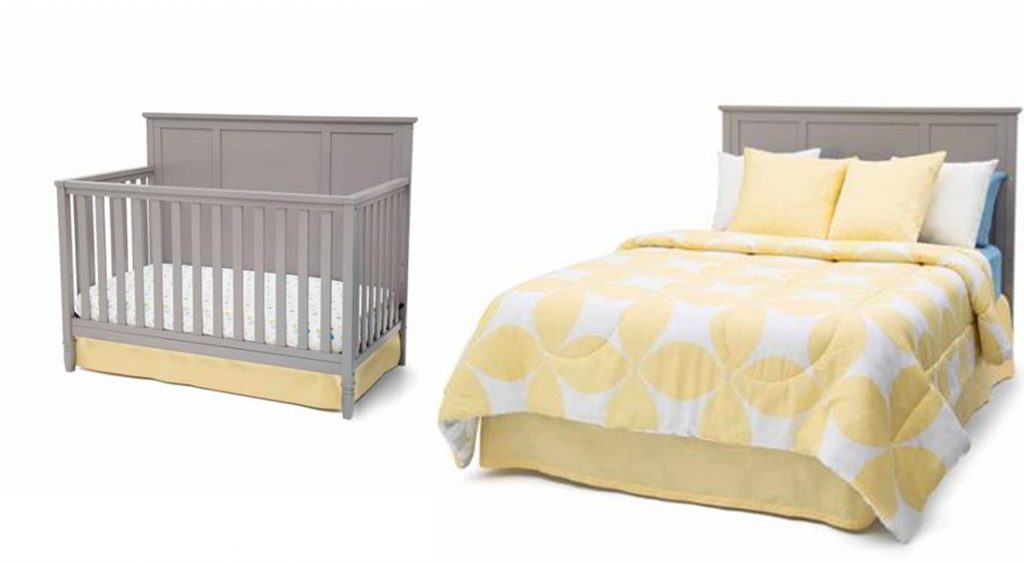 The Delta Epic 4-in-1 Crib can be found at Walmart.
3. Choose Bedding that Isn't Too "Babyish"
A pastel color scheme and traditional nursery patterns may be perfect for your newborn, but he or she will outgrow their room and you'll be re-decorating before you know it. I recommend selecting bedding that is bright and colorful, with prints and patterns that will be loved well into the preschool years. Check out these great sets from Walmart's new Pinwheel line- there are 3 and 6 piece sets, and the bumpers are sold separately. There are trendy florals, hip animals, chic alphabets and more!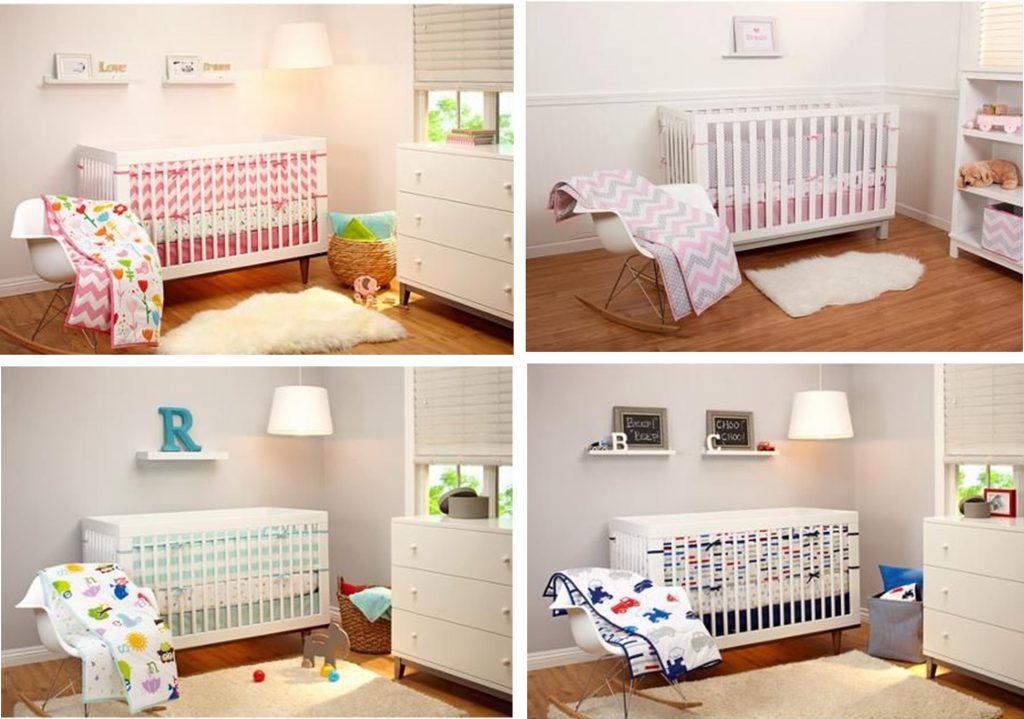 All of these adorable bedding sets are from Walmart's new Pinwheel Baby line.
Clockwise from top left: Sweet Tweet Bedding | Safari Garden Girl Bedding | On the Go Bedding | Alphabet Play Bedding
4. Fill Up Your Walls
Art can be expensive and Pinterest can make your head spin. Here are my favorite easy and inexpensive ways to decorate the walls of a nursery:
Hang a large mirror over the dresser or crib.
Get a wall decal- you can finds a quotes, custom monograms, or growth charts, or cute illustrations that match your theme.(And they fill up a lot of empty wall space!)
Use photo ledges! These are great because you can easily change out your décor frequently. I also love using them in place of a bookshelf- children's books are fun and colorful!
Create an accent wall using wallpaper or bright paint!
Clockwise from top left: Mirror over Changing Table from Blog Lovin' | Wall Decal from Etsy Seller StudioQuee | Painted Accent Wall from Project Nursery | Photo Ledge Bookshelf from 100 Layer Cakelet
 5. Include "Big" Items on Your Baby Registry
You may think this is a strange tip, but hear me out. Grandma may want to get something special for her new grandbaby. Or your closest friends may want to go in for a group gift. Don't hesitate to include a crib, dresser or changing table on your registry. If they don't get purchased, don't worry- Walmart has great deals on good quality pieces for your baby's nursery!
I hope you enjoy decorating your little one's nursery as much as I did. With the help of these great nursery products at Walmart and these budget-friendly tips, I know you can create a room that looks like a million bucks! Good luck! If you're looking for more nursery inspiration, check out our Pinterest Board: Cute Nurseries on a Budget.
Written by RegistryFinder.com contributor Rebecca Haar, mom of two little ones who both had budget-friendly nurseries!
This post contains affiliate links. We may be compensated if you make a purchase by clicking on one of the links. Thanks for your support!