I'm about to decorate my second nursery in two years. But really, if you looked at it truthfully, it's the third. You see, my husband painted a beautiful striped wall in the room we'd use as the nursery of our very first home – and then we decided to pack up and move 2 months later before the baby had even been born or had a chance to use it.
So he painted another beautiful and perfect striped wall in our new home, unpacked and built all our baby's furniture and we thought we'd be set for a few years. We found out we were pregnant with our second when our oldest was only 8 months old, which means by the time Mini Moss #2 arrives our son will not be old enough for a toddler bed or a room switch.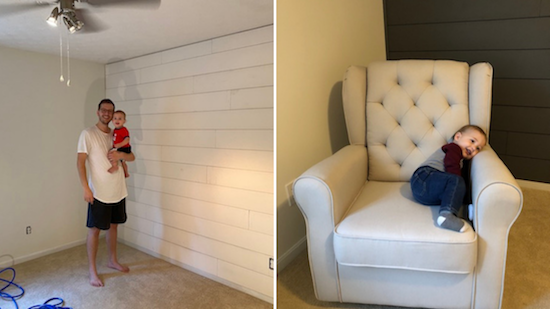 So we're back to the drawing board on nurseries, again. I knew exactly what I wanted the first time, but this time was a little bit harder to figure out. We keep the genders of our babies a surprise so I needed something gender neutral, with a whole new set of furniture and accessories that wouldn't break the bank.
If you're in a similar boat–trying to be stylish on a budget–I've got my 5 best tips for decorating your first (or second or third!) nursery!
1. Remember What's Important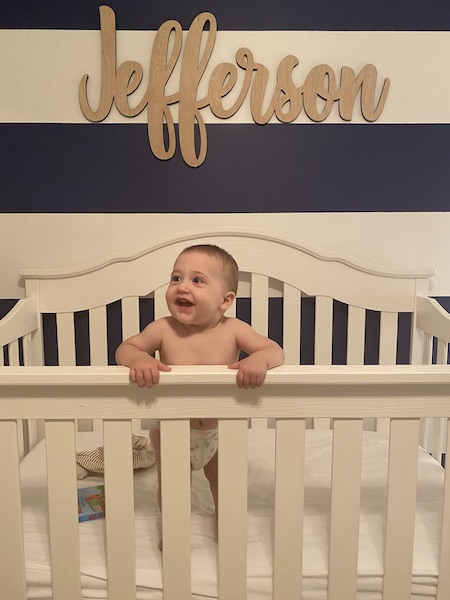 We're obviously big advocates for quality, but we are also fully aware that your baby will never know whether it's sleeping in a $200 or $2000 crib. You've got a whole room to fill with furniture and that can add up fast so just remember to keep it fun, practical and most importantly, safe. We've loved our Delta crib from Target for our oldest son. We even chose the matching dresser/changing table for his room and then bought another Delta crib for the new baby's nursery. The price can't be beat and we know it's safe because, regardless of price, all cribs sold in the United States must meet the same safety standards.
2. Select a Crib That Grows With Your Child
If you purchase a convertible crib, there's a good chance your child will use it for a long time. Most convertible cribs have 3 or 4 configurations and can transform from crib to toddler bed to daybed and even to a full size bed! That's one of the reasons we chose a Delta 6-in-1 crib for our son's nursery. How's that for getting your money's worth? No matter the style of your nursery, Target has a crib for you!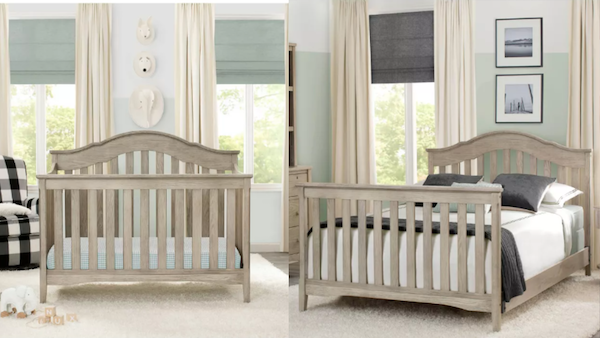 3. Decorate with Books + Photos
Use what you  have when it comes to decorating your nursery's walls. Chances are, you'll get loads of books from friends and family and they'll look great on a bookshelf or picture ledge on your baby's room's wall. We love the way this adds color to our son's room and also encourages his love for reading. He wakes up from his naps and almost instantly points to his wall of books, ready for us to read him a story before we leave his room.
Once your sweet newborn arrives, you'll have TONS of photos. Don't just let them sit on your phone. Print them out and pick out some frames (we love these from Walmart and these from Amazon) or send them off to a service like Framebridge or  Mixtiles that will print and frame them and make them oh so easy to hang on the wall. We love having our first moments with our son captured forever and hanging in his room.
4. Choose Bedding That's Not "Baby-ish"
A pastel color scheme and traditional nursery patterns may be perfect for your newborn, but he or she will outgrow their room and you'll be re-decorating before you know it. I recommend selecting bedding that is bright and colorful, with prints and patterns that will be loved well into the preschool years. Think trendy florals, hip animals and modern patterns like geometric shapes, stars and plants. We love the Little Unicorn line from Target that showcases unique and different patterns at a great price point that won't break the bank!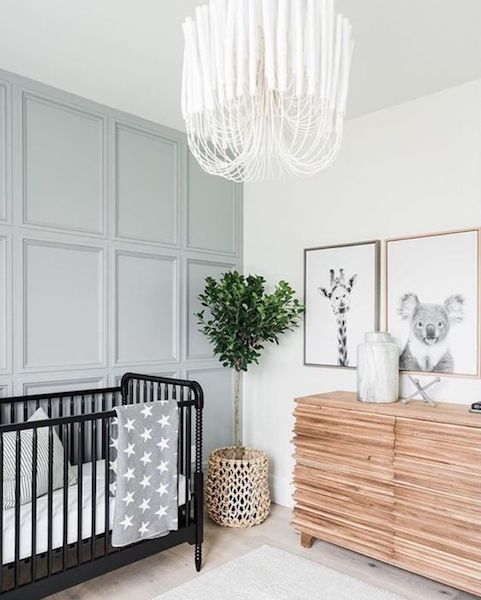 5. Include "Big" Items on Your Registry
You may think this is a strange tip, but hear me out. Grandma may want to get something special for her new grandbaby. Or your closest friends may want to go in for a group gift. Some of my most treasured pieces are our rocking chair (gifted by my mom and dad) and our crib (gifted by my boss and his wife).
They are pieces I know we'll have for a very long time and it means so much to me that people closest to us wanted to bless us in that way! Don't hesitate to include a crib, dresser or changing table on your registry. If they don't get purchased, don't worry.
There are still plenty of ways to score great deals on good quality pieces for your baby's nursery, like shopping at Walmart or Target or using your registry completion coupon available from most retailers! If you haven't yet, start a registry today at one or two of your favorite places to shop for Baby. Once it's ready, you can send your family and friends quickly and easily to RegistryFinder.com where they'll locate all your registries in one place.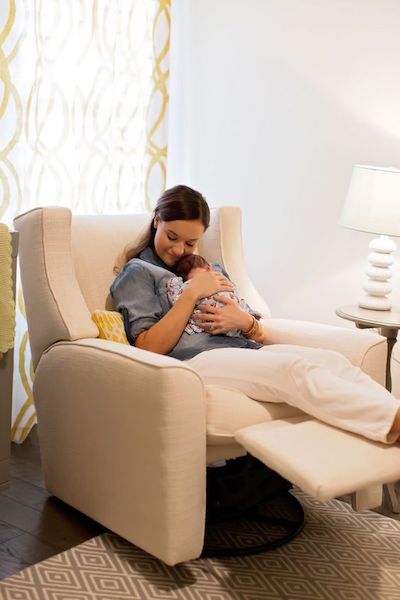 I've always found it a fun challenge to shop and decorate a home on a budget–and making it work in both nurseries I've decorated has been just as fun. Be on the lookout for unique pieces on clearance or shop at estate sales and other bargain hunt spots. Others of my favorite details in the babies' nurseries have been hand-crafted or created by sweet family and friends. Consider asking the creative and crafty in your life to create a special art print for Baby's wall. You'll love seeing the fruits of your budget-adhering labor every time you rock your little one to sleep!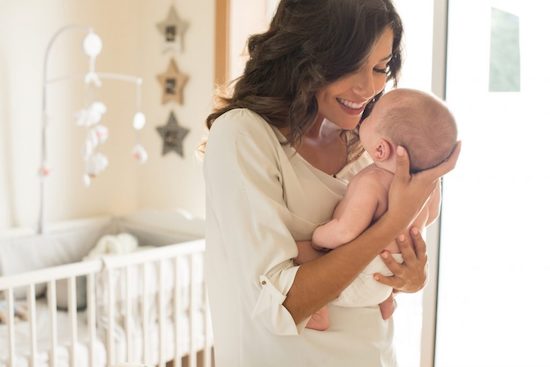 For more tips on what to register for or how to create a beautiful gender neutral nursery, check out our GiveIt Blog.  And find more budget friendly nursery ideas over on our Pinterest!