Last winter, when my husband and I found out we were pregnant we decided right away to keep the baby's gender a surprise. That's right–no gender reveal, no themed nursery or shower–just a big surprise coming our way in a few months and we couldn't wait! Now, something you should probably know is that I'm a planner by nature. My friends and coworkers were shocked we weren't finding out simply because of that fact. How would I plan the nursery? Or shop for the clothes I wanted? Or pick out names easily?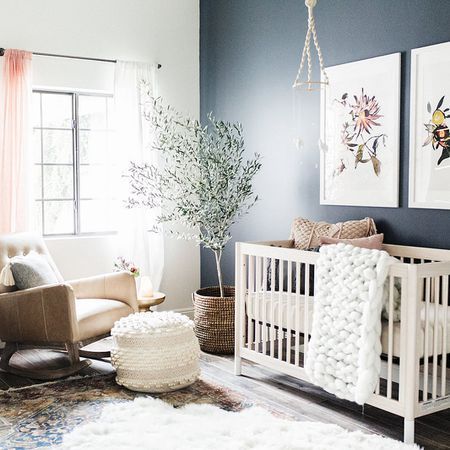 Here's another thing about me: I love neutrals. Even if I'd known what we were having last year, I probably wouldn't have opted for the traditional pink or blue themed nursery. And another thing: I love stripes, which to me are the ultimate neutrals. So thanks to the meticulous nature of my husband, my dream of a striped wall in baby's nursery came to life! Jon painted large navy and white stripes on the accent wall of the nursery, painted the rest of the room gray and we picked out white furnishings and a navy rocking chair. When baby arrived, I planned to buy a large name sign from Etsy (this is where ours is from and I can't recommend it enough) and, if it was a girl, I'd add large pink and white flowers to the striped wall.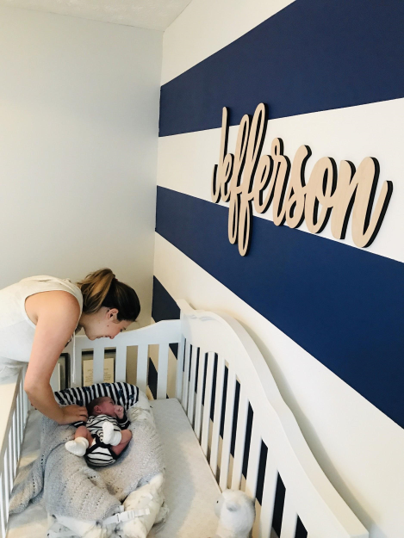 Our son was born in September of last year and I love his neutral nursery. It's bright and happy and different and it was so fun to work on with my husband. Whether you've decided to keep the gender of your baby a surprise or you're simply a neutrals lover like me, you'll love these gender neutral nursery ideas we've rounded up today.
Gender Neutral Nurseries We Love
Accent Walls
When it comes to gender neutral, feel free to think outside the gray and white box. The whole room doesn't have to be one color or a blank canvas to fit with your boy or girl. An accent wall–whether with a bold color, a fun wallpaper or a cool texture–is a great idea for any nursery. There are gender neutral trends right now that are different and modern and that we know you'll love.
One of the trends sweeping Pinterest after a quick search for Gender Neutral Nursery is this gorgeous forest green color. One accent wall of a darker color makes the space feel modern and the green is unexpected and different from the pastel greens and yellows of gender neutral nurseries gone by. We love the light wood and white accents in this space and the pop of pattern brought in by the rug.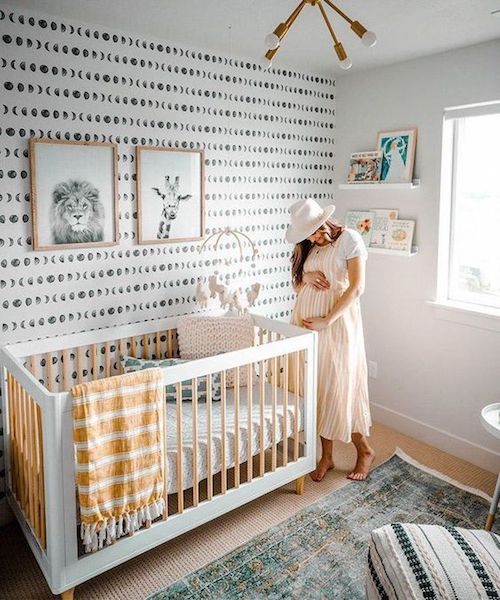 This black and white moon patterned wallpaper is the perfect backdrop for any colors you'll want to bring in. We love the way this nursery adds in unexpected colors and patterns through the various accessories like rugs, blankets and books on the shelf. With an accent wall like this, you can keep the rest of the room simple and streamlined.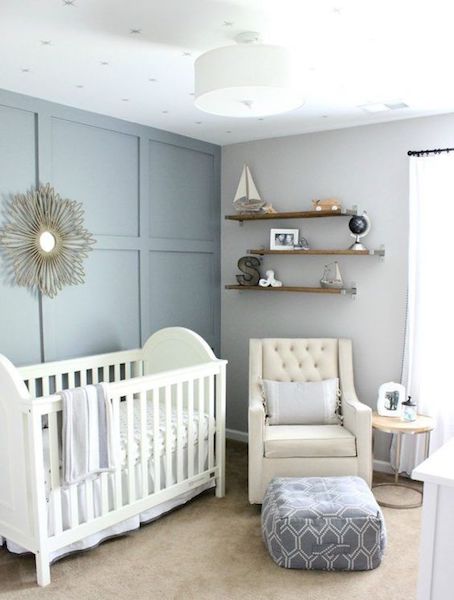 If you like the traditional gender neutral color palette of grays and whites, consider elevating your accent wall with something like this board and batten. It can be painted any color and add dimension to any space, big or small. Adding the dark wood shelves and the mix of cream and white to this nursery varies the color palette and gives the room a calming, coastal feel.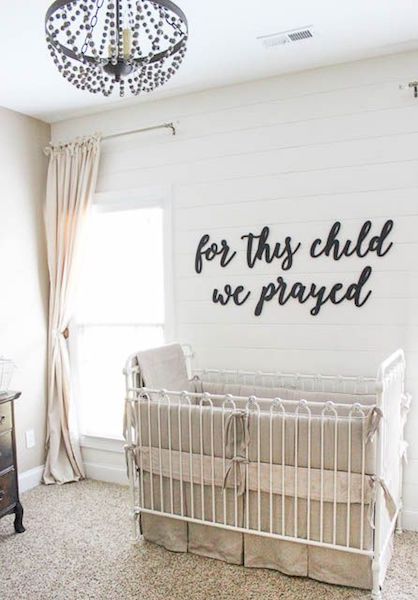 This farmhouse inspired accent wall pops thanks to the large sign and shiplap backdrop. Because the colors are understated, it allows the sign to be the focal point and other pieces in the room (like the lighting fixture and dresser) to tie in well too. This would be an easy space to add in pink or blue touches once baby arrives as well.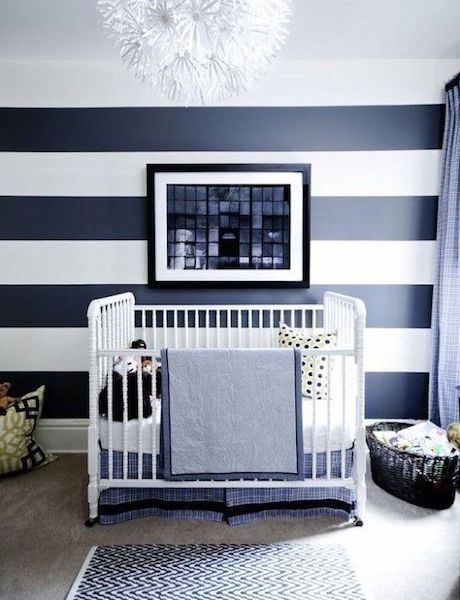 Of course I wasn't going to let this section end without a plug for my personal favorite gender neutral nursery accent wall idea: big and bold stripes. This was one of the inspiration photos I pinned when we were planning our son's nursery and I love the simplicity of all the pieces in the room so that the stripes really stand out. It's fun and we've seen our son become enthralled with staring at his striped wall as he falls asleep.
Accessories
I'll never forget walking through buybuyBABY® working on my baby registry and coming upon the bedding section. Floor to ceiling displays show off any combination of comforters and pillows and stuffies and sheets for any themed nursery your heart could desire. Because I had a neutral nursery, I was a little overwhelmed by all the pink and blue, but there were still so many choices! How do you choose the best accessories for your gender neutral nursery? Here are a few of our favorites: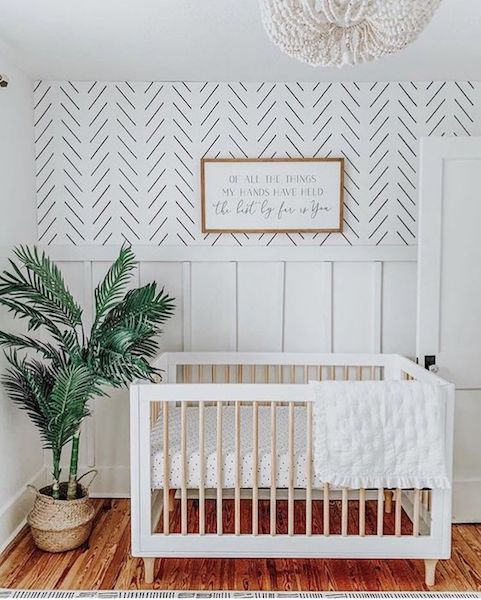 A big plant is an easy way to add a pop of color to your neutral space. It goes super well with any black and white details you have in the nursery, like the simple black and white polka dot bedding in this room.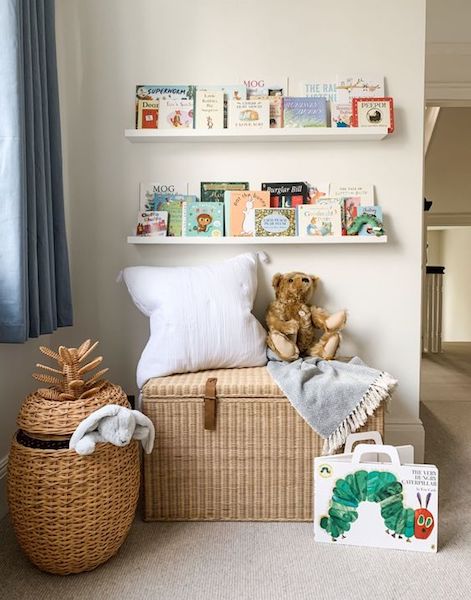 Straw and wicker are great neutral pieces to fill your nursery with. Bonus: both these pieces pictured above also serve as great storage. Fill baskets or trunks with blankets or toys to keep them contained and to give your space a fun touch. We also love the floating bookshelves as a way to use things you already have and love (books!) as a decorative accessory.
Don't be overwhelmed by all the bedding choices. We love this bedding set from Caden Lane for either a baby boy or girl's space. It would fit in any color space and crib and it's an unexpected and different choice.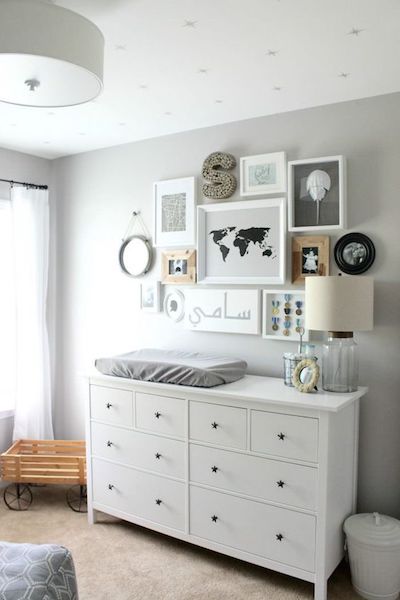 A great way to accessorize your nursery is with a gallery wall above the dresser. In this coastal look from Lynzy and Co, mom-to-be wanted to nod to dad's Middle Eastern heritage with several pieces in the gallery wall. It's definitely a fun way to add meaningful pieces to baby's room!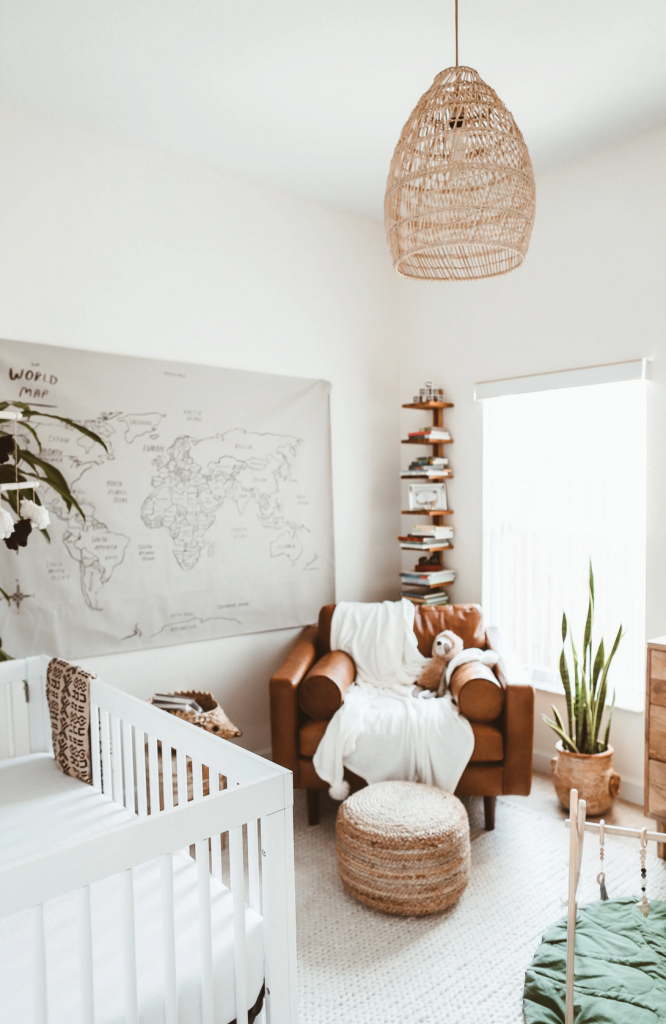 Keep the rest of the room simple and make the focal point a cool lighting fixture, like in this nursery pictured above. It's easy to tie in the texture of the light in other spaces around the room, like the ottoman and shelf accessories.
Furnishings
Furnishings may be the easiest of the nursery aspects to keep gender neutral. Gray, white and wood abound when it comes to dresser and crib selections and so do gray and cream and white gliders. But if you want to use nursery furniture as a statement piece or focal point, we love these neutral selections: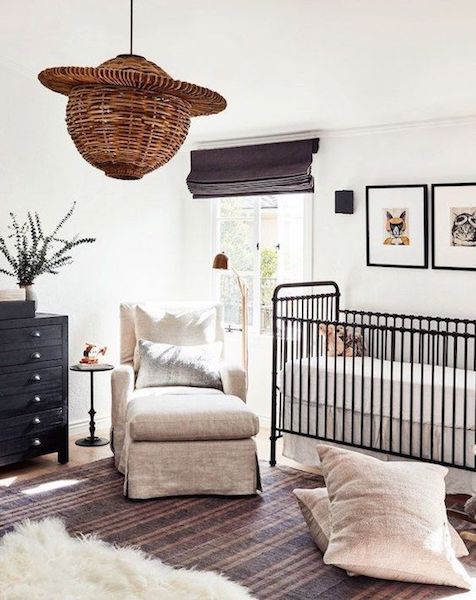 A black crib and dresser really pop in this white and cream nursery space. Plus it's easy to introduce other colors in bedding or wall art with such a neutral palette.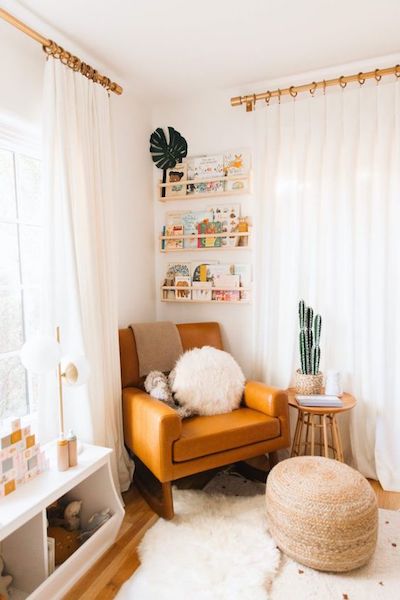 Let your glider or rocker be the center point of the room, like this rich leather one pictured above. It's bold without being overpowering and is easily made cozy with a fluffy rug and pillow.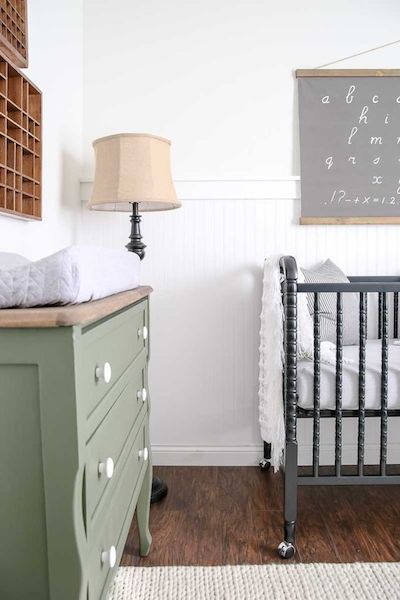 Can't commit to an entire wall of green? How about a furniture piece? We love this look from Little Glass Jar that combines a sage green with a wooden top in the baby's changing table/dresser.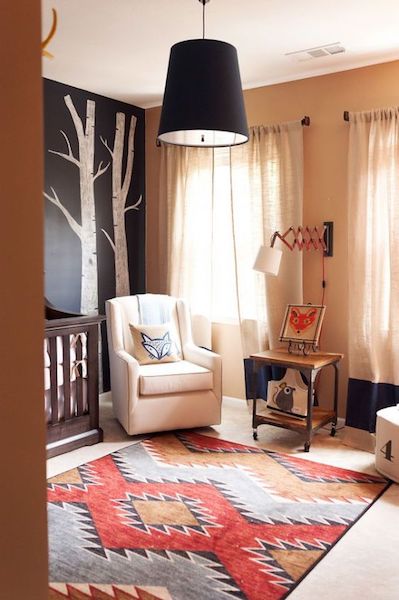 A rug is a perfect way to add a splash of color and warmth to your neutral nursery. With an easy to match color palette in all those neutrals, you can go outside the box and choose a funky rug that really speaks to you!
The ideas are endless when it comes to choosing the right look for your gender neutral nursery. And we love that so much of what you choose can be used for not only this baby, but all the babies to come in your family's future. Enjoy these next few months as you dream of the sweet baby who will one day fall asleep in your perfect nursery.
Dreaming up and planning out your baby's nursery is just step one!
Don't forget to register for all that furniture and those accessories like bedding and books. Once your registries are good to go, you and your family and friends will be able to access them all in one place at RegistryFinder.com. Looking for a few more nursery ideas? Our Real Moms weighed in and told us what they thought was worth the splurge when decorating their nurseries. You can read that and more at our GiveIt Blog.