When I go to a wedding, I always look out for the small personal touches a couple adds to their wedding day to bring their own personalities through. After all, it's a day that celebrates their unique relationship, so it makes sense to pay homage to the things that make it so special.
These days, even the most modern couples are giving a nod to the old-school and embracing DIY elements on their big day. From paper goods to decor and wedding favors, there are so many ways to bring a unique touch to a wedding of any size, style, and budget. Not to mention, with so many helpful resources out there, brides (and grooms) of all skill levels can get in on the trend! I love the fact that it's become so easy to tailor your wedding with the help of easy projects that add a personal touch to the experience on your wedding day, and it can be a huge budget-saver in the process.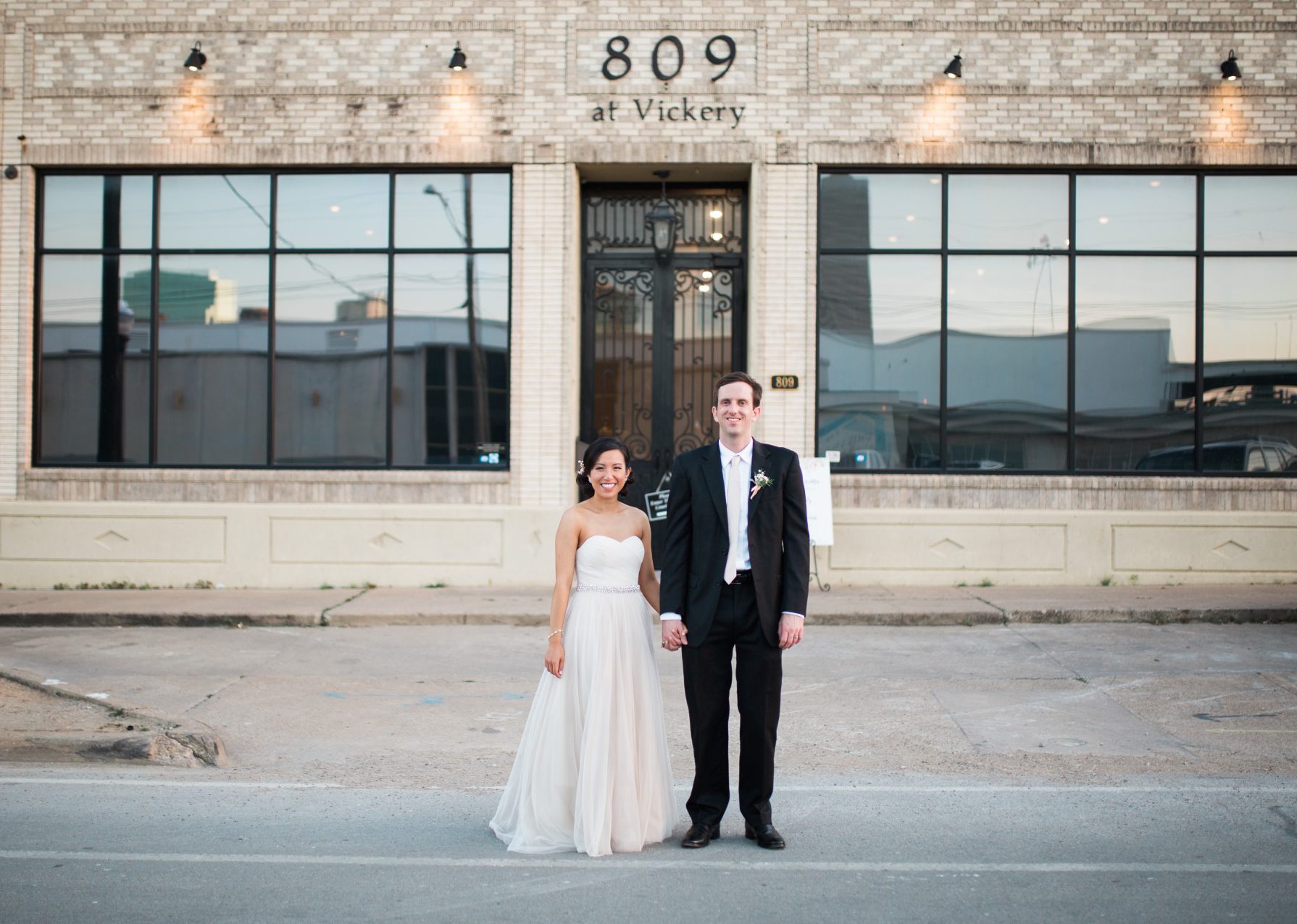 Recently, RegistryFinder's founder, Cheryl Seidel, attended her niece's wedding in Ft. Worth, Texas. She was so impressed by the beautiful (and budget friendly) DIY elements created by her sister-in-law and niece, that she wanted us to share it with you here on the blog.
If you're considering incorporating some DIY projects into your own wedding, we hope you will be inspired by Cristina and Chris. Read on for our favorite ways they aced the trend: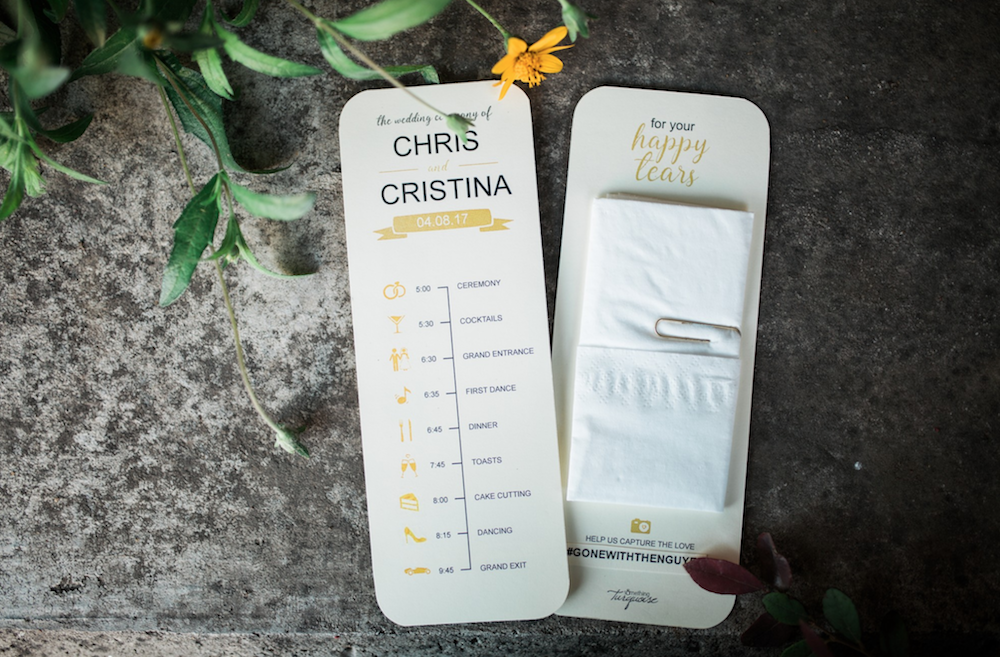 Invitations & Programs
Your wedding invitation is oftentimes guests' first glimpse at the "theme" of your wedding day—no pressure! Luckily, Etsy has a vast and varied selection of customizable templates to fit your style and make an impressive first impression, and many shops provide matching programs to keep a cohesive style throughout the entire experience. Plus, DIY invites are a great way to test the waters as you're getting started with your wedding plans—you never know, it might spark inspiration for the rest of your big day!
Cristina used the DIY wedding website somethingturquoise.com for loads of inspiration, including her Timeline + Tissue wedding programs pictured above. You can download the free template here.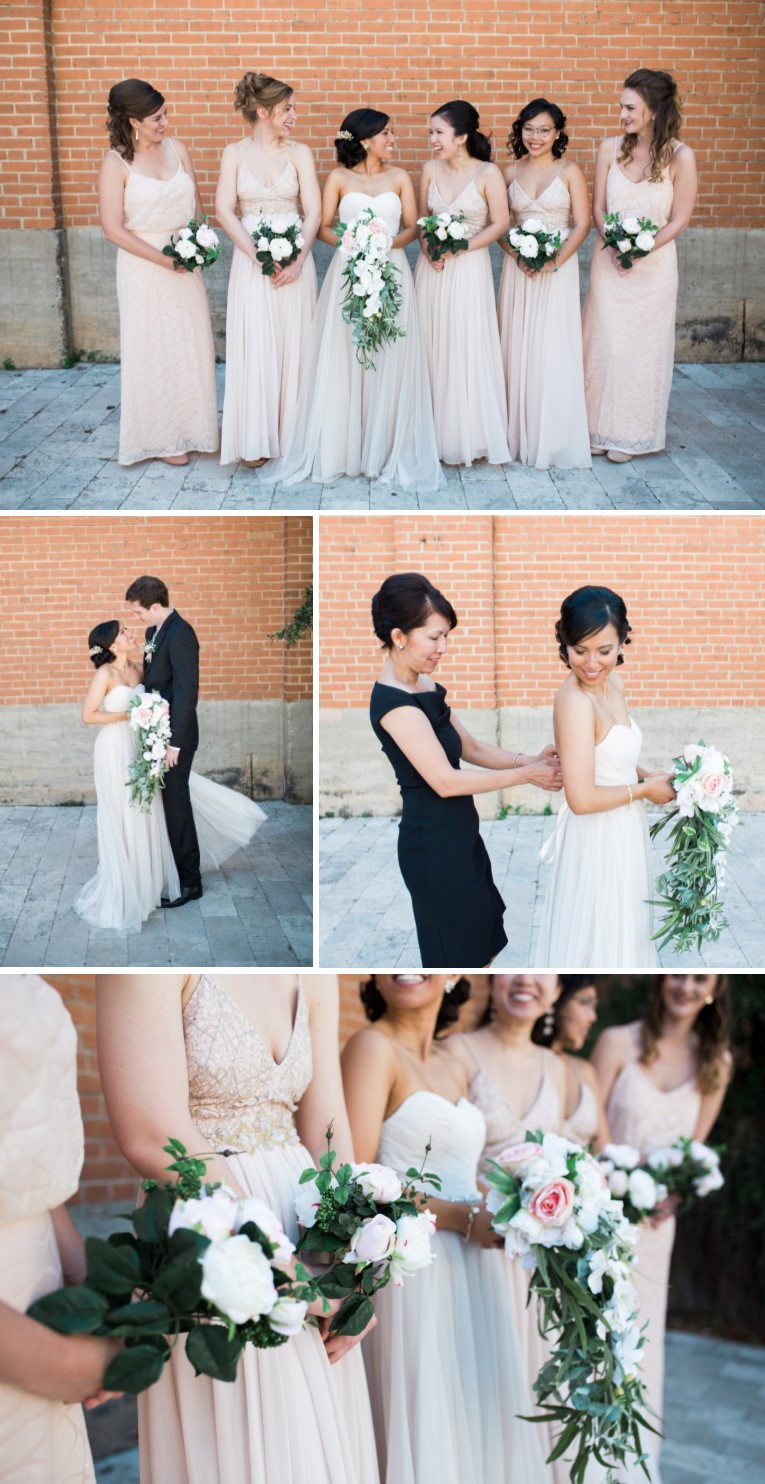 Bouquets
We often forget that weddings are a one-day celebration—probably because we spend months preparing for it! Cristina's solution? Use craft store flowers to create custom arrangements for herself and her bridesmaids—no more worrying about wilting blossoms! Cut costs by opting to incorporate faux flowers into your floral arrangements, and you'll have peace of mind knowing you're keeping your big day eco-friendly in the process.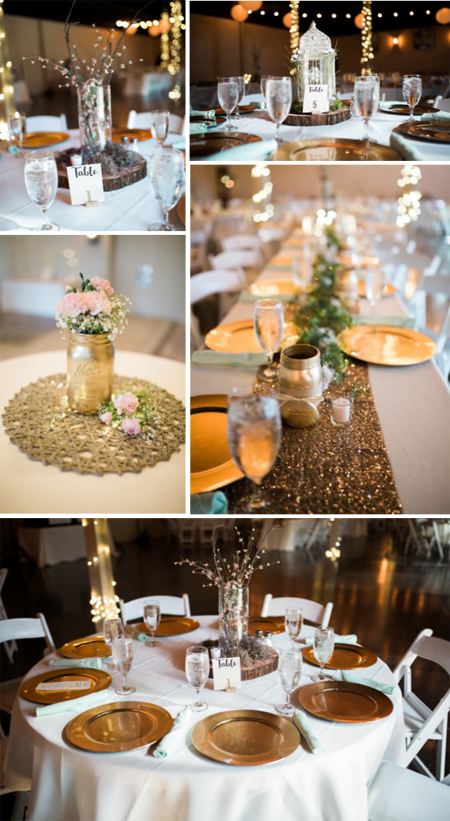 Centerpieces and Tablescapes
Cristina opted for a rustic-chic look for her wedding day, so she repurposed mason jars, cylindrical vases and even glassbox candle holders as her centerpieces, and even called on Cheryl's nephew Evan Smith to craft the rustic cedar log bases! Faux florals and whimsical, twisted branches make an eye-catching table setting, while statement candle holders are a great way to go completely flower-free—and they can easily double as mood lighting!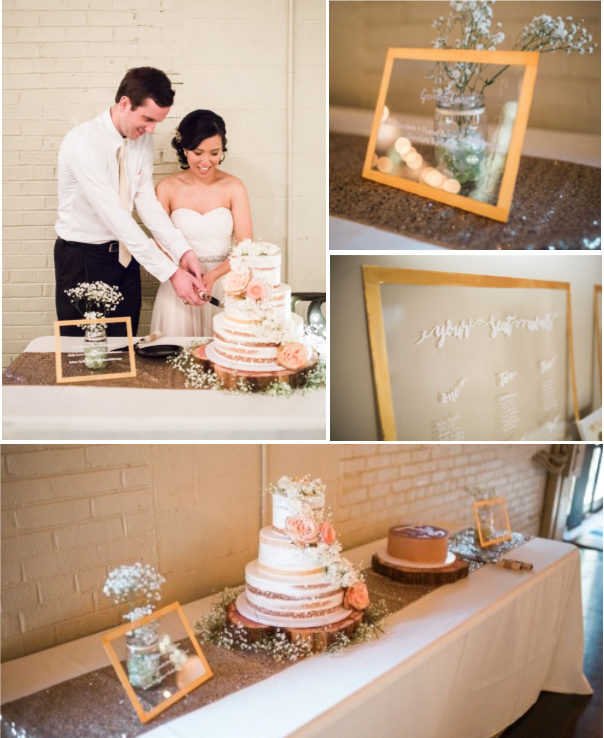 Signage
There's no getting around a seating chart, which is why we love this rustic but polished approach Chris and Cristina used to show their guests to their tables. Use the glass pane from a picture frame or a decorative mirror as the writing surface for your best calligraphy. I love the shadows cast on the wall by the lettering, and the transparent surface gives the added decor a whimsical and romantic element that is absolutely irresistible at a wedding!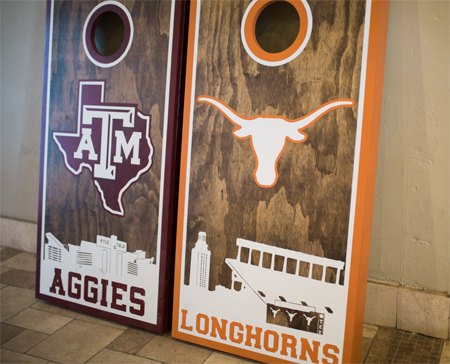 Reception Games & Activities
With the help of some handy friends, Chris and Cristina turned their friendly college rivalry into an activity for their wedding guests to enjoy, and it was a total hit! If you and your significant other went to rival (or just different) colleges, this DIY cornhole game adds just enough fun competition to the celebration, and it's the perfect way to give friends and family a chance to contribute to your big day! Most home improvement stores will cut wood to your specific sizing needs, which means you don't have to be a carpentry wizard to add some personalized games to your reception activities list.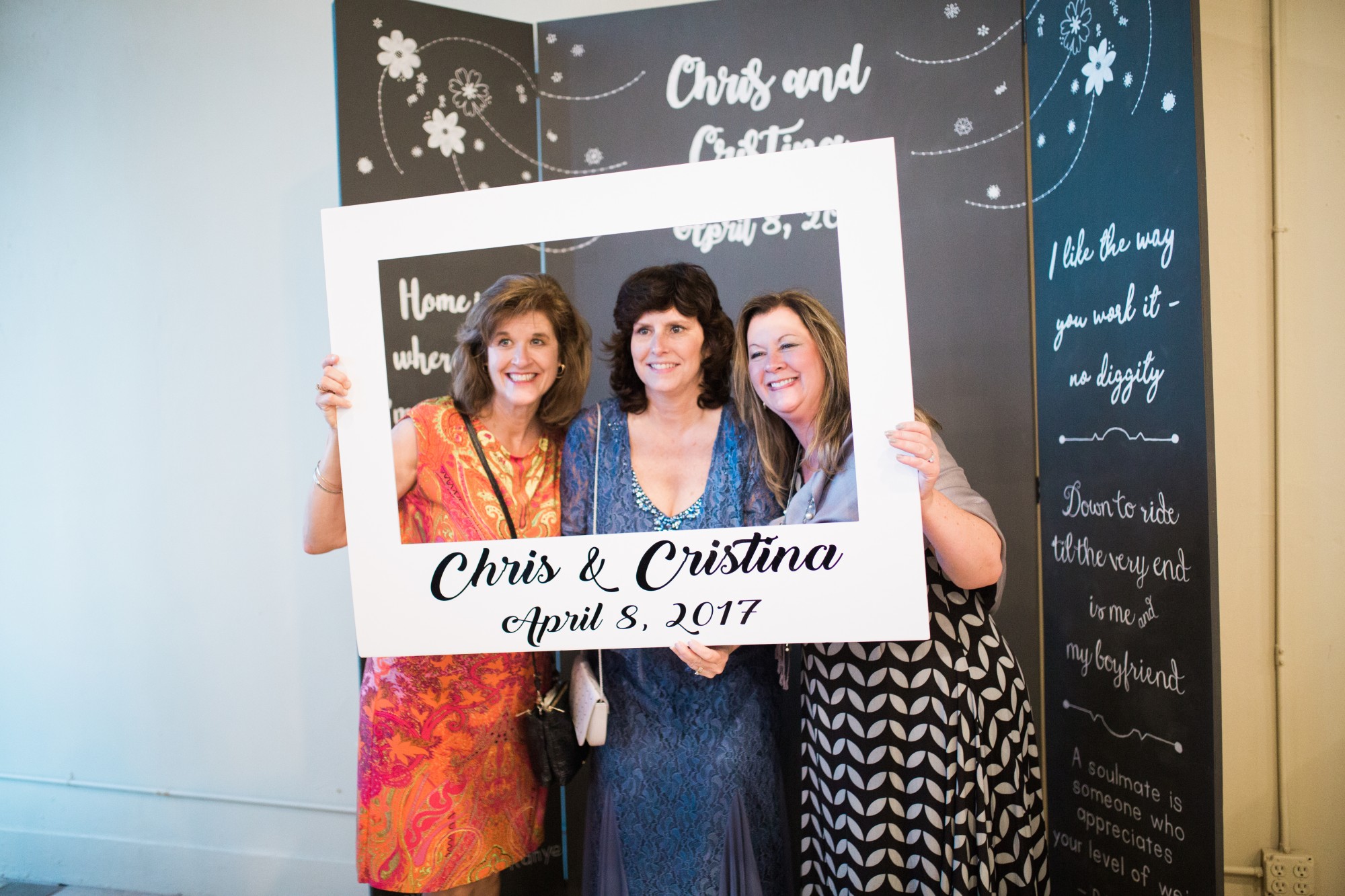 Whichever elements you choose to customize for your special day, we have some tips that can help you decide and will make sure you can cross every task off your list:
Ready-made decor is often limiting, and DIY can seem impossible, but with helpful tutorials on YouTube and Pinterest and crafty Etsy vendors, your dream DIY wedding is totally possible!
Take your time and finish one project before moving on to the next. We all know that a nagging task never quiets!
Don't be afraid to delegate! Incorporating DIY elements into your celebration means even more chances for friends and family to get involved in the hands-on process.
Cheryl adds, "My sister-in-law Christine, who's a software engineer and describes herself as "not crafty," surprised herself (and her family) with her DIY accomplishments. At the rehearsal dinner, her daughter (Cristina) gave heartfelt thanks and credit to her mom for all her creativity and efforts. It was a very happy and touching moment."
Ready to start planning your DIY wedding? Head to our Pinterest board for tons of inspiration and tips, and don't forget to direct your guests to RegistryFinder.com to quickly and conveniently find where you're registered, all in one place!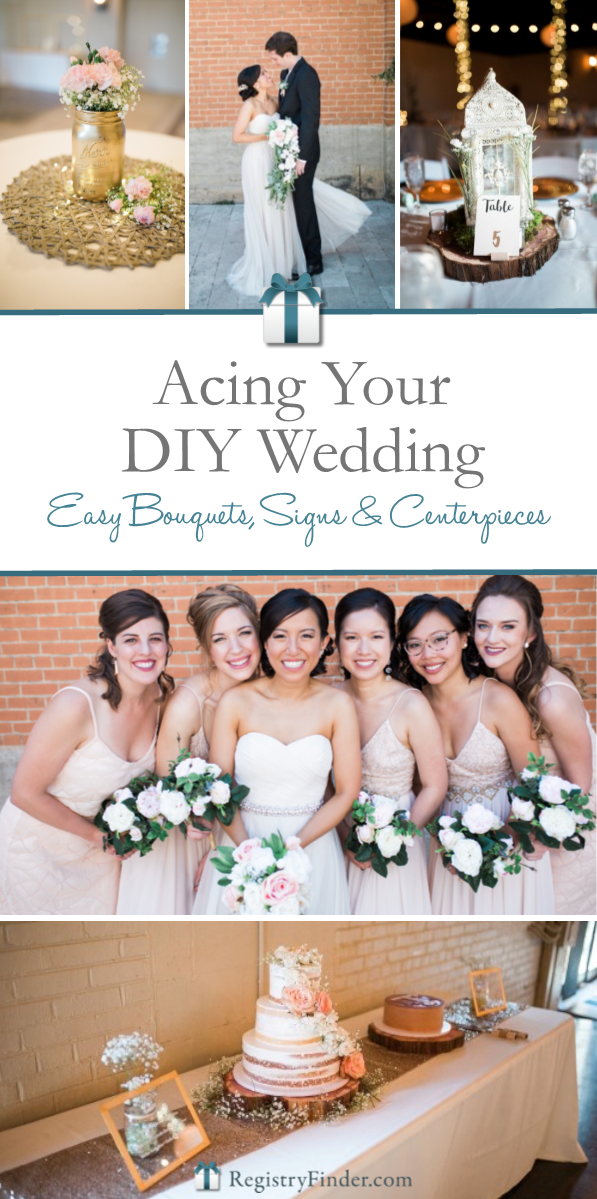 A big thank you to Cristina & Chris for letting us feature their wedding, and to Adria Lea Photography.