Couples are always looking for ways to make their weddings unique and unforgettable. One of the most popular ways to do that? Choosing an officiant you know and love!
While many of the brides I surveyed via Instagram (@askarealbride) chose a professional officiant, like a pastor, priest, or judge, a whopping 40% of brides tell me they've selected a family member or friend to play this special role in the ceremony.
I've been honored to play the role of officiant twice, and both were incredibly meaningful experiences. I want the same for you and your officiant. So read on for tips from real brides (and me!) about how to make the process smooth and special!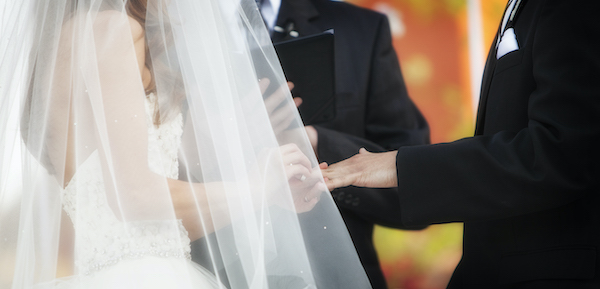 Who Should You Ask?
Here's what a few real brides have to say about who they chose:
"A friend who loves us both so much and is a great public speaker. Felt more intimate and special."
"Someone who knows us both well, is funny, and knows us as a couple–we're not religious."
"We trust her and also look up to her own marriage."
I received so many comments that echoed the ones above. A great officiant should know you AND your fiance. Your officiant should also be comfortable speaking in public. It's a bonus if they are someone who you respect and could imagine yourself coming to for advice or support in your future marriage.
Asking a Friend Means You'll Be More Involved
Realize that asking a friend to officiate will require you to be more involved in the months leading up to the ceremony than you would be if you hired a professional. Read through the following steps to decide if going personal is worth the process!
Here's everything you'll need to do if you ask a friend to officiate your wedding!
1. Help Them Get Ordained
Once you've asked your officiant (which you can do in person, via Facetime, or by sending a handwritten note), you should help them navigate the ordination process. Research your state's requirements: some states only require an online ordination, while other states, like New York, require your officiant to register at the county clerk's office. Be available to answer any questions your officiant might have.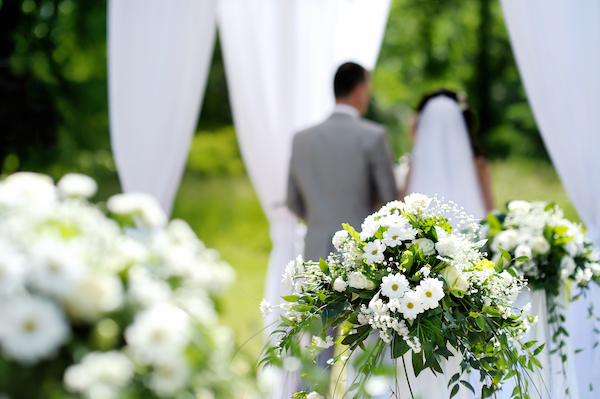 2. Talk about Tone
A few months before the wedding, discuss your vision for the ceremony. Would you like the ceremony to have religious elements, like prayer and Scripture, or are you wanting to avoid any religious language? Would you like to use formal wording and traditional vows? Are you ok with some humor sprinkled in? It's best to be upfront about anything you would not like included!
3. Give them an Outline
You chose a friend to officiate so that they could infuse the ceremony with personal, heartfelt touches. But don't leave them to write the ceremony from scratch. Provide a general outline, and let them fill in the gaps, drawing on the "tone" conversation you had earlier.
Below is the ceremony outline I've used in the past. Feel free to shuffle the order and add or delete elements! Your officiant can research the specific wording for each section that fits the vibe of your ceremony.
Download and save this ceremony outline for later: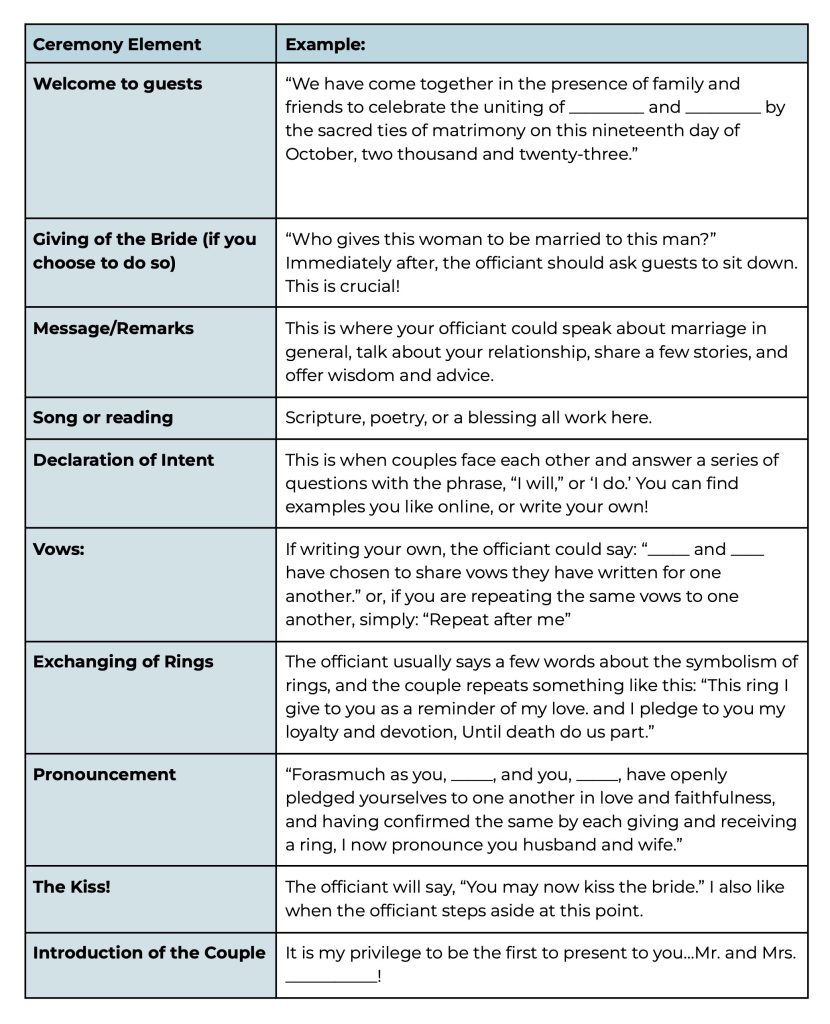 4. Read Over the Ceremony–or ask someone else to!
Give your officiant a few weeks to write the ceremony, and then review it. Since you probably want some remarks to be a surprise, you could just look over the introduction of the ceremony and ask your wedding planner, your parents, or your maid of honor to read through the entire ceremony and check for anything that might need to be edited.
5. Make the Prep Work Simple
Practice makes perfect, so be prompt with any edits you have. If this is your friend's first time officiating a wedding, they will most likely want to practice in the month leading up to the wedding. If you are concerned they won't practice, choose someone else (just kidding, but seriously), or ask a member of the bridal party to check in with them.
If you have a wedding coordinator, connect them to your officiant so they can discuss any technical elements like microphones, musical cues, etc.
When the rehearsal day arrives, have your officiant walk through the entire ceremony. If you are repeating vows, you should also practice this portion of the ceremony together. You can find all of my tips for a calm, stress-free rehearsal here.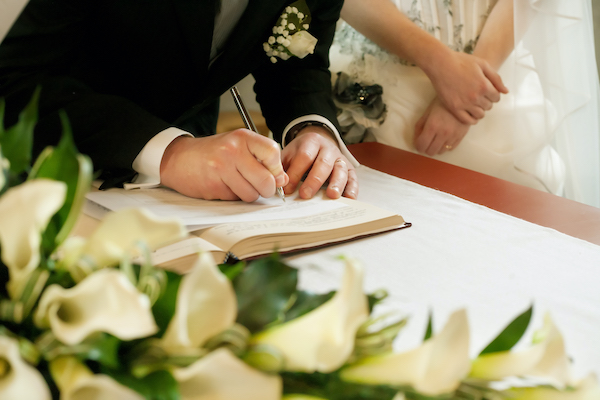 6. Create a Marriage Certificate Plan
Different states have different requirements, so determine who needs to sign and file this important document in the days immediately following the wedding.
7. Say Thank You!
Express your appreciation for all the time, energy, and love your friend has poured into your ceremony with a gift! While the amount you spend is completely at your discretion, gifts for the officiant are often heftier than the gifts couples give to members of the bridal party.
Some couples choose to cover travel expenses and hotel costs for the officiant, while others give a gift.
The gift could be something personal, like a piece of jewelry, or an experience they could enjoy in the future, like a weekend away with their spouse.
No matter what gift you choose, a heartfelt, handwritten note is a priceless complement to any gift!
So Should You Ask a Friend to Officiate?
Asking a friend to step into the role of officiant comes with great reward: your ceremony will feel warm, personal, and unique. Yet it also requires an investment of your time and attention. If you have the capacity and are willing to put in some extra effort, having a friend serve in this special role can result in an incredibly meaningful marriage ceremony!
Have a Question for our Real Brides?
Let me know what topic you'd like us to tackle next! And if you're interested in learning more about etiquette, gift giving, and celebrating in style, be sure to subscribe to the RegistryFinder GiveIt blog for weekly posts on wedding etiquette, bridal showers, wedding trends, and of course, wedding registry guidelines and tips! And as always, be sure to refer your guests to RegistryFinder.com, where they can conveniently locate all of your registries in one place!