The wedding countdown is down to one: your out-of-town guests have begun to arrive, you've finished the last-minute errands and pickups, and there's just one thing left to do: rehearse!
The wedding rehearsal is meant to ensure that your ceremony runs smoothly. But this practice session has become a notorious venue for meltdowns, misunderstandings, and melodrama.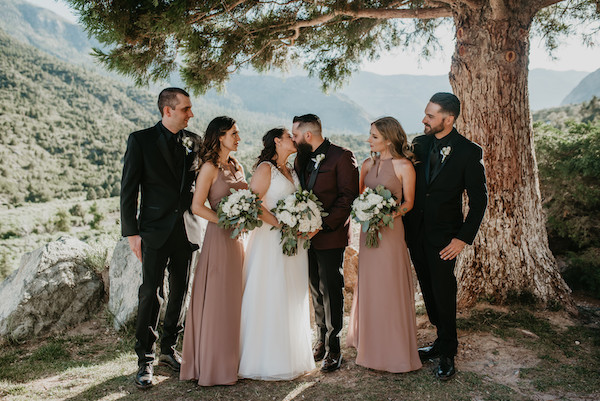 I've attended my fair share of rehearsals as a bride (only once!), bridesmaid (ten times), mother of the flower girl (twice), and wedding officiant (twice). And while most rehearsals run smoothly, I've witnessed a few doozies: I've seen tantrums, tears, and tempers from the parents of the couple, the wedding planners, the bridal party, and yes, even the bride.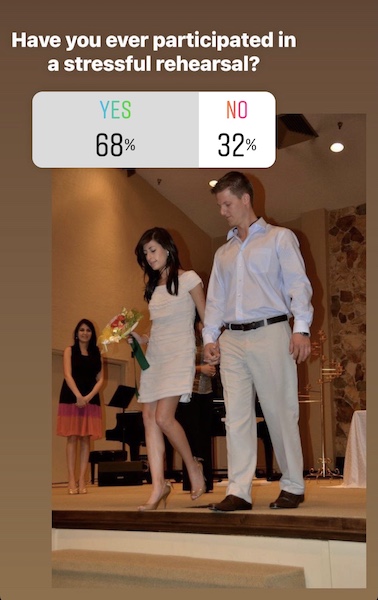 I'm not alone: in a recent Instagram poll, 68% of respondents said they've participated in a stressful wedding rehearsal. Only 25% of brides confessed to having a stressful rehearsal themselves, which either means that 1.) Sometimes the rehearsal is more stressful for the wedding party and onlookers or 2.) Many brides have a case of "wedding amnesia" when it comes to the less-than-perfect moments related to their weddings.
But don't fear: a stressful wedding rehearsal (for you, or your family and friends) isn't inevitable! With some pre-planning and helpful tips from our real brides, you can avoid the drama of the day before and go into the big day feeling calm and excited!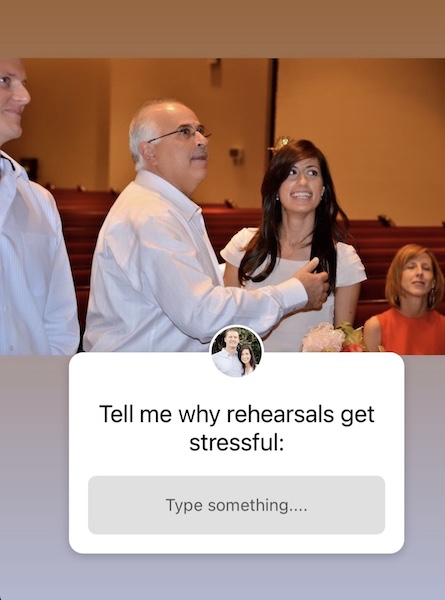 Why are Rehearsals So Stressful?
The responses for this question poured in, and a few common themes emerged. Here were the most repeated reasons for a stressful rehearsal, along with ways to avoid those stressors!
Rehearsal Stressor #1: When no one is in charge, everyone tries to take charge.
Wedding ceremonies often involve a lot of participants: the bride and groom, parents, bridal party, and possibly musicians and readers. When couples don't have a plan for how these people will enter and exit and for the order of the ceremony, the rehearsal can get confusing.
"It's the worst when no one knows what to do and there's no coordinator or planner."
"When the bride isn't organized and hasn't thought about how she wants it to go/where people should stand."
When the bride and groom fail to plan, someone else (or everyone else) will try to fill that void. Then it really gets chaotic.
One respondent summarized the problem like this: "No one is taking charge, or everyone is trying to take charge."
"Too many opinions, or having a coordinator that doesn't know what they're doing."
"Too many leaders and not enough listeners!"
"When there is not a single voice running the show (too many cooks in the kitchen)."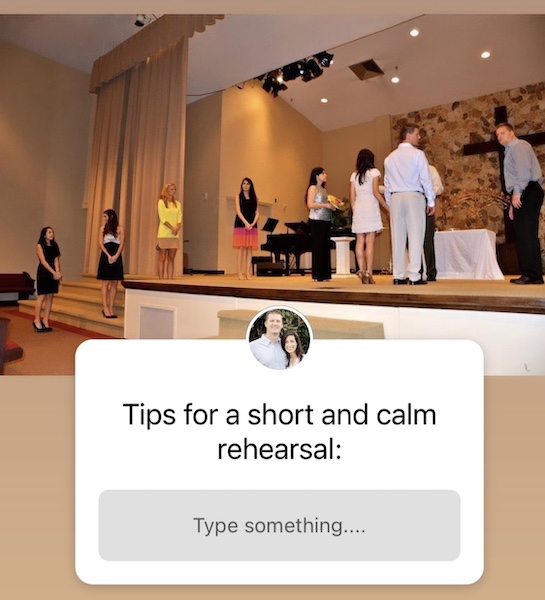 The Solution: Have a Plan and Empower the Leader
"Have a plan ahead of time. Appoint someone. Trust them."
"Have someone take charge and keep everyone in line and focused."
The rehearsal is the wrong time to make decisions. A few days before, you, your future spouse, and anyone with a major role in the ceremony (officiant, musicians, or coordinator, if you are using one) should agree on the order of the ceremony, where people will stand, who will escort who down the aisle, etc. Put all of this information in writing, and hand it off to the person you appoint "the leader" of the rehearsal.
Who should that leader be? I strongly recommend that you hand off this job to a professional: some ceremony venues provide a coordinator, or you can invest in your own wedding planner. If your venue provides a coordinator and you have your own wedding planner, be sure to specify beforehand who will be "running the show" (I've seen a few competing planners and even opinionated officiants go head-to-head, and it isn't pretty).
If a pro isn't in the budget, I would choose a friend who is able to command a room and will stick to the plan that you've already discussed. If you must use a family member, the more distant the relation, the better; emotions can tend to be heightened when siblings, aunts, etc. try to run the show.
And one final note: no matter how calm and experienced you think you are, the person running the rehearsal should NEVER be the bride! Do all your planning beforehand, and leave the directing to someone else. You want to enjoy your day and all the moments leading up to it! Let someone else run this show.
Rehearsal Stressor #2: Family Dynamics
"My parents are divorced so it was just awkward/stressful at times"
"When parents push certain expectations about what should be done and don't respect the bride's wishes."
"Family dynamics and big emotions."
The wedding rehearsal may be the first time your family members and bridal party convene for the wedding festivities, and emotions can run high.
The Solution: Mentally Prepare Yourself and Trust Your Planner
While some wedding drama is unavoidable, you can prepare yourself beforehand to face feuding parents and any other difficult dynamics. No one comes from a perfect family, yet you've found a partner to build your NEW family with. Focus on the positives, stick to your rehearsal plan, and have a pre-rehearsal glass of wine. If you've appointed a qualified and capable wedding planner, he or she will fend off any fighting and handle any demands that arise.
Rehearsal Stressor #4: The Bridal Party just wants to…party.
"People don't pay attention. If folks would, it would be over in 15 minutes!"
"When the bridal party isn't taking it seriously and talks the entire time."
"Too many people!"
The chatty bridesmaids, the rowdy groomsmen, the wiggly flower girl and ring bearer: get a big group together, and there's bound to be some playful antics and giggles. But when the group won't focus, the rehearsal drags on, people don't know what to do during the ceremony, and the bride tends to get frustrated.
The Solution: Maximize Attention Spans
The secret is to use your time well. You have a limited opportunity to capture your bridal party's full attention, especially if children are involved. This is where having a plan is essential, as well as a competent and commanding leader to execute.
One piece of practical advice that I've seen work over and over again in weddings in which participated and officiated:
"Start at the end and work your way toward the beginning."
It's much easier to talk to your bridal party when they are lined up in the position they will be for the ceremony. Trying to capture their attention while they're milling around the back of the church and children are running wild never works. Line them up as you want them to stand during the majority of the ceremony, run through the ceremony, and then practice the recessional. Now that they're in the back of the church, run through the processional and have everyone get into "ceremony position." Run through the ceremony again if you'd like, but everyone should have a good understanding of the plan by now!
One more note: the more people in your bridal party, the more likely they will become distracted and unfocused. If you have 24 of your friends in the same room, there's bound to be a lack of attention. Prepare yourself for some silliness, and be sure to appoint a strong leader to keep everyone in line!
"For whatever reason, no one thinks they have to show up on time for a rehearsal."
What to do about a tardy party? One possibility is to give an artificially early start time to the people you know tend to run late. If white lies aren't your thing, allot an excessive amount of time for your rehearsal so there's absolutely no rush to get to the rehearsal dinner. No one will mind killing time between the two events, but you all will be stressed if you run out of time and show up to the rehearsal dinner frazzled.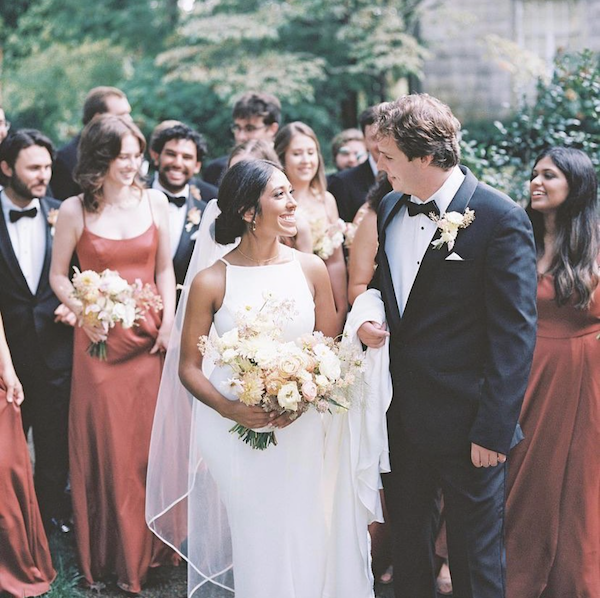 Practice doesn't have to be perfect
Every rehearsal will have its moments of confusion, a little distraction, and a few last-minute changes. But in all the rehearsals I've attended, I've never seen a stressful rehearsal lead to a catastrophic ceremony. Seriously. You're all walking in and walking out: there's not too much to mess up! Keep this in mind, trust the professionals, and enjoy your family and friends who have gathered to celebrate your wedding!
Got a Question for our Real Brides?
Let me know what topic you'd like us to tackle next! And if you're interested in learning more about etiquette, gift giving, and celebrating in style, be sure to subscribe to the RegistryFinder GiveIt blog for weekly posts on wedding etiquette, bridal showers, wedding trends, and of course, wedding registry guidelines and tips! And as always, be sure to refer your guests to RegistryFinder.com, where they can conveniently locate all of your registries in one place!