Hosting a bridal dinner is a not-so-common way to ask your favorite girls to be your bridesmaids, but my step-daughter's turned out so beautifully that we now highly recommend it!
Shortly after Meleah got engaged, she decided who was going to be in her wedding party and she couldn't wait to ask each one of them. She had been collecting items for their gift boxes even before her engagement. She's very sentimental, and all about the details, so I wasn't surprised when she asked me to help her host a dinner so that she could have all of her friends together in one place when she asked them.
A bridal dinner is held a few weeks after the engagement. (Not to be confused with a bridal luncheon which is usually held a few days before the wedding.) A bridal dinner offers a chance for the bride to gather her best friends together to ask them to be her bridesmaids instead of trying to track them down individually. The bridal dinner guest list is limited to women participating in the ceremony which usually includes the bridesmaids and the flower girl (and her mother). Hosting this type of dinner allows the bride to spoil her bridal party with gifts, food, and drinks and to thank them for their support over the next months as they prepare for her big day.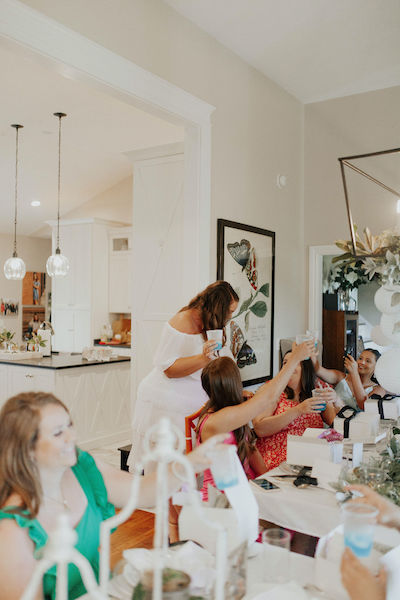 Here are a few ways to make your bridal dinner an "over the top" celebration that your favorite girls will not soon forget.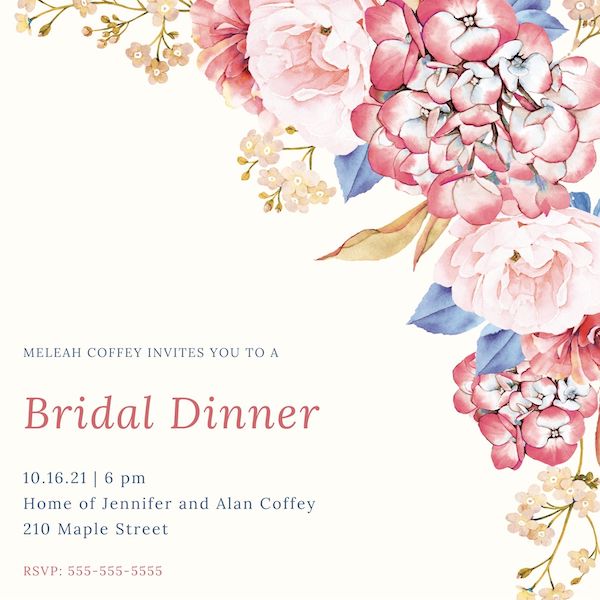 Mail a beautiful invitation.
In a world full of texting and emails, be sure to take the old fashioned, "snail mail" route, when sending out invitations. You can easily design your invitation using Canva. For the sake of convenience, use the site to print and mail them for you too.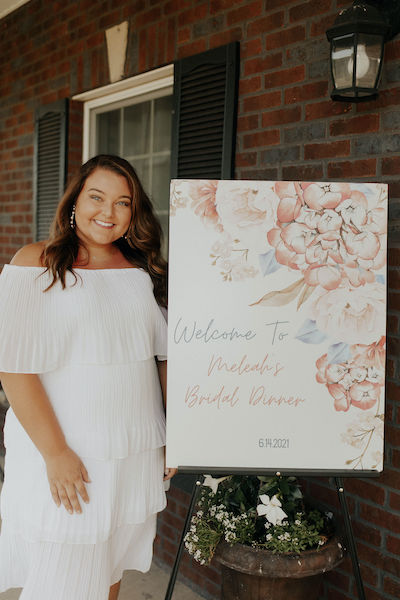 Canva also offers coordinating graphics that you can use to print additional items such as a welcome sign.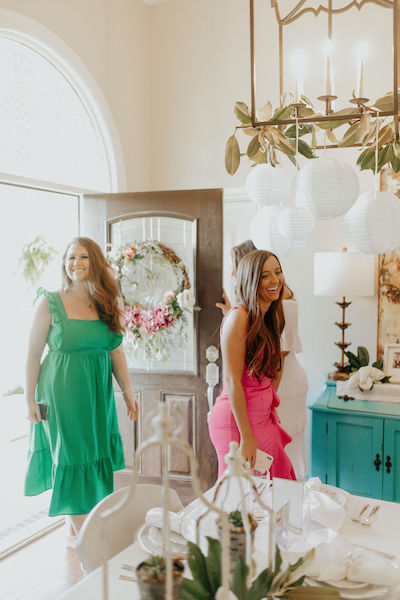 Impress with decor.
Whether you're having the dinner at your home or somewhere like a club or restaurant, you want your guests to have an impactful first impression. You can do this by lighting fragrant candles, embellishing your entryway with flowers and twinkling lights and having the bride stand at the door to greet everyone.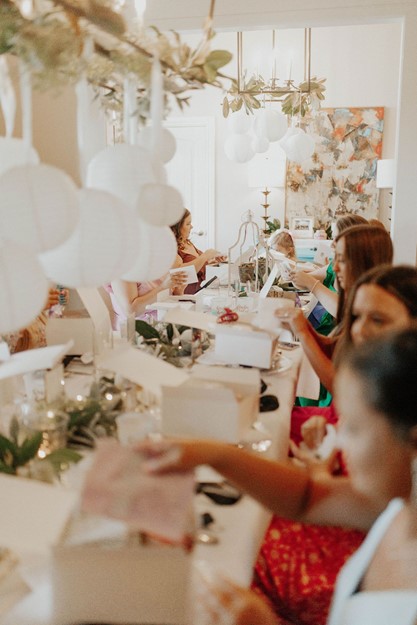 Create a beautiful tablescape.
The tables were adorned with white table cloths, votive candles, and beautiful fresh magnolia blooms. When decorating, don't forget the space above the table for that "extra attention to detail" touch. You may have a chandelier or light fixture that provides a way for you to add to the ambiance by draping it with hanging moss, paper lanterns, and fresh flowers.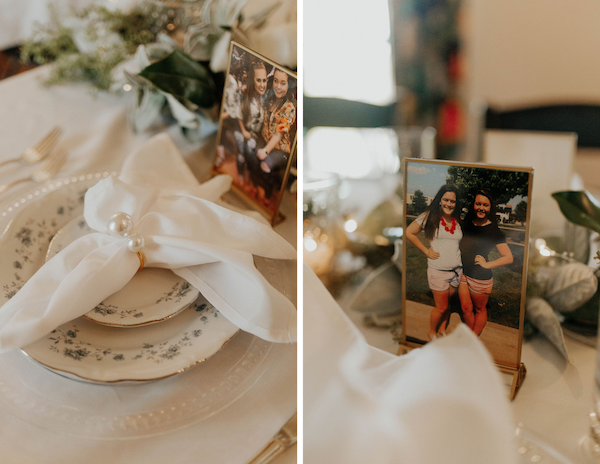 We arranged our tables so that everyone could sit together. Each place setting consisted of Meleah's family heirloom china. A special framed photo of Meleah with each girl served as the "place card" and also a nice take home gift.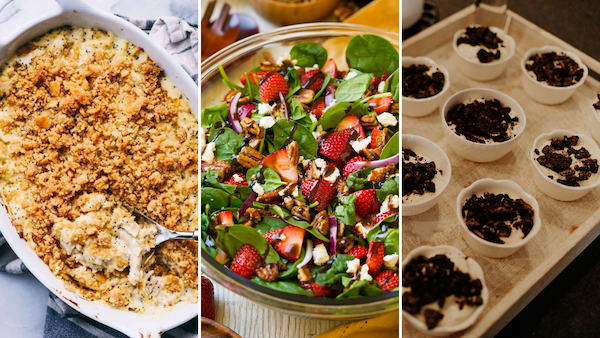 Craft a simple, delicious meal.
We kept our menu simple so that we could enjoy time together with our guests, instead of hiding out in the kitchen. We chose to serve: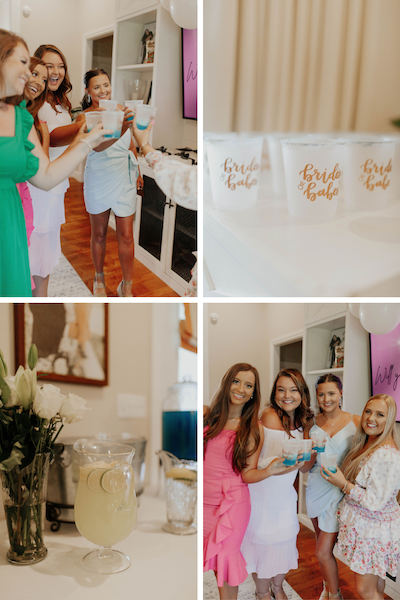 Choose a signature drink.
Once guests have arrived, kick off the evening with a speciality drink. We served a very "girly" drink, Pixie Sticks, which is a fun blue color. The "Bride Babe" glasses were rimmed with, you guessed it, Pixie Stick candy. We also served a non-alcoholic option of lemonade in a decorative dispenser with fresh cuts of lemons and limes.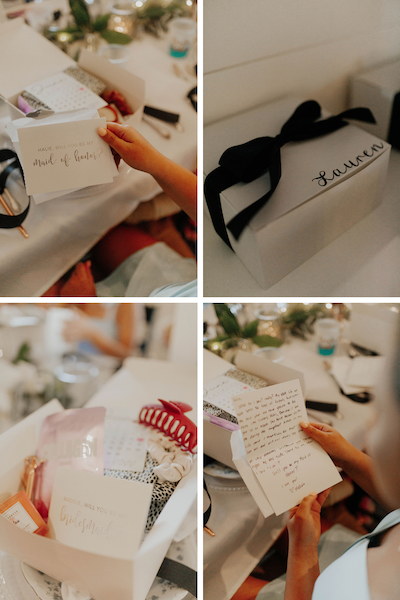 Set aside a special time for bridesmaids to open their gifts.
Once the girls were seated, they were each presented with their own gift. There were many tears shed through smiles as the girls read the special notes from Meleah. The boxes were filled with all the fun things girls love like candles, hair clips, body lotion, and facial masks. Check out this post for more creative gift ideas for your bridesmaids.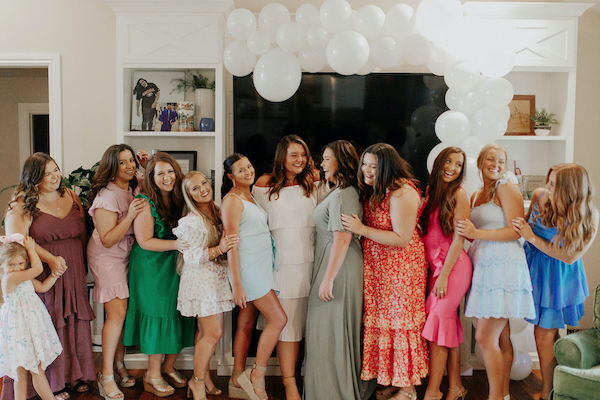 Cherish every moment.
It was nice to take time out from the busyness of planning a wedding to relish in the love and friendship that the bride-to-be has with each person. After such a fun night we believe that each girl left feeling very special knowing how important they are to Meleah.
Photo Credits: Alexa Loy Photography