What should you put in your bridesmaid bundles? Discover our 6 simple steps to a beautiful DIY assortment…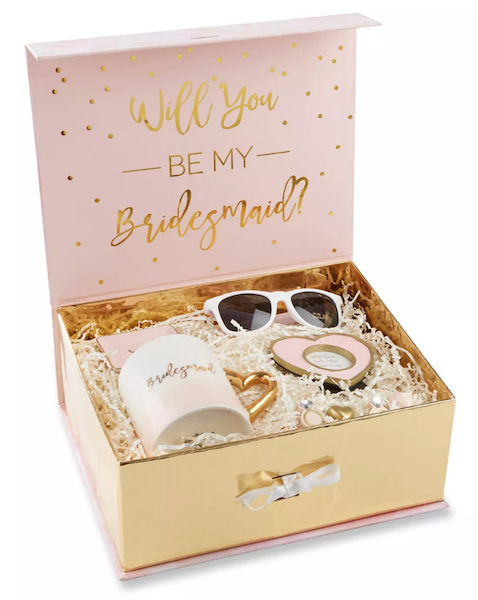 Brides, it's time to pop the question! Yep, you read that right — your fiance may have gotten down on one knee to ask for your hand in marriage — now you get to have the fun asking your closest gal pals to stand next to you as your bridesmaids on your big day.
We've all seen the beautiful curated boxes on Pinterest and Etsy, and it's easy to get intimidated by their presentation. We get it, you want to make your besties feel as amazing and important as you think they are. But, you might be surprised at how easy it can be to put together your very own DIY assortment of goodies.
As always, we've got you covered. From the packaging to the items inside, we'll walk you through our 6-step process for crafting your own custom bundles to ask the important question: Will you be my bridesmaid?
Step 1: Choose Your Packaging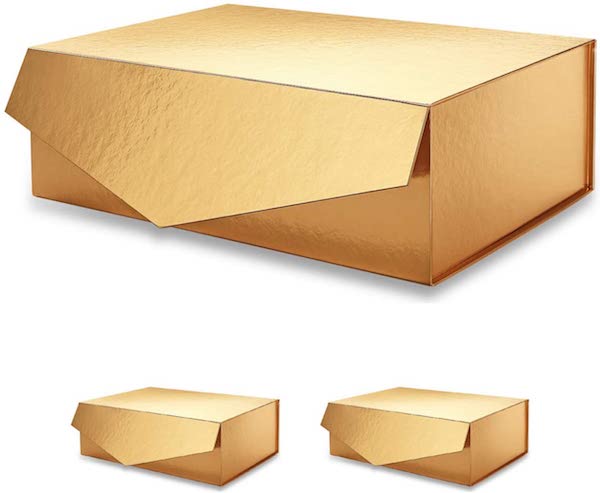 It all starts with the container. Whether you go for a box, a tote, or a crate, consider what you'll be putting inside as you determine the size you'll need. Not sure where to start? Here are a few quick tips:
If you plan on shipping some or all of your bundles, it's best to opt for a box with a closed lid so you can keep everything secured inside.
Including any clothing items or awkwardly shaped goodies? A cute tote will keep everything in its place with a stylish presentation.
For more of a gift basket look, consider putting your gifts in an open-top crate so everything is on display right away.
Step 2: Include a Card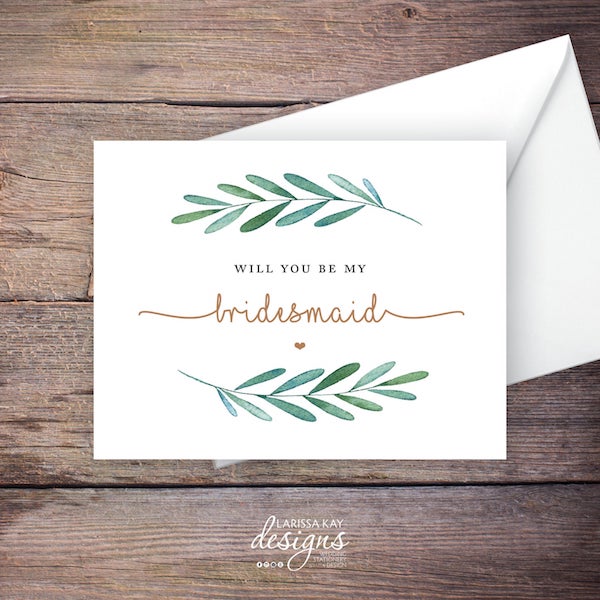 This should go without saying, but just in case it's not clear, including a card in your bridesmaid bundle is not optional. Think about it: this is one of the most important days of your life, and you're asking these special women to be a considerable part of it. This is the time to let them know just how much they mean to you and why you can't imagine your wedding day without them standing beside you.
If you've got a creative spark, this is your chance to show off and do some hand-lettering on quality cardstock. Not artistically inclined? Don't worry — me, either — luckily, Etsy has you covered with tons of gorgeous ready-to-print options so you can use your brain power on writing a heartfelt message.
Step 3: Add Some POP!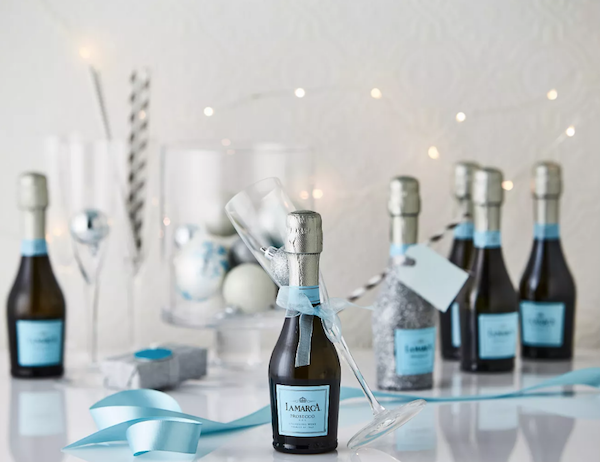 Let's get real: this is an occasion for celebration! Whether you're delivering your bridesmaid bundles in-person or shipping them off to be opened elsewhere, be sure to include something that they can pop with excitement. You can't go wrong with a sprinkle of confetti — courtesy of these adorable little poppers — or go all out and splurge on mini prosecco bottles to make a proper toast!
Step 4: Personalize It
At this point, you've put together an impressive assortment that anyone would be happy to receive — but why not take it one step further with a small personalized gift to show your love? It's a simple gesture that goes a long way; your bridesmaids aren't just anybody.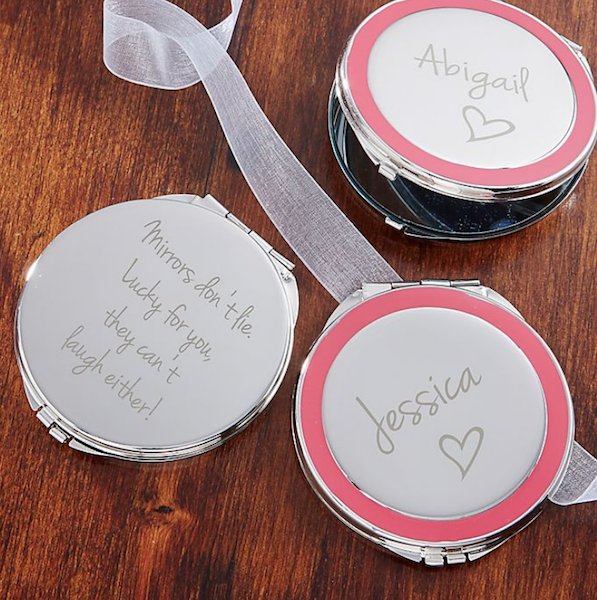 There are so many great items out there, too, like a custom keychain with your bridesmaid's name or initials engraved, personalized koozies that you can customize on both sides, or an engraved compact mirror that could come in handy on your wedding day and beyond.
Step 5: Inspire Self-Care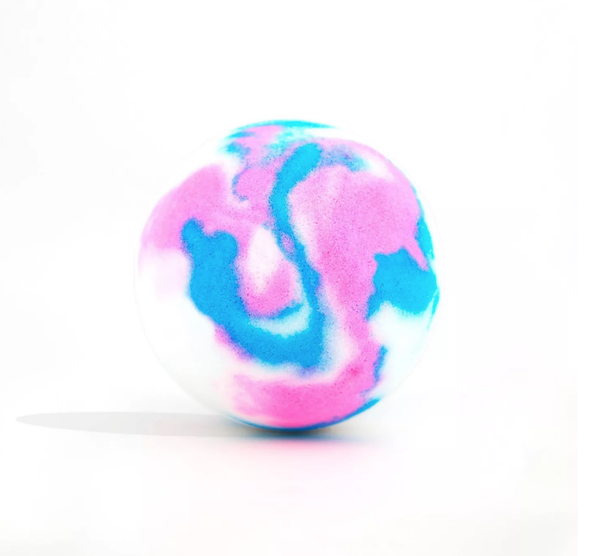 Your bridesmaids take care of you, now it's your turn to take care of them. While you're assembling items for your bridesmaid proposal boxes, include one or two small gifts they can use to pamper themselves. They'll be by your side as you plan your big day — not to mention while you're getting ready and standing at the altar — so the encouragement to take a moment for themselves to relax will be much appreciated.
Prep them for a bubble bath with the perfect pampering gear: bath bomb, sheet mask, hair scrunchie, and a soothing scented candle make for a fail-proof combo!
Step 6: Fill It Up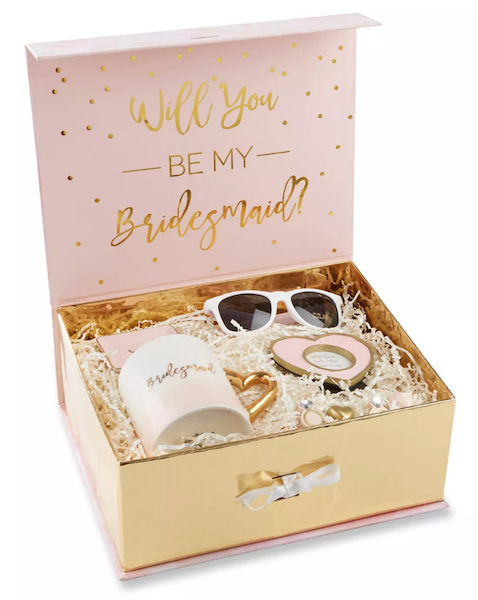 You're almost done! Before you assemble your bridesmaid bundles, add a few pinches of tissue paper or shredded filler for your gifts to sit on top of. Arrange all your items in the containers you selected before topping it all off with more filler. Then, place the card on top so it's the first thing your bridesmaid sees when she opens her gift. For final touches, tie everything up with a ribbon or a bow, and maybe even add a small flower for a decorative element. No matter how you present the boxes, your bridesmaids will be so touched by the thoughtful gesture.
And voila — you're all set! I have no doubt you'll have fun gathering the perfect goodies for your future bridesmaids, and they'll feel so special knowing you've put the thought and time into curating a unique bundle of gifts to remind them of the occasion. Keep in mind that you don't need to include everything listed above, feel free to mix and match your way to a perfect bridesmaid proposal assortment that feels right to you.
Of course, if all else fails, there are always ready-to-go options that your bridesmaids will love. For even more tips, check out our blogs on choosing affordable bridesmaid dresses and finding the perfect bridesmaid gift.