Hello Cheryl,
I came across your article on the Huffington Post about bridesmaid etiquette and I have a few additional questions. My best friend is having a destination wedding and asked me to be a bridesmaid. I generally do not like the idea of travelling internationally for a wedding, but I agreed to go and be there for her. This will be the first wedding I have ever attended, and also it's the first time I'm a bridesmaid, so I don't have much experience with wedding etiquette.

Upon discussing the bachelorette party, which would include a two-night stay in a hotel and other activities, the bride told me she doesn't expect to pay for anything. I really don't feel comfortable with her decision and I feel like she might be asking for too much. I think that since I am already spending money to travel for her wedding, it would be considerate of her to pay for herself for the bachelorette party.

Would you please give me advice on how to handle this? I feel very strongly that I should not have to foot the bill for her, especially since I am taking time off from work. Her wedding is also right after my MBA graduation, and I wanted to take a big trip to Europe as a present to myself, but I compromised that trip to be with her.

I also wanted to ask about a wedding gift. For a destination wedding, how much is an appropriate wedding gift?

Thanks so much for your help and I appreciate your time.
Yours truly,
Stephanie
---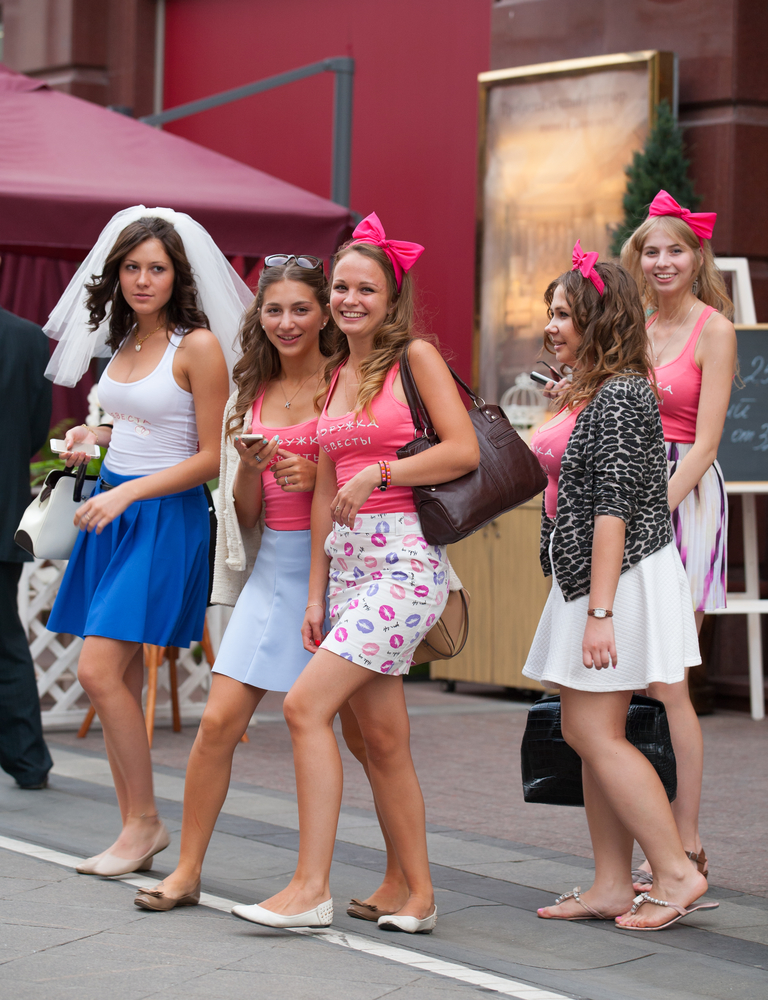 ---
Hi Stephanie,
Being a bridesmaid, especially for the first time, can be intimidating and overwhelming, although it shouldn't be. Sometimes there is just too much expected of bridal attendants and you may be feeling that way right now.
1. The Bachelorette Party
Who is planning the bachelorette party? Is it the bride, the attendants, or other friends? Usually, the maid of honor will take the lead and plan a bachelorette party with the other attendants. Other good friends can also throw this party, as long as it's coordinated with the bridal party. Bachelorette party costs are usually split among the guests, with all the guests pitching in to cover the bride's expenses, so your friend's expectations are not out of line. Actually, any arrangement of who pays for what is fine, but it should be very clear to all that plan to attend.
The party can take any form – from relaxed drinks, to a night on the town, to a weekend away. When the attendants are planning the party, the budget should be considered and it should be something everyone can afford. My daughter was maid of honor for a close friend's wedding. The bride wanted a weekend trip to their college town. Due to the expense, my daughter had to tell her that it was not affordable for most of the girls. She then planned more reasonable local party. The bride can suggest, but it's up to the one planning the party where it will be and how much it will cost. The bride cannot plan an expensive trip away and expect everyone else to foot the bill. If she's planning the party, then she needs to pay.
It's always best to sit down with the bride or the other attendants and talk about it. Tell the bride you care about her and support her, but that you can't go into debt to attend her bachelorette party.
2. The Wedding Gift
The wedding gift is a traditional symbol of your affection and support for the couple getting married. The fact that it's a destination wedding does not change the fact that you should give a wedding gift. However, it will most likely change how much you can afford to spend on the gift. The amount you should spend for a wedding gift is always difficult because there are really no absolute answers. The wedding gift is based upon your budget and closeness to the couple. These parameters are a matter of your personal judgment and feelings.
Many couples that have a destination wedding, requiring additional travel expenses, will tell their attendants not to purchase a wedding gift. If your friend does not do this, then try to give something you can afford, even if it's only a small gift. Another option is to organize a group gift from all the attendants. This could help you gift something meaningful, while sharing the costs.
Unfortunately, these sticky situations are not unusual. Do your best to work them out and try not to let them affect your relationship with your friend. Good luck and I hope you enjoy the wedding!
---
If you have questions or comments about gift giving, baby shower, or wedding etiquette, please comment below or email [email protected].
Emails in this column are received from readers. Emails may be edited for spelling, length and grammar, or to remove sensitive information, however, we are careful not to alter the intent or content of the question.
Cheryl Seidel is the founder and President of RegistryFinder.com, an intuitive search engine that helps gift givers quickly and easily find online registries for weddings, baby showers, graduations and more.