Baby Shower Etiquette for All Involved
I love baby showers. I can't get enough of those cute baby clothes and gadgets, not to mention the champagne and girly foods. But I know some of you may not be as excited when the baby shower invitation arrives in your mailbox or inbox. Whether you love them or hate them, or haven't yet been to one, baby showers are a fact of life, and more than likely, you will encounter several during your lifetime.
I get a lot of questions concerning baby shower etiquette. So whether you are a mom-to-be, a potential baby shower host, or have been invited to one, here are Baby Shower guidelines that will help you navigate this unique event.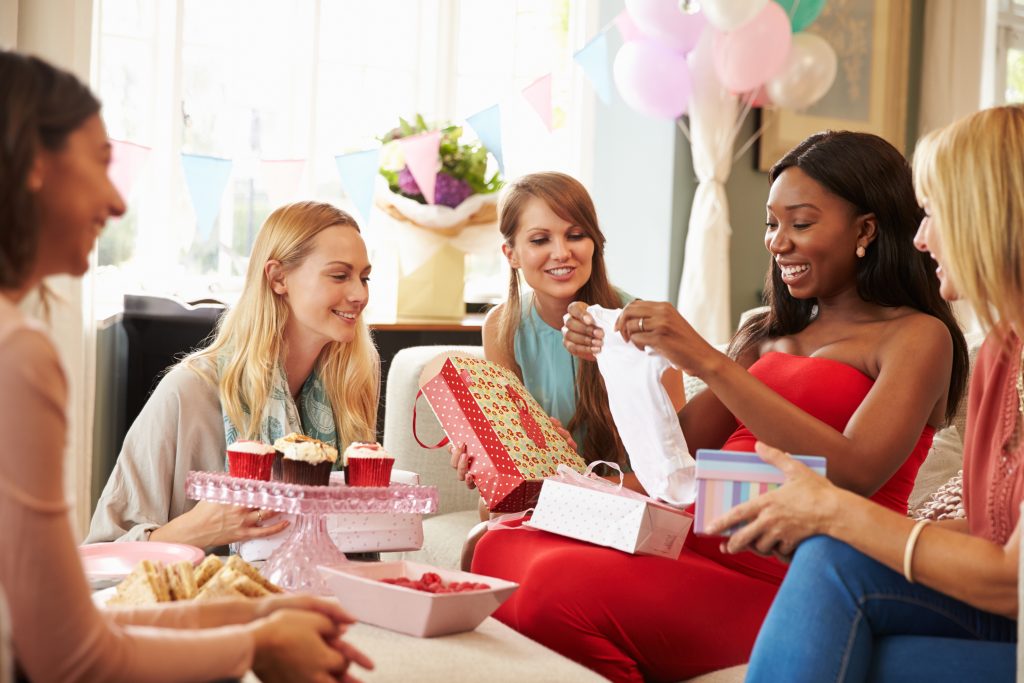 Baby Shower Etiquette for the Host
Baby showers should be hosted by a close friend or extended relative (cousin, aunt, etc.), preferably not an immediate family member, although that has become more acceptable in recent years. Never (and I mean

NEVER

) give yourself a baby shower.

Send the invitations at least 3-4 weeks before the baby shower.

Traditional etiquette states that baby gift registry information should not be included on the invitation but enclosed on a separate card. However, it now seems to be the trend that shower hosts now print it on the invitation.

If this is your first time hosting a baby shower, check out our

Baby Shower Planning Tips

to help you plan a successful event.
Baby Shower Etiquette for the Guests
RSVP as soon as possible.

If you are attending, you should bring a gift. If you can't be there, you do not need to send a gift.

While buying something from their baby gift registry is convenient and thoughtful, it's not a requirement. You can find all of mom's baby registries at

RegistryFinder.com

. If she doesn't have a registry, may we suggest

one of these baby gifts

? They're sure to be a hit!

Be polite and good-natured.

Baby shower games may be silly, but be a good sport and participate.

Say positive things to the expectant mother such as, "you're glowing" or "pregnancy looks great on you!" instead of "you're so big" or "having twins?" Women in the last months of pregnancy already feel huge; you don't need to remind them.

Don't tell labor and delivery horror stories. It's not the time or place.
Baby Shower Etiquette for the Guest of Honor
Do not ask someone to give you a baby shower. It's a big commitment of time and money on the part of the host. If someone offers, then you can graciously accept. If not, don't worry! You will probably receive plenty of gifts when the baby is born.

Meet with your host to discuss her venue and vision before extending any verbal invitations to your friends or co-workers. She may need or want to keep it small. She will most likely ask you you for a guest list. You should then discuss how many quests she would like to invite. 

Do not make demands or obsess over the details of your shower. If the hostess asks for your input, give it. Otherwise, allow her to take care of the planning. Sit back, relax and enjoy your special day!

Try to send handwritten thank-you notes within two weeks of the baby shower and before the baby comes, as you won't have as much time after the baby arrives. Thank-you notes are mailed to each gift-giver even if you have thanked them in person at the shower. Not sure what to say in your thank-you note? We have included excellent samples in

this blog post

! And don't forget to write a special thank you to your hostess(es).
If you have any additional baby shower questions or funny baby shower stories, please comment below. We'd love to hear from you!