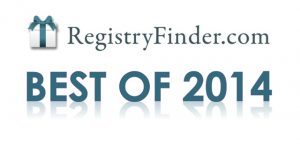 As the year comes to a close we are taking the time to reflect on 2014 and the wonderful feedback we've received from you on our many blog posts. This year we covered all subjects related to gift giving and gift registries, from baby and bridal showers to wedding and baby gift trends, in addition to the etiquette that is applicable to all things gift related. We also saw many of our articles featured on the Huffington Post through our founder Cheryl Seidel. As 2014 comes to a close, we thought we'd look back and share some of our most popular posts.
ETIQUETTE
There are many so dos and don'ts of wedding etiquette that it can be overwhelming to plan the perfect day. We know that brides have plenty to worry about and we want you to enjoy your wedding, so we're here to help!
One of our most popular blogs this year, which continues to be read and shared through our Facebook page, and the Huffington Post was "What Costs Should the Bride Cover for Her Bridesmaids?" In it, we discussed the costs brides and their bridesmaids should cover …
Traditionally bridesmaid pay for the following:
Wedding attire and accessories. This includes the dress (which will most likely be picked by the bride), alterations, shoes and other adornments.
Transportation to and from the wedding town or city
Gift for the couple (can purchase individually or contribute to a group gift)
Share in the cost of a bridesmaids' gift to the bride (optional)
Bachelorette party attendance cost (optional)
And the bride should cover the cost of:
Bridesmaid's flowers
Lodging for out-of-town attendants
Transportation for the bridal party to venues
Thank you gift to her attendants
Bridesmaid luncheon, tea, or party (if hosted by bride)
Hair and makeup (if bride requires it to be professionally done)
In "Love and… Remarriage: Etiquette for an Encore Wedding," we shared helpful tips for couples planning a second marriage. As we mentioned in the blog post, there's a correct order in which to share your news.
Ideally, each parent should tell their children privately and in person, if possible. Sometimes the news is welcomed and happy, but sometimes it may cause concern. If your news is not immediately welcomed, be patient. Validate your children's concerns, and reassure them that you will all work together to build your new family.
WEDDINGS
We love all things wedding and frequently talk about wedding planning, wedding etiquette, bridal registries and more!
We recognize that many couples plan their wedding on a tight budget and often struggle when deciding whether to splurge or save. In "Wedding Costs: The Truth About Budget Trimming Strategies," we touched upon the most popular cost cutting ideas. For example, the venue …
People who have big properties with lush backyards often think they can host a backyard wedding at a low cost. And although you may be saving on the venue, there is a laundry list of other expenses you need to factor in, including tents, tables, linens and chairs, dishes and cutlery, and parking attendants. In the end, it can cost more than renting a venue where some of these items are included.
We also know that orchestrating a unique and memorable marriage proposal can be a little overwhelming and intimidating, and you obviously agree. This month's "Marriage Proposal Ideas" has reached over 70,000 people on Facebook alone! As we mentioned in the article,
Whether you chose to use one of our ideas or create your own distinct experience, remember to keep your proposal meaningful. It doesn't matter if it's big and elaborate or simple and romantic as long as you do something that's symbolic of the two of you and your relationship.
BABIES
For new or expecting moms, it's nice to feel like they've got a place to turn to for ideas and information. That's why we strive to provide resources to help you navigate the ins and outs of everything baby.
At the beginning of every year, we highlight what's new in the world of babies. In "Hot Baby Trends of 2014" we let you know, among other things, there were big changes in nursery décor.
Cutesy nurseries filled with trucks, trains, and tiaras are a thing of the past. With a shift toward modern, nurseries are now as stylish as the rest of the home. Parents are steering toward sophisticated rooms a baby can enjoy well into his school years.
When it comes to color, navy and gray are the new neutrals, regardless of gender. Both colors instantly give the room an air of sophistication, and the accent colors can add touches of girly and whimsical or masculine and bold.
"Social Media Rules for First-Time Parents" struck a cord with many of you. We knew many first time moms would be interested in knowing how much information to share about their new lives and new baby. The most important thing to remember is to …
Exercise caution when posting photos and other personal information. Each time you post data about your child on social media you're creating an online prolife for them… What type of information would your child want to see online about himself in 15 or 20 years? And what type of photos would be cause for pause from a future employer or college admissions officer.
GIFT GIVING
Gift registries have become such a modern convenience that more and more people are not only creating registries for weddings and baby showers, but also for special events like birthdays, holidays, and graduations. We often highlight top gift ideas for brides, new moms, babies, children and graduates. We pride ourselves on featuring a wide variety of retailers, information, and themes for our readers.
As we frequently mention, a wedding registry is really for your guests' convenience. And in "How to Avoid Wedding Registry Blunders" we pointed out a few registry missteps couples that are easy to avoid, like not giving your guests enough choices.
With so many unique registries available, it's easy to get excited about the idea of creating a honeymoon registry, active lifestyle registry or even a wine registry. And while those registries may create a lot of buzz and excitement among your friends, a traditional registry should also be included for those guests that are more comfortable giving traditional, more practical gifts.
Thank you for a wonderful year! Check out the give it blog for these and many more interesting posts. As always, we remind you to tell your friends and family they can find your most up-to-date registry information at RegistryFinder.com. Happy Holidays and Happy New Year! Wishing you a prosperous, gift-filled and happy 2015!